KOCH - SCHÜTZ - STUDER
HARDCORE CHAMBERMUSIC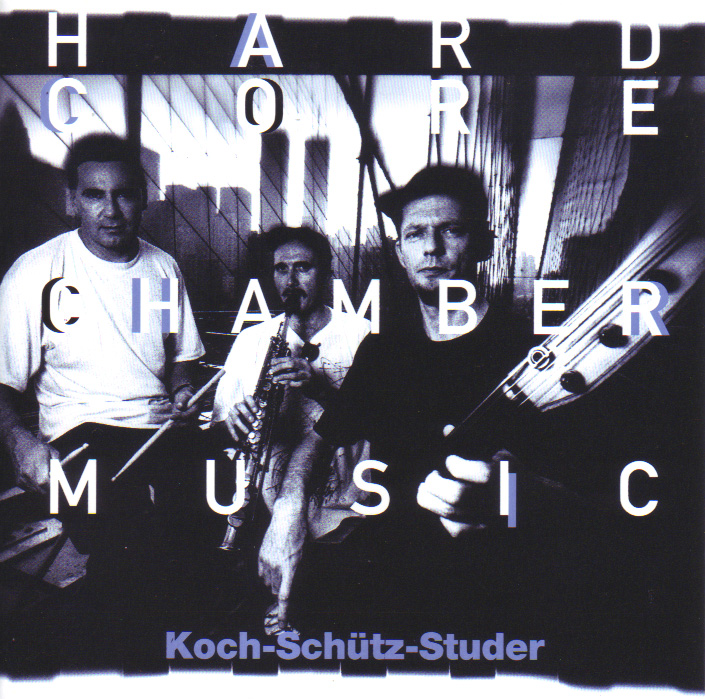 Hans Koch Clarinets, Saxophones, Sampling, Sequencer Programming
Martin Schütz El-5string-Cello, Acoustic Cello
Fredy Studer Drums, Percussion


Recorded by Martin Bisi, October 27, 28, 29, 30, 1994 at Excello Studio, Brooklyn, New York.
Mixed by Martin Bisi and Koch-Schütz-Studer at B.C. Studio, Brooklyn, NY March 7-14, 1995.
Edited by Daniel Zimmermann and Koch-Schütz-Studer, March 25-27, 1995.
Mastered by Jean-Claude Pache at Soundville Recording Studios, Luzerne.
Graphic design: Peter Scholl. Photos: François Portman.

Samples: Béla Bartok, Luciano Berio, James Brown, John Cage, Carcass, George Clinton, Bootsy Collins, Disposable Heroes of Hyphoprisy,
Jimi Hendrix, Mauricio Kagel, György Ligeti, Living Colour, Bob Marley, Melvins, Morbid Angel, Naked City, Napalm Death, Prince, Public Enemy,
Red Hot Chili Peppers, Rolling Stones, Keith Rowe, Pierre Schaeffer, Elliott Sharp, Slyer, Sly & Robbie, Tom Waits, Stephan Wittwer,
Iannis Xenakis, Young Gods, Zadok

Intakt CD 042

.
.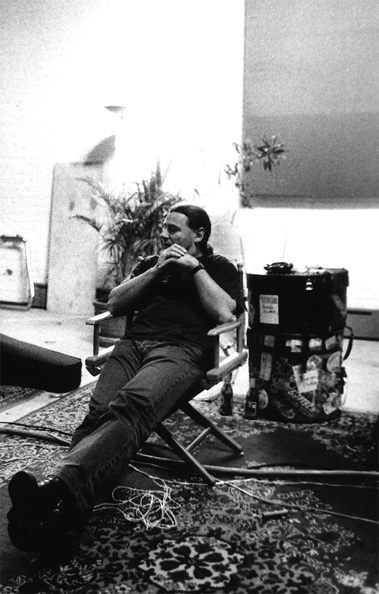 "Congratulation on some of the most ecxiting music!" John Zorn, June 1995

«Hardcore Chambermusic» ist das Debut-Album des Schweizer Trios Koch-Schütz-Studer. Hans Koch, Martin Schütz und Fredy Studer arbeiten seit 1990 zusammen. In unzähligen Konzerten in der ganzen Welt und in der Abgeschiedenheit des Übungsraumes haben sie einen Power-Sound entwickelt, der so radikal wie intelligent, so frei wie präzis und so bedrohlich wie schön ist. Mächtige Soundbilder wachsen aus zuerschnippelten Klangfetzen und feingliedrigen Harmonien. Die Kunst des freien Spiels verbindet sich mühelos mit der Sogkraft von tranceartigen Grooves.
Hardcore Chambermusic is the debut-album of the Swiss Trio Koch-Schütz-Studer. Hans Koch, Martin Schütz, Fredy Studer have been working together since 1990. In countless concerts throughout the world and in the seclusion of the rehearsing space they have developped a power-sound, which is as radical as it is intelligent, as free as it is precise and as threatening as it is beautiful. Massive sound-pictures grow out of snipped-up fragments and delicate hamonies. With ease the art of free interplay joines forces with th maelstrom of trance-like grooves.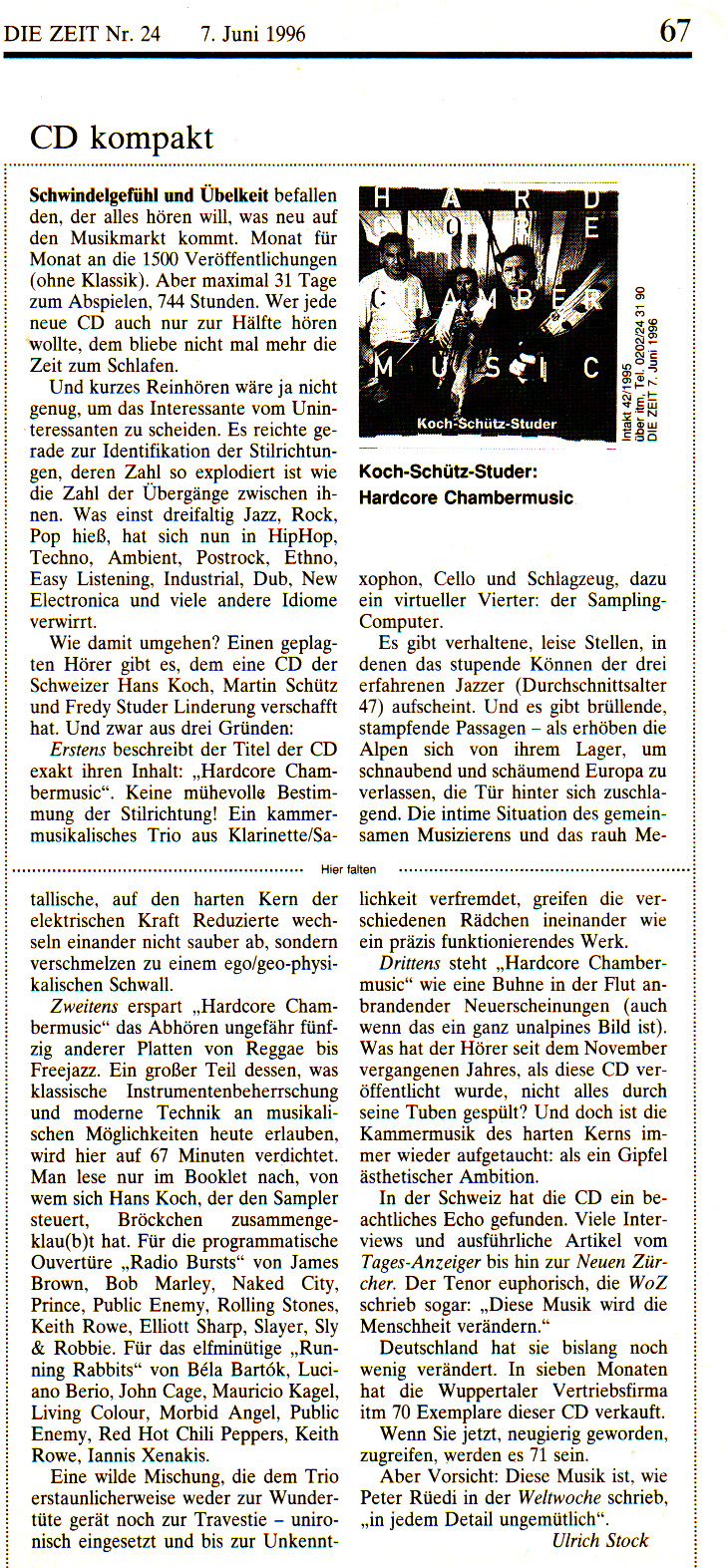 Ulrich Stock, Die Zeit, 7. Juni 1996
Review: Neue Züricher Zeitung, 10. Januar 1996
KOCH-SCHÜTZ-STUDER : all Intakt CDs