KOCH - SCHÜTZ - STUDER
DJ M. SINGE AND DJ I-SOUND
ROOT AND WIRES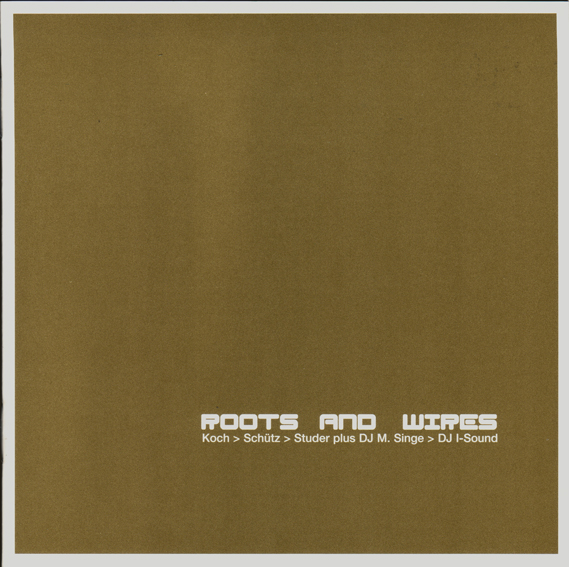 Hans Koch: bass clarinet, soprano and tenor saxophone, electronics, sequencer
Martin Schütz: electric 5string cello, acoustic cello, electronics, sequencer
Fredy Studer: drums, percussion
DJ M. Singe: turntables
DJ I-Sound: turntables



Recorded by Jean-Claude Pache at Watermill Studio, Brübach/Henau, Switzerland, August 25/26/27, 1998
Cover art: Velvet Creative Office, Lucerne. Liner notes: Pirmin Bossart

Intakt CD 060 / 2000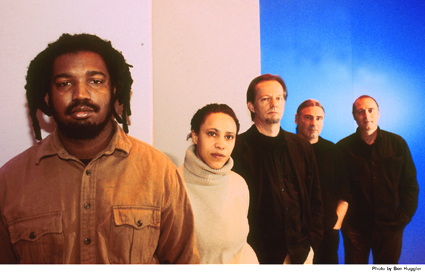 DJ I-Sound, DJ M. Singe, Martin Schütz, Fredy Studer, Hans Koch. Photo: Ben Hugler


Koch-Schütz-Studer haben in New York angedockt, bei den Sound-Labs der Illbient-Künstler, die aus den Verschlaufungen von HipHop und Ragga, Breakbeats und Soundtracks ihre Klang- und Rhythmus-Essenzen brauen. Koch-Schütz-Studer bringen ihreWurzeln aus Jazz, Rock und freierImprovisation ein: Zusammen mit den DJs M. Singe und I-Sound entsteht eine Mischung aus Jazzimprovisation, Ambient, Hardcore und Electronics.
«Roots and Wires» ist Koch-Schütz-Studers untrügerischer Beitrag zur Ästhetik der zeitgenössisch-elektronischen Untergrundkultur.

?After Egypt and Cuba, Koch-Schütz-Studer have landed on a new beach, where the sound alchemists are at home and hold the earth in vibrations with their elixirs. Geographicall, they have docked in New York City, at the sound labs of the illbient artists, who brew their sound and rhythmic essences from loops of HipHop and Ragga, Break-beats and Soundtracks. Koch-Schütz-Studer bring in their roots of Jazz, Rock and Free Improvisation. Together with DJs M. Singe und I-Sound they create a mixture made of sensitive jazz-tinkering, ambient, hardcore and electronics.
«Roots and Wires» has become Koch-Schütz-Studer's unerring and wayward contribution to the aesthetic of contemporary electronic underground culture.
Werner Lüdi über Koch-Schütz-Studer
KOCH-SCHÜTZ-STUDER : all Intakt CDs