(eng)
Irène Schweizer and Omri Ziegele are a pair as perfectly opposite as Monk and Johnny Griffin: she is a mercurial, superior architect at the piano, with a presence one can only admire; he is an existential virtuoso with an independent magination of a kind that is becoming ever harder to find. Here they are together on a CD with their «little favorites,» unpretentiously presented as if they were sitting or standing in front of the home crowd at Café Casablanca in Zürich; everyday music, which easily includes Monk and Don Cherry, the blues and the Great American Songbook, lovingly worked out and, in its fragmentary perfection, generating unexpected associations.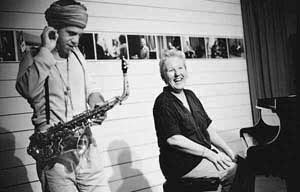 Omri Ziegele, Irène Schweizer. Photo: Francesca Pfeffer
(dt)
Irène Schweizer und Omri Ziegele sind so gegensätzlich perfekt wie Thelonious Monk und Johnny Griffin: Sie – die erratische, überlegene Architektin am Piano, von einer Präsenz, die man nur bewundern kann; er – von existenzieller Virtuosität und so eigenständiger Fantasie, wie sie immer schwerer zu finden ist. Zusammen spielen sie auf dieser CD ihre «Lieblingsstücke», unprätentiös präsentiert, als sässen bzw. ständen sie vor ihrem Stammpublikum im Züricher Café Casablanca; Altagsmusik zweier Persönlichkeiten, die mühelos Thelonious Monk und Don Cherry, den Blues und das Great American Songbook interpretieren, liebevoll erarbeitet und in ihrer fragmentarischen Vollkommenheit ungeahnte Assoziationen weckend.