JÜRG WICKIHALDER ORCHESTRA
WITH TIM KROHN AND MANUEL PEROVIC

Narziss und Echo

.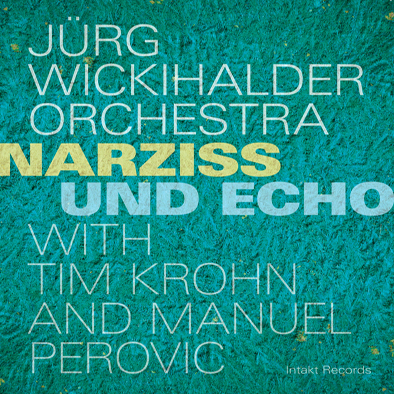 Tim Krohn: Narrator, Text
Jeannine Hirzel: Soprano
Sonoe Kato: Mezzosoprano
Mia Lindblom: Violin
Frantz Loriot: Viola
Seth Woods: Cello
Jürg Wickihalder: Composition, Saxophones
Florian Egli: Altosaxophone, Flute
Michael Jaeger: Tenorsaxophone, Clarinet
Damian Zangger: Trumpet
Bernhard Bamert: Trombone
Manuel Perovic: Arrangement
Chris Wiesendanger: Piano
Daniel Studer: Doublebass
Music by Jürg Wickihalder. Text by Tim Krohn. Arranged and orchestrated by Manuel Perovic.
Recorded September 2011 by Schweizer Radio und Fernsehen at Hard Studios Winterthur.
Sound engineer: Martin Pearson. Mixed and mastered by Martin Pearson.
Cover art and graphic design: Jonas Schoder. Photo: Sheldon Suter. Liner notes: Tim Krohn, Daniel Fueter.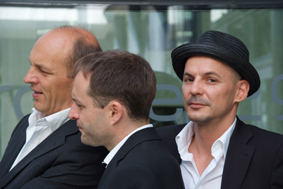 Tim Krohn, Jürg Wickihalder, Manuel Perovic. Photo: Sheldon Suter
Wickihalders Kompositionen tragen eine starke Liedhaftigkeit in sich: Klarheit und Einfachheit der Melodieführung werden in der Interpretation und Improvisation gepaart mit Verspieltheit und Witz. In «Narziss & Echo» werden diese Merkmale auf einen größeren Klangkörper übertragen und weiterentwickelt. Mit Ovids «Metamorphosen» öffnen Tim Krohn und Jürg Wickihalder eine Fundgrube, ähnlich der «Ilias», des «Decamerone», der «Göttlichen Komödie», des «Faust». Wickihalders Orchestra schafft eine theatralische Musik von grosser Farbigkeit. Und Tim Krohn hat, wie Daniel Fueter in den Liner Notes schreibt, «einen stringent auf Musik ausgerichteter Text verfasst, der hier theatralische Präsenz gewinnt. Die farbig-präzise Orchestration von Manuel Perovic und die exquisten Leistungen der Mitwirkenden schaffen ein verführerisch-erotisches Klima und tragen ihrerseits – indem auch hier ungeahnt vielfältige Register gezogen werden – zum anregend-überraschenden, dramaturgisch spannungsvollen Spiel bei.»

The story of Narcissus and Echo, as told by Ovid, demands music of uncharacteristic directness. It is about the call which waits for resonance, for instance, but also about the life-giving principle of mutation, of constant, startling change. And of course it is about eroticism in all its forms.
A genuinely theatrical music is being played out here: the stylistic uniformity is of less interest than the colouration. Or, to put it better; the music gains its unique character through diversity and contradiction. And the text, stringently orientated toward music, acquires a theatrical presence. Manuel Perovic's precisely coloured orchestration and the exquisite performances of all involved created a seductive, erotic atmosphere and contribute to the game of stimulating, astonishing dramatically tension – here too a surprising range of stops are pulled out.

LIner notes:
Tim Krohn, Daniel Fueter
MAILORDER-PRICE:
Schweiz: 30 SFr. plus 3 SFr. Porto/Versand
Deutschland/Österreich: 18 Euro plus 3 Euro Porto/Versand
International: VISA / MASTER: 30 SFr. plus 5.50 SFr. Postage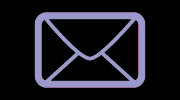 Please click here to order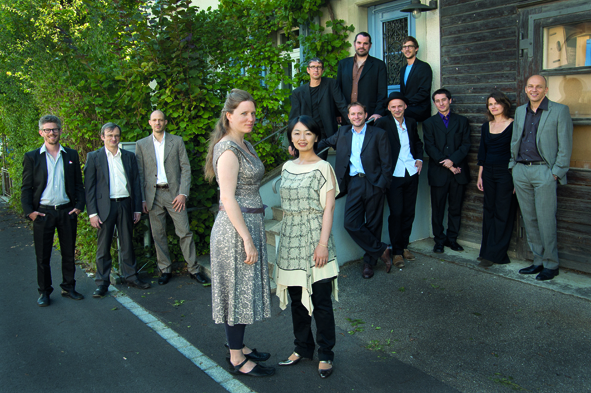 Michael Jaeger, Chris Wiesendanger, Damian Zangger, Jeannine Hirzel, Sonoe Kato, Daniel Studer, Jürg Wickihalder, Bernhard Bamert,
Manuel Perovic, Florian Egli, Frantz Loriot, Mia Lindblom, Tim Krohn. Photo: Sheldon Suter

Jürg Wickihalder: all Intakt CDs

Michael Jaeger: all Intakt CDs
Chris Wiesendanger: all Intakt CDs