STEPHAN CRUMP - MARY HALVORSON
SECRET KEEPER
SUPER EIGHT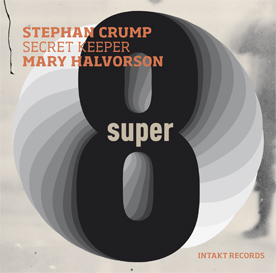 Stephan Crump Acoustic Bass
Mary Halvorson Guitar

Recorded July 23, November 10, 17, 2011 at the Butler Plaza, Brooklyn, NY by Stephan Crump.
Mixed in spring 2012 by Stephan Crump at the Butler Plaza, mastered April 3, 2012 by A.T. Michael MacDonald at AlgoRhythms, Brooklyn, NY.
Liner notes: Jim Macnie. Photo: Gus Powell.
Cover art and desgin: Jonas Schoder
Intakt CD 216


Two of the most innovative personalities of the New York jazz scene in Brooklyn, Stephan Crump and Mary Halvorson, present a very special, intimate and atmospheric recording called "Super Eight" under the band name of "Secret Keeper".
Stephan Crump surprised a few years ago with a duo recording on Intakt on which he collaborated with saxophonist Steve Lehman. He made him­self a name with his Rosetta Trio and as the bass player of the Vijay Iyer Trio. Mary Halvorson is one of the busiest musicians around. She plays with Anthony Braxton, Ingrid Laubrock and Marc Ribot to name just a few.

Jim Macnie writes in the linernotes: " Each is fluent in the grammar of modern improv and adept at concocting music from feel. The fact that they're a duo not only italicizes the particulars of their interaction, but spotlights the personality of their instruments. Super Eight finds both guitar and bass resonating. Surrounded by only themselves, they've made an album of unusual candor."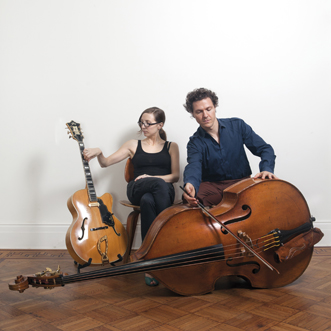 Mary Halvorson, Stephan Crump, 2012. Photo: Gus Powell

Zwei der innovativen jungen Persönlichkeiten der aktuellen New Yorker Brooklyn-Szene legen eine aussergewöhnliche, geradezu intim anmutende, sehr stimmungsvolle Einspielung vor: Stephan Crump - Mary Halvorson Secret Keeper mit «Super Eight».

Stephan Crump überraschte bereits mit seiner Duo-CD auf Intakt Records mit dem New Yorker Saxophonisten Steve Lehman. Ausserdem ist er bekannt durch sein Rosetta Trio und die Mitarbeit im Pianotrio von Vijay Iyer. Mary Halvorson zählt heute zu den aktivsten Musikerinnen von New York. Sie spielt zusammen mit Anthony Braxton, Ingrid Laubrock, Marc Ribot und vielen anderen.

Zur Duo-CD schreibt der Journalist Jim Macnie: «Beide sprechen die Sprache der modernen Improvisation fliessend und verstehen es, Musik intuitiv entstehen zu lassen. Die Tatsache, dass sie als Duo arbeiten, unterstreicht nicht nur die Besonderheiten ihres Zusammenspiels, sondern rückt das Charakteristische ihrer Instrumente in den Vordergrund: Auf «Super Eight» schwingen sowohl Gitarre als auch Bass. Ganz auf sich gestellt, haben sie ein Album von ungewöhnlicher Offenheit geschaffen».
MAILORDER-PRICE:
Schweiz: 30 SFr. plus 3 SFr. Porto/Versand
Deutschland/Österreich: 18 Euro plus 3 Euro Porto/Versand
International: VISA / MASTER: 30 SFr. plus 4.50 SFr. Postage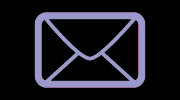 Please click here to order
Stephan Crump on Inakt Records: All CDs
Mary Halvorson on Intakt Records: All CDs