(eng)
Omri Ziegele, saxophonist, composer and und leader of the small orchestra Billiger Bauer presents a duo with younger Zürich pianist Yves Theiler – after Ziegel had made his musical way for at least a decade and a half previously with the pianist Irène Schweizer (and two very successful CDs).

Bert Noglik writes about the music of Omri Ziegele - Yves Theiler: "Reaching the inner relationships at the core of music-making: the piano defines the space, grounds the saxophone's high-altitude flights: heaven and earth. But the instruments also soar and fly forward together, in correlation and in contrast, bound together yet open. Omri Ziegele and Yves Theiler react to each other in an instant, and also interact there where they might appear to be miles apart. They break each piece apart, pull back the curtain, abandon the safe ground. And all at once, when the sounds begin to warm our hearts, the melodies start to dance."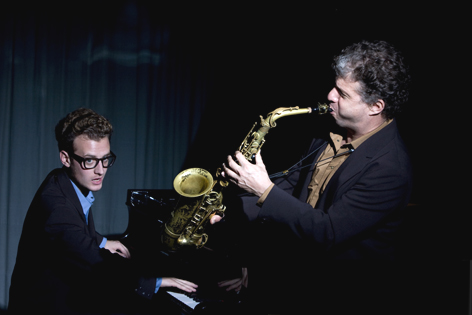 (dt)
Omri Ziegele, Zürcher Saxophonist, Komponist und Initiant des Orchesters Billiger Bauer, präsentiert nach anderthalb Jahrzehnten gemeinsamen Weges mit der Pianistin Irène Schweizer und zwei sehr erfolgreichen Veröffentlichungen eine Duo-CD mit dem jungen Zürcher Pianisten Yves Theiler: «Inside Innocence». Eine Entdeckung !

«Ganz in die inneren Zusammenhänge des Musizierens eindringen», schreibt Bert Noglik in den Liner Notes zur Musik des Duos.«Das Piano definiert den Raum, fundiert die Höhenflüge des Saxophons. Himmel und Erdung. Aber auch gemeinsames Abheben, Voranschreiten in der Entsprechung und im Widerspruch, in der Bindung ebenso wie in der Öffnung. Omri Ziegele und Yves Theiler – sie reagieren blitzschnell aufeinander, und sie interagieren auch dort, wo sie sich scheinbar weit voneinander entfernen. Sie brechen die Stücke auf, reißen den Vorhang zurück, verlassen den sicheren Grund. Und auf einmal, wenn die Klänge das Herz erwärmen, beginnen die Melodien zu tanzen.