OMRI ZIEGELE BILLIGER BAUER
SO VIEL SCHON HIN – 15 HERBSTLIEDER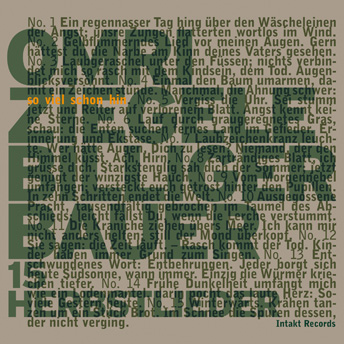 Omri Ziegele: Alto Saxophone, Voice
Isa Wiss: Voice
Jürg Wickihalder: Soprano, Alto, Tenor Saxophone
Nick Gutersohn: Trombone
Yves Reichmuth: E-Guitar
Gabriela Friedli: Piano
Jan Schlegel: E-Bass
Herbert Kramis: Double Bass
Marco Käppeli: Drums
Dieter Ulrich: Drums, Bugle


Soundsamples of this CD / diese CD probehören
(Player opens in new window / Player öffnet sich in neuem Fenster)
Herbstlied 1 5:01
Herbstlied 2 4:35
Herbstlied 3 5:52
Herbstlied 4 3:58
Herbstlied 5 4:16
Herbstlied 6 3:22
Herbstlied 7 3:46
Herbstlied 8 2:33
Herbstlied 9 3:59
Herbstlied 10 3:46
Herbstlied 11 5:52
Herbstlied 12 5:25
Herbstlied 13 4:06
Herbstlied 14 3:46
Herbstlied 15 4:15
Total time 61:12

Music and lyrics by Omri Ziegele. Recorded January 2 – 5, 2014, at Jazzcontainer Uster by Willy Strehler.
Mixed and mastered by Willy Strehler and Omri Ziegele.
Cover art & Graphic design: Jonas Schoder. Liner notes: Manfred Papst. Photo: Timo Ullmann bildwild.
Produced by Omri Ziegele and Intakt Records. Published by Intakt Records, Patrik Landolt.
Intakt CD 247 / 2015
Omri Ziegele, saxophonist, composer and und leader of the small orchestra Billiger Bauer, presents a new work with his orchestra. For its 15th anniversary, it quite aptly premiered the first performance of a 15-part work at the Zurich Theater Neumarkt with music and lyrics written by Ziegele. It is an ode to autumn with its glowing colours and also its reminder of nature's transition. The first performance of this ambitious oeuvre was an unforgettable experience – and a huge success with the audience and the critics. This piece is now finally available on CD and we listen, spellbound, to these "Herbstlieder". Jazz critic Manfred Papst (editor of "Die Neue Zürcher Zeitung am Sonnntag") writes: «A number of different elements play a role in
Billiger Bauer's music: from Igor Strawinsky and Kurt Weill to the Vienna Art Orchestra. But one thing remains clear: It is about intensity, about a spiritual impetus. You can feel the passion of a John Coltrane. It excludes neither introspection nor a sense of humour … A gentle kind of melancholia permeates this complex and at the same time accessible piece of music with its different layers of rhythms and its innovative orchestration.»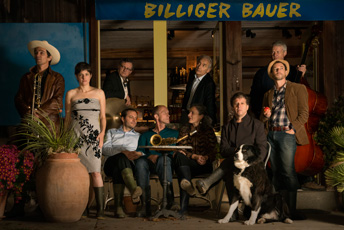 Der Zürcher Saxophonist und Komponist Omri Ziegele präsentiert die dritte Veröffentlichung seiner Grossformation Billiger Bauer. Zu seinem 15. Geburtstag hat der Billige Bauer im Zürcher Theater Neumarkt ein 15-teiliges Werk uraufgeführt, für das Omri Ziegele sowohl die Musik als auch den Text geschrieben hatte. Es trägt den tief- und hintersinnigen Titel «So viel schon hin» und ist eine Ode an den Herbst mit seiner Farbenglut, aber auch mit seinem Gemahnen an die Vergänglichkeit. Der Jazzkritiker Manfred Papst (NZZ am Sonntag) schreibt in den Linernotes: «Viele Elemente spielen hinein in die Musik des Billigen Bauern – von Igor Strawinsky und Kurt Weill bis zum Vienna Art Orchestra. Doch eines ist immer klar: Es geht um Intensität, um einen spirituellen Impetus. Da ist die Hingabe John Coltranes zu spüren. Das schliesst indes weder Introspektion noch Humor aus … Hymnische und lyrische Passagen gehen ineinander über, Kontemplation mündet zwanglos in erdigen Groove … Sanfte Melancholie durchzieht dieses komplexe und gleichwohl zugängliche Werk mit seinen überlagerten Rhythmen und seiner innovativen Orchestrierung.»
MAILORDER-PRICE:
Schweiz: 30 SFr. plus 3 SFr. Porto
Deutschland/Österreich: 18 Euro plus 3 Euro Porto/Versand
International: VISA / MASTER: 30 SFr. plus 4.50 SFr. Postage
Intakt Records, Postfach 468, 8024 Zürich, Fax: 0041-44-383 82 33
intakt@intaktrec.ch
Laudatio von Bert Noglik: 20 Jahre Billiger Bauer

Omri Ziegele bei Intakt Records
Jürg Wickihalder bei Intakt Records
Gabriela Friedli bei Intakt Records
Jan Schlegel bei Intakt Records
Herbert Kramis bei Intakt Records
Marco Käppeli bei Intakt Records
Dieter Ulrich bei Intakt Records