A new "piano icon" – this is how Fred Frith describes Katharina Weber. For almost thirty years now the classically trained pianist and composer moves within the world of New Music and Improvisation.
Energy and silence – being focussed, aware, yet at the same time relaxed and open. This is exactly the state she also finds important for improvising, Katharina Weber says.
In percussionist Fredy Studer and guitarist Fred Frith, Katharina Weber has evidently found two like-minded partners in this trio who: Studer, the wild Hardcore-Chamber-Music-drummer with a liking for driving grooves and Frith, the multi and poly-lingual sound artist among contemporary guitarists.
Fascinating alongside the complex and often equivocal impression is a discreet kind of awareness of form; a conciseness, clarity and logic which surely originate in the manifold individual experiences of Frith, Studer and Weber in the most diverse musical settings. The fact that from these experiences they have now found a common means of expression and, obviously and above all, a common joy of playing is more than just a stroke of luck!
.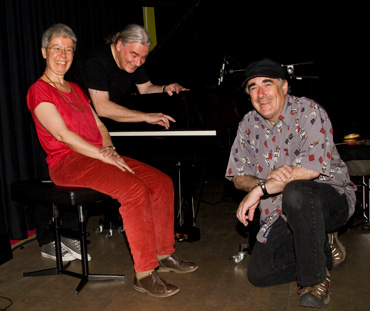 Photo: Josef Jutz

Energie und Ruhe – Konzentriert sein, achtsam, aber zugleich gelöst und offen. Es ist genau dieser Zustand, der ihr auch beim Improvisieren wichtig sei, sagt Katharina Weber.
Mit dem Schlagzeuger Fredy Studer und dem Gitarristen Fred Frith hat Katharina Weber in diesem Trio zwei Gleichgesinnte an ihrer Seite: Studer, der furiose Hardcore-Chamber-Music-Trommler mit einem Faible für druckvolle Grooves und Frith, der so vielsprachige Klangkünstler unter den zeitgenössischen Gitarristen.
Hinter den komplexen und oft ambivalenten Stimmungsbildern fasziniert ein unaufdringliches Formbewusstsein; eine Prägnanz, Klarheit und Logik, die sicher auf die mannigfachen individuellen Erfahrungen von Frith, Studer und Weber in den unterschiedlichsten musikalischen Kontexten zurückzuführen ist. Dass sie aus diesen Erfahrungen jetzt zu einer gemeinsamen Spielhaltung und offensichtlich vor allem zu einem gemeinsamen Spielvergnügen gefunden haben, ist mehr als nur ein Glücksfall! (aus den Linernotes von Julia Neupert)