From the very first notes they played together, Secret Keeper, the innovative duo of "NYC's least-predictable improviser" (City Arts) Mary Halvorson and Grammy-nominated Stephan Crump had a magical connection. Their debut album, Super Eight, arrived in March of 2013. Now with Emerge, their second release, the duo reveals a new level of chemistry.

Washington journalist Will Layman says: "'Emerge', the duo's second release, is the fulfillment of a promise made in their early sessions. The music is at once tender and tough, intuitive and open, ready to let you in on its dazzling intimacy."

Stephan Crump made himself a name with his Rosetta Trio and as the bass player of the Vijay Iyer Trio. He surprised a few years ago with a duo recording on Intakt on which he collaborated with saxophonist Steve Lehman. Mary Halvorson is one of the busiest musicians around. She plays with Anthony Braxton, Ingrid Laubrock and Marc Ribot to name just a few.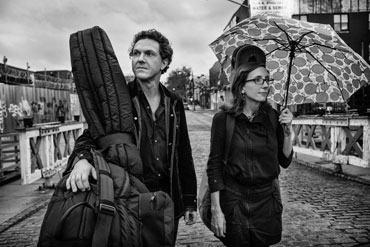 Photo: Reuben Radding

"Emerge" ist das zweite Album des aus Brooklyn, New York, stammenden Duos Secret Keeper mit dem Bassisten Stephan Crump und Mary Halvorson an der Gitarre.

Stephan Crump überraschte bereits mit seiner Duo-CD auf Intakt Records mit dem New Yorker Saxophonisten Steve Lehman. Ausserdem ist er bekannt durch sein Rosetta Trio und die Mitarbeit im Pianotrio von Vijay Iyer. Mary Halvorson zählt heute zu den aktivsten Musikerinnen von New York. Sie spielt zusammen mit Anthony Braxton, Ingrid Laubrock, Marc Ribot und vielen anderen.

War die erste Duo-CD ("Super Eight") aus dem Moment entstanden und geprägt von der Spontaneität freier Improvisation, entwickelten Crump und Halvorson für "Emerge" Kompositionen. Die neue Veröffentlichung enthält acht Stücke aus der Feder von Crump und Halvorson und eine wunderschöne Interpretation des Jazzstandards "What'll I Do". «Diese zweite Veröffentichung», schreibt der Journalist Will Layman, «ist die Erfüllung des Versprechens, welches das Duo in ihren frühen Sessions machte.» Die Musik ist «sowohl zart wie massiv, sie ist intuitiv und offen und lässt die HörerInnen teilhaben an einer hell leuchtenden musikalischen Intimität.»