Das Schwierige in ein Leichtes verwandeln. Das Festgefügte in ein Fließendes. Schwer lastende Fragen in flirrende und tanzende Bilder. Follow your heart. Wegsuche, unablässiges Weitergehen. Mit Sarah Buechi im Shadow Garden – derzweiten CD der Schweizer Sängerin mit ihrer eigenen Gruppe.
Bert Noglik schreibt in den Liner Notes: «Das Spektrum der Songs reicht von balladesken Stimmungen bis zu expressiven Steigerungen, von schlichten Liedern im Volkston bis zu verschachtelten Gesangseskapaden, von gelassenen, melancholischen oder euphorischen Weltbetrachtungen bis zu rockrhythmischer Intensität. Oft wird lyrisch reflektiert, mitunter auch erzählt, als säße jemand direkt gegenüber.
Federnden Schrittes bewegt sich Sarah Buechi auf die großen Themen zu. Sie umkreist Existentielles mit poetischen Texten und findet sich wieder in einem Strom aus Worten, Vokalisen, Klängen und Rhythmen. Umgeben von der Band, von ihrer Band, die so nur für sie und mit ihr zusammenkommt. »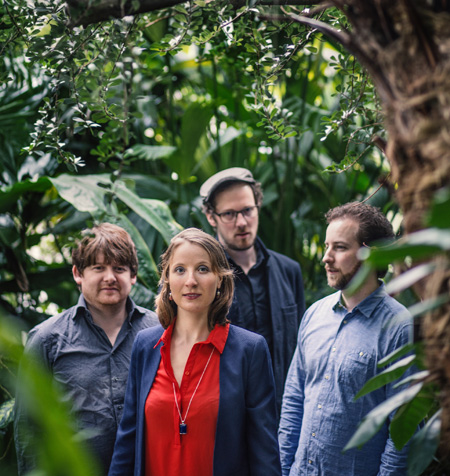 Lionel Friedli, Sarah Buechi, Stefan Aeby, André Pousaz (Photo: Michelle Ettlin)
Turning something complicated into something straight­forward. Loaded questions into shimmering and dancing images. Follow your heart. Find your way, keep on moving relentlessly. Together with Sarah
Buechi in the Shadow Garden.
Sarah Buechi presents her second CD with her ownquartet: "Shadow Garden". Bert Noglik writes in the liner notes: "The scope of songs ranges from those with a ballad feel up to those surging with emotion, from folk-like songs to vocal escapades, from relaxed, melancholic or euphoric reflections on the world to rock-like rhythmic intensity. Often, with a kind of lyrical deliberation, story-like, as if someone is sitting down opposite.
Light-footedly she approaches the big issues. She orbits around existential matters with her poetical texts and rediscovers herself in streams of words, vocalese, sounds and rhythms. Accompanied by the group, her group, which only comes together in this particular line-up for her - with her."