ALY KEÏTA – JAN GALEGA BRÖNNIMANN – LUCAS NIGGLI
KALO-YELE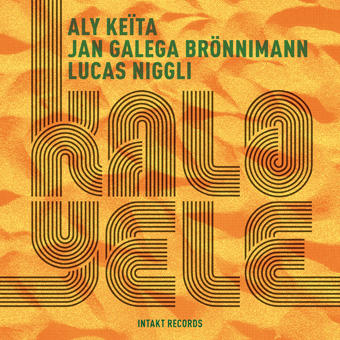 .
Aly Keïta: Balafon
Jan Galega Brönnimann: Bass Clarinet, Contrabass Clarinet, Soprano Saxophone
Lucas Niggli: Drums


Soundsamples of this CD / diese CD probehören
(Player opens in new window / Player öffnet sich in neuem Fenster)

Release date:
Europe: January 2016
USA+Canada: January 29, 2016

1. Kalo-Yele (Keïta) 5:00
2. Nyanga (Brönnimann) 4:54
3. Bean Bag (Niggli) 6:04
4. Mamabamako (Brönnimann) 5:13
5. Makuku (Keïta) 4:47
6. Langa (Brönnimann) 4:10
7. Abidjan Serenade (Brönnimann) 5:06
8. Dreams of Mikael (Keïta) 6:04
9. Bafut (Brönnimann) 4:29
10. Adjamé Street (Keïta) 4:58
Total time 51:13

Recorded March 27, 28, 2015, at The Zoo Studio Bern, Switzerland by Mat Callahan.
Mixed and Mastered by Martin Ruch at Abhörraum Berlin.
Graphic design: Jonas Schoder. Liner notes: Thierry Quénum. Photos: Stefan Postius.
Produced by Keïta – Brönnimann – Niggli and Intakt Records.
Published and copyright by Intakt Records, Patrik Landolt.

Intakt CD 261

MAILORDER-PRICE:
Schweiz: 30 SFr. plus 3 SFr. Porto/Versand
Deutschland/Österreich: 18 Euro plus 3 Euro Porto/Versand
International: VISA / MASTER: 30 SFr. plus 4.50 SFr. Postage
Aly Keïta is one of the grand masters of the balafon, the West African xylophone. The Ivorian musician fits the balafon in interaction with artists such as Joe Zawinul, Omar Sosa and Jan Garbarek. Together with the Swiss clarinetist Jan Galega Brönnimann and Swiss drummer Lucas Niggli Keïta mixes the traditional African repertoire with Western jazz, Improvisation and African rhythms. This "Brotherhood of vibes and grooves" takes the audience on an adventurous ride.

The first element that underlies "Kalo-Yele" ("moonlight" in Bambara) is a human and affective dimension, whose origin lies many miles from Switzerland and several decades before the three musicians entered the studio. Niggli and Jan Galega Brönnimann were actually born in Cameroon and they have been friends since they were… one year old! So, they spent their youth to the sounds and rhythms of West African music.

Thierry Quénum writes in the liner notes: "If you ever wanted to try and classify the repertoire and interaction of these three musicians, I'd just have to wish you good luck! For each of them can handle the melody as well as the rhythm, or sail close to the jazz coasts as easily as near the banks of so called "world music".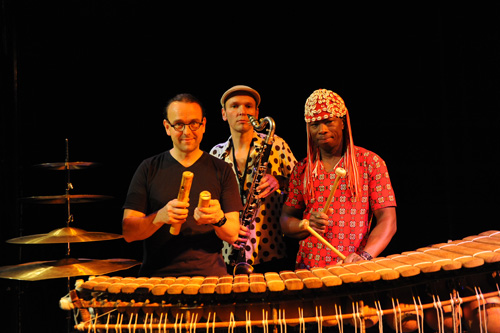 Foto: Stefan Postius
Aly Keïta ist einer der grossen Meister des Balafons, des westafrikanischen Xylophones. Der Musiker aus der Elfenbeinküste führte das Balofon ein in die Musik von Joe Zawinul, Omar Sosa und Jan Garbarek. Mit dem Schweizer Klarinettisten und Saxophonisten Jan Galega Brönniman und dem Schweizer Schlagzeuger Lucas Niggli verschmelzt er traditionelles afrikanisches Repertoir mit Jazz und Improvisation.

Das Album "Kalo-Yele" ('Mondschein' in der Bambara-Sprache) besitzt eine menschliche und gefühlsmässige Dimension, deren Ursprung viele Kilometer von der Schweiz entfernt und mehrere Jahrzehnte zurück liegt: Niggli und Brönnimann kamen beide in Kamerun zur Welt und sind seit ihrem ersten Lebensjahr befreundet. Sie verbrachten also ihre Kindheit im Umkreis der Klänge und Ryhthmen westafrikanischer Musik.

Das Repertoire und die Interaktion der drei sprengt alle Grenzen. Der französische Jazzkritiker Thierry Quénum schreibt in den Linernotes: "Sie spielen sowohl Melodie als auch Rhythmus und berühren dabei sowohl die Ränder des Jazz als auch der Weltmusik. Ist das Jazz ? – Eindeutig! Erwarte das Unerwartete, könnte ihr Motto lauten."
Lucas Niggli on Intakt Records