ELLIOTT SHARP
WITH MARC RIBOT AND MARY HALVORSON
ERR GUITAR

Elliott Sharp: Guitar
Mary Halvorson: Guitar
Marc Ribot: Guitar


Soundsamples of this CD / diese CD probehören
(Player opens in new window / Player öffnet sich in neuem Fenster)
1. Blindspot (Elliott Sharp, Mary Halvorson, Marc Ribot) 7:22
2. The Ship I Am On (Mary Halvorson) 2:46
3. Wobbly (Elliott Sharp, Marc Ribot) 7:14
4. Shredding Light (Elliott Sharp, Mary Halvorson) 6:59
5. Sinistre (Elliott Sharp, Marc Ribot) 3:47
6. I'm Gonna Party Like It's 1988 (Marc Ribot) 2:40
7. Sequola Pt. 1 (Elliott Sharp, Mary Halvorson) 4:22
8. Sequola Pt. 2 (Elliott Sharp, Mary Halvorson) 2:59
9. Oronym (Elliott Sharp, Marc Ribot) 9:07
10. Sea Buzz (Elliott Sharp, Mary Halvorson) 5:03
11. N ektone (Elliott Sharp) 3:02
12. Kernel Panic (Elliott Sharp) 10:12
Total time: 65:55

Recorded July 25, 26, 2016, at Studio zOaR, Manhattan, NY. Mixed and mastered at Studio zOaR by Elliott Sharp.
Cover art and graphic design: Jonas Schoder. Photos: Patrik Landolt. Liner notes: Elliott Sharp.
Produced and published by Intakt Records, Patrik Landolt.

Intakt CD 281 / 2017
Last summer in Elliott Sharp's recording studio in Manhattan, New York guitarist Sharp spent a day with guitar colleague Mary Halvorson and another with Marc Ribot, legendary guitarist of Tom Waits, The Lounge Lizards and Marianne Faithful. The result was a series of recordings that could only be created by friends. They represent the great art of guitar playing by three exceptional musicians looking for new sonic adventures in search of the sound of our time. "I hear in their playing both a step into an unknown future and wild growth from a deep past," says Elliott Sharp. "The contradiction is resolved in improvisation - the transcendent sonic path of the now."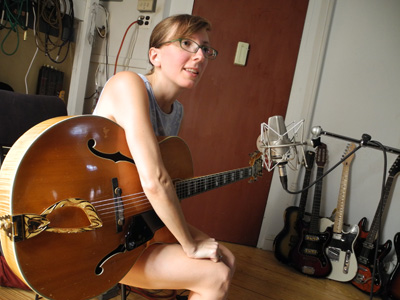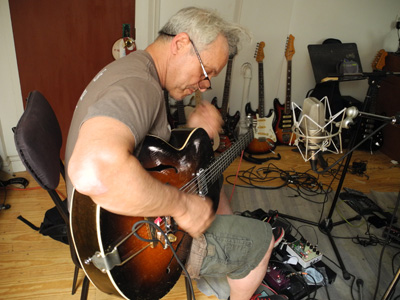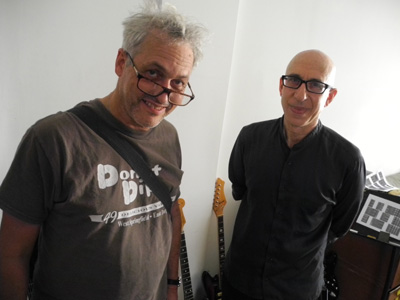 Photos: Patrik Landolt

Im Sommer 2016 traf sich der Gittarrist Elliott Sharp einen Tag mit der Gitarristin Mary Halvorson und einen zweiten Tag mit dem Gitarristen Marc Ribot in seinem Aufnahmestudio in Manhatten. Es entstand eine Kollektion von Aufnahmen, wie sie nur gute Freunde zustande bringen. Die grosse Kunst der Gitarre, gespielt von drei New Yorker Gitarristen, die neue Wege suchen und den aktuellen Sound der heutigen Zeit kreieren. Oder wie Elliott Sharp in den Liner Notes schreibt: "Ich höre in Mary Halvorson und Marc Ribots Gitarrenspiel den Schritt in die unbekannte Zukunft und den Reichtum der Vergangenheit. Dieser Widerspruch löst sich in der Improvisation auf, dem transzendierenen Klangweg zum Heute."

MAILORDER-PRICE:
Schweiz: 30 SFr. plus 3 SFr. Porto/Versand
Deutschland/Österreich: 18 Euro plus 3 Euro Porto/Versand
International: VISA / MASTER: 30 SFr. plus 4.50 SFr. Postage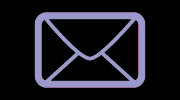 Please click here to order
Elliott Sharp on Intakt Records: All CDs
Mary Halvorson on Intakt Records: All CDs