FLORIAN EGLI WEIRD BEARD
ORIENTATION
Florian Egli: Saxophone, Clarinet
Dave Gisler: Guitar
Martina Berther: E-Bass
Rico Baumann: Drums


Soundsamples of this CD / diese CD probehören
(Player opens in new window / Player öffnet sich in neuem Fenster)
1 Hanako 4:24
2 Empty Shell 7:18
3 Orientation 6:31
4 Winter 5:35
5 The Big Wasy 4:56
6 The Cat 5:29
7 No More Rain 4:27
8 Playground 4:18
Total time 43:04
All compositions by Florian Egli, except "Playground" by Dave Gisler (SUISA).
Recorded in January 2017 at Studio Black Box, Noyantla-Gravoyère, France, by David Odlum.
Mixed and mastered by David Odlum.
Cover art: Jörger-Stauss & Annatina Nay. Graphic design: Jonas Schoder. Photo: Angelika Annen.
Liner notes: Christoph Wagner. Executive producer: Anja Illmaier.
Produced by Florian Egli and Intakt Records, Patrik Landolt. Published by Intakt Records.
Intakt CD 291 / 2018
Weird Beard um den Zürcher Saxophonisten Florian Egli legt nach seinem ersten Album 'Everything Moves' bei Intakt Records eine zweite Studioplatte vor, welche wieder im Blackbox Studio in der Bretagne mit dem herausragenden Toningenieur David Odlum aufgenommen wurde. 'Orientation' lautet der Titel dieses ausgefeilten zweiten Albums der Band, das sich darauf verstärkt mit der Kreation von Stimmungen und Atmosphären befasst.
Christoph Wagner schreibt in den Liner Notes: "Aus Gegensätzen schlägt die Band kreative Funken. Weird Beard machen den Kontrast zu einem Mittel der Dramaturgie, indem sie zwischen laut und leise, schnell und langsam, zupackend und poetisch pendeln. Zeitweise wird die Musik lichter und transparenter, um sich danach wieder zu verdichten. Mit «Post-Jazz» wäre ihre Musik heute vielleicht am ehesten beschrieben."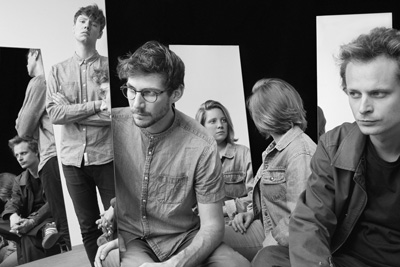 Photo: Angelika Annen
The quartet Weird Beard was founded by Zurich based saxophonist Florian Egli. Following the debut album 'Everything Moves' on Intakt Records, they release a second studio album, recorded again in the Blackbox Studio in Brittany by the out­standing sound engineer David Odlum. 'Orientation' is a sophisticated record on which Weird Beard increasingly focus their attention on the creation of moods and atmospheres.
Christoph Wagner writes in the liner notes: "Weird Beard forge creative sparks out of opposites. The band use contrast as a means to create dramaturgy, veering back and forth from soft to loud, from fast to slow, and from forceful to lyrical. Sometimes the music acquires a lightness and transparency, but then becomes progressively more dense. In other places it can morph into a dreamy wallowing elegy, before opening outinto a tub-thumping inferno. Perhaps "post-jazz" is the word which comes first to mind to describe it."
MAILORDER-PRICE:
Schweiz: 30 SFr. plus 3 SFr. Porto
Deutschland/Österreich: 18 Euro plus 3 Euro Porto/Versand
International: 30 SFr. plus 4.50 SFr. Postage
Intakt Records, Postfach 468, 8024 Zürich, Fax: 0041-44-383 82 33
intakt@intaktrec.ch
Florian Egli bei Intakt Records
Dave Gisler bei Intakt Records

Martina Berther bei Intakt Records
Rico Baumann bei Intakt Records