Ein Treffen zweier Giganten: In Zürich kam es zur ersten Begegnung des wohl gefragtesten Schlagzeugers der New Yorker Jazzszene und der First Lady des europäischen Jazz. Joey Baron meets Irène Schweizer. Joey Baron spielte in seiner langen Karriere in Bands wie Naked City und Masada und arbeitete live und im Studio mit Musikern wie Dizzy Gillespie, Chet Baker, Joe Lovano, Bill Frisell oder Marc Ribot.

Irène Schweizer liebt das Duo-Spiel mit Schlagzeugern. Sie hat ihre Meisterschaft des Duo-Spiels mit den namhaften Drummern des aktuellen Jazz-CDs gezeigt: mit Han Bennink, Pierre Favre, Louis Moholo, Günter Baby Sommer, Andrew Cyrille, Hamid Drake.

Das Duo-Konzert Schweizer-Baron war einer der grossen Höhepunkte des unerhört!-Festivals 2015 in Zürich. Spielfreude, Energie, Drive, traumwandlerische Interaktion und bezaubernde Themen von Irène Schweizer. "Diese wunderbare Aufnahme dokumentiert einen fabelhaften Abend in Zürich", schreibt John Corbett in den Liner Notes.
Photo: Michelle Ettlin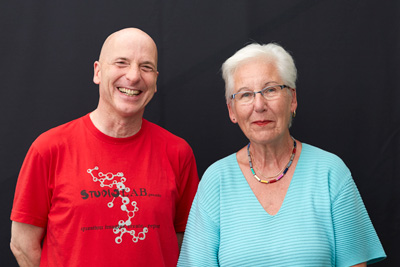 Photo: Francesca Pfeffer
A meeting of two jazz giants: In 2015, Joey Baron, one of the most sought after drummers on the New York scene met the First Lady of European jazz, Swiss pianist Irène Schweizer, in concert in Zürich. During his long career Baron has played with bands such as Naked City and Masada and worked with musicians Dizzy Gillespie, Chet Baker, Joe Lovano, Bill Frisell and Marc Ribot.

Schweizer had already performed and recorded with the best drummers on the planet: Pierre Favre, Han Bennink, Louis Moholo-Moholo, Günter "Baby" Sommer, Andrew Cyrille and Hamid Drake.

The performance of the two was one of the highlights of the Unerhört-Festival in Zürich, 2015. Their encounter had every-thing you could hope for: energy, drive and mesmerizing exchanges paired with the magical tunes Schweizer is famous for. "This beautiful recording documents a marvellous evening in Zürich," John Corbett writes in the liner notes.