ARUÁN ORTIZ TRIO
LIVE IN ZURICH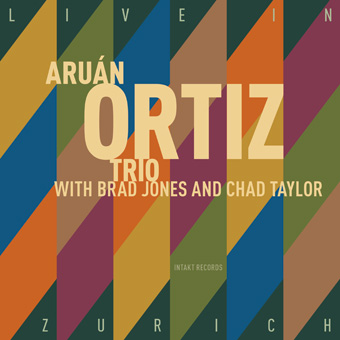 .
Aruán Ortiz: Piano
Brad Jones: Bass
Chad Taylor: Drums, Mbira


Soundsamples of this CD / diese CD probehören
(Player opens in new window / Player öffnet sich in neuem Fenster)
1. Part 1 34:07
Analytical Symmetry (Aruán Ortiz)
Fractal Sketches (Aruán Ortiz)
2. Part 2 17:38
Bass improvisation
Etude #6 op 10 (Frédéric Chopin, arr. by Aruán Ortiz)
Open or Close & The Sphinx (Ornette Coleman, arr. by Aruán Ortiz)
3. Alone Together 8:36
(Arthur Schwartz, arr. by Aruán Ortiz)

Recorded November 26, 2016, at unerhört!-Festival Rote Fabrik Zürich.
Recording engineer: Martin Pearson.
Recording producer: Radio SRF 2 Kultur Peter Bürli and Intakt Records.
Mixed January 4, 2018, by Michael Brändli, Patrik Landolt and Anja Illmaier at Hardstudios Winterthur.
Mastered by Michael Brändli Hardstudios Winterthur.
Cover art and graphic design: Jonas Schoder. Photos: Michelle Ettlin.
Liner notes: Christian Broecking. Executive production: Patrik Landolt.
Intakt CD 301 / 2018

MAILORDER-PRICE:
Schweiz: 30 SFr. plus 3 SFr. Porto/Versand
Deutschland/Österreich: 18 Euro plus 3 Euro Porto/Versand
International: VISA / MASTER: 30 SFr. plus 4.50 SFr. Postage
When Aruán Ortiz appeared with his new trio at Zürich's unerhört!-festival on 26 November 2016, the sense of anticipation was palpable; how would the music from the well-received studio album Hidden Voices feel in a live context. The trio were at the end of their first European tour, and on a roll. Immediately after the concert Ortiz was already enthusing about the interaction and musical dialogue.
"Mulling it over" – like the aging process of wine; carrying one or two pieces around with you for years, till the final versions emerge. In Ortiz' case this applies to compositions such as "Fractal Sketches" and "Analytical Symmetry", which were first heard on the studio album Hidden Voices, here in a new line-up, with Brad Jones on bass and Chad Taylor on drums, after an intensive two-week tour. That close relationship between the musicians and the song grows tremendously the more you play it, and it develops a musical trust within the band. When all goes well, the sound and energy are in tune with the compositional idea. On this live CD we can hear just how well it went on 26 November 2016 at the unerhört!-festival in Zürich.
From the liner notes by Christian Broecking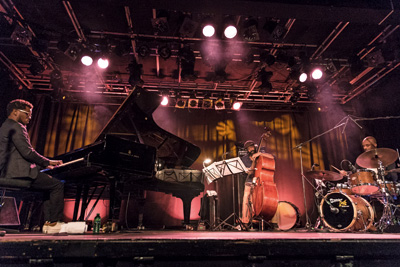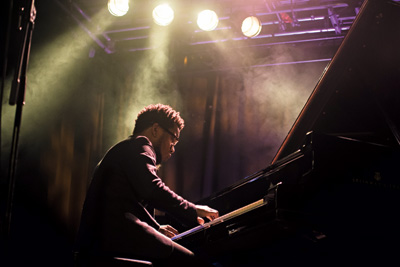 Photos: Michelle Ettlin
Als Aruán Ortiz mit seinem neuen Trio am 26. November 2016 beim Zürcher unerhört!-Festival auftrat, war die Spannung gross, wie sich die Musik des bereits gut besprochenen Studioalbums «Hidden Voices» im Live-Kontext anfühlen würde. Das Trio war am Ende seiner ersten Europa-Tour bestens eingespielt. Ortiz lobte nach dem Konzert die Interaktion und den musikalischen Dialog.
«Mulling it over» – so wie der Alterungsprozess beim Wein. Ein, zwei Stücke jahrelang mit sich herumtragen, bis endgültige Fassungen daraus werden. Bei Ortiz sind dies eigene Kompositionen wie «Fractal Sketches» und «Analytical Symmetry», die bereits auf dem Studio­album «Hidden Voices» zu hören sind. Hier nun in anderer Besetzung mit Brad Jones am Bass und Chad Taylor am Schlagzeug, nach einer intensiven zweiwöchigen Tour. Erst wenn diese Stücke wieder und wieder aufgeführt werden, jede Nacht auf unterschiedlichsten Bühnen, werden sie zu Lebewesen, die sich ständig ändern, ersetzen und neu formen. Im Glücksfall stimmen Sound, Energie und die Verwirklichung der kompositorischen Idee. Dass ebendies am 26. November 2016 während des unerhört!-Festivals in Zürich zusammentraf, ist nun auf dieser Live-CD zu hören.