Das Klavier-Quartett Kukuruz, eines der aufregendsten jungen Ensembles in der grenzüberschreitenden Musik, vertieft sich seit mehreren Jahren in die Musik von Julius Eastman. 2017 erntete ihr Auftritt an der documenta 14 im Athener Konzertsaal Megaro Mousikis, bei dem sie 'Evil Nigger', 'Gay Guerrilla', 'Buddha' und 'Fugue No. 7' von Julius Eastman interpretierten, stehende Ovation.
Im November 2017 entstanden die Aufnahme für diese CD im historischen grossen Saal des alten Zürcher Radiostudios auf vier Steinway D-Flügeln. Der Komponist, Posaunist und Wissenschaftler George E. Lewis, der Julius Eastman persönlich kannte und mit ihm spielte, schreibt in den Liner Notes: "Diese brillante Einspielung des Kukuruz Quartets ist ein wichtiger neuer Beitrag zum wachsenden Aufführungskorpus der Musik des Komponisten, Pianisten und Sängers Julius Eastman (1940-1990), der sich in der experimentellen Musikszene der 1970er und 1980er Jahre einen Namen gemacht hat ... In dieser Einspielung macht das Kukuruz Quartet Eastmans Abenteuerlust hörbar und sinnlich und veranschaulicht eine neue, "kreolisierte" Formensprache zeitgenössischer klassischer Musik, die in der Lage ist, eine multikulturelle, multiethnisch nutzbare Vergangenheit und eine denkbare Zukunft zu umfassem, die unsere gemeinsame Menschlichkeit auf der Suche nach neuer Musik bekräftigen kann."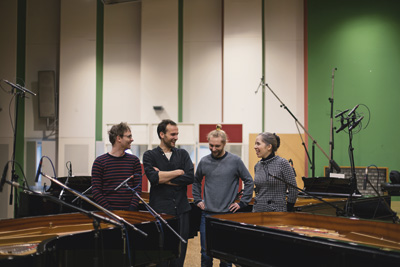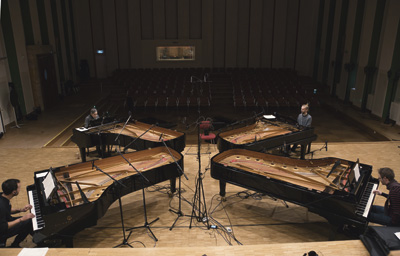 Photos: Michelle Ettlin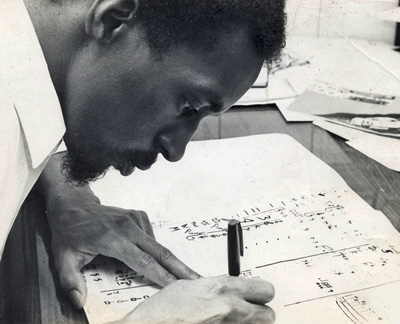 Photos: Donald W. Burkhardt
The Kukuruz Quartet was first seen and heard making their contribution to a production at the Zurich Schauspielhaus. Kukuruz was engaged with notated classical music, advanced new music, with jazz and improvisation. 2014 Kukuruz started their involvement with Julius Eastman and his musical works. In 2017, their performance at documenta 14 in the Megaro Mousikis concert hall in Athens earned a standing ovation. They performed works by Julius Eastman: 'Evil Nigger', 'Gay Guerrilla', 'Buddha' and 'Fugue No. 7'. The recording of these compositions followed in November 2017 on four Steinway D pianos in the main hall of the historic Radiostudio Zürich.
Composer, trombonist and scholar George E. Lewis, who knew Eastman personally and played with him, writes in the liner notes: "This brilliant recording by the Kukuruz Quartet constitutes an important new contribution to the growing corpus of performances of music by the composer, pianist, and singer Julius Eastman (1940-1990), who came to prominence in the experimental music scene of the 1970s and 1980s ... On this recording, the Kukuruz Quartet renders Eastman's spirit of adventure audible and sensuous, exemplifying a new, creolized formation of contemporary classical music that is able to embrace a multicultural, multi-ethnic usable past and thinkable future that can affirm our common humanity in the pursuit of new music."