YVES THEILER TRIO
WE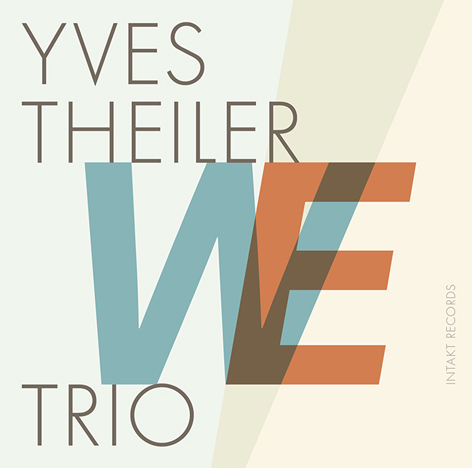 Yves Theiler Piano
Luca Sisera Bass
Lukas Mantel Drums

1. Slush in Thaw
2. No Rank, No Hill
3. The Truth Is, I Was Born in Argentina
4. WE
5. Beauty in Space
6. The Visit of Mr. Lev
7. Every Year


All compositions by Yves Theiler.
Recorded July 5,6, 2018, by Andy Neresheimer at Hardstudios Winterthur
for Radio SRF 2 Kultur and Intakt Records. Mixed October 8, 9, 2018, by Andy Neresheimer.
Mastered December 18, 2018, by Michael Brändli at Hardstudios Winterthur.
Cover art and graphic design: Jonas Schoder.
Photo: Gian Marco Castelberg. Liner notes: Kevin Le Gendre.
Produced by Yves Theiler and Intakt Records.
Intakt CD 324 / 2019


Listen to Yves Theiler Trio WE:
1. Slush in Thaw
2. No Rank, No Hill
(eng)
31 -year-old pianist Yves Theiler is one of the most significant voices in international contemporary jazz in Europe. Deeply rooted in the tradition of jazz and equipped with a daring desire to experiment, he distinguishes himself as a composer as well as a free improviser with a sovereign creative will. At the centre of his musical work is the Yves Theiler Trio, which reveres an urgent ensemble music in which improvisational furor and compositional rigour, calculation and freedom intertwine.

"Yves Theiler is part of this long lineage of musicians able to move between comfort zone and danger area. We, his third album as the leader of a trio featuring drummer Lukas Mantel and double bassist Luca Sisera, is a collection of adventurously mapped pieces that are as liable to attract the listener through the jaunty, lively character of the themes as they are the cohesion of the group and strong solo statements by each member," writes Kevin Le Gendre in the liner notes.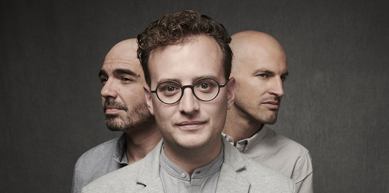 (dt)
Der 31-jährige Pianist Yves Theiler zählt zu den signifikantesten Stimmen der jungen europäischen Szene. Tief in der Tradition des Jazz verwurzelt und ausgestattet mit einer wagemutigen Experimentierlust profiliert er sich als Komponist ebenso wie als freier Improvisator mit einem souveränen Gestaltungswillen. Im Zentrum seines musikalischen Schaffens steht das Yves Theiler Trio, in dem improvisatorischer Furor und kompositorische Strenge, Kalkül und Freiheit ineinandergreifen.

"WE, das drittes Album von Theiler als Leiter des Trios mit Schlagzeuger Lukas Mantel und Kontrabassist Luca Sisera, ist eine Sammlung von mutig ausgelegten Stücken, die den Hörer durch den kraftvollen, lebendigen Charakter der Themen ebenso ansprechen, wie sie den Zusammenhalt der Gruppe und die starken Soloaussagen jedes einzelnen Mitglieds aufzeigen. Die Sammlung von Eigenkompositionen spiegelt Theilers breit gefächerte Interessen wider. Aber es gellingt ihm, in dieser Eklektik eine kühne persönliche Identität zu behaupten", schreibt der Londoner Jazzjournalist Kevin Le Gendre in den Liner Notes.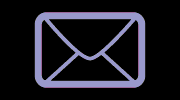 Please click here to order
MAILORDER-PRICE:
Schweiz: 30 SFr. plus 3 SFr. Porto
Deutschland/Österreich: 18 Euro plus 3 Euro Porto/Versand
International: 30 SFr. plus 4 SFr. Postage
Intakt Records, Postfach 468, 8024 Zürich, Fax: 0041-44-383 82 33
intakt@intaktrec.ch



To Yves Theiler: All Intakt CDs
To Luca Sisera: All Intakt CDs