With his impressive artistic biography, Michael Formanek is one of the outstanding personalities of contemporary jazz as a composer, a bassist in ensembles and a soloist. He belongs to the circle of leading bassists and composers that inclucedes Charles Mingus, Dave Holland, Charlie Haden and Barry Guy.

Formanek's musical world, his immense experience, his knowledge of jazz tradition and the avantgarde, his ability and his charismatic appearance have a highly stimulating effect on the musicians of his bands. Following the release of his CD with the Elusion Quartet (with Kris Davis, Tony Malaby, Ches Smith) the first album from his new trio follows: Michael Formanek Very Practical Trio with saxophonist Tim Berne and guitarist Mary Halvorson.

"Michael Formanek has made some of his keenest creative leaps in recent years, documented on a sequence of justly lauded albums," writes American journalist Bradley Bambarger. The new album surprises with song-like structures: "it indeed courses with an insinuating lyricism, along with a snaking metrical pulse and a surprising textural richness given just three players."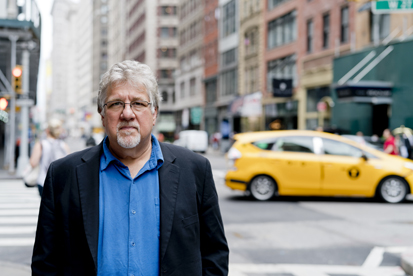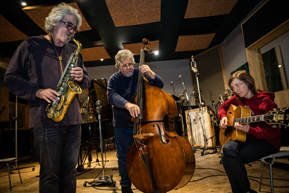 Photos: John Rogers (New York) and Monica Jane Frisell (Oktaven Audio, Mount Vernon, New York)
Mit seiner eindrücklichen künstlerischen Biografie zählt Michael Formanek zu den herausragenden Persönlichkeiten des heutigen Jazz:
als Komponist, als Bassist in Ensembles und als Solist. Er gehört in die Reihe der namhaften Bassisten und Komponisten wie Charles Mingus, Dave Holland, Charlie Haden, Barry Guy.

Formaneks musikalische Welt, seine immense Erfahrung, seine Kenntnis der Jazztradition und der Avantgarde, sein Können und seine charismatische Erscheinung wirken höchst stimmulierend auf die MusikerInnen seiner Bands. Nach der Veröffentlichung der CD mit dem Elusion Quartet (mit Kris Davis, Tony Malaby, Ches Smith) folgt nun auf Intakt Records das erste Album seines neuen Trios: Michael Formanek Very Practical Trio mit dem Saxophonisten Tim Berne und der Gitarristin Mary Halvorson.

"Michael Formanek hat in den letzten Jahren einige seiner kühnsten kreativen Entwicklungssprünge gemacht, die auf einer Reihe hochgelobter Alben dokumentiert sind", schreibt der amerikanische Journalist Bradley Bambarger. Das neue Album überrascht mit song­artige Kompositionen, die "von einem angedeuteten Lyrismus durchzogen sind, zusammen mit einem sich schlängelnden metrischen Puls und einer überraschenden Texturfülle".