Omri Ziegele Billiger Bauer
The Silence Behind Each Cry - Suite for Urs Voerkel
By Omri Ziegele
Even if it sounds like kitsch, Billiger Bauer is a gift. Over six years ago no one would have thought that the group would last so long. In my head back then, Billiger Bauer was already set up as a long-term project, well knowing that developments in such a complex bunch would only process slowly. The initial idea was as simple as clear: once a month, nine musicians were to play, tinker, take risks in front of a public. The WIM (Workshop for Improvised Music) in Zurich offered itself as an ideal working place. One was able to survey the land, plumb the depths here far away from the hustle and bustle and the need to prove one's success. In this group it has never sufficed to be a good improviser. Each carries the responsibility for the whole, everyone is in every moment a playwright, dramaturge and actor at the same time. Often we will simply play without any instructions, exploring instant-land; but we can also look back at quite a few programs that were steered by compositions. Over 80 times, already, we have played in front of an accidental and regular audience in the WIM. An intimacy has developed between listeners and musicians; if you like, a small community of conspirators has assembled. And again and again Billiger Bauer breaks it all off, to appear on other, mostly larger stages, and again and again we come back into the WIM our safe haven – a piece of our homeland where one can be oneself without being bothered by demands and the buzzing of the world around us.
Thus an unmistakable body of sound has originated, no matter if we play about a poem by Robert Creeley, tricky moiré patterns, a groovy instant tune or improvise freely. With so many individuals, this is hardly a matter-of-fact: to sail through the crags and jaws of time and several chasms without a trainer, fragile and without clear goals, only with oneself in tow and the insatiable will to reach a common architecture of a larger stringent form – always in search for diamonds of the frozen now. Each time from the beginning – lucky Sisyphus – and yet every time with a few more freshly printed coins in the bag. Thus Bauer will arrive again without ever arriving. The trip continues, hopefully for a long time. Nothing is more beautiful in music than this risk, this experiment that wants to break out AND to tame; the hot AND the cool head.
Simply a gift.
I would like to thank the American poet Robert Creeley, who brings light into my everyday life, and Urs Voerkel, who had it all!
Omri Ziegele, 2002
Translation: Bruce Carnevale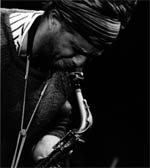 Auch wenn es kitschig klingen mag: Billiger Bauer ist ein Geschenk. Niemand dachte vor über sechs Jahren, dass die Gruppe so lange Bestand haben würde. In meinem Kopf war Billiger Bauer schon damals als Langzeitprojekt angelegt, wissend, dass Entwicklungen in so einem komplexen Haufen nur langsam vonstatten gehen. Die Ausgangsidee war so einfach wie klar: Einmal im Monat sollten die neun Musiker zusammenkommen und vor einem kleinen Publikum spielen, tüfteln, sich riskieren. Die WIM (Werkstatt für Improvisierte Musik) in Zürich bot sich als idealer Arbeitsort an. Hier konnte man abseits des Rummels ungestört, Erfolgsausweise ignorierend das Land ausmessen, die Tiefen ausloten. In dieser Gruppe reicht es nicht, ein guter Improvisator zu sein, jeder trägt die Verantwortung fürs Ganze, jeder ist in jedem Moment Dramatiker, Dramaturg und Akteur zugleich. Oft wird ohne Vorgaben drauflosgespielt, eins-zwei-drei; wir können aber auch auf etliche Programme zurückschauen, die von Kompositionen gesteuert waren. Über 80-mal haben wir vor einem Zufalls- und Stammpublikum in der WIM gespielt. Eine Intimität ist zwischen Zuhörern und Musikern entstanden; wenn man so will, hat sich eine kleine Gemeinschaft von Verschworenen versammelt. Und immer wieder bricht Billiger Bauer auf, um auf anderen, meist grösseren Bühnen aufzutreten, und immer wieder kommen wir zurück in die WIM, unseren Hafen – ein Stück Heimat, wo die Nähe zu sich selbst nicht durch Flirrendes und Anheischiges aus der Allerwelt behindert wird.
So ist ein unverwechselbarer Klangkörper entstanden, egal, ob Songs über ein Gedicht von Robert Creeley, vertrackte Moiré-Muster, eine groovige Instantnummer oder ob frei improvisiert wird. Bei so vielen Individuen keine Selbstverständlichkeit: Ohne Dompteur durch die Felsen und Schlünde der Zeit und die eigenen Abgründe zu segeln, fragil und ohne festumrissene Ziele, nur sich selbst im Gepäck und den unstillbaren Willen zur gemeinsamen Architektur, zur grossen stringenten Form – auf der Suche nach den gefrorenen Trouvaillen des Augenblicks. Jedesmal – glücklicher Sisyphus – von vorne und doch jedes- mal mit einigen frischgeprägten Münzen mehr im Sack. So wird der Bauer noch oft ankommen, ohne jemals anzukommen. Die Reise geht weiter, hoffentlich noch lange. Nichts ist schöner in der Musik, als dieses Wagnis, dieses Experiment, das den Ausbruch will UND die Zähmung, die Erhitzung UND den kühlen Kopf.
Ein Geschenk eben.
Ich danke dem amerikanischen Dichter Robert Creeley, der meinem Alltag Licht bringt, und Urs Voerkel – who had it all!
Omri Ziegele, 2002
Fotos: Manfred Ziegle, Francesca Pfeffer