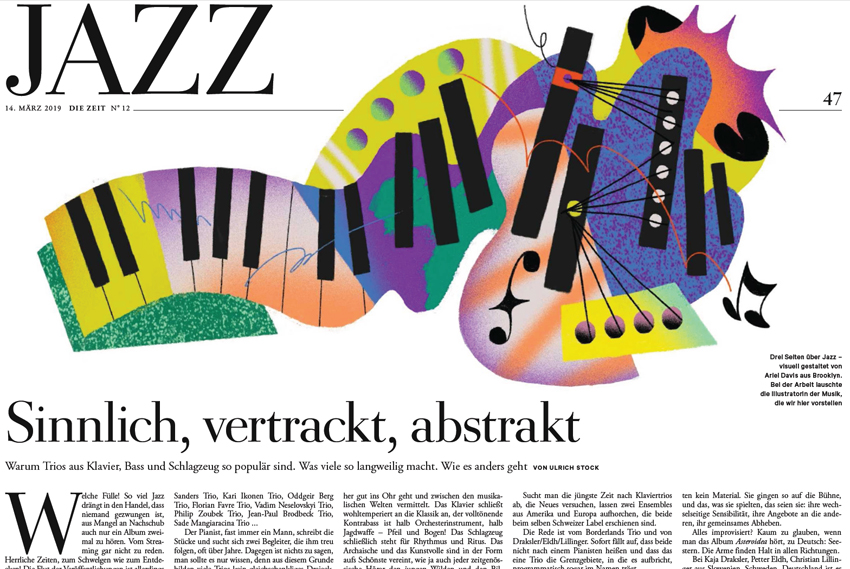 DIE ZEIT über Piano Trios
Warum Trios aus Klavier, Bass und Schlagzeug so populär sind. Was viele so langweilig macht. Wie es anders geht.
ZEIT-Redakteur Ulrich Stock hebt die beiden Intakt-CDs Kaja Draksler, Petter Eldh, Christian Lillinger "Punkt.Vrt.Plastik"(Intakt CD 318) und das Borderlands Trio: Asteroidea (Intakt CD 295) als spannende Beispiele von Piano Trios hervor. Lesen Sie den spannenden Beitrag von Ulirch Stock in der ZEIT vom 14. März 2019.
2018 ROUND-UP
Intakt Records makes The New York City Jazz Record's Label of the Year list for the 2nd year running!
Sylvie Courvoisier Trio, Kukuruz Quartet and Alexander von Schlippenbach/Globe Unity Orchestra all make the Albums of the Year list.
Globe Unity Orchestra is also included in the Large Ensemble list and Music for David Mossman from Parker/Guy/Lytton is among the best Live Abums.
Honorable Mentions for Alchemia Garden (302); Baby's Party (303) and the Aruan ortiz Trio Live in Zurich (301).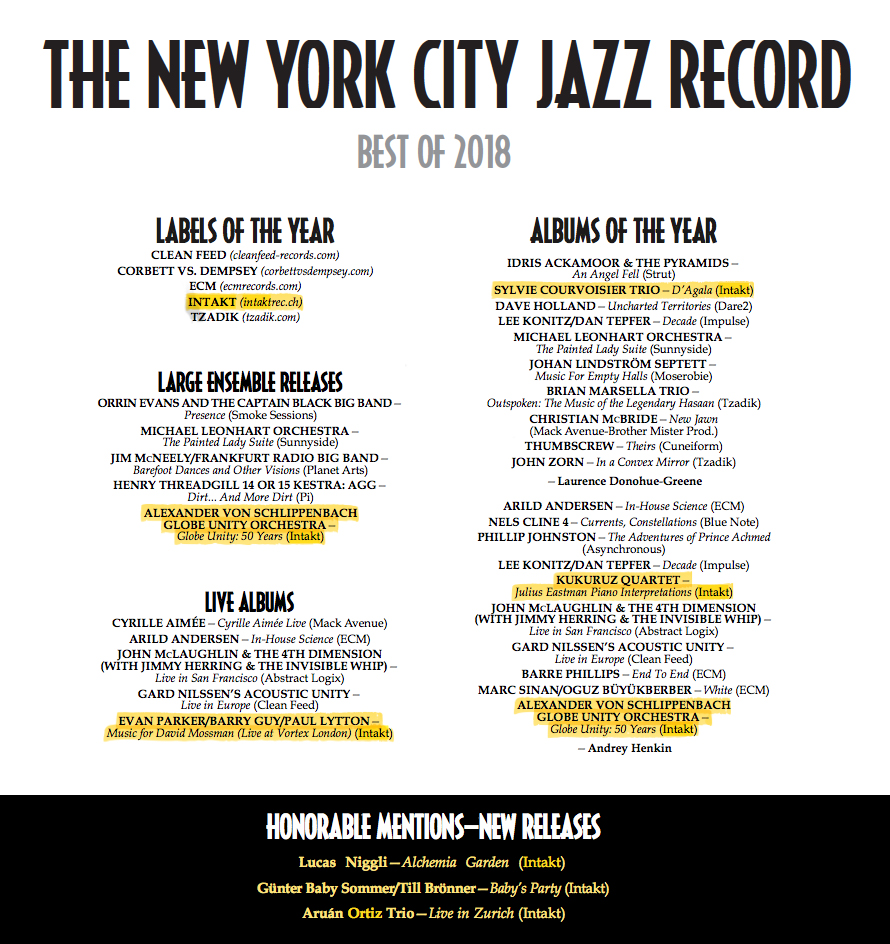 "BABY'S PARTY" PREIS DER DEUTSCHEN SCHALLPLATTENKRITIK
Die CD "Baby's Party" von Günter Baby Sommer und Till Brönner (Intakt CD 303) ist mit dem Preis der deutschen Schallplattenkritik ausgezeichnet worden (Bestenliste 4/2018). Die Jury schreibt:
YVES THEILER TRIO CD-RELEASE IM APRIL
Im April erscheint das dritte Trio-Album von Yves Theiler: WE mit Luca Sisera am Bass und Lukas Mantel am Schlagzeug.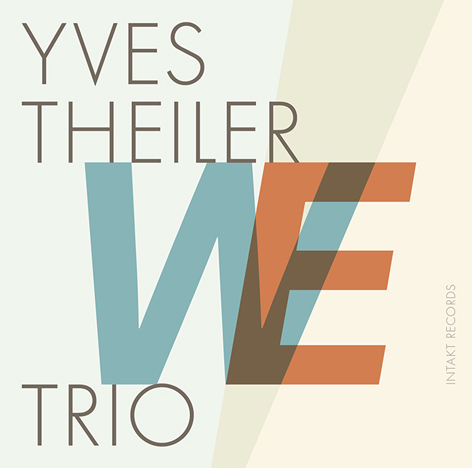 Yves Theiler Trio. We. Intakt CD 324.
Erste Musikeindrücke aus dem Aufnahmestudio (Hardstudios, Winterthur):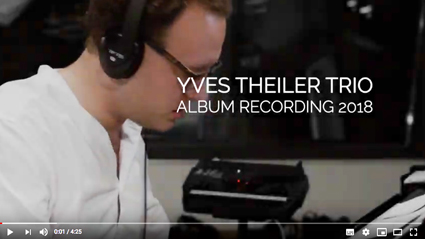 ABONNIEREN SIE INTAKT RECORDS. 6 CDS ZUM SPEZIALPREIS
Eine wachsende Gemeinde von MusikhörerInnen bezieht die Intakt-CDs im Abonnement. Die AbonnentInnen erhalten die Intakt-CDs sofort nach Pressung per Post ins Haus geliefert. Jährlich sind es sechs CDs. Die AbonnentInnen zahlen für die CD SFr. 25.- / 14.50 EUR (inkl. Versand). Sie erleben musikalische Überraschungen und sind im Besitz des aussergewöhnlichen Katalogs von Intakt Records. Die AbonnentInnen leisten mit ihrem Abo einen wichtigen Beitrag zur Existenz von Intakt Records. Dank den AbonnentInnen kann Intakt Records langfristig planen.
Infos zum Intakt Abo
DOKUMENTATION: ARCHIV (2011 - 2018)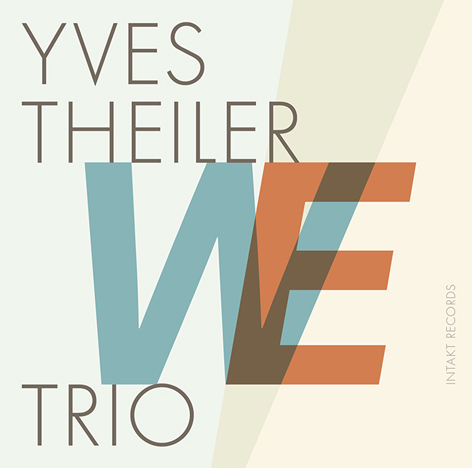 YVES THEILER TRIO
WE
Yves Theiler: Piano
Luca Sisera: Bass
Lukas Mantel: Drums
Intakt CD 324
Release date: April 2019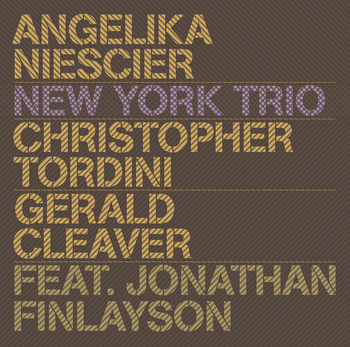 ANGELIKA NIESCIER
NEW YORK TRIO
WITH CHRISTOPHER TORDINI AND GERALD CLEAVER
FEAT. JONATHAN FINLAYSON
Angelika Niescer: Saxophone
Jonathan Finlayson: Trumpet
Christopher Tordini: Bass
Gerald Cleaver: Drums
Intakt CD 321
Release date: April 2019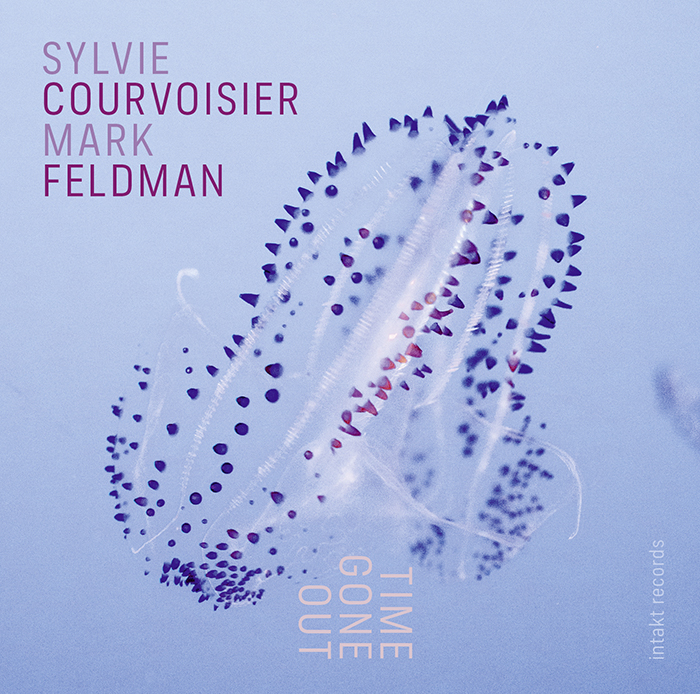 SYLVIE COURVOISIER - MARK FELDMAN
TIME GONE OUT
Sylvie Courvoisier: Piano
Mark Feldman: Violine
Intakt CD 326
Release date: May 2019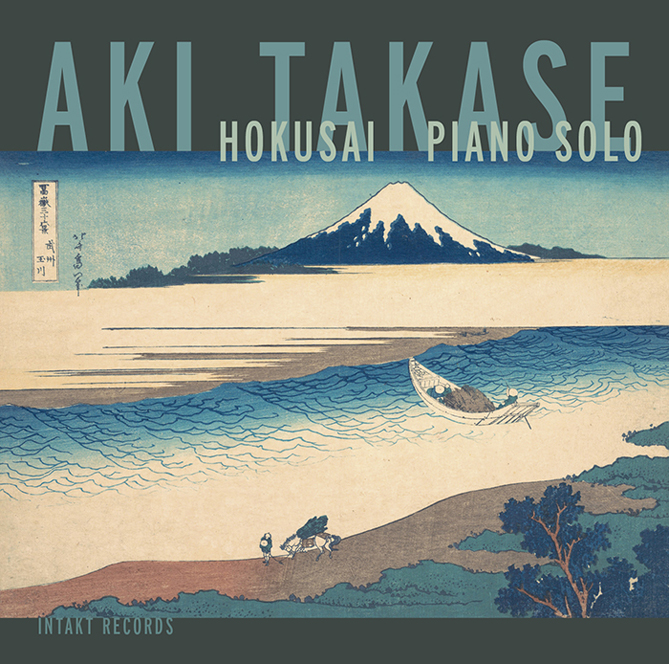 AKI TAKASE
HOKUSAI – PIANO SOLO
Aki Takase: Piano
Intakt CD 327 / 2019
Release date: June 2019

----------------------------------------
EVAN PARKER, MATTHEW WRIGTH
TRANCE MAP+
LIVE IN NICKELSDORF
Evan Parker: Soprano Sax
Matthew Wright: Turntable, Live Sampling
Adam Linson: Double Bass, Electronics
John Coxon: Turntable, Electronics
Ashley Wales: Electronics
Intakt CD 329 / 2019
Release date: August 2019

----------------------------------------
STEFAN AEBY
PIANO SOLO

Stefan Aeby: Piano, Electronics

Intakt CD 332/ 2019
Release date: September 2019
Follow us for new releases on Twitter, Facebook
Newsletter english / Newsletter deutsch


Intakt-Records-Shop for digital downloads. Intakt Bandcamp-Store-Seite