THE INTAKT LABEL PROFILE
"The Intakt Label is providing a supportive home for the Avant-Garde", writes Noah Berlatsky hin his portrait
about Intakt Records, which is published on Pandcamp. He features 10 Intakt-CDs.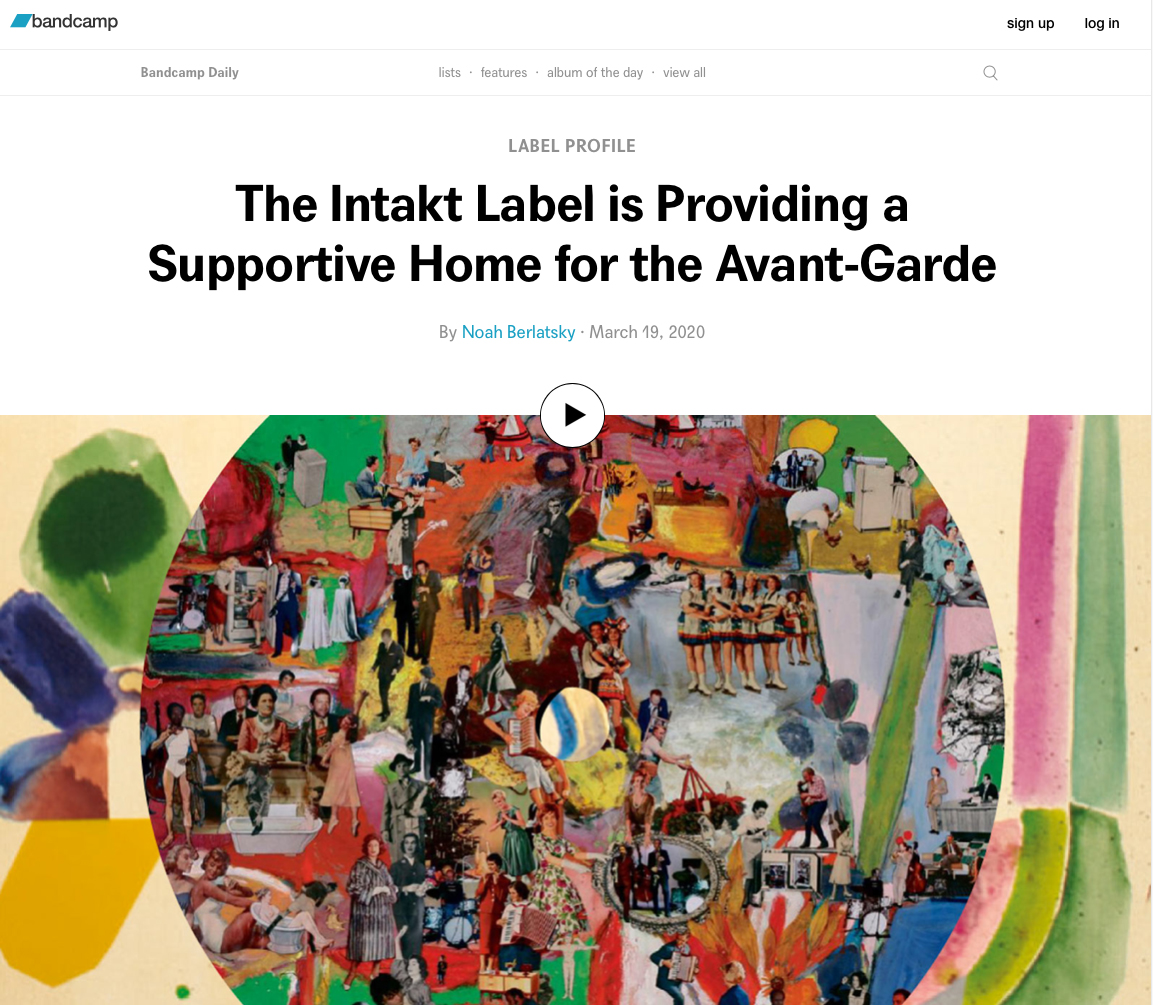 To the text by Noah Berlatsky: Bandcamp

To Intakt Bandcamp-Store

To the text by Noah Berlatsky: Intakt documentation
50 YEARS BARRY GUY LONDON JAZZ COMPOSERS ORCHESTRA
The adventure began in 1970. Some of the most innovative musicians of a new generation centred around the London
bassist and composer Barry Guy: pioneers who were developing a kind of music in Europe which abolished the distinctions
between Modern Jazz and New Music, between improvisation and advanced compositional techniques. Beginning
as a collective endeavour, over the years it evolved into an independent orchestra, buoyed by Barry Guy's charisma and
his talent for gathering outstanding musicians around him, integrating their individuality into his compositional forms.

Intakt Records produced many of Barry Guy's greatest works with the London Jazz Composers Orchestra and has
reissued the most important early works. The LJCO CD collection contains some of the most significant, as well as the
most beautiful and touching, orchestral works of our time. The fiftieth anniversary commemorations aim to bring some
of these musical treasures back into the spotlight, so that this music, which has already influenced the work of generations
of musicians can benefit many more listeners.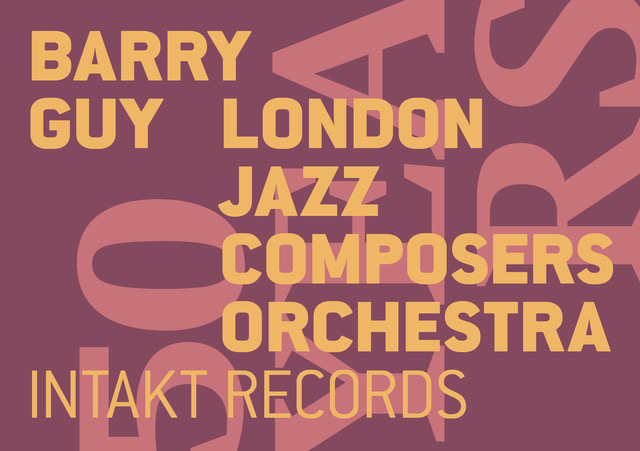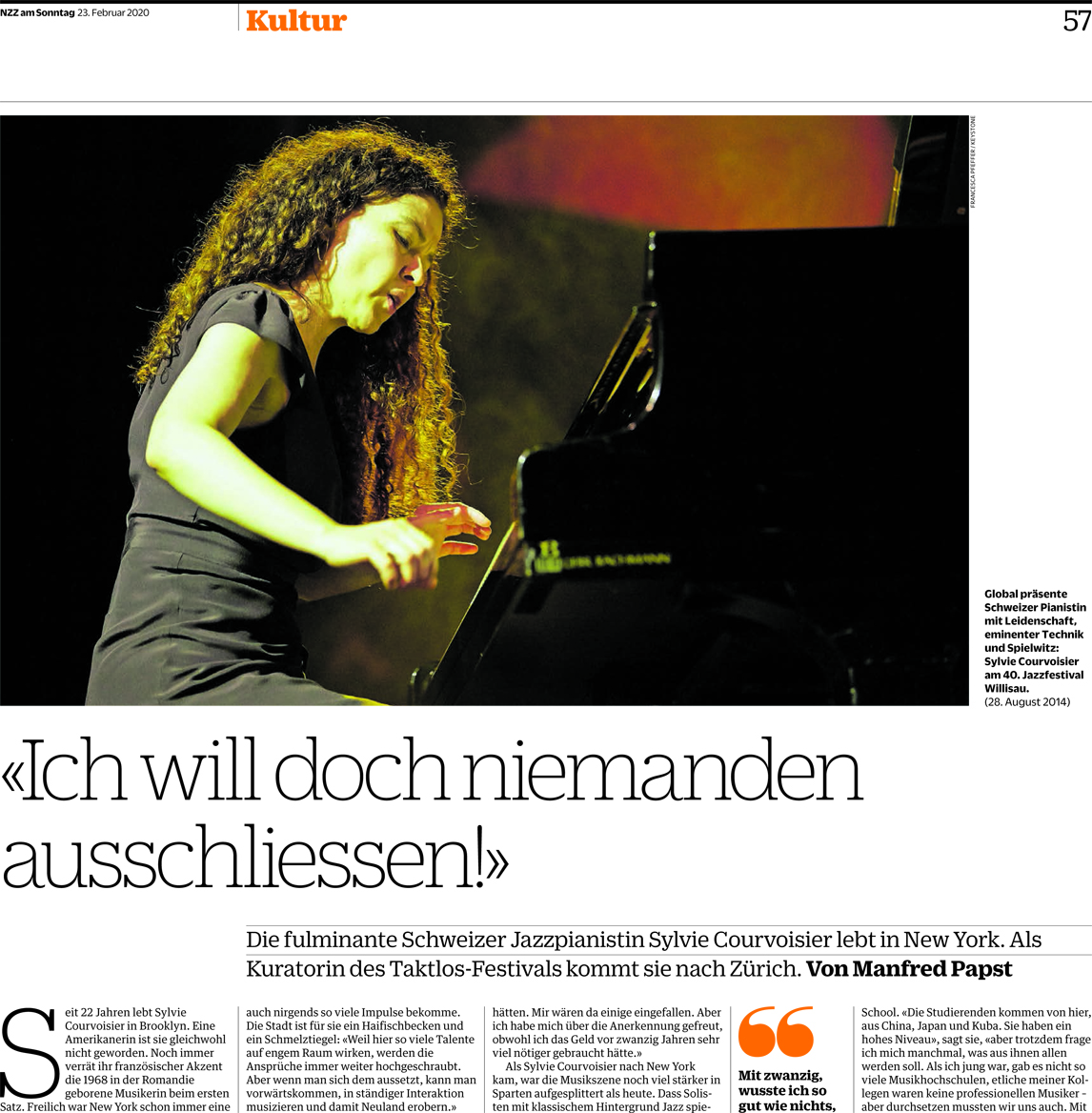 Sylvie Courvoisier kuratiert das Taktlos-Festival 2020
In der NZZ am Sonntag portraitiert der Journalist Manfred Papst die Pianistin Sylvie Courvoisier: "Die fulminante Schweizer Jazzpianistin Sylvie Courvoisier lebt in New York. Als Kuratorin des Taktlos-Festivals kommt sie nach Zürich".
Sylvie Courvoisier wurde soeben mit dem United States Artists-Award 2020 ausgezeichnet.
Manfred Papst über Sylvie Courvoisier, NZZ am Sonntag, 23. Feb. 2020
Programm Taktlos-Festival: 12. bis 14. März 2020

OM mit Urs Leimgruber, Christy Doran, Bobby Burri, Fredy Studer im Aufnahmestudio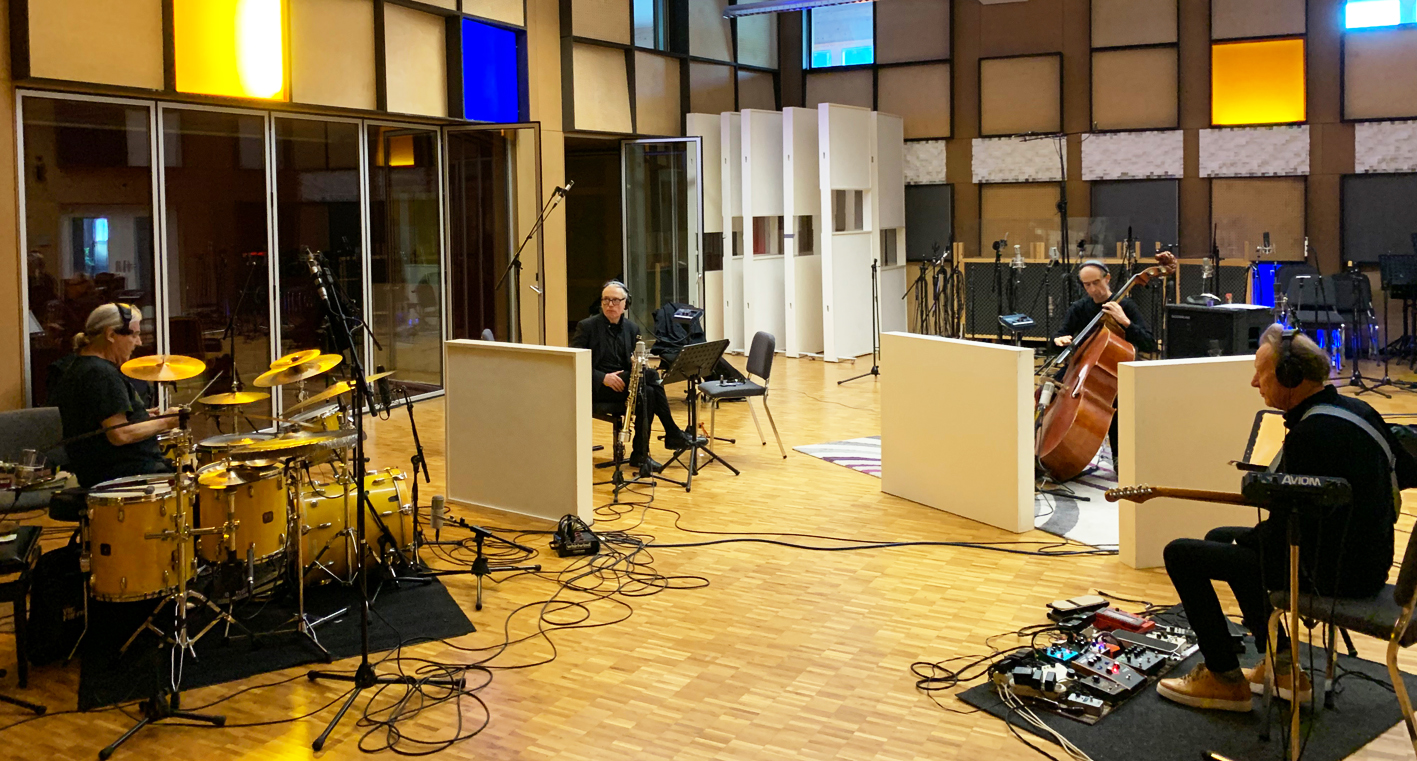 ..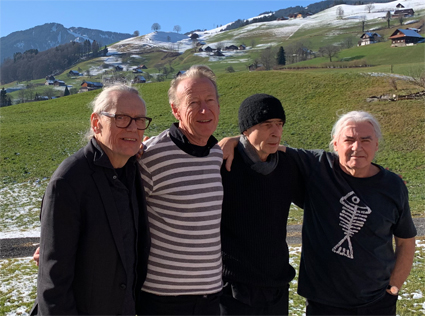 Zwölf Jahre nach der Live-Aufnahme am Jazzfestival Willisau (Intakt CD 170) gehen die vier Legenden des europäischen Jazz Urs Leimgruber (Soprano and Tenor Saxophone), Christy Doran (Electric Guitar, Devices), Bobby Burri (Double-Bass, Devices) und Fredy Studer (Drums, Percussion) ins Aufnahmestudio, um ein neues Album aufzunehmen. Die Aufnahmesession fand vom 3. bis zum 6. Februar 2020 im Gabriel Recording-Studio in Stalden bei Sarnen nahe bei Luzern statt. Aufgenommen wurden neue Kompositionen aller vier Musiker sowie freie Improvisationen. (Im Bild: Innenansicht Gabriel Recording-Studio und Gruppenbild vor dem Studio mit Sicht in die Berge).
Bert Noglik schreibt über die 1972 gegründete Band OM: "Die Band ist Kult. Wegen ihrer Geschichte und aufgrund ihrer Spielpraxis. Eruptiv aus dem Erdenwinkel Luzern in die Welt aufgebrochen, haben die vier Musiker schon zu Beginn scheinbar Unvereinbares mit enormer Vitalität explosiv zusammengemischt: die Energie der Rockmusik mit der Kraft der freien Improvisation. OM brachte die Erfahrungen einer jungen, von Jimi Hendrix elektrisierten, von John Coltrane faszinierten und vom Free Jazz beflügelten Generation auf einen musikalisch sinnvollen Nenner. OM versetzte die Rockmusik in spontane Spielverläufe mit ungewissem Ausgang ... Die zehnjährige Bandgeschichte zwischen 1972 und 1982 wird nach langjähriger Pause nicht einfach fortgesetzt. OM wird wie von Naturgewalt neu angetrieben ... Mit glühender Hingabe an das Spiel und mit unbändiger Lust am Risiko, heute sogar mit noch mehr Radikalität. Mit einer Unbedingtheit, die nichts gelten lässt, ausser den Gesten des Authentischen."
"The band is cult. Because of their history and because of their playing. They took off eruptively from Lucerne into the world, and from the beginning the four musicians concocted with enormous vitality things that seems to be incompatible: the energy of rock music with the power of free improvisation. OM found a musically sensible common ground for the experiences of a young generation that had been electrified by Jimi Hendrix, fascinated by John Coltrane and inspired by Free Jazz. OM put rock music into spontaneous musical processes with uncertain endings.
Their band history lasted ten years, from 1972 until 1982, and now they're not simply continuing it after a long pause. It's more like the forces of nature are reigniting it. With burning devotion to their playing and overwhelming lust for risk, today even more radically than ever. Unconditionally, not accepting anything but gestures of the authentic."
JAMES BRANDON LEWIS QUARTET RECORDINGS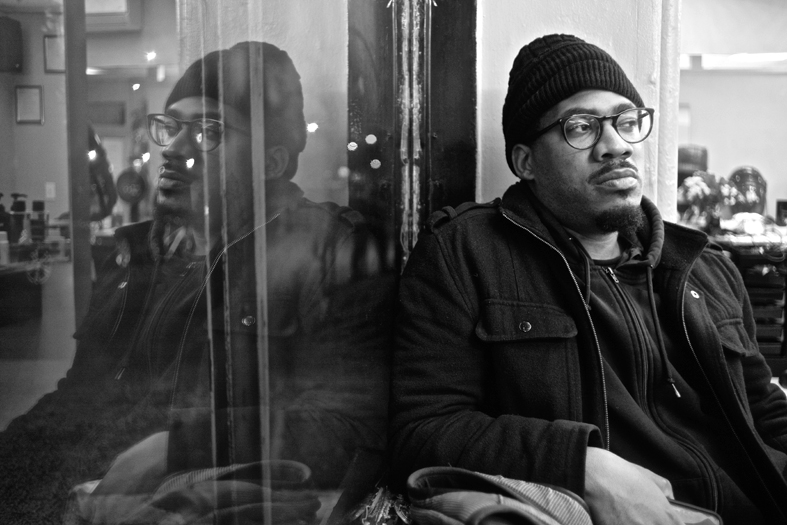 James Brandon Lewis, January 2020. Photo: Thomas Sayers Ellis.
James Brandon Lewis was in the recording studio for Intakt Records in New York in January 2020 and recorded an album with his own compositions with the James Brandon Lewis Quartet. Wonderful pieces, fantastically played by Aruan Ortiz on piano, Brad Jones on bass, Chad Taylor on piano and James Brandon Lewis on tenor sax. A jewel. The CD will be released in autumn 2020.

MARK FELDMAN SOLO
Mark Feldman, Oktaven Recording Studio, New York, Photo: Intakt Records

For a long time Mark Feldman has been working intensively on a new solo program. His first solo CD "Music for Violin Alone" was released 1995 on Zadik.
In January 2020 he recorded his 2nd solo CD in the New York recording studio Oktaven. He plays his own compositions, but also a homage to Ornette Coleman's "Lonley Woman". The CD will be released in autumn 2020 by Intakt Records.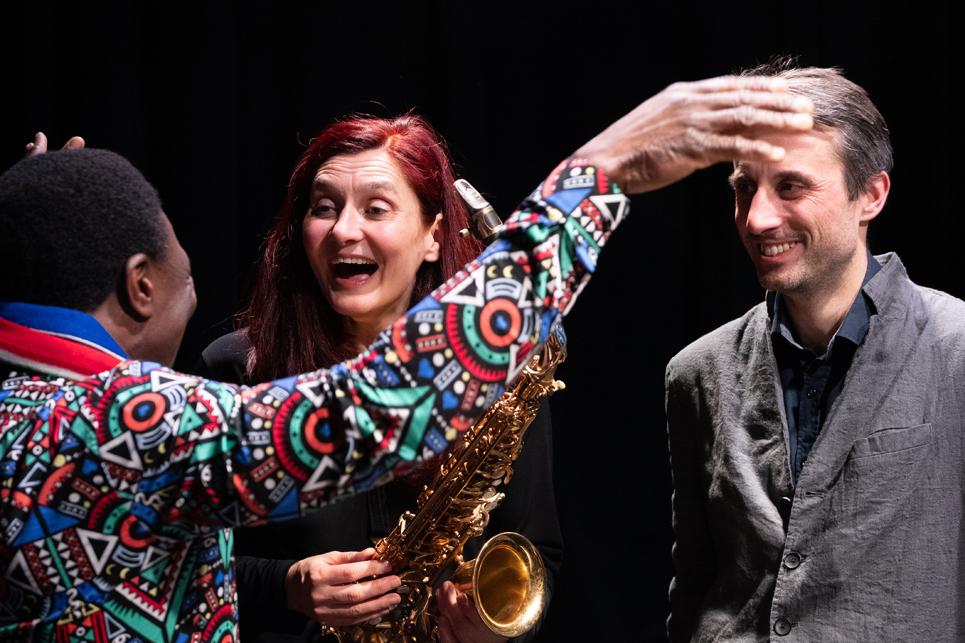 Photo: Palma Fiacco
Aly Keita, Angelica Niescier und Alexander Hawkins am unerhört-Festival 2019
Ein schöner Moment am unerhört-Festival 2019, eingefangen von der Photographin Palma Fiacco:
Aly Keita gratuliert der Saxophonistin Angelika Niescier und dem Pianisten Alexander Hawkins nach deren grandiosem Duo-Konzert im Jazzclub Moods. Aly Keita spielte am Nachmittag im Pfrundhaus-Bürgerasyl solo und besuchte den unerhört-Abend im Moods mit dem Duo-Konzert von Niescier-Hawkins.
Niescier und Hawkins spielten am unerhört-Festival ihr erstes Duo-Konzert. Weitere Auftritte werden folgen.
Und im Sommer 2020 werden die beiden ins Tonstudio gehen und für Intakt Records ein Duo-Album einspielen.
Aly Keita, Angelica Niescier and Alexander Hawkins at the unerhört-Festival 2019
A beautiful moment at the unerhört-Festival 2019, captured by the photographer Palma Fiacco.
Aly Keita congratulates the saxophonist Angelika Niescier and pianist Alexander Hawkins after their grandiose duo concert at the Jazzclub Moods. Aly Keita played solo at the Pfrundhaus-Bürgerasyl in the afternoon and attended the Niescier-Hawkins concert in the evening.
This was Niescier's and Hawkins' first duo concert and further appearances will follow.
In summer 2020 they will head into the studio and record a duo album for Intakt Records.

ABONNIEREN SIE INTAKT RECORDS
Eine wachsende Gemeinde von MusikhörerInnen bezieht die Intakt-CDs im Abonnement.
Die AbonnentInnen erhalten die Intakt-CDs sofort nach Pressung per Post ins Haus geliefert.
Jährlich sind es sechs CDs. Die AbonnentInnen zahlen für die CD SFr. 25.- / 14.50 EUR (inkl. Versand).
Sie erleben musikalische Überraschungen und sind im Besitz des aussergewöhnlichen Katalogs von Intakt Records.
Die AbonnentInnen leisten mit ihrem Abo einen wichtigen Beitrag zur Existenz von Intakt Records.
Dank den AbonnentInnen kann Intakt Records langfristig planen.
Infos zum Intakt Abo
UPCOMING RELEASES 2020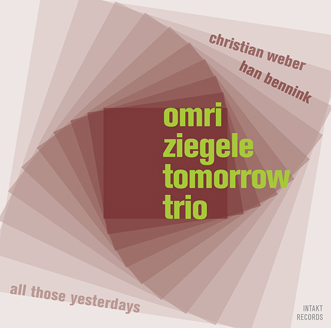 OMRI ZIEGELE TOMORROW TRIO
ALL THOSE YESTERDAYS

Omri Ziegele: Saxophone, Voice
Christian Weber: Bass
Han Bennink: Schlagzeug

Intakt CD 333 / 2020
Release date: May 2020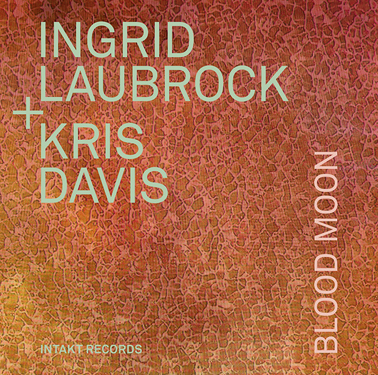 INGRID LAUBROCK - KRIS DAVIS
BLOOD MOON

Ingrid Laubrock: Saxophone
Kris Davis: Piano

Intakt CD 345 / 2020
Release date: May 2020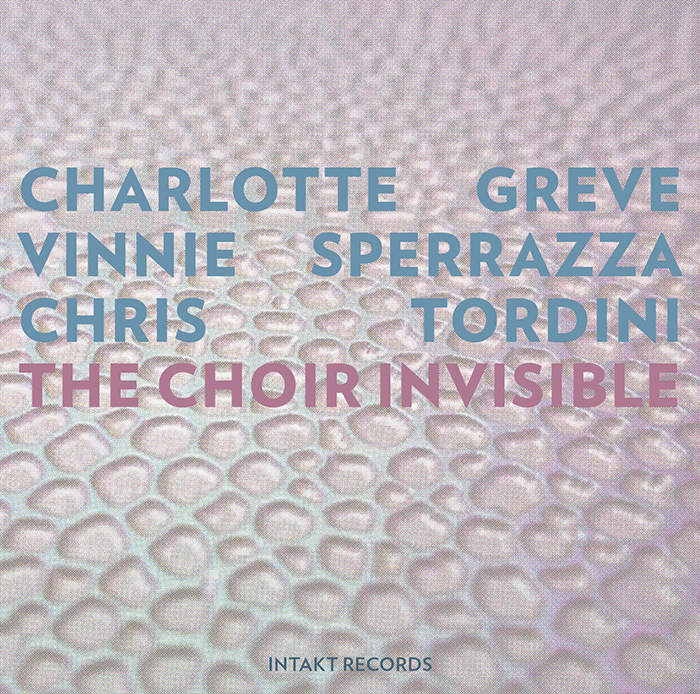 -

THE CHOIR INVISIBLE
GREVE - SPERRAZZA - TORDINI

Chris Tordini: Bass
Charlotte Greve: Saxophone
Vinnie Sperrazza: Drums

Intakt CD 347 / 2020
Release date: June 2020
-------------------------------------------
CHRISTOPH IRNIGER TRIO WITH LOREN STILLMAN
GUEST: NILS WOGRAM

Christoph Irniger: Saxophone
Loren Stillman: Saxophone
Raffaele Bossard: Bass
Ziv Ravitz: Drums
Guest: Nils Wogram: Trombone

Intakt CD 349 / 2020
Release date: August 2020

------------------------------------------
ALEXANDER VON SCHLIPPENBACH
SLOW MUSIC FOR AKI – PIANO SOLO

Alexander von Schlippenbach: Piano

Intakt CD 346 / 2020
Release date: August 2020

-------------------------------------------
OM
IT'S ABOUT TIME

Urs Leimgruber: Reeds
Christy Doran: Guitar
Bobby Burri: Double Bass
Fredy Studer: Drums

Intakt CD 348 / 2020
Release date: September 2020
-------------------------------------------
SYLVIE COURVOISIER TRIO
FREE HOOPS

Sylvie Courvoisier: Piano, Composition
Kenny Wollesen: Drums
Drew Gress: Bass

Intakt CD 351 / 2020
Release date: September 2020
-------------------------------------------
JAMES BRANDON LEWIS QUARTET
MOLECULAR

James Brandon Lewis: Tenor Sax, Compositions
Aruan Ortiz: Piano
Brad Jones: Bass
Chad Taylor: Drums

Intakt CD 350 / 2020
Release date: October 2020
© 2020 Intakt Records | P.O. Box, 8024 Zürich, Switzerland | intakt@intaktrec.ch | +41 (0) 44 383 82 33