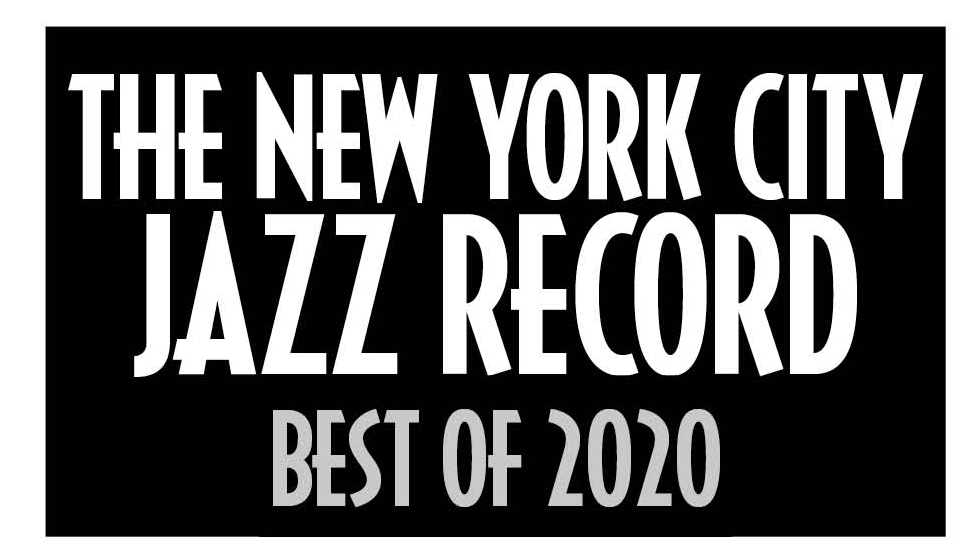 2020 ROUND-UP - NEW YORK CITY JAZZ RECORD

- Intakt Records makes The New York City Jazz Record's RECORD LABELS OF THE YEAR (2020) list.
- James Brandon Lewis is on the list of the MUSICIANS OF THE YEAR (2020).
- Tim Berne is on the list of the MUSICIANS OF THE YEAR (2020).
- The CD James Brandon Lewis/Chad Taylor – Live in Willisau (Intakt CD 342) is among the BEST LIVE ALBUMS OF THE YEAR (2020).
- HONORABLE MENTION – BEST NEW RELEASES (2020): Alexander Hawkins/Tomeka Reid – Shards and Constellations (Intakt CD 343), Evan Parker/Paul Lytton – Collective Calls (Revisited) (Jubilee) (Intakt CD 343), James Brandon Lewis Quartet - Molecular (Intakt CD 350), Sylvie Courvoisier Trio – Free Hoops (Intakt CD 351).
INTAKT-POSTKARTEN-SET
Erstmals stellen wir eine Postkarten-Reihe mit Bildern von Intakt-MusikerInnen zusammen. Die Kartenreihe kann als Set bei Intakt Records bezogen werden.
Klicken Sie hier, um alle Karten zu sehen.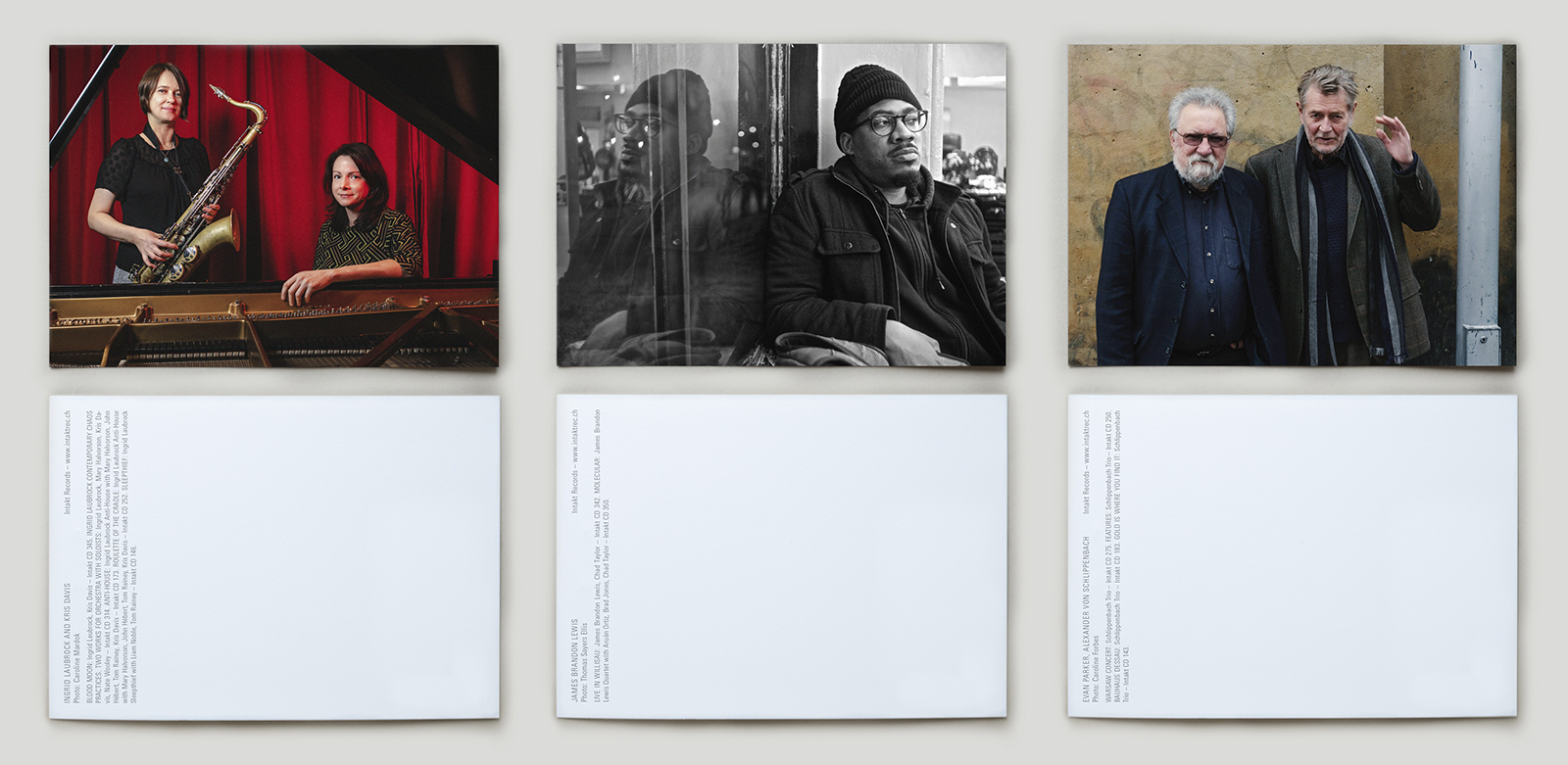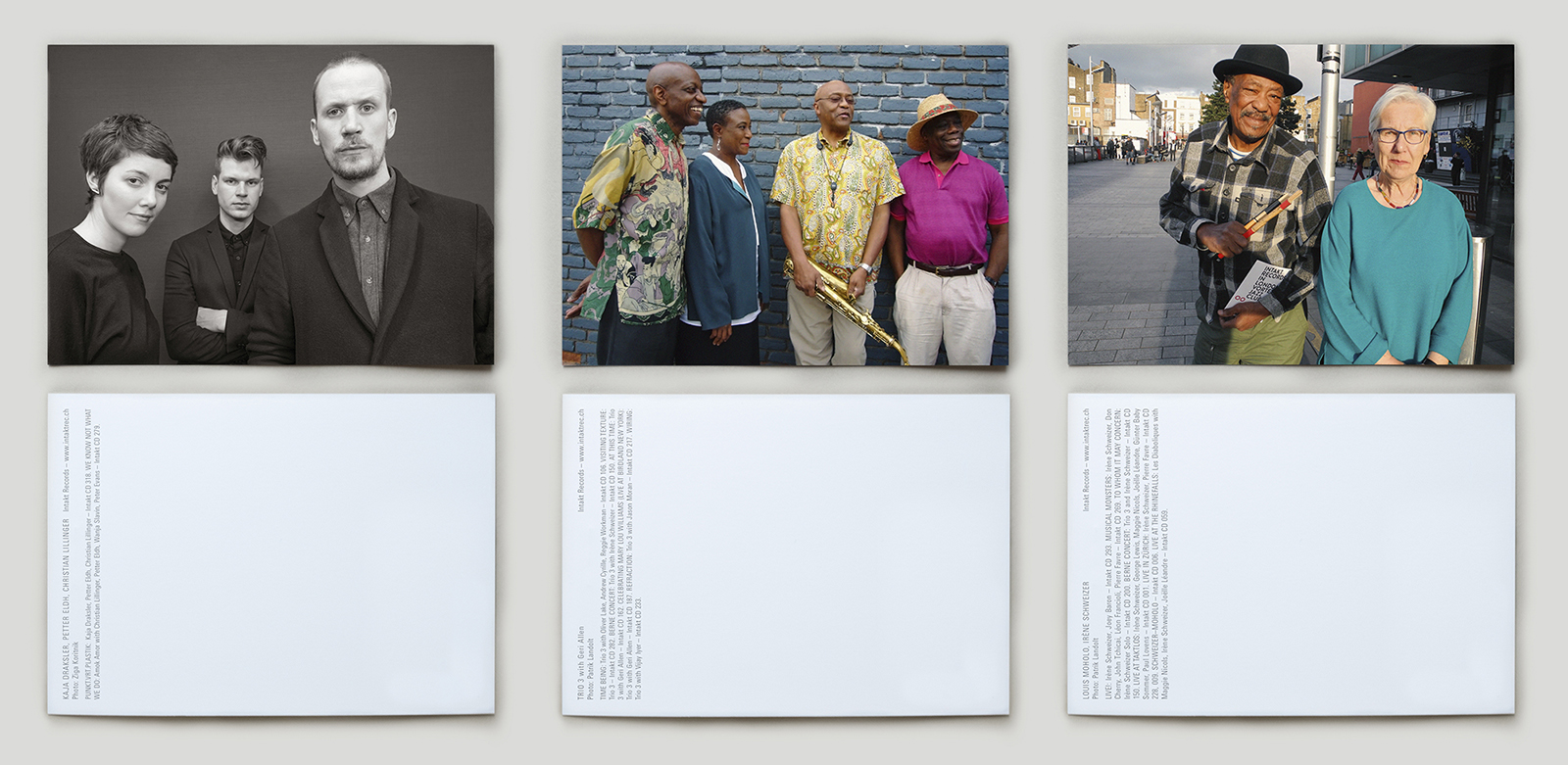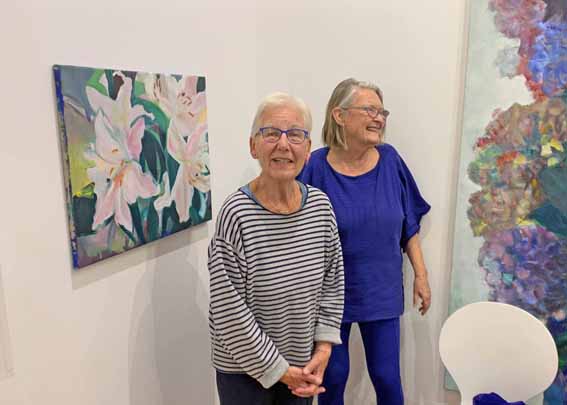 IRENE SCHWEIZER SPIELTE FÜR ROSINA KUHN
Die Zürcher Pianistin Irène Schweizer spielte am 9. Oktober 2020 in der Gallerie Rosenberg in Zürich zur Feier des 80. Geburtstags der Malerin Rosina Kuhn. Kuhn stellt in der Gallerie Rosenberg ein Serie ihrer neuen Bilder aus. Irène Schweizer und Rosina Kuhn sind seit Jahren befreundet. Für Intakt Records gestaltete Rosina Kuhn mehrere Alben von Irène Schweizer, etwa für alle Veröffentlichungen von Les Diaboiques (Irène Schweizer-Maggie Nicols-Joëlle Léandre) sowie für die Solo-Platte von Irène Schweizer "Many and One Directions" (Intakt CD 044). Irène Schweizer und Rosina Kuhn stehen neben dem Bild, das das Cover des Live-Mitschnitts vom 40. Jazzfestival Konfrontatonen in Nickelsdorf (Österreich) vom Duokonzert von Irène Schweizer mit dem Chicagoer Schlagzeuger Hamid Drake gestalten wird. Die CD mit dem Titel "Celebration" wird im Frühsommer 2021 erscheinen, kurz vor dem 80. Geburtstag der Pianistin.
THE INTAKT LABEL PROFILE
"The Intakt Label is providing a supportive home for the Avant-Garde", writes Noah Berlatsky in his portrait about Intakt Records, which is published on Bandcamp. He features 10 Intakt-CDs.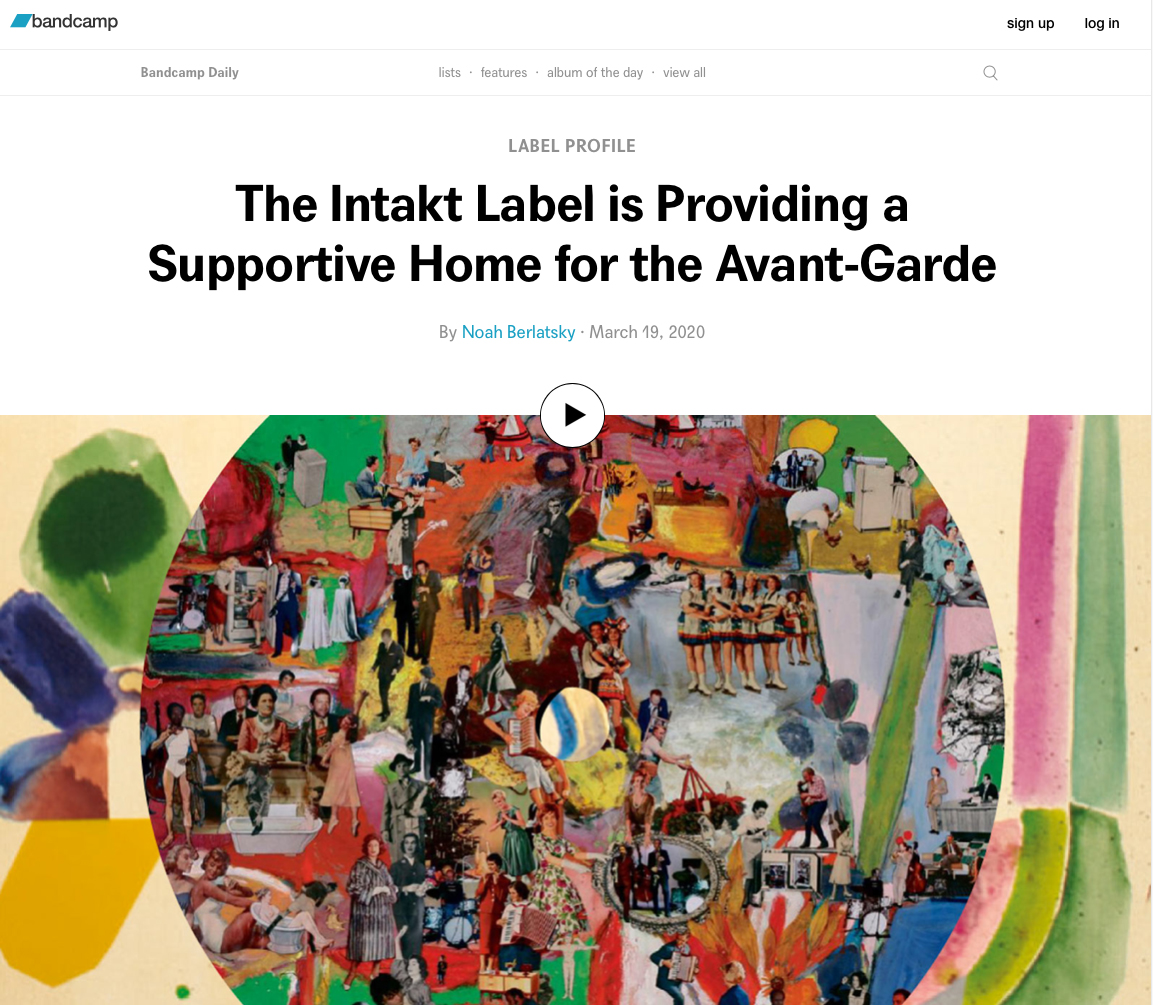 To the text by Noah Berlatsky: Bandcamp
To Intakt Bandcamp-Store
To the text by Noah Berlatsky: Intakt documentation
BANDCAMP'S SUPPORT
Bandcamp is waiving their revenue share to help artists and labels impacted by the Covid-19 pandemic:To continue supporting artists during the pandemic.
Bandcamp keep holding Bandcamp Fridays.
The next one will be on February 5th, 2021, March 5th, April 2nd, and May 7th.
Please visit our Bandcamp store. Please support Intakt Records.
Thanks a million!
ABONNIEREN SIE INTAKT RECORDS
Eine wachsende Gemeinde von MusikhörerInnen bezieht die Intakt-CDs im Abonnement.
Die AbonnentInnen erhalten die Intakt-CDs sofort nach Pressung per Post ins Haus geliefert.
Jährlich sind es sechs CDs. Die AbonnentInnen zahlen einen reduzierten Preis.
Sie erleben musikalische Überraschungen und sind im Besitz des aussergewöhnlichen Katalogs von Intakt Records.
Die AbonnentInnen leisten mit ihrem Abo einen wichtigen Beitrag zur Existenz von Intakt Records.
Dank den AbonnentInnen kann Intakt Records langfristig planen.
Infos zum Intakt Abo
UPCOMING RELEASES February - May 2021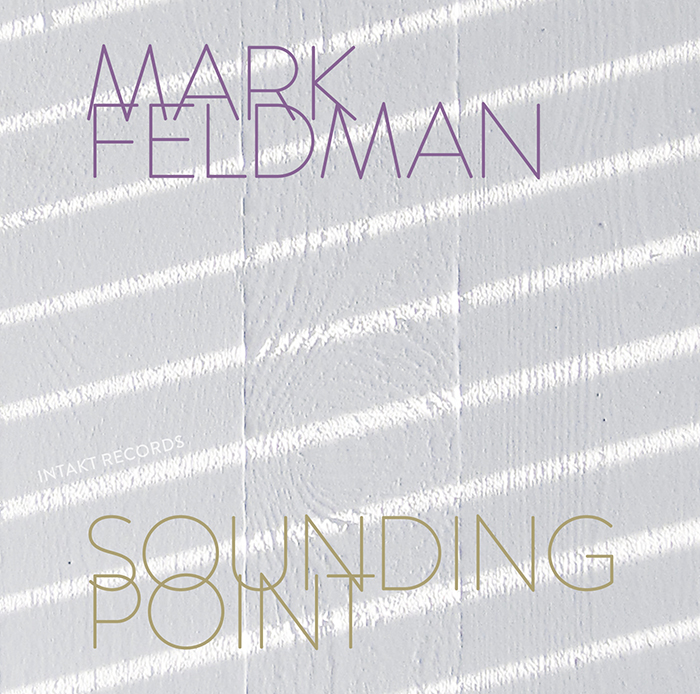 MARK FELDMAN
SOUNDING POINT

Mark Feldman: Violin Solo

Intakt CD 354 / 2021
Release date: 2021
FRED FRITH - IKUE MORI
A MOUNTAIN DOESN'T KNOW IT'S TALL

Fred Frith: Home-made instruments, various toys and objects, electric guitar (on "Nothing to It" and "Now Here")
Ikue Mori: Laptop electronics

Intakt CD 352 / 2021
Release date: February 2021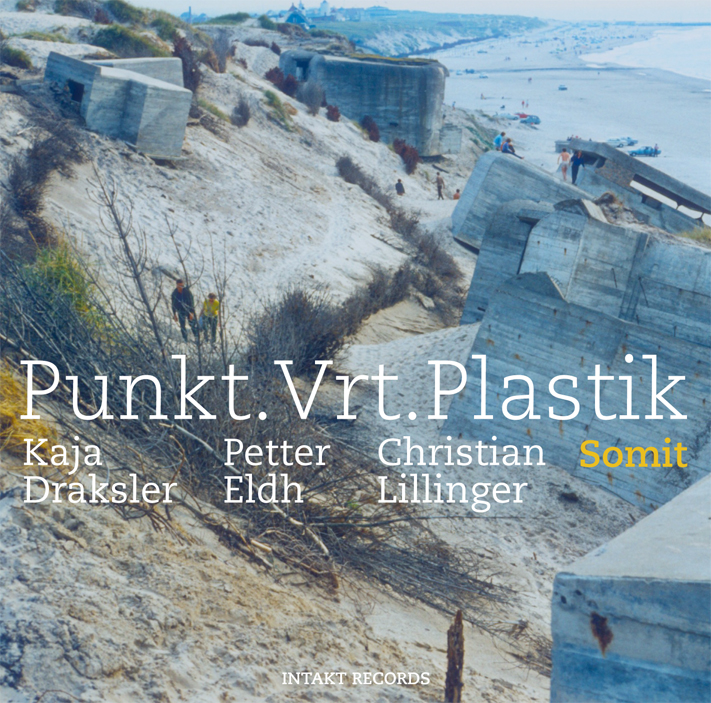 KAJA DRAKSLER - PETTER ELDH - CHRISTIAN LILLINGER
PUNKT.VRT.PLASTIK
SOMIT

Kaja Draksler: Piano
Petter Eldh: Bass
Christian Lillinger: Drums

Intakt CD 353 / 2021
Release date: March 2021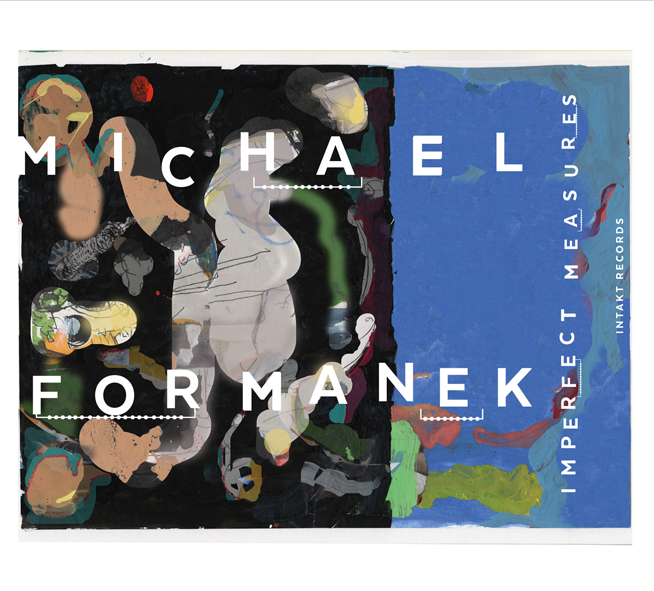 MICHAEL FORMANEK
IMPERFECT MEASURES

Michael Formanek: Double Bass

Intakt CD 359 / 2021
Release date: March 2021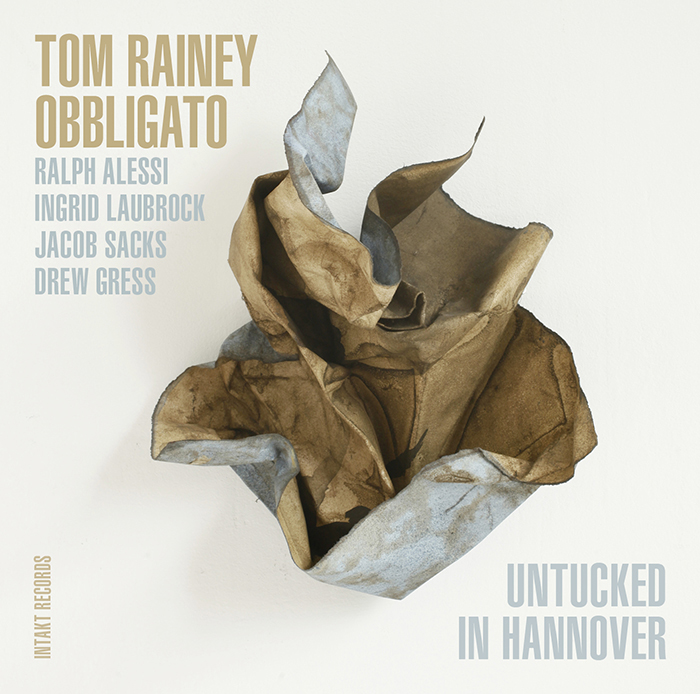 TOM RAINEY OBBLIGATO
UNTUCKED IN HANNOVER

Ralph Alessi: Trumpet
Ingrid Laubrock: Saxophone
Jacob Sacks: Piano
Drew Gress: Bass
Tom Rainey: Drums

Intakt CD 360 / 2021
Release date: April 2021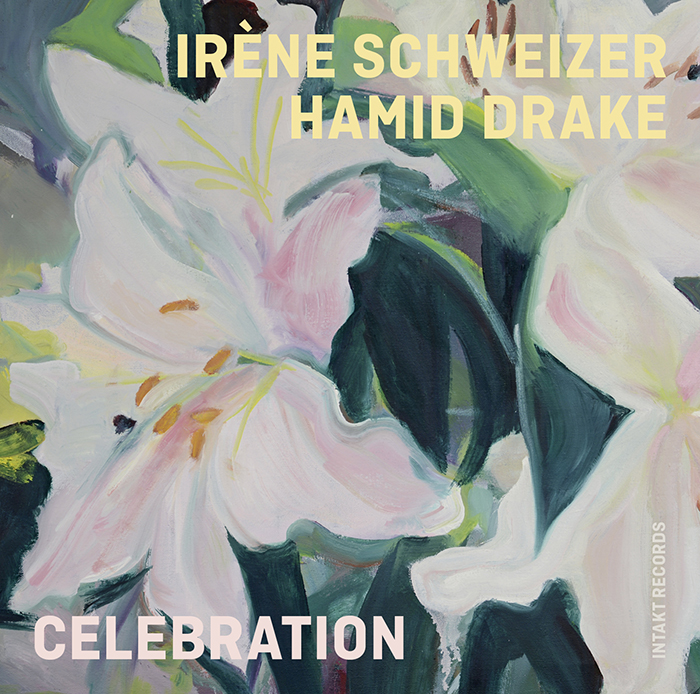 IRENE SCHWEIZER - HAMID DRAKE
CELEBRATION – LIVE IN NICKELSDORF

Irène Schweizer: Piano
Hamid Drake: Drums

Intakt CD 363 / 2021
Release date: April 2021

-----------------------------------------------

BROKEN SHADOWS
BROKEN SHADOWS

Tim Berne: Alto Saxophone
Chris Speed: Tenor Saxophone
Reid Anderson: Bass
Dave King: Drums


Intakt CD 362 / 2021
Release date: May 2021
-----------------------------------------------

SILKE EBERHARD TRIO
BEING THE UP AND DOWN

Silke Eberhard: Alto Saxophone, Bass Clarinet
Jan Roder: Bass
Kay Lübke: Drums


Intakt CD 365 / 2021
Release date: May 2021
-----------------------------------------------

CHRIS SPEED
LIGHT LINE

Chris Speed: Clarinets


Intakt CD 364 / 2021
Release date: May 2021
© 2020 Intakt Records | P.O. Box, 8024 Zürich, Switzerland | intakt@intaktrec.ch | +41 (0) 44 383 82 33