SWR-PREIS AN CHRISTIAN LILLINNGER
LILLINGER NEU AUF INTAKT RECORDS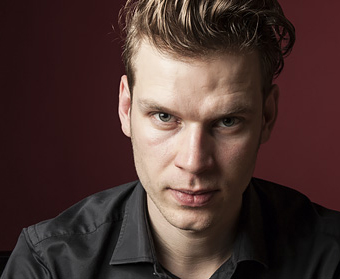 Christian Lillinger erhält den je zur Hälfte vom Land Rheinland-Pfalz und vom Südwestrundfunk gestifteten SWR Jazzpreis 2017. Der 1984 in Lübben geborene Schlagzeuger wird die Auszeichnung im kommenden Herbst beim Internationalen Festival "Enjoy Jazz" in Ludwigshafen entgegennehmen.
Im Mai erscheint auf Intakt Records die neue Platte von AMOK AMOR mit Christian Lillinger, Petter Eldh, Wanja Slavin, Peter Evans.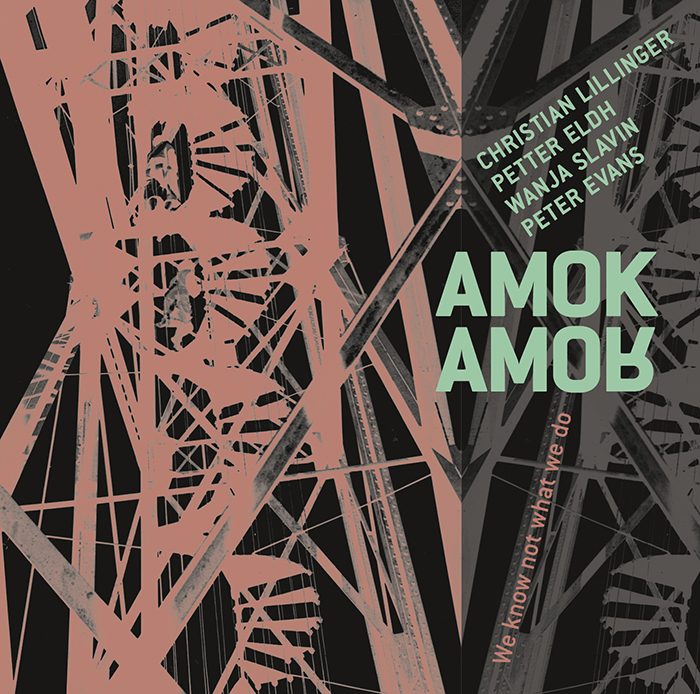 LILLINGER - ELDH - SLAVIN - EVANS. AMOK AMOR. WE KNOW NOT WHAT WE DO. Intakt CD 279.

AMOK AMOR ist auf Tour: 23.3. Studio Frei, Nuernberg/ 24.3 AMR Festival, Geneve/ 26.4. Bimhuis, Amsterda, / 27.4. Jazzhouse, Copenhagen / 28.4. Nasjonal Jazzscene Victoria, Oslo / 30.4. Cheltenham Festival, Cheltenham / 1.5. Vortex, London / 2.5. Porgy&Bess, Wien / 3.5. Bix, Stuttgart / 4.5. Taktlos Festival, Zürich / 5.5. XJazz, Berlin / 6.5. at Jazzclub, Nordhausen / 8.5. at Jazzclub, Hannover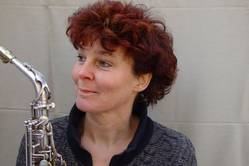 AARGAUER KUNSTPREIS AN CO STREIFF
Das Aargauer Kuratorium verleiht den diesjährigen Kunstpreis des Kantons Aargau an Co Streiff.

Wir freuen uns über die Auszeichnung von Co Streiff und gratulieren !

Co Streiff gehört zu den wichtigen Saxofon-Stimmen im aktuellen Jazz. Auf Intakt Records sind zwei CDs des Co Streiff Sextett, drei CDs mit dem Quartett Objets Trouvés, die Duo-Platte mit Irène Schweizer und das Album des Co Streiff-Russ Johnson Quartett herausgekommen. Co Streiff ist auch auf den beiden Intakt-CDs von Tommy Meier Root Down zu hören. Siehe: Intakt Veröffentlichungen von Co Streiff

Der mit 40'000 Franken dotierte Kunstpreis ist die höchste Auszeichnung für künstlerisches Schaffen des Kantons. Die Auszeichnung wird der Musikerin am 20. Mai 2017 in feierlichem Rahmen in der Alten Reithalle in Aarau übergeben.

LÄNDLER-GURU SEPP TRÜTSCH WETTERT IM "BLICK" GEGEN DEN AKKORDEONISTEN HANS HASSLER

Das wahre Dada-Spektakel live im "Blick": Schweizer Länderguru Sepp Trütsch, der jahrelang im Schweizer TV Ländlermusik präsentierte und einst für die SVP-Schwyz kandidieren wollte, beschimpft den Akkordeonisten Hans Hassler. Hassler war vom Schweizer Fernsehen eingeladen, als Gast an der Ski-WM in St. Moritz zu musizieren. Das gefällt Hans Trütsch nicht. Im "Blick" klagte er: «Jeder zweite Ton war schief. Hans strahlte null Fröhlichkeit aus. Seine Frisur und seine Outfits sind nicht zeitgemäss und die Augen hatte er stets zu. Dass er unser Schweizer Musikrepräsentant war, kann es doch nicht sein.» – Die wahren Schweizer: Sie sind fröhlich, haben die Augen offen und ein "zeitgemässes" Outfit.
Wunderbar, dass Hans nervte.
Hans Hassler hat eine neue Solo-CD eingespielt. Sie erscheint im Sommer 2017!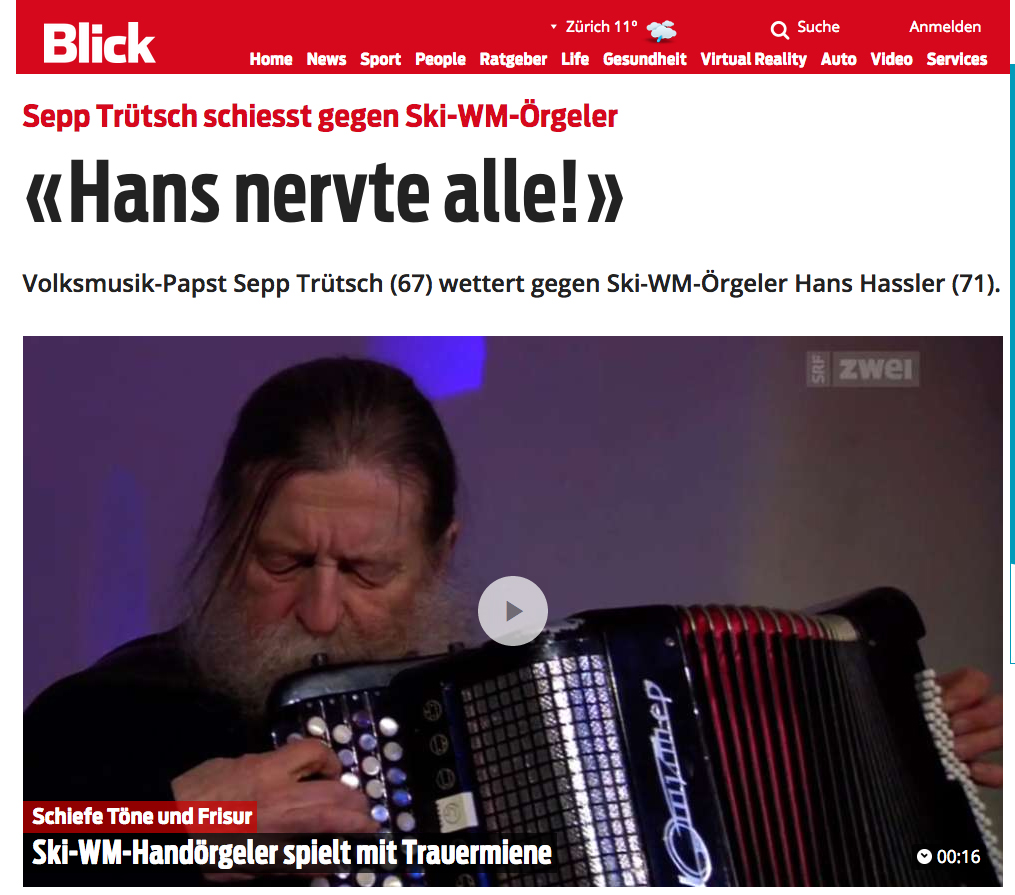 LAUREN KINSELLA JAZZ COMPOSITION AWARD, BRITISH ARTS FOUNDANDATION 2017 + CONCERT AT THE INTAKT FESTIVAL IN LONDON IN APRIL 2017
London Jazz News informed, that Lauren Kinsella has won the £10,000 Jazz Composition Fellowship in the annual Arts Foundation Awards 2017. Tori Freestone, Chris Montague and Percy Pursglove were the runners up each receiving awards of £1,000 from Guest of Honour Will Self at the annual Awards at Conway Hall, London on Wednesday 25th January. Kinsella said "I am absolutely humbled to receive such an award and to be shortlisted with such amazing artists" and dedicated the award to her father, who is seriously ill. She said the award will give her time to work on a new project for two voices and strings to be performed at The Intakt Festival at the Vortex in April. The award is part of a three year partnership between the PRS for Music Foundation and the Arts Foundation. Previous recipients of the Jazz Composition Award include Ingrid Laubrock in 2006 and Tommy Smith in 1995.
Lauren Kindsells will play at the Intakt Festival on Friday, April 21with Swiss singer Sarah Buechi and John Edwards on bass und Hannah Marshall on cello at the Vortex Jazz Club.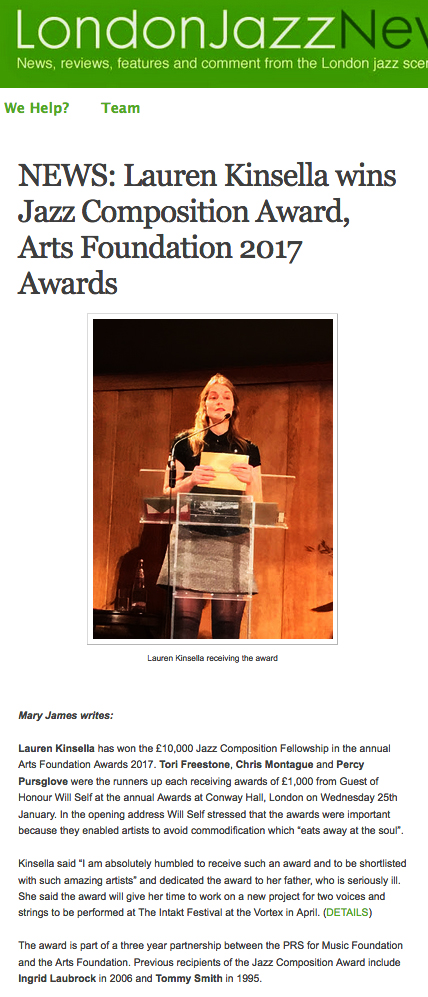 PIERRE FAVRE BIRTHDAY CELEBRATION CONCERTS
Pierre Favre celebrates his 80th birthday with three solo concerts and an evening with his band DrumSights at Theater Stok in Zürich, May 18 - May 21, 2017. Pierre Favre is one of the genuine pioneers in European music, a completely individual and highly influential musician. Pierre Favre's series of recordings for the Intakt label since the 1990s, especially the re-release of his early drums solos of the 70ies (Drums and Dreams. Intakt 197/3CDs) have left a significant mark.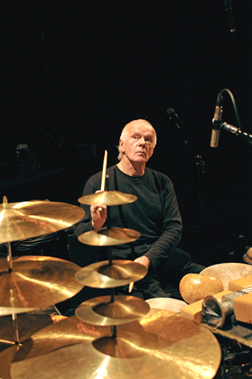 Do 18. Mai 2017. Theater Stok, Zürich: PIERRE FAVRE SOLO
Fr 19. Mai 2017. Theater Stok, Zürich: PIERRE FAVRE SOLO
Sa 20. Mai 2017. Theater Stok, Zürich: PIERRE FAVRE SOLO
So 21. Mai 2017. Theater Stok, Zürich PIERRE FAVRE DRUMSIGHTS with Valeria Zangger (dr), Markus Lauterburg (dr), Chris Jaeger (dr), Pierre Favre (dr)

RECORDINGS WITH ELLIOTT SHARP, MARY HALVORSON, MARC RIBOT
25, 26. July 2016 Elliott Sharp recorded for Intakt Records in his studio in Manhattan guitar-duos with Marc Ribot and Mary Halvorson. The CD will be released in Spring 2017.
THE WILLISAU CONCERT TRIO HEINZ HERBERT IM WALCHETURM ZÜRICH (24. - 27. März 2017)
Eine der grossen Überraschungen am Jazzfestival Willsau 2016 war das Trio Heinz Herbert mit Ramon Landolt, Dominic Landolt und Mario Haenni. Primin Bossart schrieb in der Nordwestschweiz:
Die wunderbar verspielten und gleichzeitig hoch konzentriert agierenden Musiker Ramon Landolt, Dominik Landolt und Mario Hänni legten mit ihrem akustisch-elektronischen Instrumentarium, elaborierten Sound-Landschaften und rhythmisch-dramaturgischen Bögen eine erfrischende Jazz-Ästhetik für die Zukunft.
Der Livemitschnitt des Trios Heinz Herbert wird im März 2017 auf Intakt Records erscheinen: Trio Heinz Herbert: The Willisau Concert. Trio Heinz Herbert feiert die neue CD mit einem 4-tägigen Konzert vom 24. - 27. März 2017 im Walcheturm in Zürich.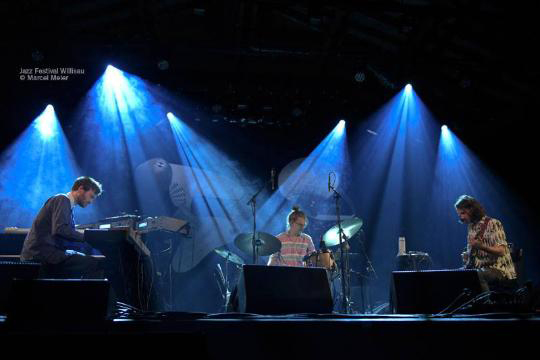 16. APRIL - 27. APRIL 2017 INTAKT-FESTIVAL IM VORTEX, LONDON Detailed Program

INTAKT ANNOUNCE BIG LONDON BASH
Swiss surveyors of superior jazz sides Intakt are set for a series of colossal happenings in London next year.
Taking place between 15-27 April 2017, the label will launch its festival with an opening-day event celebrating the 70th birthday of bassist and improv pioneer Barry Guy. The festivities take place at the venerable jazz venue The Vortex, where final programme details are still being shored up. However, expect iconic artists such as Irène Schweizer, Louis Moholo-Moholo, Alexander von SchIippenbach, ngrid Laubrock, Aki Takase and Mark Feldman all to be in extremely close attendance.
– Spencer Grady, April 26, 2016
In der Juni-Ausgabe informiert auch das britische Musikmagazin WIRE. Auch das amerikanische Heft JAZZIZ bringt eine Nachricht unter NEWS.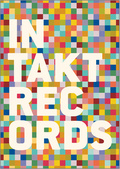 INTAKT DOWNLOAD-STORE BEI BANDCAMP
Intakt Records hat im Mai die neusten fünf Jahrgänge der CD-Veröffentlichungen auf einer eigenen Seite auf Bandcamp zum Kauf aufgeschaltet. Sie können nun direkt bei Intakt Records Downloads kaufen - die aktuellesten CDs sogar in Hi-Res-Qualität (24bit). Besuchen Sie unseren Download-Laden und kaufen Sie ihre Downloads direkt bei Intakt Records. Wir sind allen HörerInnen dankbar, die direkt auf unserer Seite die Musik kaufen und so unser Label und unsere Musikproduktion unterstützten.
Intakt-Records-Shop für digitale Downloads. Bandcamp-Store-Seite


ABONNIEREN SIE INTAKT RECORDS. 6 CDS ZUM SPEZIALPREIS
Eine wachsende Gemeinde von MusikhörerInnen bezieht die Intakt-CDs im Abonnement. Die AbonnentInnen erhalten die Intakt-CDs sofort nach Pressung per Post ins Haus geliefert. Jährlich sind es sechs CDs. Die AbonnentInnen zahlen für die CD SFr. 25.- / 14.50 EUR (inkl. Versand). Sie erleben musikalische Überraschungen und sind im Besitz des aussergewöhnlichen Katalogs von Intakt Records. Die AbonnentInnen leisten mit ihrem Abo einen wichtigen Beitrag zur Existenz von Intakt Records. Dank den AbonnentInnen kann Intakt Records langfristig planen.
Siehe Infos zum Intakt Abo
DOKUMENTATION: ältere Informationen (2011 - 2016)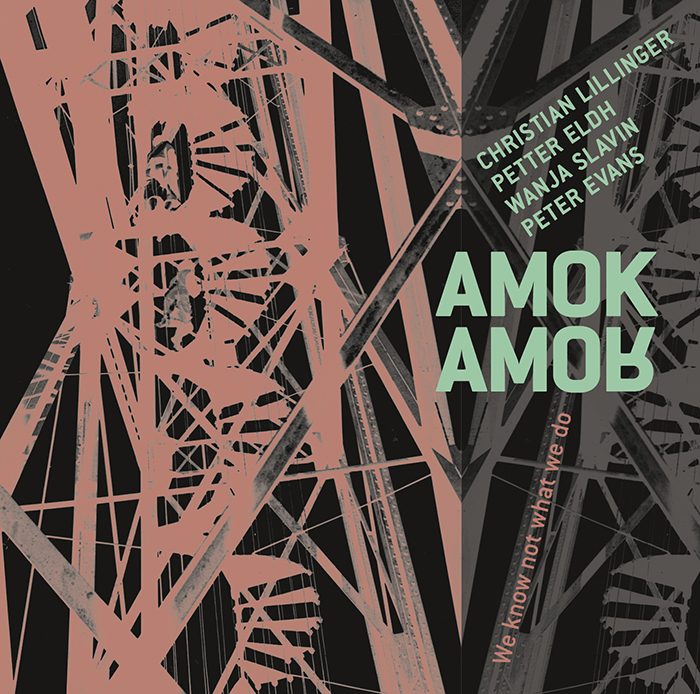 LILLINGER - ELDH - SLAVIN - EVANS
AMOK AMOR
WE KNOW NOT WHAT WE DO
Christian Lillinger: Drums
Petter Eldh: Bass
Wanja Slavin: Saxophone
Peter Evans: Trumpet

Intakt CD 279
Release date: May 18, 2017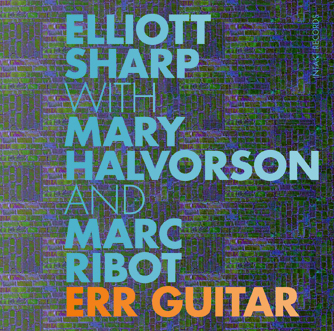 ELLIOTT SHARP
WITH MARC RIBOT AND MARY HALVORSON
ERR GUITAR
Elliott Sharp: Guitar
Mary Halvorson: Guitar
Marc Ribot: Guitar
Intakt CD 281
Release date: May 18, 2017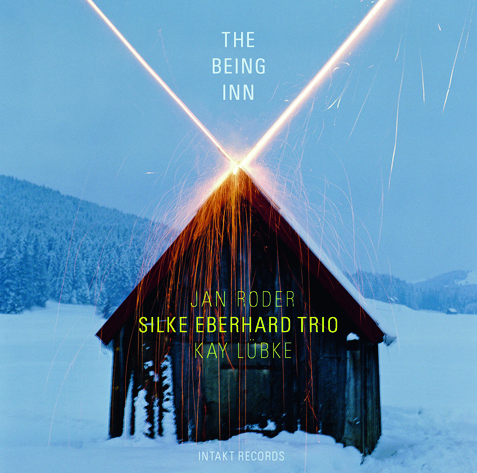 SILKE EBERHARD TRIO
THE BEING INN
Silke Eberhard: Saxophone
Jan Roder: Bass
Kay Lübke: Dums
Intakt CD 280
Release date: June 18, 2017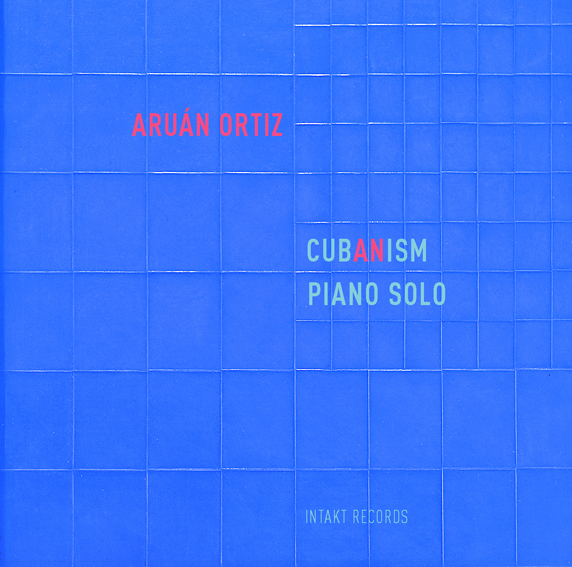 ARUAN ORTIZ
CUB(AN)ISM – PIANO SOLO
Aruan Ortiz: Piano

Intakt CD 290
Release date: June 18, 2017

----------------------------------
OMRI ZIEGELE WHERE'S AFRICA TRIO
Omri Ziegele: Saxophone, Voice
Yves Theiler: Piano
Dario Sisera: Drums
Intakt CD 284
Release date: July/August 18, 2017
----------------------------------
HANS HASSLER SOLO
WIE DIE ZEIT HINTER MIR HER
Hans Hassler: Accordion
Intakt CD 288
Release date: July/August 18, 2017
----------------------------------
CHRIS SPEED TRIO
PLATINUM ON TAP
Chris Speed: Saxophone
Chris Tordini: Bass
Dave King: Drums
Intakt CD 294
----------------------------------
TOM RAINEY OBBLIGATO
Tom Rainey: Drums
Ingrid Laubrock: Saxophones
Ralph Alessi: Trumpet
Kris Davis: Piano
Drew Gress: Bass
Intakt CD 292
----------------------------------
IRÈNE SCHWEIZER - JOEY BARON
LIVE !
Irène Schweizer: Piano
Joey Baron: Drums
Intakt CD 293
----------------------------------
STEPHAN CRUMP - KRIS DAVIS - ERIC McPHERSON

Stephan Crump: Bass
Kris Davis: Piano
Eric McPherson: Drums
Intakt CD 295
----------------------------------
OLIVER LAKE - WILLIAM PARKER - DIETER ULRICH
JERICHO LDT.
Oliver Lake: Saxophone
William Parker: Bass
Dieter Ulrich: Drums
Intakt CD 279
----------------------------------

EVAN PARKER TRIO
LONDON CONCERT
Evan Parker: Saxophone
Barry Guy: Bass
Paul Lytton: Drums

Intakt CD 289
Follow us for new releases on Twitter, Facebook
Subscribe Email-Newsletter in English / Email-Newsletter in Deutsch abonnieren


Intakt-Records-Shop for digital downloads. Intakt Bandcamp-Store-Seite