De eerste cd van het Sylvie Courvoisier – Mark Feldman Quartet, 'To Fly To Steal' uit 2010, was geen onverdeeld succes. Hoewel een meer dan degelijk album, kreunde de plaat onder het gewicht van de hoge verwachtingen. Eerdere samenwerkingen tussen de Zwitserse pianiste en de Amerikaanse violist hadden namelijk al fraaie cd's opgeleverd en 'To Fly To Steal' (opgenomen met een absoluut topensemble met daarin ook bassist Thomas Morgan en percussionist Gerry Hemingway) zou bijgevolg zo kunnen aansluiten in dat rijtje. Het kwartet haalde op die plaat echter zelden het verhoopte niveau en teerde vooral op de individuele klasse. Een jaar en enkele Europese tournees later is dat wel even anders, zo blijkt uit de tweede worp van het Sylvie Courvoisier – Mark Feldman Quartet, 'Hôtel du Nord'.

Van een (h)echte groep kon men op 'To Fly To Steal' nog niet spreken. De technische bagage van de betrokken musici zorgde dan wel voor flitsende momenten in de uitgeschreven passages, maar voor de rest waren er vier individuen aan het werk. Op dat vlak is het kwartet duidelijk geëvolueerd. 'Hôtel du Nord' is veel meer dan zijn voorganger het resultaat van musiceren op intuïtie en wederzijds vertrouwen. Millimeterwerk in unisono of ingewikkelde thematisch kronkels leggen bijvoorbeeld minder gewicht in de schaal. Al wekken de openingsmaten van het eerste stuk (tevens de titeltrack) aanvankelijk een andere indruk. Op het korte motief van Feldman en Morgan volgt echter een contrabassolo, waarna met viool en piano nieuwe elementen worden toegevoegd. De schijnbaar onophoudelijk stijgende reeks pianonoten (een handig effect door linker- en rechterhand in twee maten verschil telkens dezelfde sequentie te laten spelen) die dan zijn intrede doet, vormt het belangrijkste element van het openingsnummer. Het unisono-motief van viool en contrabas wordt daarover in verschillende vormen geschraagd, goed voor bijna tien minuten beheerste dreiging.

Soms wekt het viertal de schijn als los zand aan elkaar te hangen, maar niets is minder waar. De manier waarop het kwartet in 'Dunes' uit het niets in een chaotische maar pakkende harmonie samenkomt en vervolgens terug uit elkaar valt, zegt wat dat betreft genoeg. Gedempte noten, inside piano en percussieve effecten worden heel natuurlijk getransformeerd tot lange, gemeenschappelijke uithalen die echter meteen stollen en verruigen. 'Dunes' is een stuk van contrasten: starten en stoppen, inhouden en voluit gaan, ritmische agressie en lyrische tederheid, de luisteraar wordt voortdurend van hier naar daar geslingerd. Nochtans legt de groep op deze plaat ook een grote klemtoon op steeds terugkerende patronen, zoals in de titeltrack. De manier waarop het kwartet daarin minutenlang afbouwt na een vroege climax, geeft blijk van een verbluffend dynamisch bereik.

Op de vorige plaat stonden stukken met een compositorische basis en groepsimprovisaties nog kriskras door elkaar maar hier worden ze strikt gescheiden. Aan 'Little Mortise', de eerste van drie improvisaties die de plaat afsluiten, is het daarom wat wennen. Aanvankelijk weerklinkt er slechts gekreun van snaren allerhande, maar wanneer Feldman enkele minuten in het stuk meer melodisch te werk gaat komt er een schitterend miniatuurtje tot stand. Courvoisier zorgt daarbij voor een soort prepared piano-klank (maar dan de light-versie) terwijl Hemingway al schrapend de cimbalen laat fluiten.

Elk van de zeven tracks is van weergaloos niveau en allen hebben ze een heel eigen karakter. Zo dobbert 'Plan A' rond op drie aanstekelijke, lichtvoetige pianoakkoorden die ritmisch tegendraads worden geplaatst en krijgt het geïmproviseerde 'Inceptions' vaart door een partijtje swingende freebop. Deze plaat is subliem tot in de kleinste vezels en het is dan ook zo klaar als een klontje dat 'Hôtel du Nord' zijn voorganger op alle vlakken overklast. Het Sylvie Courvoisier – Mark Feldman Quartet reserveert zich op die manier al vroeg in het jaar een plaatsje in de eindejaarslijstjes. Benieuwd wie hier nog aan gaat kunnen tippen in 2011.
Joachim Ceulemans, www.kwadratuur.be, Belgium, 13 mei 2011
Adventurous expressionism is a key factor within semi-structured or avant jazz-based endeavors. With their second quartet outing for Intakt Records, pianist Sylvie Courvoisier and violinist Mark Feldman cover a gamut of articulately designed modes of interaction. Introspective, sublime and occasionally foreboding, the quartet engineers a potpourri of delicacies, all executed with a deterministic modality.
On pieces such as "Dunes," the sterling audio processing might enable the listener to hear a pin drop within the soloists' mesmeric interplay and investigate approach to theme-building. Throughout, Courvoisier and Feldman generate off-kilter contrasts and polytonal forms of counterpoint.
Whether they evolve matters into a lashing or propulsive statement via extended notes or precision-oriented unison forays, the artists often intersperse the element of surprise in key spots.
Courvoisier gently plucks the piano strings to add unorthodox overtones as Feldman renders nimble staccato lines during passages that elicit harrowing propositions. And the quartet's overall emotive output is devised on fluent phrasings amid traces of minimalism or soaring opuses. Hence, the diversity of this set cannot be understated.
On "Inceptions," the all-star rhythm section dishes out a staggered pulse as a foundation for the soloists to navigate through peaks, valleys, and bumpy roads that smooth out over time. The program also features sojourns into classical concepts and movements that often summon notions of drifting into an abyss. The qualitative aspects of Hotel Du Nord are seemingly boundless. The quartet conveys a sense of intrigue that encompasses capacious environs, bridged with various rhythmic metrics and a consortium of imaginative dialogues. Many would anticipate that they would not deliver anything less meaningful or substantial, given the respective musicians' extraordinary inscription on the jazz vernacular.
Rating: Five Stars
Glenn Astarita, jazzreview.com Magazine, USA, 23 MAY 2011

JF, The Guardian, Great Britain, 27 Mai 2011
"Hotel Du Nord" is shot through with heightened sensitivity. In the wake of "To Fly To Steal" (Intakt, 2010), the group did a series of European tours and this experience of playing together has resulted in heightened musical understanding.
The quartet's musical currency—with the original lineup intact—is as informed by Twentieth Century chamber music as it is by creative improvised music, which means their work is about deft strokes as much as rhetorical flourishes. Pianist Sylvie Courvoisier's "December 2010" highlights this for all of her co-leader's heat. The compositional framework incorporates plenty of space, and all four members make the most of it. Drummer Gerry Hemingway is a master craftsman in the art of working with a group, while bassist Thomas Morgan's economy has the effect of making the ear yearn for what he's going to play next.
The slightly unsettling piano motif which is a recurrent factor in violinist Mark Feldman's "Plan A" renders his work positively unearthly. However, that impression is counteracted by Morgan, whose work is both exploratory and the sun around which the other players seem to orbit. In the suspension of momentum, a point made stark by Hemingway's skittering brushes, the tension builds as a consequence of players falling silent. When Hemingway solos it's with a singular lightness of touch, whilst Feldman's solo is as close to trenchant as anything this group produces.
"Inceptions" is a stark example of where the group's currently at. Courvoisier goes under the piano lid to supplement the sonic palette, and utilizes a low area of the keyboard for further emphasis, while Feldman's sly yet tonally true lines have the perhaps unsurprising effect of counterbalancing Morgan's work. Hemingway's playing is of an order which suggests this is molecular music—or at least it would if it wasn't for the fact that this is a group which always has a firm collective identity.
Nic Jones, www.allaboutjazz.com, USA, June 5, 2011
Schreiende, flüsternde Kammermusik
Unter "Brüderlichkeit", sagte François Bondy einmal, stelle man sich zuerst das Ideal der "fraternité" aus dem Kanon der französischen Revolution vor. Dabei meine Brüderlichkeit in Wirklichkeit öfter "Kain und Abel". Etwas weniger verbreitet ist der Irrtum, Ehe bedeute selbstredend  "Philemon und Baucis". Zu sehr haben in Theaterstücken und Filmen infernalische Kammerspiele und Rosenkriege Konjunktur. "Bis Gott uns scheidet" ist eine absehbare Frist geworden. So ist ein seit dreizehn Jahren verbundenes Ehepaar wie Sylvie Courvoisier und Marc Feldman, Westschweizer Pianistin sie, in Chicago geborener Violinist er, schon fast eine Ausnahme. Aber wer hat schon das Privileg, Erfahrungen in einer gemeinsame Leidenschaft auf so hohem Niveau zu bündeln und zu sublimieren? Courvoisier und Feldman sind Improvisatoren, zeitweise von jener freien Art, die man einst "Free Jazz" nannte. Der Begriff ist irreführend, ist ihre Musik doch auch gleichzeitig  höchst organisiert, vor allem frei von jenem tobenden Expressionismus, der einst damit fälschlicherweise verbunden war (schon zu Zeiten von Albert Ayler oder Archie Shepp gab es schon die subtile freie Kammermusik von Jimmy Giuffre und Paul Bley). Das Wort ist gefallen: Kammermusik. Auf ihrer jüngsten CD, der zweiten im Quartett mit dem Bassisten Thomas Morgan und dem Drummer Gery Hemingway, geht man zum einen Teil von geschriebenen Vorlagen (mit allerdings weit ausgesparten Freizonen) aus, zum andern von vollständig  frei im Kollektiv erarbeiteten (besser: erspielten, noch besser: erspürten) Vorgängen aus. Das Wunder ist, dass beides auf Anhieb nur schwer zu unterscheiden ist. So sehr ist die Sensibilität zwischen den vieren seit dem auch schon erstaunlichen Debut ("To Fly To Steal") gewachsen: ein "Interplay", das schon extreme Vertrautheit voraussetzt. Fast eine Ehe zu viert. Alle wissen viel von Dynamik, vom Gefälle zwischen geflüsterten Finessen und heftigen Ausbrüchen. Schade, gehe ich mit meinen Superlativen so inflationär um. Hier wäre das Wort "atemberaubend" tatsächlich mal  angebracht.
Peter Rüedi, Die Weltwoche, 25/2011
VON WORTLOSER SCHÖNHEIT
Pianistin Sylvie Courvoisier und ihr Mann, der Geiger Mark Feldman, lieben Gratwanderungen
zwischen Freiem Jazz, Neuer Musik und Instant Composing. Dies in verschiedenen
Konstellationen und stilistischen Gewichtungen. Mit Bassist Morgan und Drummer Hemingway
erzeugen sie Kurzsuiten von klarer Klangpoesie. «Hôtel du Nord» hört sich an wie ein Singspiel von simpler
Schönheit, überliefert aus alten Zeiten und mit Bedacht in die Gegenwart übertragen.
Frank von Niederhäusern, Kulturtipp, Schweiz, 13/2011
Musikalsk ektepar
Det hersker overhodet ingen tvil om at Sylvie Courvoisier og Mark Feldman har funnet hverandre – på alle slags vis.
Den sveitsiske pianisten Sylvie Courvoisier og den amerikanske fiolinisten Mark Feldman møttes på en festival i Tyskland i 1995. Fem år seinere gifta de seg i Las Vegas. Både før og etter de ga hverandre sitt yes så har det musikalske samarbeidet mellom de to utvikla seg fra møte til møte og med fjorårets debut, "To Fly to Steal", med deres felles kvartett i friskt minne, så var så absolutt forventningene store foran oppfølgeren "Hôtel du Nord".
Paret har vært bosatt i New York siden slutten av 90-tallet og fortsetter å skape musikk som henter elementer fra både den klassiske tradisjonen, som begge stammer fra, og fra forskjellige moderne jazzuttrykk. Nok en gang har de med seg den strålende trommeslageren Gerry Hemingway og den stadig mer brukte bassisten, av helt forståelige årsaker, Thomas Morgan.
Fire av de sju låtene har enten Courvoisier eller Feldman skrevet, mens de tre siste er kollektive improvisasjoner. Dette er uansett søkende og reflekterende musikk og at de fire har jobba mye sammen i konsertsammenheng siden debuten for ett år siden, er veldig tydelig. Spesielt på det dynamiske området virker det som om kvartetten kan lese hverandre som åpne bøker og at Courvoisier og Feldman har "tilgang" på hverandre bortimot døgnet rundt, gjør at den musikalske kommunikasjonen dem i mellom er av det sjeldne slaget.
Musikken er til dels melodisk, til dels fri, men alltid engasjerende og personlig. Sylvie Courvoisier – Mark Feldman Quartet fortsetter å skape en lydverden de er helt aleine om.

TOR HAMMERØ, Side 2, Norway, 21.06.11
Hôtel du Nord (Intakt CD 192) vom SYLVIE COURVOISIER - MARK FELDMAN QUARTET bringt gleich ein Wiederhören mit Gerry Hemingway. Kontrabass in dieser derart intimen Kammermusik, dass ich versucht bin, sie Schlafzimmermusik zu nennen, spielt Thomas Morgan. Neben dem Titelstück, das Romantiker wie mich sofort an den Marcel Carné-Film denken lässt, mit der schönen Arletty, noch bevor sie mit ihrem 'internationalen Arsch' mit einem Oberstleutnant kollaborierte, stoßen auch 'Dunes' und 'Inceptions' die Phantasie cineastisch an. Die Geige von Feldman spielt aber die Hauptrolle in allen sieben Episoden, lyrisch, kapriziös, schillernd in den dynamischen Gesten einer Diva, der der Himmel nicht hoch und das Gefühlsspektrum nicht weit genug sein kann. Auf je zwei wechselseitig wie auf den Leib geschriebene Kompo sitionen von Feldman und seiner Lebenspartnerin am Piano folgen drei improvisierte Capricen, voller geräuschhafter Einfälle bei 'Little Mortise', wieder mit violinistischer Lerchenzunge am hingetupften Himmelsfresko bei 'Inceptions'. Selbst das Piano krabbelt da erdverhaftet in einem Swing, der die Schwerkraft zu mindern versucht, damit sich Feldmans Anima zu höchsten Tönen aufschwingen kann. 'Gowanus' zupft noch einmal an losen Fäden, Courvoisier im Innenklavier, Morgan samtfingrig, Hemingway mit Millimeterarbeit am Cymbal, während Feldman Liebeserklärungen stenografiert für Ohren, die sich nur dem Allerfeinsten zuneigen.
Rigobert Dittman, Bad Alchemy, Deutschland, 70-2011
Pianiste Sylvie Courvoisier en violist Mark Feldman zijn al zo lang samen, zowel op het podium als daarbuiten, dat je mag aannemen dat de geheimen die ze voor elkaar hebben in aantal beperkt zullen zijn. Des te opmerkelijker dat hun samenspel keer op keer zo'n verrassende en daarmee ook enerverende verscheidenheid oplevert. De diversiteit in klankkleuren die dit duo alleen al weet op te roepen, is schijnbaar onbeperkt. In hun gezamenlijk geleide kwartet worden ze bijgestaan door een van de best denkbare ritmetandems in de vrijere jazz. Gerry Hemingway is een drummer die ook het bijzondere talent heeft kleur te kunnen maken. Bassist Thomas Morgan speelt liefst geen noot te veel, wat de muziek een aansprekende ruimtelijkheid geeft. Met zijn diepdonkere toon levert hij bovendien een waardevolle bijdrage aan het groepsgeluid. In de hoestekst vertelt Mark Feldman hoe belangrijk hij het aspect van dynamiek in muziek vindt. Zonder opzichtige uitschieters naar heel hard of heel zacht is die dynamiek hier inderdaad verbluffend.
Mischa Andriessen, JAZZMOZAÏEK, Belgie, June-Aug 2011
In solche Höhen klettert selten im Jazz eine Geige sauber. Eine eisklare Schönheit haben die Töne des Amerikaners Mark Feldman. Und was er auch spielt: Es wird zu einer Musik feinster Präzision und vollendeter Nuancen. So auch hier - in einem Quartett von Musikern auf Augenhöhe. Oder besser: Ohrenhöhe. Herausragende Instrumentalisten allesamt – und was noch besser ist: Musiker, die einander so aufmerksam zuhören können, dass jeder Takt zum Kommunikations-Ereignis wird. Sie spielen leise. Die Stimmen umzingeln einander, tanzen wie auf Zehenspitzen umeinander, mal flüstern alle, mal bleiben Teile des Ensembles fast stumm. Ein Lausch-Angriff. Und der Hörer wird gefangen genommen von einer geheimnisvoll soghaften Atmosphäre.
"Hôtel du nord" heißt diese CD nach einer Komposition von Mark Feldman – mit einem Quartett, das zwei Leader hat: Feldman und die Schweizer Pianistin Sylvie Courvoisier. Die beiden sind seit 13 Jahren nicht nur in der Musik, sondern auch im restlichen Leben ein Paar, und hier teilen sie sich die Kompositionen: zwei von Courvoisier, zwei von Feldman – jeweils stark ausgearbeitete, bildstarke Hör-Filme. Drei weitere Stücke auf dieser CD sind  Kollektiv-Improvisationen, für die alle Quartett-Mitglieder als Komponisten zeichnen – und die kürzer und atmosphärisch direkter sind. Die anderen Musiker im Bunde: Bassist Thomas Morgan und Schlagzeuger Gerry Hemingway, zwei Spieler, die hochsouverän mit Nuancenvielfalt und freier Klang-Erfindung umgehen können.
Sie alle sind Jazzmusiker, aber was sie hier spielen, geht über alle musikalischen Schubladen-Vorstellungen hinaus. Es ist freie Kammermusik – jenseits von Material- und Ausdrucksgrenzen. Es ist spannend zu wissen, dass Sylvie Courvoisier und Mark Feldman große Verehrer von Pianistin Martha Argerich und Geiger Gidon Kremer sind, Fixsternen der klassischen Musik. Deren Duo-Kommunikation sieht Feldman – wie er im Booklet-Text sagt – als modellhaft: ihre Bereitschaft, die Spannung bis zum Äußersten auszureizen, so dass, "wäre es um ein Haar schneller, alles auseinanderfallen könnte". Solch ein Abenteuer des Zusammenspiels, das Risiko auf ganz hohem Niveau, strebt auch dieses Quartett hörbar an. Diese Aufnahmen sind Expeditionen: jeder Takt ein aufregender Augenblick, der noch nicht verrät, wie der nächste sein wird. Ein Vergnügen, die Musiker bei ihren Lausch-Entdeckungsreisen hörend zu beobachten.
Roland Spiegel, BR-Klassik, Bayrischer Rundfunkt, Juni 2011
Pirmin Bossart, Jazz n' More, Schweiz, Juli/August 2011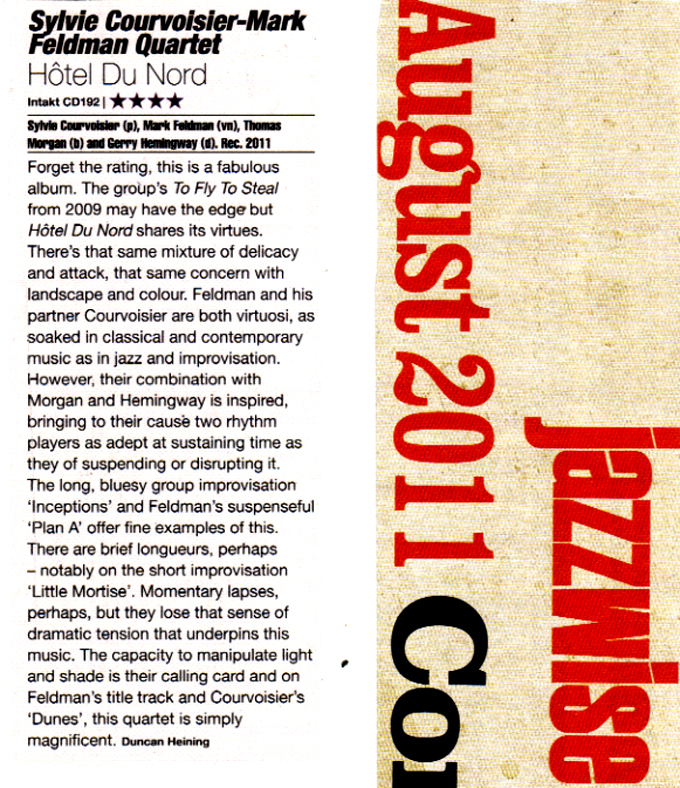 Duncan Heining, Jazzwise, August 2011
Vom ersten Ton an hört man, dass da eine verschworene Einheit musiziert. Das Titelstück 'Hôtel du Nord', eine wunderbare Komposition vom Geiger Mark Feldman, zeigt auch gleich, wohin uns dieser kompakte Vierer diesmal mitnimmt. In seelenvolle Innenwelten, mit traumwandlerisch sicheren Interaktionsriten und der Suche nach der Poesie der Stille im Meer des Lärms und des Aufruhrs. Aufgenommen wurde die CD wieder in New York (phantastisch, wie fragil und durchhörbar das geworden ist; Tonmeister war wieder James Farber) im Jänner 2011. Was beim Eingangsstück noch mit melancholischem Flair, stiller konzentrierter Empathie den Hörer rührt, entwickelt sich dann sukzessive in eine spannende Reise durch eine musikalische Moderne, die auch vor raueren Tönen und bizarren Tonkonklusionen nicht zurückschreckt. Will sagen, das ist keine harmlose 'Gute-Nacht-Musik', sondern eine riskante Umarmung (Jazz, Impro, Klassik), eine Unternehmung, die aus den Gefilden der Improvisationsmusik kommend ganze Genrewelten umarmt, einfach tolle Musik abliefert. 'To Fly Steal', der erste Tonträger dieser Band, hat einen würdigen Nachfolger bekommen. Das Sylvie Courvoisier & Mark Feldman Quartett soll noch oft Zeit für dieses Projekt haben.
Ernst Mitter, Freistil Nr. 38, Österreich, Juli/August 2011
Uste, Leipziger Volkszeitung, 5. August 2011, Deutschland
Martin Schuster, Concerto, August/September 2011, Österreich
MC, La Scena Musicale, JUILLET – AOÛT 2011, Canada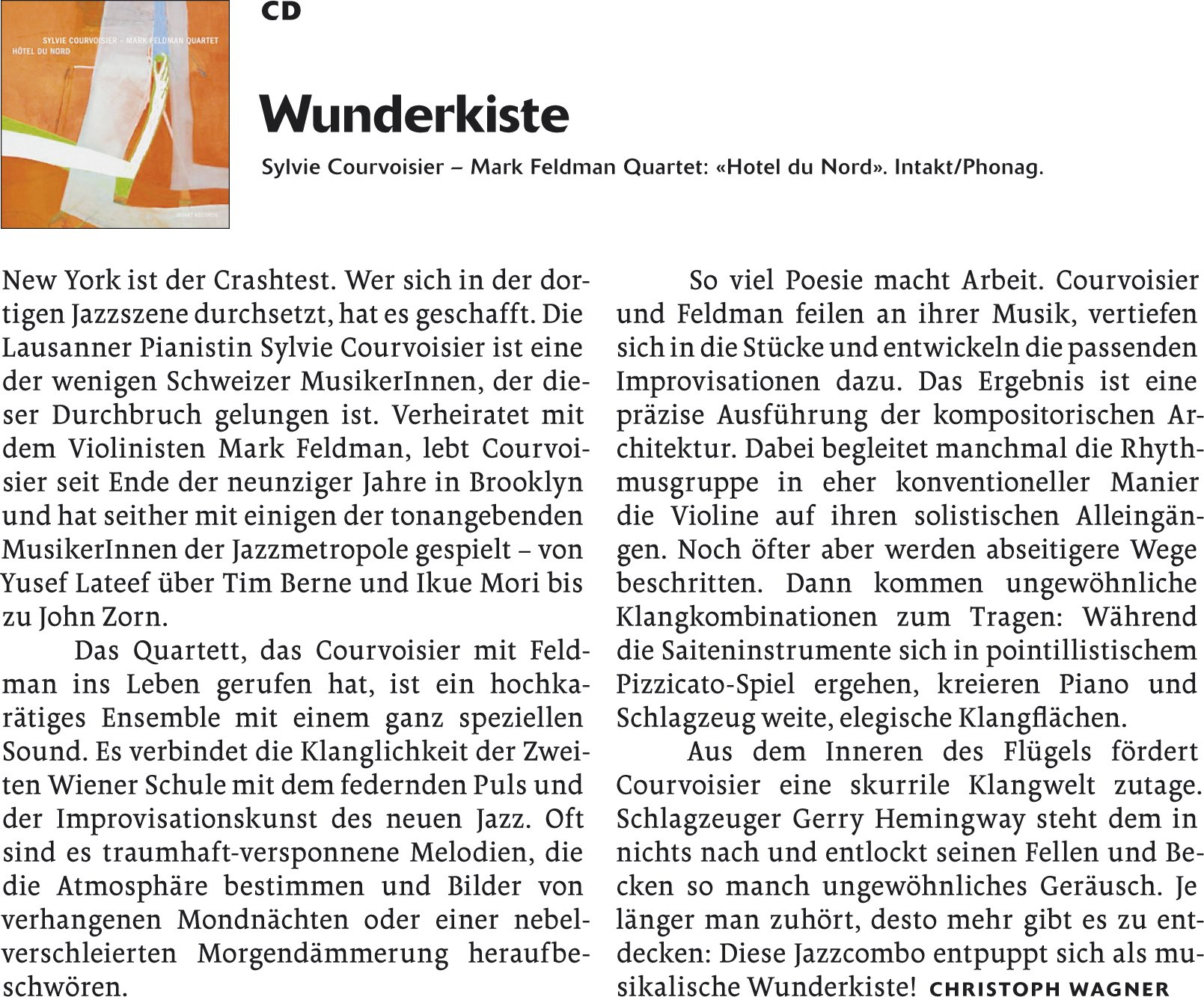 Christoph Wagner, WOZ, 18. August 2011
Thierry Quénum, Jazzmagazine, France, Septembre 2011
Svein Magnus Furu, Jazznytt, Nr. 4 / 2011, Norway
Henning Bolte, Jazzism, September/Oktober 2011, Nederlande
Stefan Pieper, Jazzzeitung, September-Oktober 2011, Deutschland
Stefan Pieper, Jazzthetik, Sept./Okt. 2011, Deutschland
Franziska Buhre, TAZ, 2. September 2011, Deutschland
Pachi Tapiz, bun.tomajazz.com, 10/07/2011, Spain
'Hôtel du Nord' is de derde cd van het echtpaar Feldman- Courvoisier op het Zwitserse label Intakt. Het is de tweede die ze met bassist Thomas Morgan en drummer Gerry Hemingway maakten. De muziek op dit album is een mix van klassiek en jazz. Feldman en Courvoisier voegen zich daarmee bij de zoge- noemde derdewegstroming. Een stroming waarbij internationaal weer steeds meer groepen en ensembles aanhaken. In eigen land is het Clazz Ensemble daar een sprekend voorbeeld van.

'Dit is geen cd voor 'foottappers', maar voor mensen die het geduld kunnen opbrengen voor deze etherische muziek.'

Pianiste Sylvie Courvoisier en violist Mark Feldman leverden de muziek voor dit album. Het klinkt alsof die volledig is uitge- schreven. Dat is niet het geval. Er wordt veel geïmproviseerd. Mark Feldman is op dat gebied voor geen kleintje vervaard. U kent wellicht zijn werk voor de groep Bar Kokhba van John Zorn. De muziek op 'Hôtel du Nord' is echter van een geheel ander kaliber. De spanning wordt gezocht in het fijnzinnig samenspel tussen de vier leden van het kwartet. Bij de klanken van piano en viool krijg je visioenen van ongerepte winterse landschappen. Van de schoonheid daarvan. Op de laatste drie stukken (van de in totaal zeven) wordt collectief geïmproviseerd. Beschaafd, navolgbaar, maar toch ook, en dat klinkt misschien wat tegen- strijdig, extreem. De vier geven elkaar alle ruimte. Ze spelen geconcentreerd en gedisciplineerd. Communiceren met elkaar en voorzien elkaars spel van commentaar.
'Hôtel du Nord' is geen cd voor 'foottappers', maar voor mensen die het geduld opbrengen om deze etherische muziek te willen leren kennen.
Hessel Fluitman, Jazzflits, 26 SEPTEMBER 2011, Nederlande
Family groups, including husband and wife teams, have a rich tradition in all styles of music. Pianist Sylvie Courvoisier and violinist Mark Feldman met in 1995, recorded together for the first time in 1996, married in 2000, and have continued to collaborate in a variety of contexts. This is the second release by their quartet with bassist Morgan and percussionist Hemingway. The group dives right into Feldman's title track, the first of his two compositions. Morgan takes the first solo, and the band's extreme dynamic range comes into play right away. With great delicacy and a restrained approach, the quartet establishes an atmosphere of close listening, quick-change dynamics, and an acerbic lyricism. "Hôtel du Nord" is not exactly a swinging place, but there are many mysteries and a certain beauty lurking in the hallways. Coirvoisier's "Dunes" starts out slowly, like trudging through sand. At three minutes into the eleven minute piece, there's a burst of notes by violin, bass, and piano with pounding drums. Then we're back to drifting along in a tempo-less haze of quiet collective improvisation, brought into focus by Hemingway's drums. It's a typical strategy for Courvoisier. Her other tune, "December 2010," is similar, with jumpy melodic blasts surrounded by free-floating passages bustling with nervous energy underscored by the exquisitely sensitive and unhurried Hemingway. Feldman's "Plan A" features his pizzicato work in tandem with Courvoisier's tolling piano and Morgan's shapely bass figures. As Courvoisier acknowledges in her interview for Bill Milkowski's liner notes, the co-leaders "can take advantage of living together to work on our precision. And it really pays off on some of these pieces." That emphasis on split-second timing occasionally leads them to be a bit on the chilly side, somewhat careful and overly reined in. Following the compositions, the quartet loosens up on three group improvisations. The creaky and creepy "Little Mortise" has everyone exploring extended techniques with an emphasis on percussive interplay. Feldman, whose incisive sound and broadly expressive playing is a joy throughout the disc, plays a typically bold opening solo to set the tone for "Inceptions," eventually yielding the spotlight to a darkly serious bass solo by Morgan. Courvoisier finally enters with short treble bursts that feed another Feldman solo. Hemingway takes it all in stride with delicious brushwork before he shifts to a more march-like attitude underneath Courvoisier's exploratory piano solo. Feldman takes it out with a swinging solo that he rides to a sweet, high note. Courvoisier is inside the piano at the start of "Gowanus," her harp-like strums setting the stage for a delicate Morgan bass solo. The tension grows as Feldman enters, quietly, over throbbing piano and bass. The music is dark and murky, like the soundtrack to a futuristic film noir. Chamber Jazz with a rarified attitude, well worth hearing.
Stuart Kremsky, Cadence Magazine, OCT-NOV-DEC/2011, USA
It's not clear whether Hôtel Du Nord, the second outing from the accomplished Sylvie Courvoisier/Mark Feldman Quartet, pays homage to Marcel Carné's 1938 film of that name, but the same mix of poetic realism and existential doom permeates the proceedings nonetheless. The husband and wife/violinist and pianist team, supplemented by bassist Thomas Morgan and drummer Gerry Hemingway, have developed an already strong conception even further since 2010's To Fly To Steal (Intakt). Two pieces by each of the principals are rounded off by three improvisations. But what is remarkable is that the collectively-birthed cuts seem not only completely integrated into the program, but form some of the most structured passages. It's as if the band needs the idiosyncratic compositions to disrupt their easy fluency to get to new places.
And those new locales are certainly worth reaching. On the title track, the dream-like state is interrupted by dramatic gestures, which give the feel of a surrealist painting made into sound. Sometimes plaintive, sometimes strident, Feldman's classical technique extends to microtones, high controlled squeals and skipping plucked motifs. Courvoisier is measured and spacious, contributing to the ascetic chamber air, but also stretches the envelope with unconventional practices, such as taping down the strings inside her piano, then slowly pulling off the tape, with the sustain pedal depressed, creating eerie strums on "Gowanus".
The album avoids the traditional rhythm-sectionand- leaders mold. Theirs is a music where restrained gesture assumes great significance, so when an emphatic ostinato intrudes on the spare unearthly soundscape of "Dunes", it seems shocking. In credit to the disciplined group ethos, the extemporized "Inceptions" is the most straightforward piece on the disc: starting with forthright violin and concluding with a jazzy 4/4 from bass and drums, via an Easterntinged bowed melody and a rippling piano solo.
John Sharpe, The New York City Jazz Record, USA, December 2011
Beschließen wir das Jahr in einem Hotel. Unten: Ballsaal, Grandezzaschweine, Unverschämtheiten, Humtata. Mitte: Stillstand, Schnarchgeräusche und Ruhe Bitte. Ganz oben knapp unterm Dach: freie Dienstbotenwohnung, feinster Kammerimprov, Dachluke auf, Feuerwerk. Nach nur einem Jahr legt diese begnadet inspiriert aufspielende Viererbande eine noch bessere, da ausgereiftere Version ihres uniquen Stils vor: hochsensibel, schwelgerisch-pointiert, virtuos-nassforsch, akzentuierend, retardierend und dann vor allem Raaauuum lassend und dem Ohr Konzentration, geläuterte Passion und Ruhe in gelassener Bewegung gebend - das kann wirklich nur ganz ganz wenige Musik. Großartiges Album, unbedingt gewinnbringend, ein klar-beseelter Meisterstreich eines zwischen Abstraktion und Assoziation pendelnden Gestus, und eines alten Jahres, das sich bei zunehmender Vereisung aus Protest die Schuhe auszieht und tanzt. Byebye, false illusions, the year is done, occupy the new one and start from here.
Made my day by Honker, Terz, Dezember 2011, Deutschland
Hans-Jürgen von Osterhausen, Jazzpodium, Deutschland, Dezember 2011/Januar 2012
Dans Hôtel du Nord se côtoient compositions (de la pianiste ou du violoniste) et improvisations. Des premières, on retiendra et admirera une évidente unité de temps et de structure. Entre attente et suspension, émerge un violon rasant (Hôtel du Nord) ou s'incruste un motif obsessionnel (Dunes). Dans ces eaux stagnantes, le surgissement de formes inopinées crée une tension supplémentaire, gommant ainsi la notion de solo au profit d'un axe collectif, ici remarquablement unifié.
Des secondes, on retiendra la diversité des formes : travail sur la matière sonore ici (craquements, hymnes souterrains et à demi-avortés in Little Mortise) ou, ailleurs, la réminiscence d'un jazz impulsif, incisif (Inceptions). Soit pour Sylvie Courvoisier, Mark Feldman, Thomas Morgan et Gerry Hemingway la poursuite d'une aventure, trouvant ici, l'un de ses plus intenses chapitres.
Luc Bouquet, Le son du grisli, Januar 2012, France
Interview avec Sylvie Courvoisier, Luc Bouquet, le son du grisli #47 , Winter 2012, France
Gonçalo Falcão, jazz.pt #41, março / abril 2012, Portugal (PDF-File with 2 Pages)