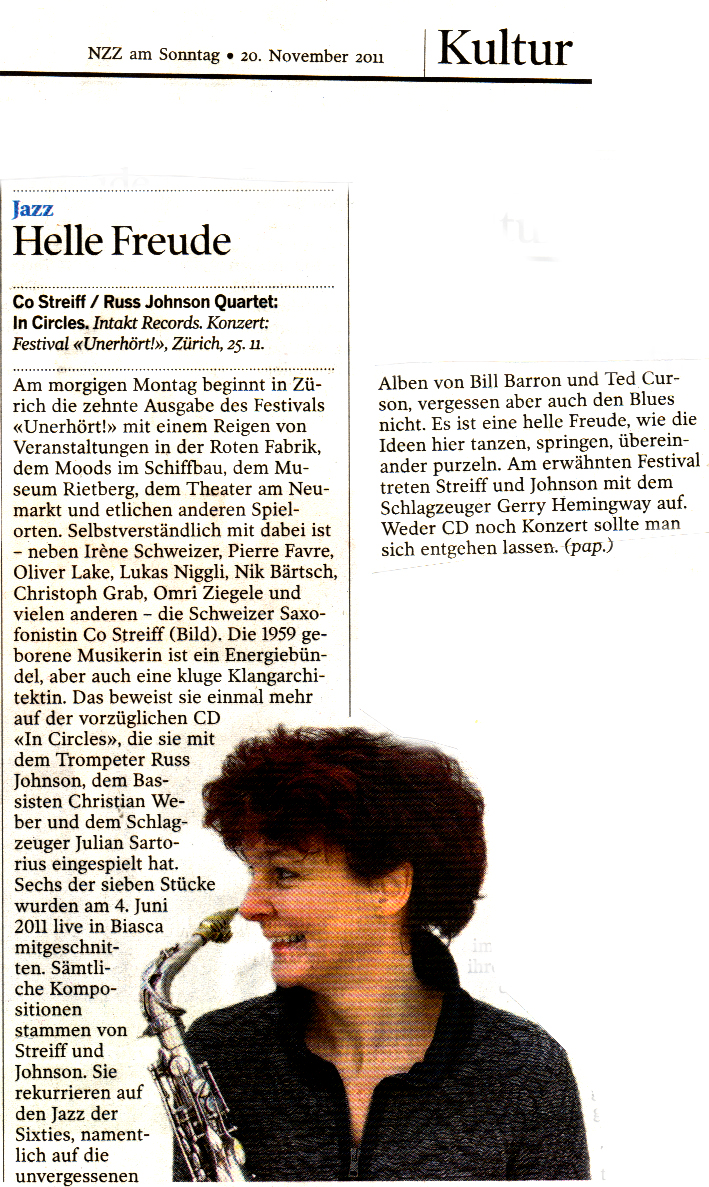 Manfred Papst, NZZamSonntag, 20. November 2011
Beat Blaser, kulturtipp, 3.-16. Dezember 2011, Schweiz
American trumpeter Russ Johnson and Swiss saxophonist Co Streiff certainly abide by the press release statements, indicating the musicians' cross-cultural inferences and recurring use of melody within the progressive-jazz and improvisational realm. Recorded live, sans the final piece "Confession," the quartet toggles between feathery light grooves and pulsating charts, largely comprised of ascending choruses and capacious soloing jaunts.
The core framework is centered on a diverse track mix, designed with layered horns, understated contrasts and spiraling unison motifs. The frontline and the energetic rhythm section, merge an adventure-seeking methodology via budding theme-building exercises and brazen solo spots. These attributes are evident on the title track "In Circles," amid a few cunning detours that accelerate the interest level. The band also projects an emotive component with ominously crafted undercurrents and bustling cadences as they converge for a point of reentry during the closeout.
Johnson's brazen tone and Streiff's resourceful bag of tricks translate into multifarious improvisational segments, dappled with exploratory persuasions. However, they prevent matters from getting out of hand, and strike a cogent balance between structure, melody, counterpoint and offsetting storylines throughout the program. And on "Tomorrow Dance," drummer Julian Sartorius opens with a polyrhythmic drumming vamp, featuring trickling rim-shot hits, and what sounds like small wood blocks, followed by the hornists' cheery lines over-the-top. It's an album that also offers a compelling equation of temperance and tension.
"Fark Lark," is a piece that radiates Ornette Coleman harmolodics, featuring Sartorius's Ed Blackwell style melodic tom rolls to underscore a peppery vibe, and adding another dimension to the quartet's arsenal. Simply put, "In Circles" is a top-shelf product, casting a mark of authenticity unlike similar outings within these settings by others, often built on pure cacophony or a total disregard for melody.
Glenn Astarita, ejazznews, January 2, 2012
Wie Kult riecht, weiß der New Yorker Trompeter Russ Johnson, seit er mit Eszter Balint und Leisure Class daran geschnuppert hat. Seitdem konnte man ihn hören mit Jenny Scheinman und in Michael Bates' Outside Sources, aber auch immer wieder in einem helvetischen Kontext, in Tommy Meier Root Down und mit der Züricher Alto- & Soprano saxophonistin Co Streiff. So wie nun im CO STREIFF - RUSS JOHNSON QUARTET mit dem weitgehend live im Tessiner Biasca eingespielten In Circles (Intakt CD 195). Zusammen mit Julian Sartorius an den Drums, der als Credits Rhys Chathams The Bern Project vorweisen kann, und dem allgegenwärtig hummelnden und grillenden Christian Weber am Kontra bass sprudeln da die Münder über, wovon die Herzen und Köpfe voll sind. Mögen Einge weihte was von Bill Barron & Ted Curson murmeln, die Blueprints, die einem in den Sinn kommen, sind natürlich Parker & Gillespie, Coleman & Cherry und Zorn & Douglas. Auf diesem blauen Feld bahnen sich Russ & Co eigene Wege aus melodischer Eloquenz und pulsierender Sophistication. Wie fließend sich die beiden Bläser gleich bei 'Short Out­break' (das aber doch seine gut 9 Minuten dauert) verzweigen und wieder vereinen. Wozu das Rad neu erfinden, wenn die alten noch so schön rund 'In Circles' kreisen? In Zeiten, die ungeniert im Stil des raubkapitalistischen 19. Jhdts. auftrumpfen, klingen die 1960er immer noch uneingeholt fortgeschritten. Dabei hat das Quartett nicht eigentlich was mit retro am Hut. Was Streiff wohl bei 'Five Dark Days' im Sinn hatte? Der vereinte Bläserton ist introspektiv, grüblerisch, Weber zupft am Schnurrbart. Wobei das Schneidende nicht Johnsons Sache ist, er mag es zungenmild, kann aber auch gepresst fauchen wie bei seinem 'The Loper', das sich dann aber swingend und mit tänzelndem Pizzicato weiter entwickelt als Gruß an Lee Morgan. Sartorius und Weber setzen Duftmarken am Anfang und gegen Ende von 'Tomorrow Dance', das dazwischen unter einer südlich hellen Sopranosonne tanzt. 'Farks Lark' feiert dann, quick und vogelig, Ornette Coleman direkt. Bleibt noch Johnsons 'Confession' als lyrisches, inniges Spiritual, das sich zur Musik als Himmelsmacht bekennt.
Rigobert Dittmann, Bad Alchemy Nr. 72, Deutschland, 2012

Alto and soprano saxophonist Co Streiff, from Zurich, and New York-based trumpeter Russ Johnson have been busy leading sessions, and working as sidemen, consistently for at least a decade, but on this exciting disc, they sound like they've internalized a sense of mutual affinity all their own. In this (mostly) live session, their energetic dialogue turns into a constant exchange of tricky turns that never lose a potent sense of swing. Sometimes, they build their lines with a quiet intensity, like on Streiff's title track. On Johnson's "Farks Lark," they trade upbeat fours with drummer Julian Sartorius and bassist Christian Weber, but then it becomes a hilarious, and fast-paced, guessing game as to who's leading whom. Weber also performs a great, low-key unaccompanied intro to Johnson's "Confession." Andrey Henkin's liner notes mention that the approach here is modeled after the relatively lesser-known duets of Bill Barron and Ted Curson in the 1960s. Give these guys more points for their firm and lively sense of jazz history. The Co Streiff–Russ Johnson Quartet will perform at The Stone in New York on March 3 as part of Intakt's two weeks of curating at the venue. Other concerts that the label will present between March 1 and March 15 include Streiff with guitarist Fred Frith on March 2, the Ingrid Laubrock Orchestra on March 7 and the Oliver Lake and Andrew Cyrille Duo on March 11.
Aaron Cohen, Downbeat, Editor's Pick, February 2012
bak, Concerto, Februar/März 2012, Österreich
Presque toujours impulsées à l'unisson, les mélodies de Co Streiff s'entrouvrent parfois au contrepoint. Aucune sorcellerie, aucune magie ici mais un cadre strict ouvrant la porte à d'inspirés solos.
Chez la saxophoniste : d'abord, une timidité de souffle – elle s'excuserait presque d'être là – ; ensuite, torsadant des phrasés aux traits (presque) colemanien, la voici emportée et décisive. Chez le trompettiste Russ Johnson : une solide présence. Parfois l'appel des grands larges, parfois l'insistance compulsive d'un motif. Chez le contrebassiste Christian Weber : une assise parfaite laissant entrouvrir, au détour d'un archet provocateur, des possibilités étendues. Chez le batteur Julian Sartorius : un art du rebond et de la répartie qui font mouche. Un disque à l'image de ses deux co-leaders : sobre et délicat.
Luc Bouquet, le son du grisli, 2012/02/20, France
Klaus Hübner, Westzeit, Februar 2012, Deutschland
Brooklyn-based trumpeter Russ Johnson, a ubiquitous presence in the New York scene, boasts countless sideman credits, yet his discography features only one title as a leader, Save Big, his 2004 Omnitone debut. Although Johnson co-leads The Other Quartet with saxophonist Ohad Talmor and a duo with pianist Mick Rossi, his recorded output remains under-representative of his abilities as a bandleader, which makes In Circles, the premier of his quartet with Swiss saxophonist Co Streiff, all the more welcome. Splitting writing duties with Streiff, the pair is supported by fellow Swiss bassist Christian Weber and drummer Julian Sartorius, who add vim and vigor to this vibrant program of original tunes.
Primarily recorded live in Biasca, Switzerland in June 2011 (the final cut is a studio recording), this session evinces a dedication to progressive swing that expands on the formal constraints of traditional melody, harmony and rhythm with a keen appreciation for the dynamic possibilities of free improvisation. Throughout the set, the group alternates between ethereal explorations and muscular ruminations, striking a keen balance between the two.
The horn players' unison motifs spiral above the rhythm section's shifting undercurrent with soulful élan on the opener, "Short Outbreak," their contrapuntal discourse being emblematic of the date's visceral appeal. Johnson and Streiff make a colorful pair, their circuitous lines interweaving delicately one moment, only to plummet with bustling ferocity the next. Johnson's earthy tone and Streiff's reedy timbre infuse the proceedings with compelling zeal, enjoying strong support from Weber and Sartorius, who prove their mettle as persuasive soloists.
Sartorius' polyrhythmic introduction to "Tomorrow Dance" is rife with cascading textural asides, which Weber echoes during his unaccompanied pizzicato solo later in the same tune. The duo's congenial rapport invigorates Johnson and Streiff's empathetic interplay, resulting in a unified ensemble sound that is both adventurous and conventional. The coiled attack of "Parks Lark" is indicative of their keen inside-outside balancing act, evoking allusions to Ornette Coleman's classic quartet. The band's enthusiasm for the material is infectious; an appreciative audience can be heard throughout the set, responding to exciting transitions and spirited solos.
Surmounting the presumed conceptual gap between American and European jazz styles, In Circles balances forward-thinking interests with historically aware foundations, yielding a vibrant document of contemporary jazz.
–Troy Collins, Point of departure, USA, March 2012

Jürg Solothurnmann, Jazz n' More, Schweiz, März/April 2012
Thorsten Meyer, Jazzpodium, März 2012, Deutschland
Natürlich erfindet man den Cool Jazz nicht ein zweites Mal. Aber die musikalische Grundhaltung ist doch eine eindeutige. In präziser, strukturierter Form werden die Erkundungsgänge der musikalischen Landsuche gemeinsam begangen. Die komplexen, komplizierten Verschachtelungen der nie lauten, aber stets präsenten Instrumentalisten wird in einer konzeptuellen Versuchsanordnung zu Gehör gebracht. Spannung wird durch das stetige Interagieren des Quartetts erzeugt. Christian Weber, der sichere Halt am Bass, ideenreich und stets am Puls des Geschehens, Julian Sartorius mit der behutsamen Sorgfalt der Mutter der Kompanie, die nie die Übersicht verlieren darf (und das auch nie tut), und die beiden Bläser an der Front, die quirlige Co Streiff an den kleinen Saxofonen und der klassisch geschulte, mit allen Wassern gewaschene Trompeter (großartig auf 'The Loper') Russ Johnson sorgen für gute Unterhaltung und ein sympathisches Déjà-vu mit einer interessanten, schon fast vergessenen Epoche, eine Stechzirkelvermessung von bekannten, schon vermessenen musikalischen Landschaften.
mitter, Freistil, Österreich, April 2012
De Zwitserse saxofonist Streiff en de Amerikaanse trompettist Johnson hebben allebei massa's ervaring. Hun samenspel is boeiend: zij ontkennen het gebruik van melodie en groove niet om hedendaags werk te leveren. Deze cd is daarom progressief en tegelijkertijd verankerd in het verleden. De sound van de groep is lekker old school, maar daar teren ze niet op: structuur, opbouw, ritmiek en harmonie maken van hun werk hedendaagse jazz met een gedurfde kant. Op deze live-cd (m.u.v. het laatste nummer) gooien de muzikanten alles in de strijd zonder zich ook maar één keer te verliezen in oeverloos notengekraak. Zij beseffen dat goede muziek maken meer inhoudt dan vingervlug toonladders spelen. Deze plaat houdt de aandacht zeven tracks lang gaande door een combinatie van durf in ritme, swing en melodie. Nooit krijg je het gevoel dat men het te ver gaat zoeken, integendeel: de behoorlijk moeilijke tracks krijgen spontaan vorm door de interactie tussen de muzikanten. Complexe spontaneïteit, tot in de puntjes verzorgd, drijvend op zuivere creatieve en muzikale impulsen. Een heel gaaf product.
Marc Van de Walle, Jazzmozaïek, Nr. 1/2012, Belgium
American trumpeter Russ Johnson and Swiss saxophonist Co Streiff have a strong musical rapport. All seven tunes—three by the former, four from the latter—feature extended themes and improvisations with both players blowing together.
They only occasionally deliver tight unison figures; more often than not they simultaneously shape melodies with an appealing looseness and a kind of sweet-sour tonal contrast, while at other times they revel in some high-wire coun- terpoint. On the opener, "Short Outbreak," it takes about four minutes before the band breaks open for lyric solos from Johnson and Streiff, and both of them are more restrained and mea- sured than their work during the elaborate, rig- orous head.
The tunes suggest an affinity for the golden era of hard-bop—with buoyant, bristling melodies and surging swing grooves joyously sculpted by woody-toned bassist Christian Weber and limber yet explosive drummer Julian Sartorius—while some of the multi-linear horn action harks back to glory days of West Coast jazz. Following a raucous opening of striated trumpet flatulence and nicely sharp alto squawks, Johnson's "The Loper," which seems like a subtle homage to the way Lee Morgan named tunes after their rhythmic thrust, turns into a bluesy burner that sounds like a deep hat-tip to Charles Mingus' "Fables Of Faubus." "Farks Larks" has the stop- start spryness of an Ornette Coleman classic. Despite drawing inspiration from the past, this is no retro trip. The frontline sounds thoroughly contemporary in its phrasing and timbre, while the rhythm section has a dazzling elasticity and a feel for color that's also here and now.
Rating: ****
Peter Margasak, Downbeat Magazine, May 2012, Great Britain
Almost the first reference point that springs to mind upon hearing In Circles is the classic Ornette Coleman quartet from the early Atlantic sides. There is the same loose conversational jousting between alto sax and trumpet, the same folk jazz melodic bent and above all the same sense of playful fun. In fact, alluring interplay promoted by thoughtful arrangements characterizes this first album from the quartet of Swiss saxophonist Co Streiff and Brooklyn-based trumpeter Russ Johnson.
Johnson wields a bulging resume Stateside but he has also forged strong links in Switzerland with Streiff's sextet and saxophonist Tommy Meier's Root Down, also documented on the Intakt label. Streiff herself has covered similar ground, her most notable appearance being in duet with pianist Irène Schweizer. Together on this expansive live date, they play largely inside, but with outside sensibilities, thoroughly cognizant of the last 50 years of jazz history. Bassist Christian Weber propels energetically while drummer Julian Sartorius is responsive and stokes the fires. They mesh well, especially on Johnson's "The Loper", where his not-quite-random clatter stalks the stop-time bass. This funky growler also inspires its author to an anthemic solo, full of suspenseful repetition.
One of the standouts, Streiff's title track boasts an engaging theme, which provides ample meat for the soloists to chew upon in its insistent riffs and a cappella horn breaks, as evidenced by Weber's ghostly arco murmuring behind a theme restatement that expands into a vigorous bowed feature to take the tune out. "Farks Lark" finds the band at their most Ornettish; Sartorius unleashes his inner Ed Blackwell as his tuned drums form an integral part of the angular head of this crowd-pleasing set closer. Added from a studio session, the final "Confession" switches the mood for Johnson's blues-tinged sermonizing following a soulful bass intro. It's a solid debut, a great memento of a live encounter with this accomplished unit.
John Sharpe, THE NEW YORK CITY JAZZ RECORD, March 2012
Stefan Pieper, Jazzthetik, März/April 2012, Deutschland
Philippe Méziat, Jazzman / Jazz Magazine, Mars 2012, France
Trumpeter Russ Johnson raises his Chicago profile
The jazz world is filled with great musicians like trumpeter Russ Johnson—guys who play all of the time and appear on loads of records but have little name recognition outside of the cognoscenti. He's only made a handful of records under his own leadership, but he's turned up as a sideman on countless albums, including dates led by Jenny Scheinman, Michael Bates, Noah Preminger, Diedre Rodman, Lee Konitz, Jason Rigby, and Steve Swallow, among others. He should be better known, because the dude can play some serious trumpet.
About a year and a half ago Johnson moved to Milwaukee from New York, where he'd been based since the 90s, although he continues to maintain a regular presence there even after relocating. The Racine native landed a gig as a jazz instructor at the University of Wisconsin-Parkside, in Kenosha, which has meant that he's started turning up for gigs here in Chicago. I didn't catch wind that he was in the area until this past fall, when he played with the Jason Stein Quartet at the Chicago Jazz Festival, subbing for tenor saxophonist Keefe Jackson, who had the flu. He did an excellent job filling in, fitting in as if he'd worked with the band for years.
Johnson plays a hard-swinging strain of postbop—brawny yet sophisticated, tartly melodic yet probing—that makes him sound like an appealingly scruffy sibling to Dave Douglas without the restless experimentation with nonjazz sources. Earlier this year the trumpeter released "In Circles" (Intakt), a superb quartet outing co-led by the great Swiss saxophonist Co Streiff (the Swiss rhythm section of bassist Christian Weber and drummer Julian Satorius rounded out the lineup). It was only the third album in his career with his name on the cover (he made a duo record with guitarist Mick Rossi and led his own quartet on a session released in 2004). The effort features tunes both by Johnson and Streiff and it covers lots of stylistic ground, from the Ornette Coleman-ish "Farks Larks" to "The Loper," which sounds like a title that Lee Morgan would've used, but the performance gravitates more toward a heavy, blues-driven burner with the energy of vintage Charles Mingus.
Johnson plays the second set at the Hideout on Wednesday (the drum duo of Tim Daisy and Frank Rosaly occupies the opening slot), leading bass clarinetist Stein, Daisy, and bassist Anton Hatwich through a set of his own music.
Article about Russ Johnson, by Peter Margasak, www.chicagoreader.com, 21.11.2012