Super Eight (Intakt CD 216) haben STEPHEN CRUMP & MARY HALVORSON das
überschrieben, was sie zusammen als Secret Keeper 2011 in Crumbs Wohnung
einspielten. Wohl weil die Intimität des improvisierten Zusammenklangs von
Kontrabass und E-Gitarre an selber gedrehte Super8-Filmchen erinnert, die
Privates und Persönliches einfangen. Oder ist da The Delicate Power of Modesty
im Spiel? Crumb hat im Duo mit Steve Lehman auf Intakt bereits seine
Fähigkeiten "unter vier Augen" unter Beweis gestellt. Halvorson kenne
ich bisher nur im Duett mit Hubert Bergmann so direkt, obwohl sie auch mit
Jessica Pavone und mit Kevin Shea als People schon Zweisamkeit als ein Format
praktizierte, das ihr liegt. Crump breitet ihr hier zu Beginn mit Bogenstrichen eine
Kuscheldecke, auf der sie zarte Figuren pickt, die sie kaskadieren lässt
und dabei schon die Noten so biegt, wie das ihr Markenzeichen ist. Und obwohl
ihr Partner sie mit warmen Tupfern lockt, gibt sie eine kapriziöse
Spanierin mit schiefen Absätzen. Es folgen vier fragmentarisch kurze
Kontaktproben, bei denen Halvorson Crumps Sinn für ihre Quirkiness
auszutesten scheint. Bei "Planets" funkt er ihr dann seine
beständige Sympathie zu, worauf sie ihm bei "Re: Morse" spanische
Liebesbriefchen zurück morst. Mit wachsendem Vertrauen beginnt sie zu
maunzen und er wieder arco zu schnurren, zeitvergessen, mit bedachtsamem Kontrast
von seinerseits sonoren und ihrerseits total verdrehten Tönen. Mit
konzentriertem Silberblick krabbelt sie hibbelige Noten oder schrappt
monoton, bevor mit "Escapade" die Annäherungsphase mit
beidseitigem schnellen Gekrabbel und Gefinger endet und "Begin" beginnt.
Dissonant wird das Vergangene verbrannt und begraben, bevor sich beide im
Mondlicht anschmachten, bereit zu Bekenntnissen und gemeinsamen, wieder
spanisch angehauchten, zunehmend prickelnden Träumen. "Toothsea" ist
mit 9:37 dann vollendete Dialogkunst mit bezaubernden Stimmungswechseln und
schillerndem Höhepunkt. "Secret Keeper" löst sich zuletzt nur
langsam wieder aus der bizarren, kapriziös dissonanten Versponnenheit, um
gemeinsam zu grooven, ohne dabei die Vorliebe für schräge Töne zu
leugnen. Gothic delight im wahrsten Sinn, und gerade deshalb wohl kaum das,
wofür die Leserinnen von Kate Morton schwärmen.
Rigobert Dittman, Bad Alchemy, 77, 2013
Klaus Nüchtern, Falter, Wien, 15/2013
Bassist Stephan Crump and guitarist Mary Halvorson kindled the fire in 2011 during their initial encounter, leading to these sessions recorded in Brooklyn, N.Y. Of course, the respective artists are highly revered within modern jazz schemas and the outside realm, spanning a global presence as first-call session artists, paralleling their solo ventures. Hence, the duo crafts an organic-electric presence. Halvorson's unorthodox and rather beguiling technique sets her apart from many contemporaries. Her liquefying phraseology tenders a weirdly contagious musicality coupled with Crump's thick tone and pliant articulations on acoustic bass.
Crump lays down a firm pulse and engages Halvorson for numerous improvisational dialogues and off-center narratives. The duo musters phantasmagorical dream sequences on "Anti-time," which is a warmly resonating piece, abetted by the guitarist's animated notes and slippery enunciations. Here, Crump's arco passages help form a bizarre thematic foray, as Halvorson's twinkling flurries convey semblances of guilt, lament, and other sensibilities that veer off the radar. And on "Escapade," the musicians delve into some nip and tuck sequences via a quietly frantic mode of execution, but intensified by Crump who subsequently injects an air of urgency into the thematic fabrications.
The duo supplies heaps and bounds of prismatic contrasts. There's never a dull moment, yet it's music with a purpose, often embedded with subtle or wily abstracts and oddball deviations. "Toothsea" is a piece that sparks a fascinating muse as the musicians huddle and pluck their strings in the same tonal range, leading to reactionary-like responses and tersely stated, odd-metered phrasings. The end result is a captivating and somewhat fractured storyline. Simply stated, it's an incomparable engagement that soars above similar settings or frameworks set forth by others.
Glenn Astarita, All About Jazz, April 26, 2013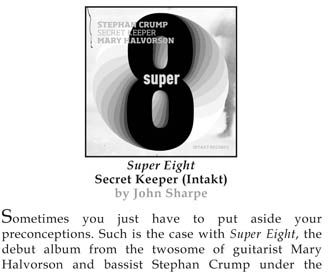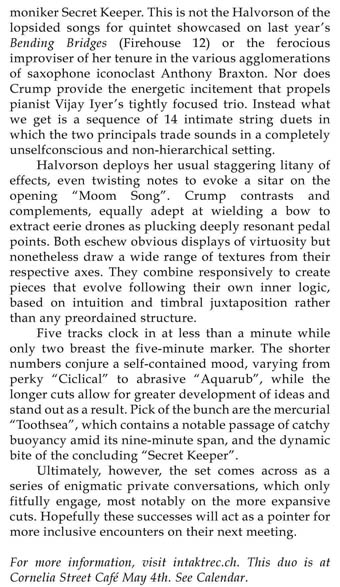 John Sharpe, The New York City Jazz Record, USA, May 2013
Artikel über Mary Halverson, von Gudrun Endress, Jazzpodium, Mai 2013, Deutschland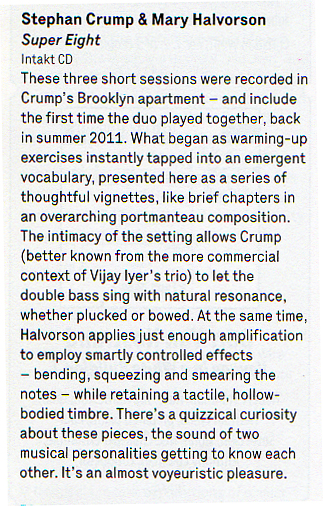 Daniel Spicer, The WIRE, London, June 2013
Super Eight es un disco de improvisaciones libres que se podría calificar como diferente. No tanto por su contenido, sino por su distribución. Grabado en julio y noviembre de 2011, el disco está estructurado en torno a tres partes: "Marging", "Alight" y "Begin". A su vez, cada una de estas partes está integrada por distintas improvisaciones libres de la guitarrista Mary Halvorson y el contrabajista Stephan Crump.
De un modo poco habitual, algunas de las improvisaciones de ambos músicos (tantas como seis) apenas duran un minuto. A pesar de su brevedad, son bastante más que unos meros bosquejos. Lo que para otros pudiera ser apenas un respiro, en esta ocasión sirve para establecer diálogos bonitos, tensos, o partir de un inicio centrado en la melodía para finalizar a los cincuenta segundos en un tema de carácter exploratorio. Asimilable en cierto modo a los misterios que plantea algo aparentemente poco esotérico como es la física cuántica, en esta grabación hay mundos muy diversos que caben en espacios diminutos. Frente a esta brevedad aparecen otros temas con una duración de entre tres y seis minutos (el penúltimo es el único que sale de este rango temporal y llega hasta casi los diez), en los que ambos músicos llevan a cabo su conversación con planteamientos que aunque distintos, siempre se muestran llenos de libertad.
El tema final, "Secret Keeper", resulta una clausura perfecta. Es la pieza más jazzística de todas (no tanto en su inicio como en su final). De algún modo se puede interpretar como un guiño travieso, como una reivindicación de lo que podría haber sido (un disco de jazz) y que sin embargo los músicos decidieron que no fuera.
*****
Pachi Tapiz, www.tomajazz.com, Mayo 16, 2013, Spain


Ulrich Steinmetzger, Leizpiger Volkszeitung, 25. Mai 2013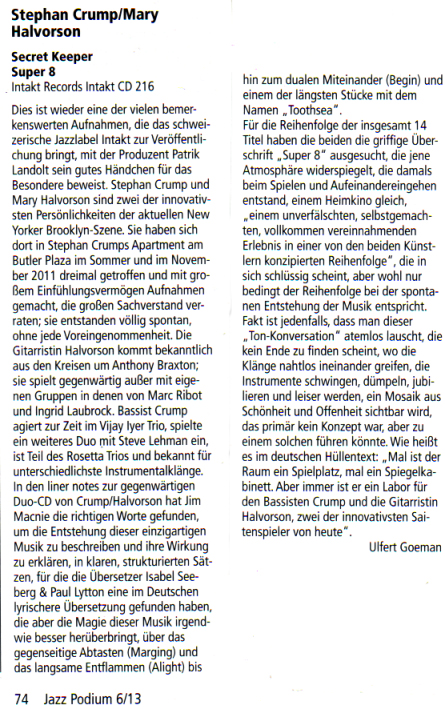 Ulfert Goeman, Jazzpodium, Deutschland, Juni 2013
The distinctive New York guitarist Mary Halvorson makes one of her infrequent Chicago appearances tonight at the Washington Park Arts Incubator, performing in her excellent duo with violist Jessica Pavone—the set is part of the promising Chicago Jazz String Summit. As I wrote in my preview this week, that project conveys an appealingly loose rapport with a strong dose of folklike rusticity. Halvorson has been operating at an artistic peak in recent years, both leading her own dynamic bands and working as an instantly recognizable side person, and a slew of terrific recordings prove it.
Earlier this year Halvorson turned up on Strong Place (Intakt), the second album by saxophonist Ingrid Laubrock's Anti-House project—a knotty, frenetic band where the music moves rapidly from episode to episode. In Clifford Allen's liner notes he quotes the saxophonist as saying, "I want some kind of messy, but with clarity," and that just about nails it. The music is dense and sometimes chaotic, with loose threads, spillage, and dissonance, but there's never a moment when it seems like the musicians don't know where things are headed. The leader writes slippery pieces full of shape-shifting modes and often-imperceptible links between improvisation and composition that require heightened listening—the musicians have to be seriously locked in to make it all work. Luckily, with Halvorson, drummer Tom Rainey, pianist Kris Davis, and bassist John Hébert, she's got the right group of collaborators. Halvorson and Davis do a lot of the heavy lifting, giving Laubrock piles of harmonic material to rip apart, shaping intricate contrapuntal passages together, occasionally engaging in precise unison passages, and, of course, taking plenty of independent solos. Halvorson's playing is alternately lyric, noisy, abrasive, tender, and tangled up in itself. She's always been an assured player, but her confidence on this album is stunning. Below you can check out one of my favorites from the album, "Cup in a Teastorm." The piece is dedicated to Henry Threadgill, a composer with a similar penchant for beguiling complexity and idea-packed writing.
We get a different side of Halvorson on Super Eight (Intakt), a loose series of duets with bassist Stephan Crump (known best as the bassist in Vijay Iyer's trio) under the moniker Secret Keeper. The casual feel here, much different than the one the guitarist and Pavone create when playing their compositions, is no accident—or rather, it is in a sense. The two musicians got together at Crump's Brooklyn home just to play together and improvise, see how they fit together. But Crump decided to set up some microphones and record their initial meeting. They'd each brought some tunes, but what ended up on Super Eight were their improvisations that July day, plus some additional recordings made on two subsequent meetings, also at Crump's place. The music is quiet, contemplative, and patient, but never tentative—the way one would expect from a first-time meeting, as players suss each other out—and hearing the rapport develop from scratch is both thrilling and illustrative of the creative process. Below you can listen to "Escapade."
Posted by Peter Margasak, Chicago Reader, USA, May 31, 2013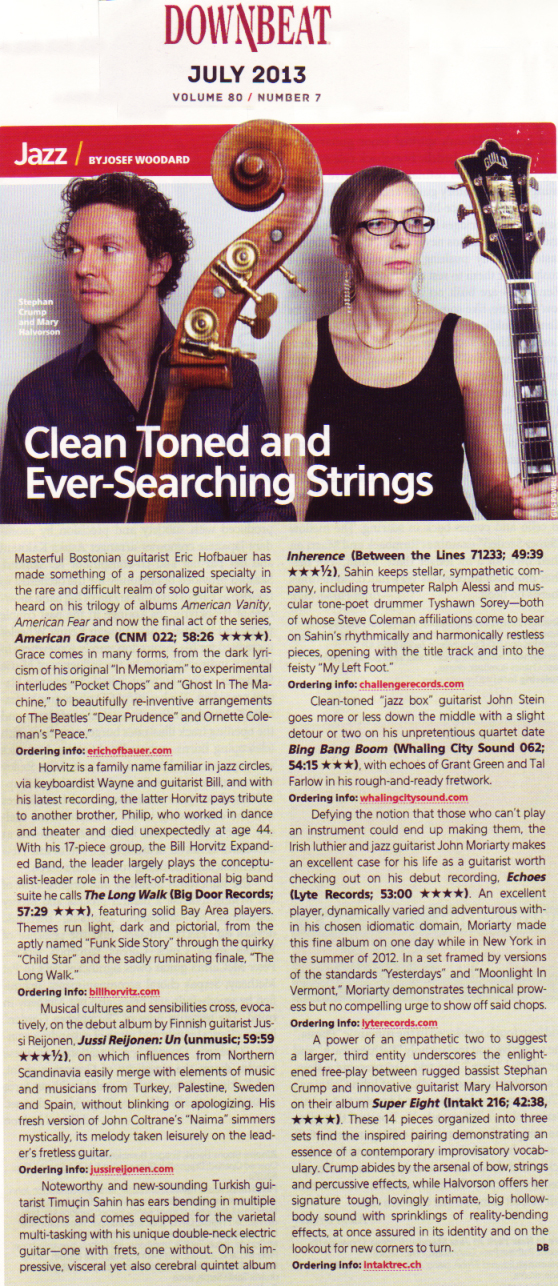 Josef Woodard, Downbeat, July 2013

Klaus Hübner, Jazzzeitung, Deutschland, 3-2013
Cuando tres son multitud
El dúo de Halvorson y Crump es casi milagroso. Ambos músicos están a la vanguardia de sus respectivos instrumentos, aunque Halvorson es un verdadero portento que trasciende el mundo de la guitarra. Reinventar todo un instrumento, redefinir el lenguaje de la guitarra en la improvisación libre es suficiente para rodearla con algo más que un halo de excelencia. En esas está, de momento. Veremos si emergen continuadores de su obra, aunque genios como Eric Dolphy, por ejemplo, nunca los tuvieron. La guitarrista encuentra en Crump a un compañero fiel que ejerce la titánica tarea de ponerse a su altura para un puñado de duetos escalofriantes, protagonizados por guitarra y contrabajo. Multitud de escenas musicales que están entre el suspense, la ebullición, la serenidad y la catarsis. No es un disco fácil de digerir, pero perderse en él puede ser de una desorientación maravillosa.
Yahvé M. de la Cavada, El Pais, 11 de junio de 2013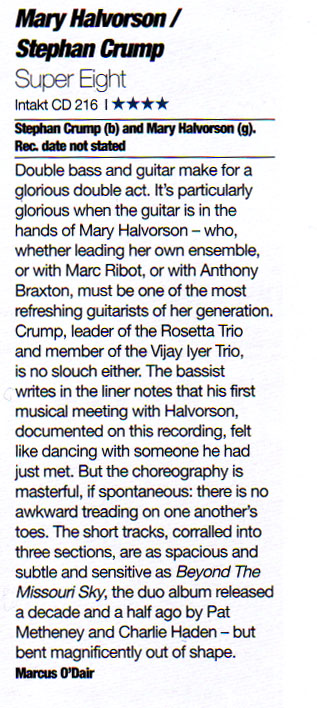 Marcus O'Dair, Jazzwise, GB, June 2013



Pirmin Bossart, Kulturtipp, Schweiz, Juni 2013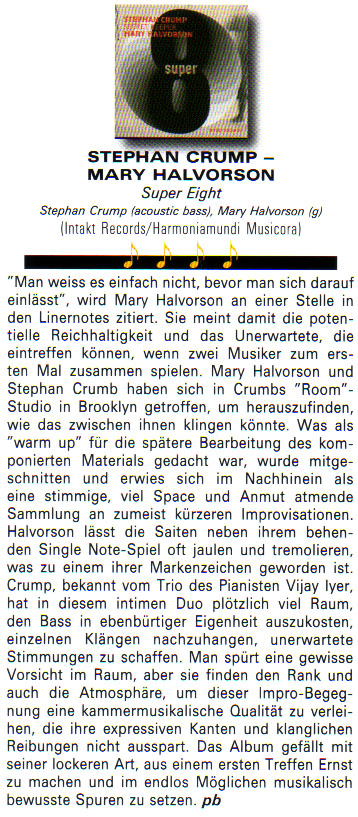 Pirmin Bossart, Jazz'n'more, Juli-August 2013
Jazz Today
Bassist Stephan Crump, from Pop to Avant-Garde and Back Again

Boundaries Be Damned
I've written before about the singer Jen Chapin, whose style and approach is a perfect example of how "jazz" and "pop" remain in a beautiful dialogue even though Chapin doesn't sing jazz standards or otherwise hold herself as a "jazz" artist. ("Playing Pop in the Jazz/Soul Shadow")
Aside from being a fine songwriter and outstanding pop singer, Chapin (the daughter of Harry Chapin, yup) is also married to Stephan Crump, the stylistically catholic jazz bass player. Chapin most commonly performs with Crump—along with guitarists Jamie Fox and Liberty Ellman, which group is otherwise known as Crump's Rosetta Trio. But Crump is best known as a member of Vijay Iyer's brilliant jazz trio and for other jazz playing that strays wildly beyond the conventional.
All this is on my mind because Chapin has an irresistible new recording, Reckoning, featuring Crump, Fox, and Ellman as well as a few other folks. It's yet another example of how smart, contemporary pop can still be soulful and laced with jazz feeling without being "jazz". And the Rosetta Trio also has a lovely new disc, Thwirl, a stunning essay in chamber jazz that moves from delicate to earthy. And Crump has a new duet recording with guitarist Mary Halvorson called Super Eight that is equally wondrous but that sits at the edge of jazz that is opposite from pop music: fully improvised music without hooks, verse/chorus structure, or anything resembling pop appeal.
All three of these recordings are outstanding. Central to all three is a jazz musician whose refusal to honor boundaries is a badge of honor. Arguably it's what's best about today's jazz musician.
Jen Chapin's Reckoning
The first sound you hear on the new, terrific, Chapin record is that of Crump's bass playing a singing groove along with finger snaps and a syncopated drum pattern. The hip rise and fall of the bass melody is a perfect counterpoint to Chapin's soulful and bluesy verse melody. It's no surprise, then, that Chapin and Crump have recorded together as just a duet act.
But the appeal of "It's All Right" goes beyond these two strongest elements. There are Chapin's words, which provide telling details of difficult life being shared by a couple that is, still, resolved to make it. And it's all wrapped in a concise arrangement by Crump—a few tastefully deployed strings, sprinkles of percussion, precise interplay between the guitars of Fox and Ellman. The lift of the strings on the chorus isn't sugary but poignant. It's wonderful storytelling that works because all the elements work together.
For me, "Let It Show" (a joyful piece of advice for a child, previously recorded by Chapin but not this well) ought to be a hit song—hooky, thrilling, beautiful. And it's recorded and arranged with perfection: starting with simply strummed acoustic guitar, then layering in bass, guitars, Farfisa organ and Wurlitzer electric piano, even a little touch of glockenspiel. The following song, "Don't Talk" is equally snappy—a faux reggae song that uses touches of clavinet, a brief little flute line and even a very brief bass "solo" for Crump that appears twice and naturally in the arrangement. That Chapin folds in a sumptuous release that eases of the reggae backbeat and evens out alike a ballad for a half-minute is just gravy.
Not everything on Reckoning is pure pop pleasure, though. "Spare Love (Not Fair)" begins with a duel guitar line that winds in an arcing shape before Chapin joins in counterpoint, all before the band groove sets in. It's hard not to hear a tune like this as harking back to the kind of complex arrangements that bands like Steely Dan made standard in the '70s but that may be out of style in the "indie" atmosphere of the 21st century. But Chapin and Crump aren't afraid to lay in some harp on this tune. And it works.
The closer on this ambitious record is called "Gospel", a song that imagines a better world being possible. Again, the arrangement builds from simplicity (an off-center drum and bass groove that allows Chapin to sing a simple blues melody) to great complexity, with a significant harmonized chorus, a piece of spoken-word recitation, Hammond organ and celeste, and then a sensuous trumpet solo from Ambrose Akinmusire on the long out-chorus.
And those are just some of the stand-out tunes on Reckoning—a pop record that means to be, and is, much more than just some catchy licks and some passion. In fact, if you listen without enough attention on the first pass, Chapin's work might seem "merely" pleasant. But just a little care and attention to the lyrics and arrangements suggests that Crump and Chapin have created a surefire gem: the kind of carefully-crafted and sophisticated pop that used to be associated with Paul Simon. Yeah, it's that good.
So, a jazz bass player is making brilliant pop records—like Jaco Pastorius used to to with Joni Mitchell. But is his own jazz playing much to hear?
The Rosetta Trio's Thwirl
It very much is.
The heart of Chapin's band on Reckoning is actually Crump's band. Or, rather, one of his bands. Crump's acoustic bass along with guitarists Jamie Fox and Liberty Ellman make up The Rosetta Trio. As the heart of a group playing a jazzy pop for Chapin, these guys bring elegance and groove to songs that might have been played without soul. In two earlier records, this band has created an identity as an instrumental jazz trio that deserves a wider hearing.
Thwirl is the trio's new record (out in September), and I think it is their best—impressionistic at times, but also soulful and singing, interlocking like a beautiful puzzle and also playful and witty. Crump play several different roles in this band—groovemaker on a playful 5/4 tune like "He Runs Circles" or a loping slow soul exercise like "Still Stolid"; primarily melodist on something like "Conversate (Talking-Wise)" or arco balladmaster on start of "Ending" or on the hypnotic middle section of "Whiteout"; or free improvising master on "Palimpsestic", which begins as a pointilistic exploration and builds into a funky set melody that is irresistible.
Crump's bandmates here are complimentary—almost to a fault but somewhat surprisingly. Ellman is known for his work in Henry Threadgill's Zooid band and his association with Vijay Iyer, Rudresh Mahanthappa, and Steve Lehman. Fox's resume sets him up as a much more conventional player—he was lead guitarist for Blood, Seat & Tears and played with Joan Baez, organist Brother Jack McDuff, and Dr. John. But as bandmates, Fox and Ellman weave a brilliant and seamless cloth of chords, melodies, effects, and textures. I don't find it easy to tell them apart. The title track, for example, is a polyrhythmic workout, with the guitarists plucking in a percussive maze that evolves into a circular melody that trades from one player to the other. It's a joy to hear the interplay and selflessness as one statement leads to another.
All the tunes but one were written by Crump, and they show a stylistic diversity that is the equal of, say, bassist Dave Holland. In fact, Holland is the player who might be Crump's artistic predecessor: someone just as home playing melodically, playing in a pop frame, or roaming free with little harmonic structure. Both have a pungent sound, rich in bottom while still capable of rising up to grab the music's spotlight.
Thwirl is a truly satisfying record because, like so much of Holland's work, it is catchy and appealing without ever seeming like it has "sold out" to ease or simplicity. That is to say: though it is perfectly "serious" jazz, it isn't afraid to appeal a listener's sense of pop pleasure. Which makes sense if you know that Crump is also a key force in Chapin's sound.
But, it turns out, he can cut loose, wildly loose, too.
Secret Keeper's Super Eight
Crump's duet project with guitarist Halvorson is called "Secret Keeper", which is a wonderfully suggestive title for a collaboration that is intimate, revealing, and cagey all at once.
Super Eight (to be released in late August) was recorded—like the Rosetta Trio album—in Crump and Chapin's home studio in Brooklyn. It consists of 14 short improvisations between the partners that took place the very first time they played together. And, while it has much in common with the Rosetta Trio work in its tone of quiet play, this record is more like a daring leap of faith. It documents a true first encounter, but one that is so magical and breathtaking that a patient and open-eared listener should find it as irresistible as Chapin's string of pop gems.
Halvorson is a guitarist and composer of remarkable invention. Her recent quintet work has been both edgy and delightful, and her technique on electric guitar is as thoroughly original as anything in jazz guitar history. But hearing her in duet with Crump makes you think that her earlier work was somehow incomplete. These free improvisations set both players in a context of almost unbelievable communication. I won't pretend to understand how musicians can seem so united in purpose and tonal vocabulary when they are making things up, entirely and utterly, on the spot. Usually, even with great musicians, it's a bit of a mess.
But Super Eight sounds like a delicate and carefully planned set of miniature symphonies that invite the listener in even though they sound like intimate whispers. This is daring music that never gets "ugly" or aggressively avant-garde. Instead, these are cinematic soundscapes (hence the title Super Eight) that weave melodies and textures like they were strands of colored cloth. What emerges is a shimmering surface of sound.
Let's dissect a single track. "Anti-Time" starts with Crump bowing an usual pair of upward intervals that are met but woozy chords from Halvorson. As Crump chooses new tones with a relatively consonant set of notes, the guitar plays a clean sound but bends strings in and out of key. Then Crump begins playing a simple two-note repetition that turns into a more complex funk line that invites Halvorson to play a solo on top that is alternately easy to follow and fragmented. As she plays, Crump alters his line in subtle ways, moving in and out of the set rhythm for a while, then settling into a repeated pedal tone. And, poof, the track is over—a dramatic and riveting journey. Easy to hear, mostly, carefully organized in the moment through brilliant listening, and finally just plain musical.
Just Plain Musical
That's a good phrase on which to settle in writing about bassist Stephan Crump. His work has a massive range of style, but every bit of it is just plain musical. If there is a better collaborator in jazz today—heck, in music today—then Crump ought to make music with that person, too.
From avant-garde experimentation that sounds like appealing melody to sophisticated pop music that sounds too good to be true, Crump is making great music in 2013.
Will Layman, PopMatters, USA, 15 August 2013
Will Layman is a writer, teacher and musician living in the Washington, DC area. He is a contributor to National Public Radio and frequently appears as a guest on WNYC's "Soundcheck" as a jazz critic. He plays both funk and jazz in the bars and clubs in and near the nation's capital. His fiction and humor appear in print and online.
Article about Mary Halverson, Jan Jasper Tamboer, Jazzism, September 2013, Neederlande
Opere come «Super Eight» ripagano l'impegno dell'ascoltatore con il privilegio di essere ammessi nel circolo magico della creazione istantanea, quel luogo misterioso ove i musicisti perdono la propria identità nello stesso fugace istante in cui la affermano, secondo il noto paradosso dell'improvvisazione descritto da Ralph Ellison. Il disco racchiude anche la storia di un primo incontro, fortemente voluto dai due musicisti, ma privo di intenti studiati e perciò realmente senza rete, come ogni conversazione tra conoscenti occasionali che comporti la consapevole assunzione di un rischio comunicativo. Tuttavia le due definite personalità musicali di Crump e della Halvorson, certamente affini per coraggio e milieu di estrazione, rivelano aspetti di spiccata complementarità, con la spessa sonorità del primo a fungere da ancoraggio per le linee spigolose e guizzanti della seconda. Ciò garantisce l'ottima riuscita del tête-à-tête, evitando il pericolo di ogni incompiutezza nel dialogo. Quattordici splendidi bozzetti, ora lunari, ora soffusi di un sognante calore, che lasciano desiderare un'immediata replica.
Sandro Cerini, Musica Jazz, December 2013 / January 2014, Italy
Jouons les contrastes avec deux autres musiciens américains : enchaînons avec une musique acoustique calme, douce, légère, ce qui n'exclut ni la profondeur ni la gravité comme le démontre le contrebassiste Stephan Crump. Sa partenaire Mary Halvorson joue sur une guitare électrique très peu amplifiée mais résonante et favorisant les harmoniques. Chez l'un comme chez l'autre, on sent le frémissement des cordes, on entend le bois… Une musique de chambre intimiste et intériorisée.
Jean Buzelin, Culturejazz France. 14 janvier 2014