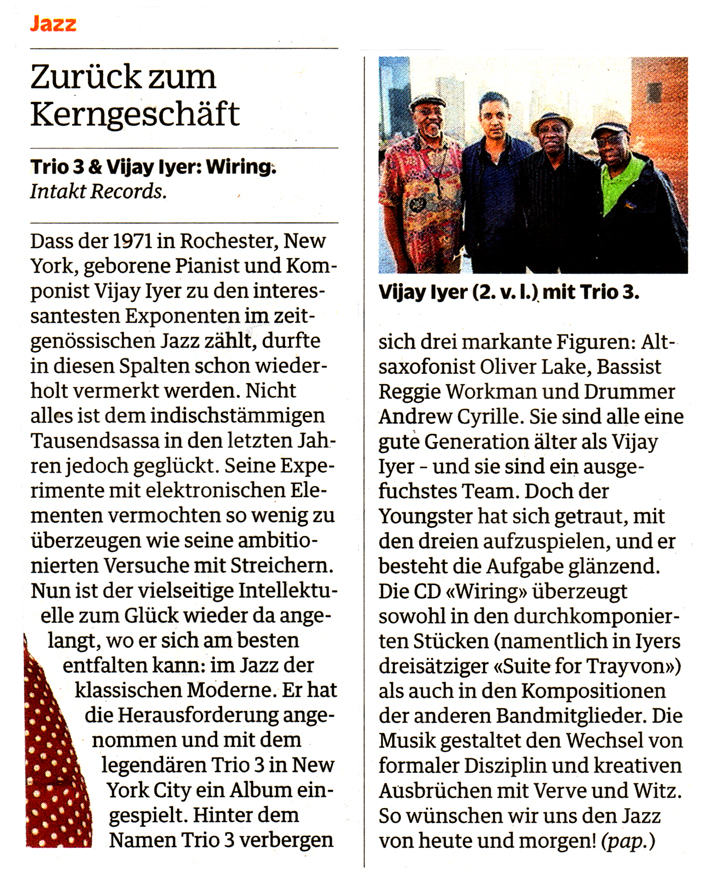 Manfred Papst, NZZamSonntag, 27. Juli 2014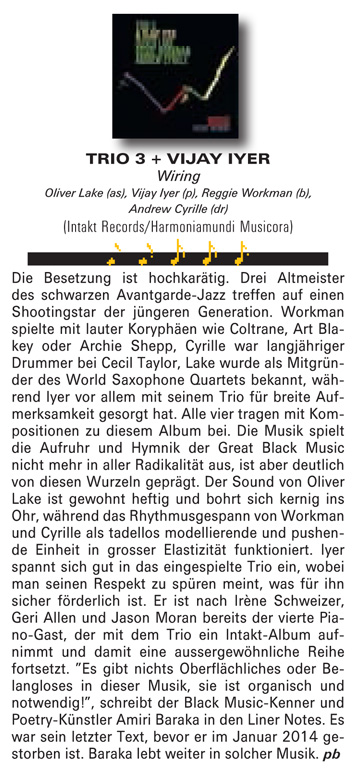 Pirmin Bossart, Jazz'n'More, Juli/August 2014, Schweiz
Salvo su estreno en Intakt, Time Being, las cinco grabaciones posteriores en el sello suizo de Trio 3 (Oliver Lake, Reggie Workman y Andrew Cyrille) han sido con el trío más el acompañamiento de pianistas de primer nivel, a saber: Jason Moran, Iréne Schweizer, Geri Allen (por partida doble); el último invitado a ocuparse de las ochenta y ocho teclas es Vijay Iyer.
Al igual que ocurre con sus grabaciones anteriores (salvo el homenaje con Allen a Mary Lou Williams), Wiring es nuevamente obra democrática tanto a nivel instrumental como compositivo. Todos y cada uno de los músicos participantes aportan un tema como mínimo, siendo el más prolífico de los cuatro Vijay Iyer. Este pianista no sólo compone cuatro temas (Reggie Workman aporta dos, Oliver Lake otros tantos; Andrew Cyrille una composición; los cuatro improvisan en un tema; la pieza restante es obra de Curtis Clark), sino que los tres movimientos de "Suite for Trayvon (and Thousand Mores)", son tres de  las mejores piezas de todo el CD.
Wiring no sólo muestra el resultado de la trayectoria larga y brillante que los músicos de Trio 3 tienen tras de sí (Reggie Workman llegó a tocar con John Coltrane; Andrew Cyrille tiene una carrera en la que ha acompañado a músicos como Cecil Taylor o Anthony Braxton; detrás de Oliver Lake hay grupos como el World Saxophone Quartet), sino que constata que este grupo es una realidad musical ajena a estilos ya que por encima de los envoltorios formales que definen las composiciones, está la libertad de su desarrollo. Trio 3 está en un momento de forma excepcional. Vijay Iyer se imbrica perfectamente con sus tres compañeros. Juntos realizan una labor magnífica de escucha, apoyo e interacción, con momentos tan brillantes como "Tribute to Bu". Esta pieza a la vez que cierra Wiring, sirve como una invitación a volver a escuchar el CD de nuevo comenzando por "The Prowl" de Iyer (infecciosa demostración de poderío por parte del cuarteto), y continuando con el resto de temas.
Pachi Tapiz, Tomajazz, Spain, Julio 23, 2014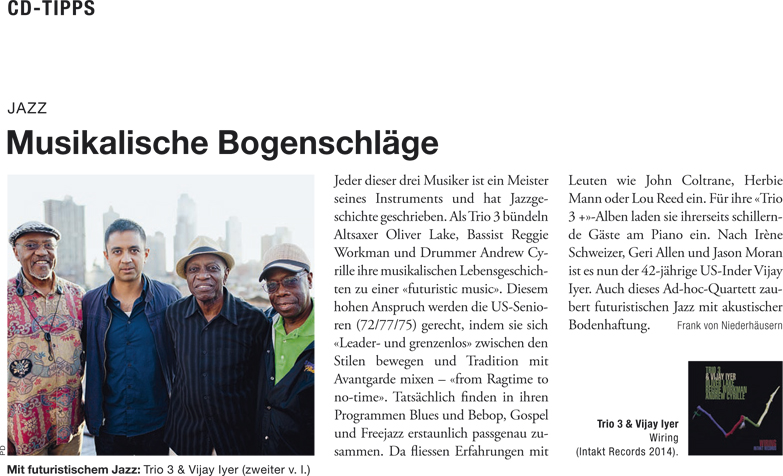 Frank von Niederhäusern, Kulturtipp, Schweiz, 9. Aug 2014
Trio 3, das ist geballte schwarzamerikanische Jazzgeschichte aus dem Geiste der Avantgarde der 60er Jahre. Schlagzeuger Andrew Cyrille sorgte einst bei Cecil Taylor, dem Meister des "Chaos unter Kontrolle", für die rhythmische Erdung, Reggie Workman am Kontrabass lieferte für John Coltrane und andere Heroen des Aufbruchs das Tieftonfundament, und Oliver Lake erschloss dem Altsaxofon eine zu Ornette Coleman alternative Sprache jenseits einer oft nervenden post-boppischen Turbo-Virtuosität; mit seiner in der Expressivität einem Tenor ebenbürtigen Stimme spielte er im World Saxophone Quartet eine Schlüsselrolle.
Als Trio machen diese drei Altmeister eine Musik, die weise die jüngere Jazzgeschichte resümiert und dabei immer noch auf frischer Entdeckungsreise ist. Häufig suchen sie sich Gäste als Impulsgeber, und der indisch-stämmige amerikanische Piano-Shootingstar Vijay Iyer erweist sich auf dieser Produktion als Glücksfall. Oft als quasi naturwissenschaftlich intellektueller Analyst apostrophiert, zeigt sich Iyer hier als Musiker, der die Tradition der Musik, wie sie seine Partner geprägt haben, zutiefst verinnerlicht hat und ihr gleichzeitig Impulse aus dem Hier und Jetzt vermittelt. Vier der elf Titel sind kraftvoll rhythmisch und harmonisch strukturiert, einer ist eine quasi minimalistische Studie von Andrew Cyrille über Art Blakeys Trommelkunst, die anderen sechs folgen offenen, frei pulsierenden Gestaltungsprinzipien. Alle aber überzeugen mit einer Ausgewogenheit und einer Ökonomie der Gestaltungsmittel, letztlich ist jeder Track von einer bewegenden inneren Stimmigkeit.
Thomas Fitterling, Rondo, Das Klassik & Jazz Magazin, 16.08.2014
Gerne laden wir uns Gäste ein. Piano spielende. Seit längerem ist dies ein Anliegen des famosen Trios. Eines Trios, gebildet von drei Lichtgestalten des grenzüberschreitenden "Nach Modern-Jazz". Nach den Kooperationen mit den PianistInnen Irène Schweizer, Geri Allen und Jason Moran, ist es jüngst auch wieder einer der jungen, überquellenden Kreativköpfe der New Yorker Jazz-Avantgarde: der indo-amerikanische Tastenzauberer Vijay Iyer. Und die Entscheidung, ihn für eine musikalische Exploration miteinzubeziehen, war erneut von gewinnbringender Tragweite. Des Dreigestirns ungemein organische, feurige Musik, die großem Herzen und emphatischer Seele entspringt, erfährt durch Iyers phantasiebegabtes Zutun eben jenes wirksame risikofreudige, harmonische Gewebe, für das die drei Eingeschworenen den Weg bereiten. Da ist immense Überlegenheit im Spiel, wenn die unabdingbaren Bewegungsfreiheiten für jeden Einzelnen geschaffen werden. Die drei Afro-Amerikaner sind mit allen seit der Be-Bop-Revolution vollzogenen Jazz-Fortschritten bestens vertraut, haben daraus ihre Persönlichkeit geformt und folglich selbst signifikante Beiträge eingebracht. Verfolgt haben sie aber immer einen "avantgardistischen" Klangsinn. Dennoch ertönt ihre frei assozierende Jazzspielhaltung mit dem Wissen um Tradition. Iyer seinerseits agiert ebenso mit derartig umfassendem Verständnis. Das Kollektiv generiert ein Klangtraktat mit hohem improvisatorischen Anteil und einem erfrischenden Gegenwartswesen, das auch das Morgen freut. Das Quartett deklariert sich weiters als sensorische Einheit mit stupender Immaginationskraft. Integrierte komponierte "Inseln", sei es thematisches Material, Überleitungen, strukturierende Gerüste, frei- wie polytonale Illuminierungen, bringen durch ihre richtige Dosierung eine ganz wesentliche Dramaturgie in die Improvisationskunst, die sich so Stereotypen verwehrt. Die Leitung steht unter Hochspannung. (han)
haun, Freistil 54, Österreich, August 2014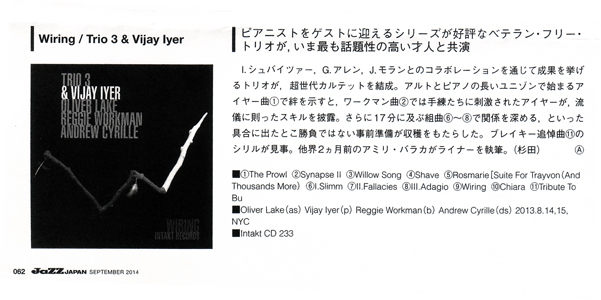 Hiroki Sugita, Jazz Japan, September 2014

Tom Gsteiger, St. Galler Tagblatt, 29. August 2014


Peter Margasak, Downbeat, October 2014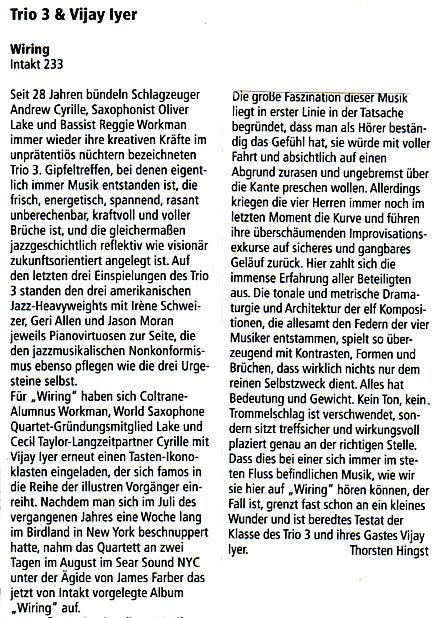 Thorsten Hingst, Jazzpodium, Stuttgart, September 2014  
Vijay Iyer is the latest pianist to follow in the footsteps of Irene Schweizer, Geri Allen, and Jason Moran as a guest of Trio 3, the collective band of Oliver Lake, Reggie Workman, and Andrew Cyrille. The trio is both refined and visceral; they make extremely detailed music that is by turns loosely tethered and tightly interactive; nuanced in its use of dynamics, timbre, and rhythm; and lean and concise. Since their recorded debut in 1997, they've displayed a maturity and rapport that few bands in the music can equal. And yet, in their series of meetings with remarkable pianists that begin in 2007, they have also displayed a remarkable ability to seamlessly accommodate a fourth voice into their sound world. Of course, the trio has exercised sound judgment in their choices of invited guests. Like his predecessors in this project, Iyer is well versed in the arts of solo and ensemble improvisation and composition that Trio 3 practice so successfully.
Iyer brings a considered approach to the band, the ability to assess what's happening and contribute appropriately. This gives the quartet improvisation "Rosmarie" a leaderless coherence with each voice sounding equally in the ensemble. On the explosive "Synapse II" he's a cool presence in the hot music, but he keeps up with the tempo and energy with a plunging freshet of a solo. On his three-part "Suite for Trayvon," all his abilities come to the fore, in a tight three-way conversational passage with Workman and Cyrille on "Slimm," in his percussive comping on "Fallacies," and in the subtle shadings of his chords on "Adagio."
The trio itself is in top form. Cyrille is positively Dionysian on his "Tribute to Bu." Lake is excoriating on "The Prowl" and "Fallacies" but quite lyrical (with a slightly acid edge) on Curtis Clark's "Chiara." Workman is the marrow of the music, whose lines provide support, momentum, or counterpoint as needed and whose solos have the spontaneous inevitability of a master improviser. Once again, these three veterans provide a master class in how to stay fresh and creative after decades in the music.
Ed Hazell, Point of Departure, September 2014

Ennesimo capitolo della turnazione in estemporaneo quartetto del glorioso Trio 3, che nelle sue quadrature pianistiche continua ad incorporare personalità di varia eccellenza, or arruolando appena dopo la grande ospitata di Jason Moran (Refraction - Breakin' Glass, 2013) il sempre più apprezzabile musicista indiano, parallelamente impegnato a donarci le inedite ricerche dello speculativo Mutations (ECM, 2014).
Aprendosi sulle tensioni immediatamente pulsanti della spiritata The Prowl (a firma di Iyer), dilagando lungo le belligeranti asprezze proto-free in Synapse II e Shave, le sensibili e volute pianistiche in apertura di Willow Song, un esteso passaggio di meditazione armonica nella Suite for Travyon (and Thousands more) di temperato spirito polemico post-bop, così come la sghemba, eponima Wiring, gli incombenti umori african-american della collettiva e sospesa Rosmarie, la vivida e apparentemente più bilanciata Chiara, il tutto converge, ma con logica relativamente anarchica, verso il catartico e incontenibile drum-solo, limpido e africanista, nella concitata e teatrante Tribute to Bu.
L'instancabile forgia, tra martelli e incudini, di Andrew Cyrille, il sapiente contrappunto ritmico-contromelodico di Reggie Workman, l'acidula e torrenziale loquela dell'ancia contralto di Oliver Lake sfociano nei flussi laminari e insieme turbolenti delle collettive stanze incontrandovi le armonizzazioni indocili e l'interventismo corposo di Vijay Iyer, solista umbratile e post-impressionista, di sonorità acquarellata ma di tono spesso plumbeo e presenza marcata: l'operazione, forte com'è ovvio dell'ineludibile intreccio di personalità così spiccate, segna tra i punti d'interesse il mantenersi entro un soundscape relativamente grezzo e non ben levigato, prescindendo da alcuni tangibili caratteri quali le asprezze di bilanciamento, apparentemente irrisolto, tra le forze percussive di tamburi e tastiera, e il margine di libertà comunque tenuto alto dai partecipanti, mantenendo una naturalezza da rodaggio live .
L'evento conferma dunque le entusiasmanti presenze di casting, rinunciando a farsi lezione (pur possedendone il temperamento) a favore del proprio carattere di impulsiva testimonianza circa non soltanto lo stato dell'arte, ma sulla voglia di partecipare e cimentarsi sul campo e soprattutto nell'agone del jazz.
Aldo del Noce, Jazzconvention, 5 Settembre 2014
Trio 3 are joined by Vijay Iyer, that intellectually self-aware pianist, on their new jazz album Wiring
The incandescent free jazz of late John Coltrane and Albert Ayler lives on, in Trio 3. In recent years, they've released a number of albums on the Intakt label with pianists who share their free spirit. On the latest they're joined by Vijay Iyer, that intellectually self-aware pianist who unites a reverence for the American tradition with memories of his Indian parentage.
Iyer embraces to the visionary aesthetic of the Trio, which means he's had to rein in his fascination with pattern and number. However it peeps out here and there, particularly in the repeating bass patterns of Slimm, the first movement of the Suite for Travyon (and Thousands More).
You'd expect anger in a piece in memory of the black teenager Travyon Martin, shot by a neighbourhood watchman in a case that's still unresolved.
In fact it's movingly restrained, and has a tone of stoic dignity. In Reggie Workman's Willow Song Iyer often shadows Oliver Lake's saxophone melody, before spinning off into some free-wheeling idea of his own. The effect is of something so big it casts a soft-edged shadow. As always with this trio, the blues is never far away, and the pull between that earthiness and the music's freewheeling impulse is fascinating.
Ivan Hewett, Telegraph, UK, 10 Sep 2014
Georges Tonla Briquet, Jazzmozaiek, Belgium, September 2014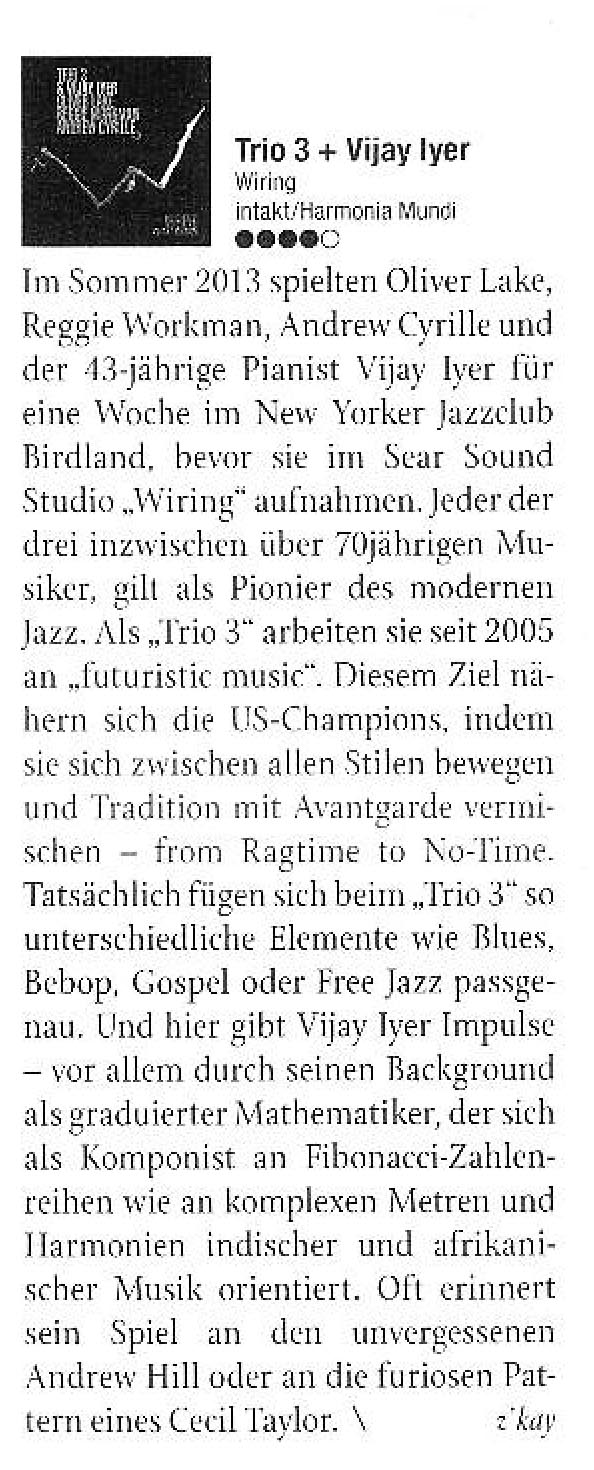 Kay Friedrichs, Klenkes 10 /14



François-René Simon, Jazzman/Jazzmagazine, October, 2014
Bernd Kostermann, Stereo, Deutschland, 11 /14
Trio 3 har nærmest gjort det til en spesialitet å samarbeide pianister. Trommeslageren Andrew Cyrille, bassisten Reggie Workman og altsaksofonisten Oliver Lake har tidligere gjort plater med Iréne Schweizer («Berne Concert» Intakt CD 150), Geri Allen («At This Time», Intakt CD162 og «Celebrating Mary Lou Williams», Intakt CD 187) og Jason Moran («Refraction – Breakin' Glass», Intakt CD 217), og da var det vel bare et tidsspørsmål før det «nye» stjerneskuddet, Vijay Iyer skulle inviteres med i studio sammen med de tre veteranene.
Sveitiske INTAKT Records var, som ved tidligere møter med pianister, på plass og nå foreligger kanskje den mest interessante av innspillingene i piano-serien.
De tre ringrevene, Cyrille, Lake og Workman har spilt med nesten det som er verdt å spille med innenfor den nyere jazzhistorien. Og når de tre omsider skulle slå seg sammen, var det god idé å invitere med gjester. Den første platen de utga på INTAKT, var som ren trio («Time Being», Intakt CD 106), og det er vel kanskje den minst interessante av trioens plater.
Sammen med den ytterst fleksible pianisten Vijay Iyer er de innom låter gjort av alle fire musikerne, pluss «Chiara» ført i pennen av Curtis Clarke. Alt låter friskt og fritt improvisert, og særlig synes jeg Iyer er med på å løfte innspillingen flere hakk. Han må være en kameleon av en pianist, for avstanden fra det han bidrar med her, er nesten så langt det er mulig å komme unna skivene han den senere tiden har gjort på det tyske selskapet ACT. Egentlig tror jeg det er i dette frittgående landskapet han trives best, men den unge herren er avhengig av å tjene til smør på brødet, og da er en kontrakt med ACT god å ha i bunn.
Oliver Lake (født 1942) spiller mer virilt enn jeg har hørt ham siden tiden med World Saxophone Quartet. Hans skarpe tone, setter anslag her som gjør musikken tøff og engasjerende. Det høres at som han koser seg glugg i hjel i studio, og det går lang tid mellom hver gang man hører såpass friske takter fra en godt voksen saksofonist. Reggie Workman (født 1937) er, som alltid en bauta bak bassen. Alt han gjør er riktig og alt passer perfekt inn i helheten, og Andrew Cyrille (født 1939), holder tømmene og skipet flytende hele veien. Og med unge Vijay Iyer (født 1971), som inspirator og innpisker, blir dette en nydelig innspilling med moderne, akustisk frijazz.
Verdt å nevne er også poeten Amiri Barakas fine covertekst.
Jan Granlie, Salt Peanuts, Oslo, 25. August 2014

Le Trio 3, constitué depuis pas mal d'années par trois admirables vétérans, Oliver Lake, Reggie Workman et Andrew Cyrille, convie à nouveau un pianiste en son sein. Après Irène Schweizer, Geri Allen et Jason Moran, c'est le jeune Vijay Iyer qui est invité à se mouvoir, se confronter, partager, apporter des thèmes, voire bousculer ces trois rocs. Et, comme d'habitude, cela donne un excellent disque. Grâce à la pulsation, au swing omniprésent, à la densité, à l'urgence, à la force et à la souplesse, sans oublier la qualité d'écoute de chacun et les improvisations remarquables, le Trio 3 n'a rien d'une réunion d'anciens et témoigne, au contraire, de la vitalité du jazz afro-américain. Notons que le livret s'enrichit d'un texte d'Amiri Baraka, écrit quelques semaines après l'enregistrement de ce disque, et quelques semaines avant sa disparition.
Jean Buzelin, Culturjazz, France, 27 Octobre 2014
Trio 3—alto saxophonist Oliver Lake, bassist Reggie Workman and drummer Andrew Cyrille—is one of jazz's tightest, most self-contained units, but the players have long shown themselves open and flexible enough to accommodate the contributions of gifted guest artists, especially pianists. This set, featuring Vijay Iyer, continues in that tradition.
Like Trio 3's regular members, Iyer journeys "inside" and "outside" with equal facility. Warm, humorous, cryptic and declamatory in turn, he alternates unison melody lines with percussive chording before breaking into solos that dance within, above, below and parallel to the main theme; his improvisations gather energy and tension by using the silence between notes as a rhythm instrument unto itself. Lake's tone is taut and acid-tinged, but he's also capable of sardonic humor (as on "The Prowl," the set's opener) and a tenderness all the more affecting for being devoid of sentimentality (exemplified by his breathy, prayer-like murmurs in the collective improv "Rosmarie"). Cyrille is a master of unforced propulsion, texturally complex even when he's straight-ahead, intermixing with Workman's sinewy lines and serpentine arco moans.
Iyer's three-part Suite for Trayvon (and Thousands More), the disc's centerpiece, includes "Slimm," which portrays a courageous, joyful but already cautious young man moving inexorably toward his fate; the harsh, funk/hip-hop-tinged "Fallacies," a declamation against the injustices surrounding both his killing and its aftermath; and "Adagio," a lament resonant with grief, anguish and barely contained militancy (Coltrane's "Alabama" is the obvious point of reference). "Tribute to Bu," in contrast, Cyrille's homage to Art Blakey, is flat-out exuberance. Cyrille's playing is less flamboyant than Blakey's often was, but with its variegated textures and layered rhythmic juxtapositions, it's fully in the spirit of the master.
David Whiteis, Jazztimes, USA, October 2014
Jürg Solothurnman/Dieter Ulrich_ Gespräch über Andrew Cyrille. Jazz'nmore Nov/Dez 2014
Ever play Fantasy Band and assemble a dream team of free jazz? What would you get? How about Trio 3? That would be alto saxophonist Oliver Lake; bassist Reggie Workman; and drummer Andrew Cyrille. Anyone who appreciates free-form jazz probably already knows the history of these three stalwarts. Cyrille continues to be one of the foremost free jazz percussionists. His poise, influence and unfaltering dexterity have kept him busy since the late 1950s. Particularly noteworthy is his tenure with pianist Cecil Taylor from 1964 to 1975. Lake is an equally full-range player who was a mainstay of the World Saxophone Quartet and performed with many outstanding artists. Workman—a dazzling, adaptable bassist— was in the 1961 version of the John Coltrane Quartet, and subsequently in the '60s was a member of Art Blakey's Jazz Messengers, and collaborated with Yusef Lateef and Thelonious Monk. Lake, Workman and Cyrille have distinguished solo careers, but came together as Trio 3 in 1992 to release a spate of live and studio dates, sometimes with guests such as pianists Irène Schweizer and Geri Allen.
Trio 3's latest is Wiring, a 70-minute, 11-track project which features pianist Vijay Iyer, a progressive and exploratory musician well-suited to the Trio 3 aesthetic. In his liner notes, author/poet Amiri Baraka states this is "a flood of emotional worlds." Baraka's spirit imbues not only the text he wrote just two months before passing away, but in a roundabout way, the music as well. Baraka always wrote from his heart (even when the result got him into trouble), and certainly the music on Wiring has a parallel predilection. Take for instance, this album's magnum opus, Iyer's three-part "Suite for Trayvon (and Thousands More)."  The 12-minute homage to the slain youth, Trayvon Martin, begins with "Slimm," which refers to Trayvon's nickname. This piece has a lively, exultant affability, which appears to mirror a young man's carefree humanity. The sax and piano inject an uplifting flavor, with just a hint of anxiety beneath the surface. The second section, "Fallacies," has a scratchier facet, with an intricate rhythm which has a funk/rap tint. This is more rhetorical, as the dissonance and heated aspects seem to echo the struggles which encased the aftershock of Martin's death. The third segment, "Adagio," is a quiet but not calm dirge which reverberates with sorrow, distress and an intimation of antagonism. A mournful sax and similarly poignant arco bass provide a stirring quality. Cyrille also offers an accolade, this one to Blakey, who also went by the name Abdullah Ibn Buhaina, or "Bu." The sprinting, drum-swelled "Tribute to Bu" is perpendicularly enthusiastic, in other words, it goes straight up and never comes down. While Cyrille's drumming is somewhat less showy than Blakey's, Cyrille simulates Blakey's exuberant percussive accents, while he creates dappled rhythmic textures, bringing to mind Blakey's essence.
At the opposite end of the sonic spectrum from "Tribute to Bu" is the tender, collective tune, "Rosemarie," the only all-group composition (other original compositions are credited to individual members). There is a post-bop, romantic tinge generated by Lake's tactful but loose alto sax shadings; Iyer's tantalizing, single, keyboard notes; Workman's beautiful arco bass; and Cyrille's lithe cymbals and brushes. Cyrille's supple momentum and complex percussive touches also suffuse through the record's only cover tune, an investigative rendering of Curtis Clark's "Chiara." Lake uses his sometimes slightly strident tone, which decorated many World Saxophone Quartet selections, while the rhythm section partakes in layered and variegated time signatures, and over the course of nearly eight minutes, everyone finds space to improvise. There are several other highlights. Lake's multidimensional "Shave" is a number which has a quickened pace and an unrestrained accentuation. Baraka calls this a "funky contribution" in the liner notes, but what the foursome produces is far from a straightforward groove, and any sense of traditional, or even easy to follow, inclinations is thrown aside as the four musicians accelerate into free jazz territory. The title track, also penned by Lake, actually does have a semblance of groove, although the group again lets things fly. Wiring is an undertaking of communication. Before heading into the studio, the trio and Iyer performed at New York City's Birdland venue, working out any kinks or tribulations. The result is a celebratory assortment of free form material sure to please listeners who esteem imaginative improvisation at a high peak.
Doug Simpson, Audiophile Audition, October 27, 2014


Sous étiquette Intakt Records, le pianiste et compositeur Vijay Iyer se produit aux côtés de musiciens issus de la génération qui précède la sienne: le saxophoniste alto Oliver Lake, le contrebassiste Reggie Workman, le batteur Andrew Cyrille forment Trio 3 depuis un moment. Ces sexagénaires n'ont visiblement pas perdu la forme et, somme toute, mènent le bal sur cet album. Le pianiste indo-américain y fait figure d'invité car l'esthétique post-free y est prééminente. On se replonge ici dans les années 70, 80 et 90 du jazz contemporain, pendant lesquelles les musiciens liés au genre ont progressivement trouvé le liant entre jazz moderne et free, entre musique écrite, improvisation dirigée et improvisation libre. Le vocabulaire free des instruments acoustiques s'est alors précisé, pendant que la composition jazz s'est lentement approchée de la musique contemporaine occidentale sans pour autant se couper de ses racines. Le cadre de l'album Wiring est ici présenté, les musiciens le débordent, car ils ont chacun de nouvelles propositions à nous soumettre côté impro. Côté composition, cependant, nous sommes en terrain connu; peu de changements au programme.
Alain Brunet, La Presse, Canada, 12 septembre 2014
Trio 3 & Vijay Iyer • Wiring
For their sixth album on Intakt Records, Trio 3 -- Oliver Lake (alto sax), Reggie Workman (bass) and Andrew Cyrille (drums) -- are joined by acclaimed pianist Vijay Iyer who sounds right at home working with these three avant-garde heavyweights. Each musician contributes at least one original composition to this 11-track pro- gram of adventurous music that ranges all the way from melodic bebop to the abrasive atonality of free jazz. The centrepiece of Wiring may be Iyer's 'Suite for Trayvon (and Thousands More).' Divided into three parts, 'Slimm,' 'Fallacies,' and 'Adagio,' Iyer and Trio 3 attempt to capture the pain, sadness and anger surrounding the 2012 death of 17-year-old Trayvon Martin in Sanford, Florida. It's a challenging piece of music that, much like the album as a whole, will be best appreciated by those already attuned to the genre.
John Sharpe. Scenemagazine, London, August, 2014
It really should be Trio 4 by now! For their previous four albums the threesome has added a pianist to the ranks, first Geri Allen, then Irene Schweizer, then Allen again, and lastly Jason Moran. Now on Wiring Vijay Iyer takes over the piano stool. You could argue that with their credentials saxophonist Oliver Lake (World Saxophone Quartet), bassist Reggie Workman (John Coltrane) and drummer Andrew Cyrille (Cecil Taylor) don't need assistance from anyone. But each guest subtly changes the dynamic, and Iyer's presence reboots the pointer on the inside/outside spectrum marginally towards the tradition.
As ever the writing credits are shared equally, supplemented by one collective improvisation and a cover of pianist Curtis Clark's lilting "Chiara." Lake's alto has lost none of its potency, as he claws his way through the registers or interleaves lyrical fragments with ferocious free outbursts. Workman provides sturdy underpinning bristling with gravitas, while Cyrille excels at both elegant tumult and an airy swing frequently demarcated almost entirely on his cymbals.
Iyer becomes an integral part of the outfit, whether stretching out simultaneously with the saxophonist, or comping energetically behind him. He contributes the bouyant supercharged opener "The Prowl," and also the three part "Suite for Trayvon (and Thousands More)," which moves from muscular swagger, via graceful unisons and jaunty tattoo, to a final "Adagio" which features funereal piano and a bittersweet alto melody. It also prompts a particularly fine solo from the pianist, which sees clusters of notes carefully pitched in the pockets of the churning rhythm.
Workman's choppy "Synapse II" begins with Lake's explosive saxophone snarl and continues into a feature for the reedman's darting alto. Iyer's introduction accentuates the blues dimension on the bassist's "Willow Song." By contrast "Rosmarie," a group invention for Intakt label cofounder Rosmarie Meier, is suitably open and expressive. Cyrille's nod to seminal drummer Art Blakey, "Tribute to Bu," comprises a talking drum extravaganza against which each member pitches themselves in turn. It closes another solid set from one of more superior bands on the current scene.

JOHN SHARPE, All About Jazz, November 18, 2014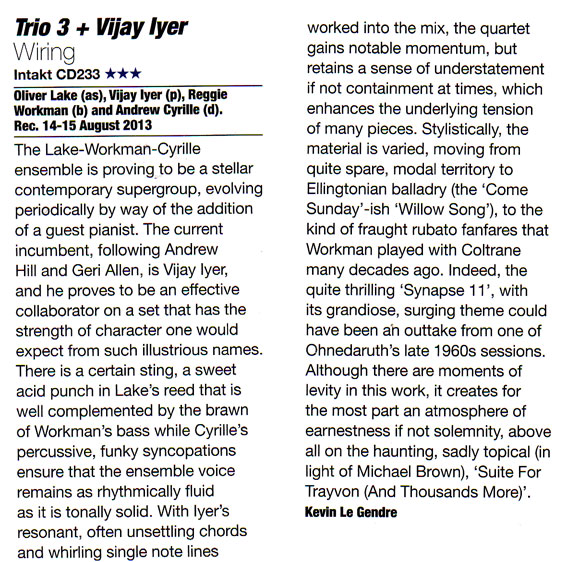 Kevin Le Gendre, Jazzwise Magazine, December 2014 / Januar 2015
Le trio du combat politique
Trio 3 et Vijay Iyer proposent «Wiring», un album aussi rare qu'essentiel autant politique que musical
Le nouvel album du Trio 3, intitulé Wiring sur étiquette Intakt Records, est plus que singulier. Un album très important ou essentiel, c'est au choix. Car Wiring est bon, très bon même, mais aussi, voire surtout, politique. Autrement dit, Wiring est très rare.
Dévoiler les identités qui forment le Trio 3 devrait rassurer quant à la qualité de cette production. Au saxophone alto, on retrouve Oliver Lake, immense pour faire suer les notes. À la contrebasse, on retrouve Reggie Workman, ex-accompagnateur de John Coltrane et grand professeur à la New School de New York. À la batterie, on retrouve Andrew Cyrille, rythmicien par excellence du juste à point.
Depuis quelques années, ce triumvirat de gentlemen a entrepris une aventure particulière, car consistant à inviter des pianistes aguerris, des pianistes rompus au répertoire de Thelonious Monk comme de Cecil Taylor. Toujours est-il qu'après avoir dialogué avec Geri Allen et Jason Moran, voilà qu'ils ont invité le surdoué Vijay Iyer pour confectionner une opération politique.
De quoi s'agit-il ? De ceci : quelques semaines après le soulèvement de la communauté noire de Ferguson dans le Missouri à la suite de la mort de Michael Brown, un jeune homme tué par un policier, notre trio et son complice d'un jour Iyer proposent une suite composée à la mémoire de Trayvon Martin, jeune Noir tué en Floride par un vigilante.
Pour dire les choses telles qu'elles sont, pour dire la réalité des choses en question, cette suite a rappelé par l'esprit et la manière les grandes suites politiques qui ont ponctué l'histoire du jazz dans les années 60 et 70. On notera, on soulignera et on retiendra que cela faisait belle lurette que des musiciens n'avaient pas osé piquer le corps de la politique de banderilles trempées dans la révolte découlant du racisme.
On tient aussi à souligner que Suite for Trayvon (and Thousands More) nous a rappelé les contestations musicales signées en leur temps par Charles Mingus, Archie Shepp, John Coltrane, The Art Ensemble of Chicago, Lester Bowie et Roland Kirk. À l'instar de ces derniers, Lake et ses amis s'appliquent à décaper, à déstabiliser, à mettre en relief le mal absolu. La sauvagerie d'un temps soi-disant moderne.
Wiring a ceci de remarquable qu'il est musicalement percutant un coup, calme, spirituel ou méditatif celui d'après. Il est enfin un manifeste qui renoue avec une tradition trop vite oubliée.
Serge Truffaut, Le Devoir, Libre de penser, Canada, 8 Novembre 2014



HONORABLE MENTION - NEW RELEASES (2014)
The New York City Jazz Record, New York, USA, January 2015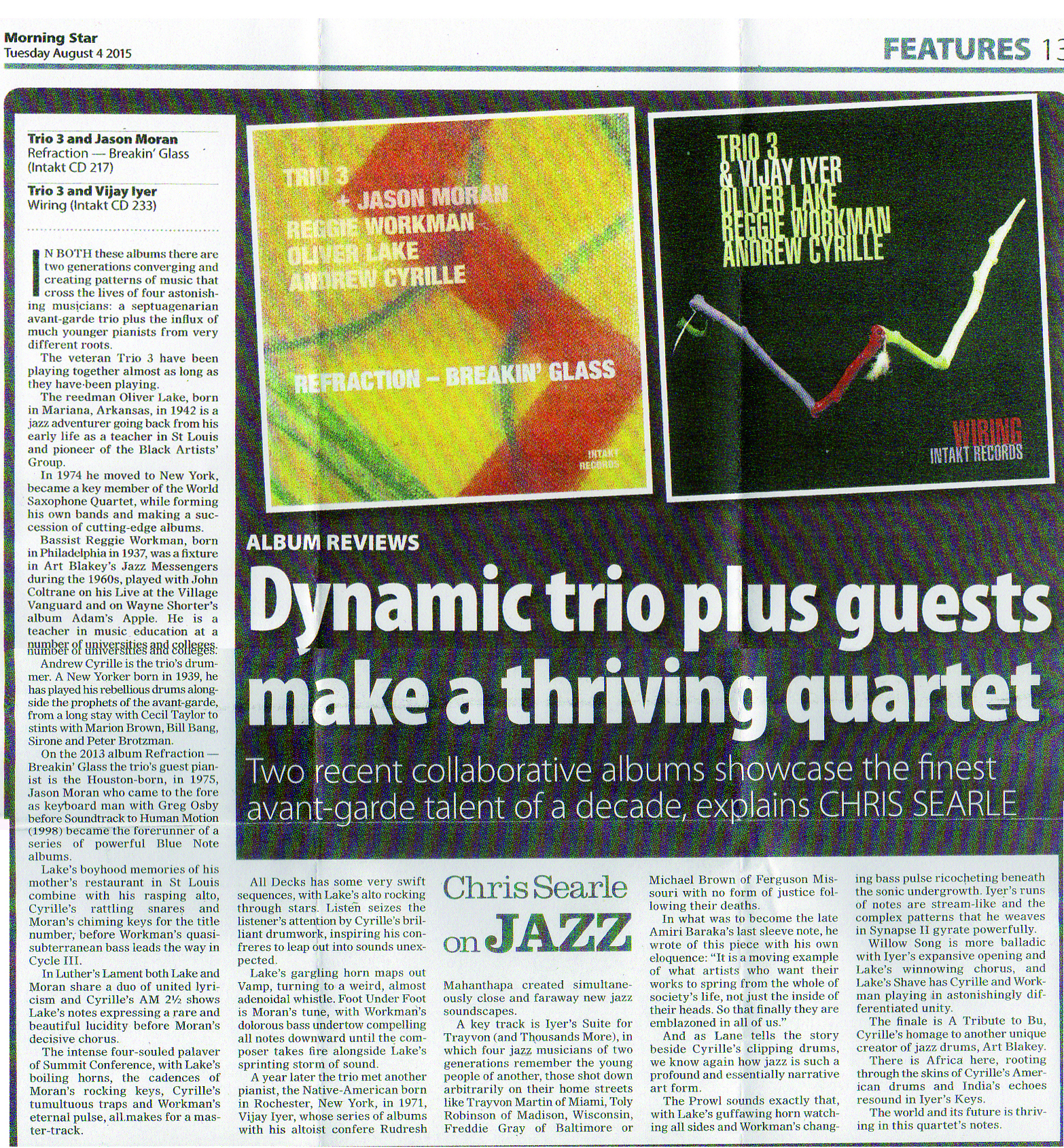 Chris Searle, Morning Star, August 4, 2015