Venerable British bassist and improviser, Barry Guy is the director of the New Orchestra but also serves as an enabler for the musicians' creative sparks to flourish. Other than frequent collaborator American trumpeter Herb Robertson, this aggregation consists of largely, European avant-jazz luminaries, prefacing the agenda on a hybrid chamber-orchestral slant, suitably noted by Guy in the press release.
One of two extended works, "Amphi" commences with a gathering of the troops slant, where the respective artists enter the scene in waves via introspective and capacious dialogues. Guy composed this opus in seven parts for baroque violinist Maya Homburger, who initiates the event with intense staccato phrasings. Otherwise, the strings section and hornists enact a rambunctious gait, seeded with strings scrapings, high-pitched squeaks and asymmetrical percussion activities, settling into a loose groove panorama amid transecting call and response mechanisms and mischievous banter. Here, the musicians also amalgamate sparkling textures and brash unison choruses, abetted by Guy's prolific lines and pianist Agusti Fernandez' rhythmic accents.
The second piece "Radio Rondo," features a myriad of jagged exchanges with brazen sax and strings parts, entrenched in the red zone, as the soloists concoct and interlace sub-motifs in alternating fashion. With free-form explosions, Fernandez often accents and helps accelerate various patterns and movements as he slings chords across the 88's and inserts maddening clusters into the mix. Yet both of these pieces are fabricated with oscillating outbreaks of expansion. For example, "Radio Rondo," includes segments where the orchestra ascends with a spiraling impetus, focused on variances in pitch, but they also come back down to earth and refocus on the next conquest. Towards the finale, often brimming with catastrophic breakdowns, Guy turns the tide with fervent plucking atop subdued horns, straddling a broad plane. Essentially, he navigates the ship through turbulent waters, catapulting the orchestra into a rumbling closeout. It's an all hands on deck milieu and the gratifying outcomes do not fall short of what many of us would anticipate from this influential artist.
GLENN ASTARITA, All About Jazz, April 7, 2014
Rigobert Dittman, Bad Alchemy 81, 2014

tHo, Concerto, Österreich, April-Mai 2014
One of the most noteworthy releases of 2013 was the Barry Guy New Orchestra's Mad Dogs (Not Two), a five disc compendium which collected largely freeform meetings between various subsets of the 11-piece company during their 2011 residency in Krakow. However even that copious set offered only a partial view of the Orchestra's range, a deficiency filled by the issue of Amphi + Radio Rondo which should perhaps be seen as a companion piece. Recorded in St Johann in Tirol, Austria in 2013, the session showcases the BGNO's rendition of the two titular charts by the British bassist. Renowned as a composer who makes space for improvisation an integral part of his charts, Guy has followed the template established with Inscape—Tableaux (Intakt, 2001) and Oort—Entropy (Intakt, 2005) by retooling existing works specifically for the BGNO. Influenced by contemporary classicism as much as jazz, the end result is unique to Guy.
"Amphi," which features Guy's partner and baroque violinist Maya Homburger, is based upon the title suite from the couple's marvelous Tales of Enchantment (Intakt, 2012). As such it still retains a chamber ambience, as members of the Orchestra interact with the lightly strung baroque violin in a series of volatile but rigorously controlled encounters, though rarely with the whole group playing at the same time. Standout sections include the alternating unisons and freewheeling exchanges between Homburger and Hans Koch's bass clarinet in which he deploys a stunning assortment of voice-like trills and shrieks, as well as a passage of austere hymn-like beauty for bass and violin. In a virtuoso performance, Homburger makes her violin sing, soar, creak, and even whistle as the track concludes with the highest notes of the violin blending with Paul Lytton's scraped cymbals.
"Radio Rondo" forms a distinct contrast to the opening cut. Although much more orchestral, a similar interchange between the soloist and elements of the ensemble ensues. It first appeared on the album of the same name (Intakt, 2009) by the London Jazz Composers Orchestra, as a showcase for Swiss pianist Irene Schweizer. In this new version for the BGNO, Catalan pianist Agusti Fernandez takes center stage. Behind the title lay the idea that the band had been traveling around the globe since the last concert of the LJCO some ten years previously and their music had been circulating across the world's airwaves. That concept informs the tremendous opening tutti which erupts from nothing, as if a radio has been turned on to reveal the band in mid expression.
Those chaotic blasts of conglomerated mayhem figure as a repeating motif throughout the proceedings, until the conclusion when everything comes to an abrupt halt, as if the radio has been switched off. In between Fernandez ranges from Cecil Taylor like pan tonal verve, to bursts of melancholic lyricism, by way of percussive attack inside the guts of the piano. High points include the pianist's headlong dash with Evan Parker's tenor saxophone, recalling their compelling interplay on The Voice Is One (Not Two, 2012), a sequence of darting arpeggios shared with Jurg Wickihalder Overseas Quartet's tart alto saxophone, and a stand off with the volcanic baritone saxophone of Mats Gustafsson.
Guy begs the question of what an improvising ensemble in the 21st century can be and provides an answer which satisfies both the head and heart: cerebral yet packing a visceral punch.
John Sharpe, All About Jazz, USA, April 10, 2014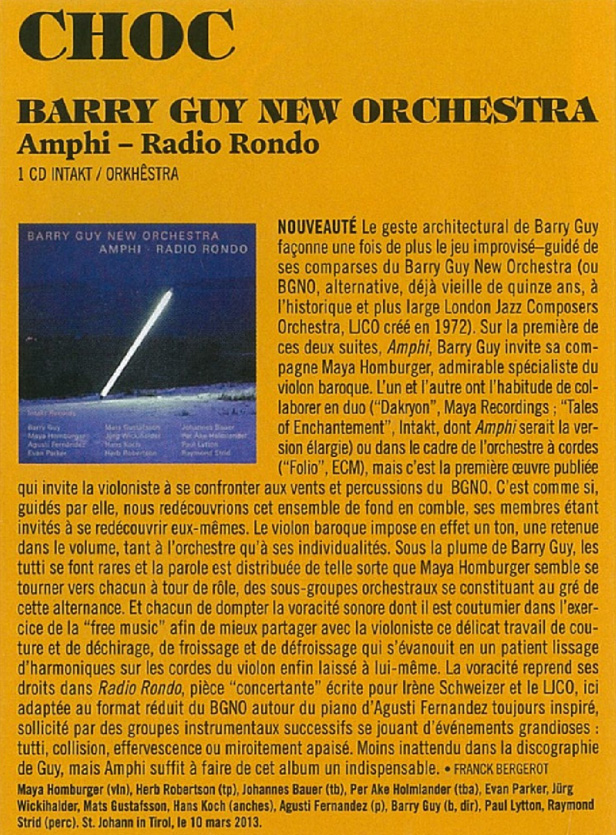 Franck Bergerot, Jazzman/Jazzmagazine, Paris, Mai 2014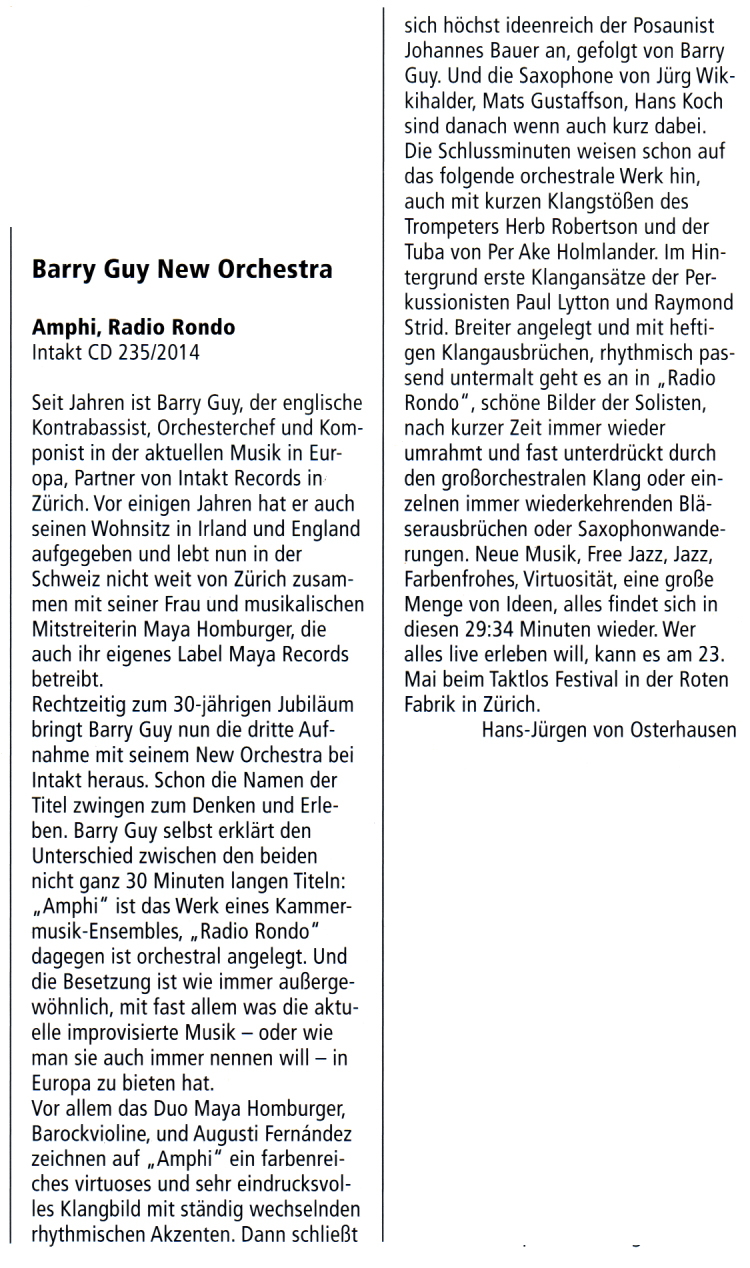 Hans-Jürgen von Osterhausen, Jazzpodium, Mai 2014

Joao Santos, Expresso, 3 de maio de 2014, Portugal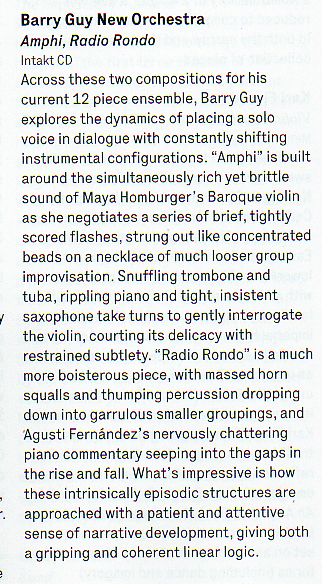 Daniel Spicer, The Wire, June 2014
Installer une interaction créative entre douze musiciens n'est pas à la portée du premier instigateur venu. Dans le droit fil des trois albums produits en dix ans, le contrebassiste britannique Barry Guy remporte aisément le pari. Tensions, relâchements, chocs entre solistes, envolées, libération, se succèdent. Jamais l'attention de l'auditeur ne souffre de relâche. La compagne du leader, la violoniste suisse Maya Homburger, projette et maintient en suspension la tonalité musique de chambre de la première pièce, Amphi, tandis que souffleurs et percussionnistes se téléscopent dans un arrière-pays de brume électrique. Un modèle d'équilibre et de distribution des rôles. Le Barry Guy New orchestra renoue avec la frénésie sur Radio Rondo, sans toutefois que les solos virtuoses ne perdent un millième de distinction (notamment Evan Parker, Mats Gustafsson et Jürg Wikihalder aux saxophones ; Herb Robertson à la trompette ; Johannes Bauer au trombone ; Hans Koch à la clarinette basse). Par la puissance des arpèges, le pianiste Agusti Fernandez soulève l'ensemble.
Bruno Pfeiffer, Libération, 14.5. 2014



Marcus O'Dair, Jazzwise, June 2014, Great Britain

Barry Guy New Orchestra review – innovative and entertaining jazz-classical crossover
Cafe OTO, London
As a balance of accessibility, experimentation, classical punctiliousness and jaw-dropping virtuosity, this was a memorable show
The virtuoso bassist and composer Barry Guy's New Orchestra have played three diversely programmed nights at London's Cafe OTO. Few contemporary musicians balance innovative yet entertaining jazz/classical crossovers as successfully as Guy, and the final night at OTO was typical of him – some small-group improv framed by themes, dialogue for delicate baroque violin and ruggedly free-jazzy orchestra, and two improv-packed rondos.
In an opening duet, Guy's flawless fingerboard-length dashes and upper-register clarity complemented trombonist Johannes Bauer's windy sounds, multiphonic chords, and upwardly curling long tones – executed as if he were hauling rope. Guy's wife and colleague, the baroque violinist Maya Homburger, then joined the orchestra for the UK premiere of Amphi, which opened with a soft-cop/hard-cop game of shimmering violin sounds and percussion thumps, ending on a roaring, dissonant full-stop from the band. Agustí Fernández's supple piano improv against the brass, and Homburger's airborne swoops around Hans Koch's bobbing bass clarinet figures, Guy's elegant bowed bass and Evan Parker's weaving soprano-sax lines took the piece on through constantly fascinating shifts of scenery.

A quartet comprising Guy, Parker (now on tenor sax, and typically playing it like a rugby forward bursting towards the touchline), Fernández, and drummer Paul Lytton then played the fast-moving, high-energy Topos. In the second half, Guy and Homburger shared the exquisitely lyrical Rondo for Nine Birds, and Radio Rondo was a piano concerto for the remarkable Fernández. His logical, streamingly Cecil Taylor-like lines emerged from an abruptly explosive fanfare to negotiate tautly crackling atonal hooks, reflective phases, a fast debate with Jürg Wickihalder's alto sax, and closing harmonies that almost evoked the pensive, deep-blue harmonies of Gil Evans. As a balance of accessibility, experimentation, classical punctiliousness and jaw-dropping virtuosity, it was a memorable show.
John Fordham, Concert-Review, The Guardian, 25 May 2014, Great Britain
La Barry Guy New Orchestra es algo parecido a un enorme instrumento. En manos de su líder, el contrabajista y compositor Barry Guy, esta formación que reúne a algunas de las figuras en primera línea de la improvisación europea (Evan Parker, Agustí Fernández, Mats Gustafsson, Paul Lytton, Raymond Strid…) muestra una versatilidad abrumadora. En su nueva grabación en Intakt, Amphi. Radio Rondo, este super-grupo interpreta las dos composiciones que le dan título.
En la primera de ellas aparece como invitada Maya Homburger, violinista especializada en el barroco y compañera de Barry Guy. Ambos tienen una carrera discográfica muy amplia con proyectos de música barroca y contemporánea en sellos como ECM y Maya Recordings. Otra cuestión es su trabajo -grabado- en los terrenos de la libre improvisación, o en una formación como la Barry Guy New Orchestra. Si bien esta artista ya había aparecido en el monumental Mad Dogs, que recogía grabaciones realizadas por distintas agrupaciones surgidas de la Barry Guy New Orchestra, lo hizo en un único tema: "Celebration" es una composición de Barry Guy que la violinista interpretaba a dúo en compañía del baterista Paul Lytton.
En "Amphi" por fin hay la oportunidad de escuchar a esta exquisita violinista integrada en esa enorme máquina de crear sonidos. Este tema está construido en torno suyo. La intensidad habitual (presente en "Radio Rondo" desde el mismo inicio) y el sonido del conjunto desaparecen. En su lugar, aparecen pequeñas agrupaciones de músicos, en las que Maya Homburger tiene un papel preponderante, y a quien se escucha realizar algún solo en el que resulta una delicia escuchar su violín barroco. El resto del grupo se adapta perfectamente a esta situación. Los tutti del grupo o los solos intensos que tienden al expresionismo (que trufan "Radio Rondo") no son el único terreno en el que estos músicos se mueven a placer.
El contraste entre las dos composiciones es justamente uno de los elementos que hacen de Amphi. Radio Rondo una obra especialmente atractiva, ya que añade nuevos matices al trabajo de Barry Guy con su New Orchestra.
Pachi Tapiz, www.tomajazz.com, junio 11, 2014


David Cristol, Interview with Augusti Fernandez, Improjazz, Mai 2014, France

Christoph Merki, Tagesanzeiger, 26. Mai 2014, Schweiz


Ueli Bernays, Neue Zürcher Zeitung, 26. Mai 2014, Schweiz
Another musician whose compositions are influenced by visual art as well as architecture and other sounds is British bassist Barry Guy. Amphi, Radio Rondo (Intakt CD 235), demonstrates how he uses his 12-piece New Orchestra (BGNO) to frame solo concertos. Suggested by Elana Gutmann paintings, "Amphi" places Maya Homburger's structured soloing on baroque violin within the context of polyphonic eruptions from the BGNO. While the initial sequences suggest that violin interludes are trading off with band parts, by the final movements the string part is firmly embedded. Even before that, Homburger's expressive spicatto sweeps and staccato scratches are prominent enough that clusters of reed buzzing, brass lowing or clumping percussion appropriately comment on her solos. Helped by a pulsed continuum from pianist Agustí Fernández, tubaist Per Åke Holmlander and Guy's double bass, her tremolo string vibrations harmonize alongside the horn-and-reed section before the climax, where every instrument's timbres deconstruct into multiphonic shards. Moving upwards from near silence to a crescendo of yelps, cries and trills, the fiddler's centrality is re-established with a coda of strident scrubs. Fernández is also the soloist on the slightly lengthier Radio Rondo. Here though his passing chords and cascading runs face head-on challenges from others' extended technique, including Evan Parker's circular breathed soprano saxophone smears and speedy slurs from trombonist Johannes Bauer. The keyboardist's high-energy key fanning and kinetic cascades inject more energy into the proceedings plus emotional dynamics. Confident, Fernández mixes the physicality of a concert pianist with the close-listening of a big band soloist like Earl Hines, as a series of ever-more dramatic crescendos solidify the ensemble into as much pure swing an experimental ensemble can muster, complete with blasting high notes from trumpeter Herb Robertson. With the architectural structure of the piece finally apparent, the final rondo could be the soundtrack for an experimental war film, with agitated piano comping, plunger slurps from the brass and reed multiphonics as well as pounding percussion. Just when it seems the peak can't be heightened, the piece abruptly ends as if a radio has been switched off. It`s an exhausting yet exhilarating triumph.
Ken Waxman, Whole Note, Vol. 19, June 25, 2014, Canada
Some more, Mr. Nice Guy!
Barry Guy, auch so eine Lichtgestalt der Gründergeneration der Bewegung frei improvisierender MusikerInnen in England, bekleidet die Funktion eines herausragenden Konzeptualisten, Anregers, Leiters improvisierender Großensembles. Und das schon seit über vier Dekaden. Guy, ebenso exzellenter Bassist, hat einen wegweisenden organischen Ansatz zur Zusammenführung von notierter Musik und freier Improvisation ausgetüftelt. Beide musikalischen Schöpfungsakte finden in seinen Stücken eine anregende, engvernetzte Balance.
....
Hier ist Guy wieder in seinem Metier. Für das von ihm geleitete, aus dem LJCO hervorgegangene New Orchestra (Agustí Fernández, Maya Homburger, Evan Parker, Jürg Wickihalder, Mats Gustafsson, Hans Koch, Herb Robertson, Johannes Bauer, Per Åke Holmlander, Paul Lytton, Raymond Strid) hat er wieder zwei fulminate Klang-Epen, die seine PartnerInnen kongenial miteinbeziehen, entworfen. Kokettiert die Komposition Amphi – quasi ein "Konzert  für Barock-Violine und Orchester", Solistin ist Maya Homburger – betreffend ihrer Klangqualitäten und -eindrücke auf sehr flexible, freimütige Weise mit Aleatorik/ Serialismus, so bricht Radio Rondo, wie der Titel schon verrät, an die klassische Rondoform mit prägnantem Anfangsteil angelehnt, mit ziemlicher Vehemenz hervor, ohne jäh der Unkontrollierbarkeit anheimzufallen. Dazu ist die Formidee zu ausgereift und den Musikern, allesamt bekannte jahrelange Weggefährten von Guy, deren Ausformulierung ein zu wichtiges Anliegen. Die beiden Stücke – aufgenommen während der artacts'13 in der Alten Gerberei von St. Johann/Tirol – zeigen erneut die gegenseitigen, einander bedingenden Polaritäten von Guys großorchestralen Visionen. Feinstoffliche Flächigkeit in divergierenden Intensitätsstufen einerseits und überwältigende Clusterhäufungen bzw. Jazz-immanente, heißspornige Energetik andererseits. Tragende Elemente sind die individuellen Stimmen der MusikerInnen, gepaart mit ihrer ausnehmenden Musikalität. Zwei weitere  Kompositionen im beeindruckenden Werkkanon des Meisters der "improvisierten Sinfonien".
Hannes Schweiger, freistil nr. 55, Deutschland
To be honest, I disliked "Radio Rondo" after first listening to Amphi/Radio Rondo. I've long been a fan of Barry Guy's New Orchestra, the London Jazz Composer's Orchestra, and nearly every member of the band in their countless projects and solo ventures. Last year's Mad Dogs was one of my favorite releases of the year, and I was impressed with "Amphi" as it came to a close. But upon reaching the full band free jazz freak-outs in "Radio Rondo," I wrote this in my notes:
"large portions of 'Radio Rondo' represent a strain of improvisation that's becoming harder and harder to justify. All of the players involved are far more talented and nuanced than their combined cacophony suggests. Pieces like this offer a retreat from thoughtful improvisation by providing a dense thicket to hide in."
A little later in the day, I was reading from Ajay Heble's excellent Landing on the Wrong Note: Jazz, Dissonance and Critical Practice when a question was posed in the text: is musical meaning a function of intent or effect? For my money, the two aren't mutually exclusive. Meaning will always be a subjective blend of the two: the production of music is clearly an intentional act, and in the listener an effect is wrought, often as a result of experiences, moods and environments that are quite unrelated to the music at hand. In a way, there's an additional tier of harmony that overlays the production and consumption of music: the consonance or dissonance between intent and effect. Free improvisation is interesting because in many ways it deals in dissonance at this level, too. There can be much discord between the intent of musicians and the effect that's ultimately produced in most listeners.
Attempting to resolve this tension, the next day I sought out the earlier recording of "Radio Rondo" made with the London Jazz Composer's Orchestra and Irene Schweizer. I found the burbling intensity to be more convincingly borne by the broader brass palette and use of strings, rather than the shrieking reeds that dominated my hearing of the New Orchestra. The strong effect of the earlier version poised me to reevaluate the new one. I returned again to Amphi/Radio Rondo, and my experience was much different. I could better sense the orchestral sweep of the piece, could discern more of its structure, how everything continually circled back to Agustí Fernández's incredible piano performance. What was previously overwhelming seemed tempered now, and perhaps just as much as "Amphi," I could see "Radio Rondo" as a function of Guy's devotion to inhabiting the world of new classical music while leaving a foot in the unruly history of free jazz, too.
Though there's nothing overtly political in Guy's music, it comes from a long line of music in which a certain political stance is implied—the politics of struggle, regardless of whether a European or African-American path is taken to reach improvised music in its present state. Even if we never consciously consider it over a lifetime of listening, part of me wonders whether we're ever immune to the social politics that underlie this music. For some, free music represented the very real struggle of human rights, but even at its most innocuous the music has always been a protest against the status quo, against rigid perceptions about what constitutes "real" music.
What felt different while I listened was that sheer volume and density no longer seem like the best ways to rebel. The power of a group blaring in the red is undeniable, but it also felt unsustainable. The screaming cacophony is what blazed the trail that leads to the New Orchestra today. Anger and intensity cleared the ground so that so much more could be said; hadn't the need to shout diminished? I still believe that part of what allows the listener to fashion a bridge over the self-indulgence inherent in a lot of improvisation is the idea of a shared or—at the very least—vicarious catharsis. Rather than a release, my first listen felt more like being attacked. As I've listened again, I'm beginning to see how my bridge might be crafted—how I might align their intent with what I'm hoping to experience. It's easy to misinterpret, and I want to be fair. There's space for a limitless range of emotions in the New Orchestra's clamor. It seems to me more and more that violence or anger or rebellion are the things that I brought to the table as I listened that day.
Part of what prompted such a struggle over "Radio Rondo" was the truly great effect of the preceding piece, "Amphi." Joined by Maya Homburger's Baroque violin, the New Orchestra is used to add color and tension to a piece Guy originally wrote as a duo for violin and bass. It brings to mind the way Luciano Berio transformed his solo Sequenzas into the orchestral Chemins. This isn't the only classical touchstone in "Amphi"—the piece drips with the influence of many 20th century greats. Ligeti and Xenakis lurk in the atonal rumblings of the ensemble, and the Spectralists—Murail, Radulescu, Scelsi—are evoked in the wavering contrails of strings. In the liner notes, Guy equates the piece with chamber music, and it lilts between themes that are superficially dissimilar but seem strung together by some gut-level logic. A typically lithe Guy solo around 20 minutes in cements the awesome impact of the piece.
I dwell here on my listening experience because by now, fans of free music are more than familiar with the musicians in the New Orchestra. Sometimes it's easy to take for granted the notion that the music they make is "challenging." There are certainly many things in the musical realm that it challenges. But listening to and enjoying so much free improvisation can actually dull one to the feeling of what it truly means to be challenged. My initial distaste and discomfort with Amphi/Radio Rondo became a strength of the album, because it forced me think. It made me question what I know about this music, about my tastes, about what it means to be engaged in the strange dialectic between intent and effect. Most importantly, I had to ask myself: at the end of the day, aren't those all the questions that drew me towards this music in the first place?
New Orchestra: Barry Guy, bass, director; Agustí Fernández, piano; Maya Homburger, Baroque violin; Evan Parker, saxophone; Jürg Wickihalder, saxophone; Mats Gustafsson, saxophone, fluteophone; Hans Koch, bass clarinet; Herb Robertson, trumpet; Johannes Bauer, trombone; Per Åke Holmlander, tuba; Paul Lytton, percussion; Raymond Strid, percussion.
Dan Sorrells, The Freejazz-Blog, Monday, September 8, 2014

Chris Joris, Jazzmozaiek, Belgium, September 2014
Ils sont également douze dans le Barry Guy New Orchestra pour la première des deux longues suites qui composent ce disque, Amphi, pièce en sept parties "écrite" pour sa compagne, la violoniste baroque Maya Homburger. Comme à son habitude, Barry Guy joue sur les masses orchestrales mouvantes, laissant une large place à l'aléatoire, et qui renforcent les dissonances maîtrisées du violon. Une œuvre très "musique contemporaine" qui ne me manque pas d'ampleur. L'autre pièce, sans Maya Homburger, Radio Rondo, apparaît plus "violente", avec un début très free et, plus généralement, un foisonnement orchestral dense et dur, qui met cette fois en valeur le piano "déconstruit" d'Agusti Fernández. Notons que cet exercice collectif difficile est négocié par des improvisateurs de haut niveau, dont certains, comme Evan Parker ou Paul Lytton, se fréquentent depuis des décennies.
Jean Buzelin, Culturjazz, France, 27 Octobre 2014



HONORABLE MENTION - NEW RELEASES (2014)
The New York City Jazz Record, New York, USA, January 2015
The disc showcases the BGNO's rendition of the two titular charts by the British bassist. Renowned as a composer who makes space for improvisation an integral part of his scores, Guy has followed a well-established template by retooling existing works specifically for the BGNO. Though influenced by contemporary classicism as much as jazz, the end result is unique to Guy. He begs the question of what an improvising ensemble in the 21st century can be and provides an answer which satisfies both the head and heart: cerebral yet packing a visceral punch.
John Sharpe's Best Releases 2014. All About Jazz, December 25, 2014