Die Erwartungen an Unterhaltung, und ich bin so frei, die Musik des TOM RAINEY TRIOs w/ MARY HALVORSON & INGRID LAUBROCK dazu zu zählen, ist nunmal die, das Einerlei der Routinen und des Gewohnten abzufedern oder besser noch zu unterbrechen. Als Feierabend und als Event. Aber auch ein Musikerleben besteht letztlich aus Routinen, auch das Besondere wird zum Gewohnten. Statt die Ausnahme zu favorisieren, die das Geregelte und Immergleiche nur bestätigt (dem Karnevalseffekt der Kultur), hätte ich lieber den feinen Unterschied, den aber jeden Tag. Nicht das besonders Neue oder Spektakuläre, vielmehr die Selbstverständlichkeit von beispielsweise Hotel Grief (Intakt CD 256) als Musique d'ameublement öffentlicher Räume (wie Radio, TV, Internet), als kulturelles Allgemeingut. Womit es mir so geht wie dem Diktator, dem nur zu raten ist, sich doch bitteschön eine passendes Volk zu suchen. Nun, Pack hin, Volk her, man sollte doch meinen, dass wenigstens die an Silicon Valley orientierten und in der Weglosigkeit der Postmoderne bewanderten Eliten die Trickyness und Sophistication von NowJazz als Can't live without you besingen. Aber da könnte ich drauf wetten, dass ein Zweifingerfaultier nicht überfordert wäre, pro Universität die Facebook-Likes zu zählen, die ihr Lächeln den wieder so herrlich krummen Tönen von Halvorsons Gitarre und Laubrocks freidenkerischem Musing auf ihren Saxophonen schenken. Das fällige Good grief! übersetze ich am besten mit Ach du grüne Neune! Denn zwischen 'Briefly Lompoc', das ich als Trip nach Kalifornien entschlüssele, und der tickeligen Hommage 'Mr. K. C.' gibt es 'Proud Achievements in Botany'. K. C. meint den im Februar 2015 in Frankfurt gestorbenen Keith Copeland, dessen Drumming bei George Russell und Paul Bley insbesondere von Rainey gewürdigt wird. Wie man dem Elegischen Tribut zollt und sich aus Tristesse dennoch sprudelnder und sopranistisch kecker Singsang entfalten lässt, zeigt das Trio allerdings schon beim Titelstück. Rainey ist freilich auch ein beständig anregender Unruheherd, der den beiden Damen keine Ruhe lässt, weder beim Schöppeln in Lompoc, noch beim emsigen, euphorisiert aufrauschenden Tête Tête mit der Grünkraft.
Rigobert Dittmann, Bad Alchemie, BA 87, 2015
Stuart Broomer, New York City Jazz Record, November 2015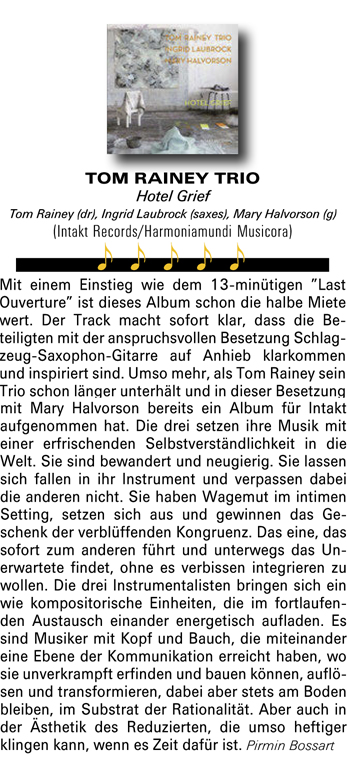 Pirmin Bossart, Jazz'n'More, Zürich, November 2015
De senere årene er det kommet en rekke innspillinger hvor man i musikerlistingen finner gitaristen Mary Halvorson, saksofonisten Ingrid Laubrock og trommeslageren Tom Rainey. Enten er det Laubrock sine utgivelser, eller Halvorson, eller til og med pianisten Kris Davis. Men denne gangen utgis platen i Tom Raineys navn.
Trioen med han, Halvorson og Laubrock utga sin første innspilling, «Camino Cielo Echo» på Intakt for noen år siden, og dette er andre innspilling kun med trioen. Intakt har ellers utgitt innspillingen «Obligato» i Raineys navn tidligere, da uten Halvorson, men med Ralph Alessi på trompet, Krs Davis på piano og Drew Gress på bass.
Musikken på «Hotel Grief» er skrevet av de tre musikerne i fellesskap, og ligger i det moderne, typisk Brooklynske, akustiske landskapet. Vi får fem låter, og innspillingen er gjort på et av disse musikernes stamsteder, nemlig Cornelia Street Café på Manhattan.
Å høre disse tre som trio, er en fascinerende opplevelse. I og med at de har god plass og mye rom sammen, så får vi høre dem utvikle gode ideer og vi kan følge dem i lengre strekk, slik at de får fullført en idé, før andre musikere kommer å tar over.
Jeg har alltid vært fascinert av Mary Halvorsons gitarspill, som ligger et sted mellom, skal vi si Fred Frith, Jim Hall og Bill Frisell (?). Hun spiller gitar som ingen andre, og for noen kan det, ved første gjennomlytting, virke som at dette er en dame som ikke er spesielt god til å spille. Men der tar dere feil. Halvorsons gitarteknikk er i utgangspunktet svært tradisjonell, og har en hel del country i seg, så fyller hun på med litt twang og fri improvisasjon, og vi får et helt originalt resultat.
Ingrid Laubrock er en av de musikerne jeg hører som har utviklet seg mest de senere årene. Hun utvikler hele tiden spillet sitt, og på denne platen bidrar hun med ytterst friskt og interessant spill, som jeg ikke kan huske å ha hørt fra henne tidligere.
Og bak det hele holder Rainey styringen med full kontroll. Hans trommespill er mer fremtredende her enn på mange andre innspillinger jeg har hørt ham, og hele veien er han svært lydhør og konsentrert, noe som gjør at han binder sammen trioen til et hele.
Samlet sett er dette blitt en praktfull plate med tre av de mest interessante musikerne fra Brooklyn-miljøet i dag, fra en trio som mer enn gjerne kan komme på besøk til en av mine nærklubber. Anbefales!
Jan Granlie, Salt Peanuts – a pan-Nordic/Baltic website, 17. september 2015
Whether figurative or concrete, the address of the edifice name-checked in the Tom Rainey Trio's latest release is a mystery. Even so, one location can be ruled out unequivocally- the Cornelia Street Café where the drummer, saxophonist Ingrid Laubrock and guitarist Mary Halvorson have capitalized on a recurring performance residency for the past half-decade, using the Greenwich Village eatery as an incubator for numerous musical pursuits together and individually. Hotel Grief presents one such concert, recorded on the penultimate evening of 2013 when the three musicians decided to shelve compositional concerns in favor of spontaneous collective improvisation.
Five pieces add up to exactly an hour of music. Common component to each is propulsive and continuous activity with the opener "Last Overture" practically over-flowing in that regard. Minutes in, Halvorson sets up a repeating, densely-packed motif around which Laubrock's tenor swirls and eddies as Rainey feverishly works mallets over his drum heads. The guitarist taps a pedal, loosing crunchy waves of distortion that disperse into shimmering arcs against the leader's sequenced cymbal splashes. Rainey changes to bustling brush play and Laubrock juggles a clutch of honking riffs as the crest of guitar fuzz returns and the three converge on a slanted funk groove.
Rainey's metric dexterity comes directly into play again on the title piece, a ballad of sorts, which suddenly sprouts fangs and horns at separate intervals after a languorous beginning of pitch-bent tones and repetitious beats. Laubrock switches to sonorous soprano for the second half and Halvorson dials up the distortion for an abrupt finish. "Proud Achievements in Botany" is the other lengthy excursion, spooling to just under a third of an hour and visiting the trio at both its most overtly melodic and free-wheeling. "Briefly Lompoc" and "Mr. K.C." register as fractions in terms of duration, each piece germinating from staccato drums patterns echoed by embellishments from Halvorson brittle, metallic strings and Laubrock's coloristic reeds. Rainey's name tops the marquee, but it's a trio of equals all the way and one of the most accomplished examples of an improvising ensemble on the crowded Cornelia Street Café docket.  
Derek Taylor, Dustedmagazine, October 9, 2015


Alexander Schmitz, Jazzpodium, Dezember 2015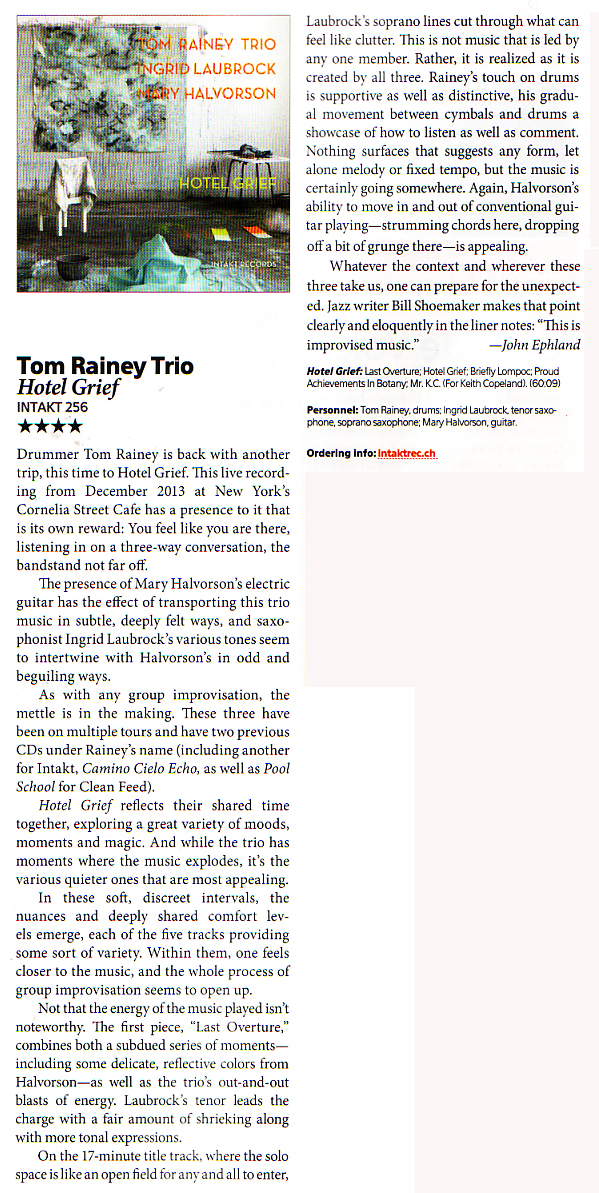 John Ephland, Downbeat, January 2016
2015 has been a fruitful year for the Intakt label. While the CD industry is considered dead in this country, this Swiss label has cranked out a number of releases this year, all valuing artistic statement over commercial potential. Piano/drums duo performances by Marilyn Crispell & Gerry Hemingway and Irene Schweizer & Han Bennink; the duo of Mary Halvorson and Stephan Crump (known as Secret Keeper); as well as a blistering free improv romp by Katharina Weber (piano) Fred Frith (guitar) and Fredy Studer (drums): these are just some of the discs that washed up on our shores. 
Tenor saxophonist Ingrid Laubrock has also shown up a few times on Intakt in 2015, together with a circle of friends. Roulette of the Cradle was released last spring by her group Anti-House, which included Halvorson and drummer Tom Rainey. The more recent Hotel Grief album credits Rainey's name first on the cover, but Laubrock and Halvorson are both listed in the same point size, giving them equal star value. (This is actually the second Rainey trio disc on Intakt. The group has toured quite a bit and Rainey and Laubrock have also toured as a duo. And - just for the sake of completion, not a comment on the performance - it should be noted that the latter two are married too.)
This egalitarian layout reflects the music, which comes from a totally improvised performance at the Cornelia Street Cafe in New York. No one calls the shots. One improvised section morphs into another, with Rainey's drums alternately providing shape to Laubrock's tenor lines or attempting to chop them up. Halvorson strums some mangled clusters of notes, or plucks away as her instrument sounds like it's melting. During one section of "Proud Achievements in Botany" she strums passionately and suddenly turns the volume pedal down, so all that's heard is the unamplified sound of plectrum on strings, captured by ambient mics. 
Although this is definitely free music, in terms of meter and melody, the comfort level and understanding between these three players makes the album sound as if at least some of it could have been composed or predetermined in some way. Three of the five tracks last between 13 and 18 minutes, which allows them all plenty of time to explore the space (and giving Laubrock the chance to switch to soprano sax on one of them). There are moments on the album that resemble a Tim Berne session, where one musician starts on a different path while the rest of the band backs away at first, allowing the piece to take on a different shape or sound. The musicians are highly engaged in conversation on this album and it's easy to feel that from the listener's standpoint ....
Stanleymusic, Monday, December 14, 2015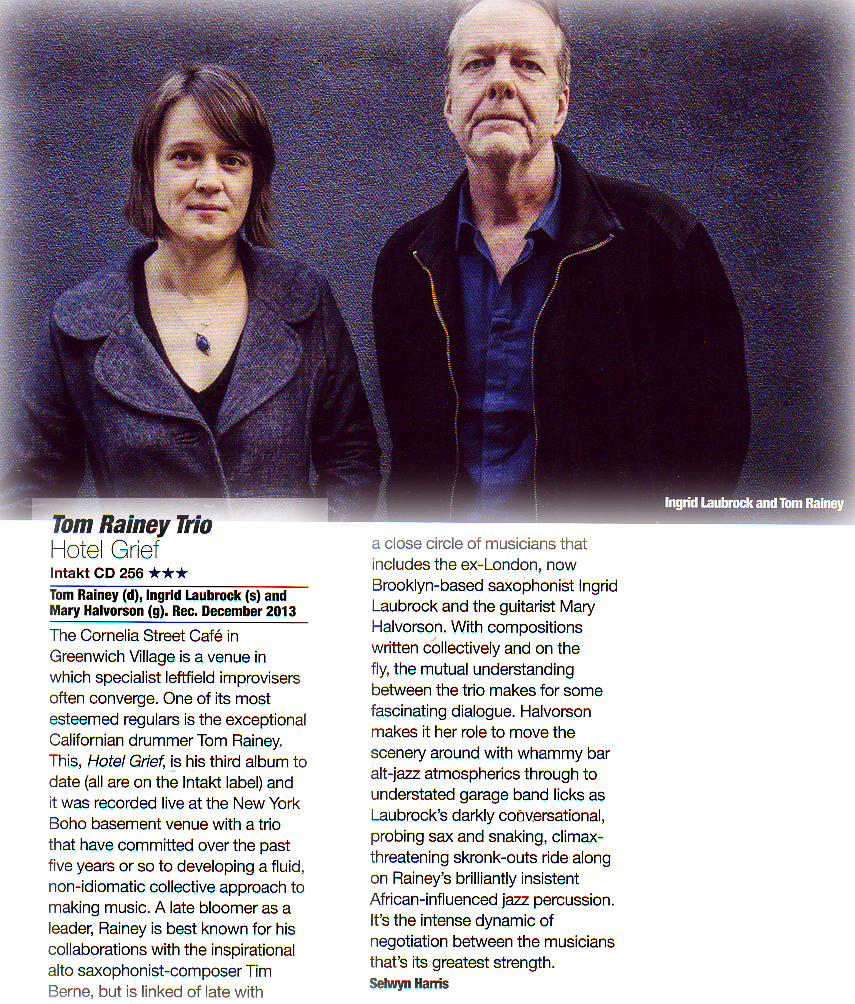 Selwyn Harris, Jazzwise, February 2016
Les disques qui vous ont (peut-être) échappé durant l'année passée
de Jean Buzelin , Culturjazz, France, 31 janvier 2016  

Nous continuons à écrémer les étagères où se sont réfugiés, durant l'année 2015, nombre de disques fort intéressants, lesquels ont dû patienter avant de faire l'objet de ce simple article d'information qui, je le rappelle, n'est en aucun cas une revue critique.
Nous commencerons par l'un des plus beaux labels indépendants européens, Intakt, maison suisse fondée il y a 30 ans par Patrik Landolt et qui, pour l'occasion, a édité un catalogue comprenant la reproduction en couleurs des 253 CD édités durant cette période. Lorsque l'on feuillette ce catalogue, on est frappé par la cohérence de la collection, les choix effectués, les risques assumés, et le suivi de nombreux artistes qui, en toute confiance du producteur, apparaissent régulièrement, certains depuis les tout débuts : Irène Schweitzer, Barry Guy, Günter Sommer, Pierre Favre, Elliott Sharp, Sylvie Courvoisier, Lucas Niggli, Alexander von Schlippenbach… puis Aki Takase, Fred Frith, Ingrid Laubrock, Ulrich Gumpert… les Américains Anthony Braxton, le Trio 3, Tom Rainey, Marylin Crispell… et tous ceux dont vous avez pris connaissance si vous avez eu la gentillesse de suivre mes chroniques.

Le guitariste Fred Frith apparaît dans deux duos improvisés très différents, l'un avec Barry Guy, « Backscatter Bright Blue » (Intakt 236), l'autre avec la Danoise Lotte Anker, qui explore toutes les possibilités de ses saxophones, « Edge of the Light » (Intakt 237). Il rejoint ensuite la pianiste Katharina Weber et le batteur Fredy Studer dans une séance d'improvisation libre, tendue, tantôt nerveuse, parfois bruitiste (dans le sens "musique contemporaine"), et, sommes toutes, peu lyrique, malgré l'intense "swing libre" du grand Fredy Studer : «  It Rolls » (Intakt 248).

La pianiste Aki Takase dialogue, quant à elle, avec le violoniste Ayumi Paul, qui travaille habituellement dans le champ classique et contemporain. L'atmosphère de leur disque se situe dans un esprit très "milieu du XXe siècle". Ainsi sont évoqués Satie ou Stravinsky, mais Bach et Mozart ne sont pas oubliés non plus. Mais qu'on ne s'y méprenne pas, il s'agit de création musicale, et de la plus belle manière qui soit : « Hotel Zauberberg » (Intakt 244)


(OUI, on aime !).
Le Schlippenbach Trio est un groupe de briscards de la free music, le pianiste et ses compères Evan Parker (ténor sax) et Paul Lovens (batterie) jouent ensemble depuis 45 ans ! Mais les uns comme les autres ont évolué et pris du recul ; ce n'est plus le free dévastateur des années 70, et leurs quinze pièces directement improvisées sont à la fois très différentes et parfaitement cohérentes. On appréciera particulièrement le jeu lyrique et "coltranien" de Parker. Trois géants : « Features » (Intakt 250).
Ulrich Gumpert, lui aussi un vétéran, fut l'un des grands pionniers de la nouvelle musique est-allemande à l'époque où il n'était pas facile de franchir le mur ! Il est entouré ici de trois musiciens plus jeunes avec qui il joue régulièrement, notamment le saxophoniste Jürg Wickihalder, dont nous avons déjà parlé, toujours proche de Steve Lacy. Un excellent et réjouissant disque de jazz : « A New One » (Intakt 257).
Le Omri Ziegele Billiger Bauer Nonet comprenant deux saxophones (Omri Ziegele et Jürg Wickihalder), la pianiste Gabriela Friedl, un trombone, une guitare, une basse électrique, une contrebasse et deux batteries qui accompagnent les vocaux de Isa Wiss, me laisse par contre un peu sur ma faim. Malgré la qualité du travail, ces « 15 Herslider » mêlent texte et musique de façon un peu alambiquée (Intakt 247). Je n'accroche pas non plus à l'univers de la chanteuse Sarah Buechi, et à sa voix éthérée, certes parfois persuasive, mais aux tonalités très égales dans un genre que j'appellerai "jazz folk libre et souple", même si je dois reconnaître l'intérêt des textes et la qualité du travail musical : « Shadow Garden » (Intakt 259).
Autre saxophoniste suisse déjà connu dans ces colonnes, Christoph Irniger, accompagné par Raffaele Bossard (basse) et Ziv Ravitz (drums), joue une musique très fine qui manque peut-être d'accents et de contrastes mais n'exclut pas une certaine densité. Cela vient en partie du jeu maîtrisé, plutôt linéaire et sans aspérités du saxophoniste qui possède un grand sens de la mélodie. « Octopus » (Intakt 253) est un toutefois un beau disque.

Et l'on retrouve la pianiste Irène Schweizer, artiste N°1 du catalogue – sur les huit premiers disques, sept lui sont consacrés, dont le 001 – qui affronte en duo le grand percussionniste Han Bennink, genre de confrontations auxquels ils se sont rendus maîtres. Changements de rythmes, incessantes relances, drumming foisonnant… parcourent ces dix improvisations et quatre reprises. Quelle fraîcheur ! Quand on pense à tous ces "jeunes" musiciens et chanteurs qui jouent avec application la musique de leurs grands-pères. Rien ne vaut les grands-parents originaux, « Welcome Back » en est une preuve irréfutable (Intakt 254)


(OUI,on aime !).

Aly Keïta (balafon, kalimba) est Ivoirien, Lucas Niggli (percussions) et Jan Galega Brönnimann (clarinettes et saxo soprano) sont tous deux nés au Cameroun et amis d'enfance. La réunion des trois aboutit à un vrai travail d'écoute, de compréhension et d'improvisation – rien à voir avec une pseudo world music superficielle et opportuniste. Une musique entraînante, agréable – pourquoi pas ? – et vraiment originale : « Kalo-Yele » (Intakt 261).
Déjà auteur de deux disques en trio (avec Niggli et Michel Godard), l'accordéoniste italien Luciano Biondini se présente cette fois en solo et réinterprète – il compose également – une série de belles mélodies populaires italiennes, en jouant sur la tradition folklorique méditerranéenne et l'improvisation jazz ; toute la nostalgie poétique que véhicule cet instrument quand il est si bien joué se retrouve dans « Senza fine » (Intakt 255) (OUI, on aime !)


(OUI, on aime !)

Un volet important de la production Intakt est réservé aux musiciens américains, de générations et de communautés différentes, parmi les plus intéressants au niveau de l'engagement, de la recherche musicale, de l'honnêteté artistique et de l'idée qu'ils se font de leur travail.
Familier du label avec le Trio 3, le saxophoniste Oliver Lake rencontre cette fois le contrebassiste William Parker, soit, d'un mot, le tranchant de l'alto face à la basse profonde, et d'un autre, la création qui s'appuie sur la grande tradition afro-américaine. Ils sollicitent ainsi Marvin Gaye et poursuivent avec une série de duos d'autant plus intenses – l'un porte le nom de notre regretté ami Jacques Bisceglia – qu'ils sont encore sous le choc de la disparition, survenue cinq jours avant la séance, de leur ami le trompettiste Roy Campbell. D'où le titre de leur album : « To Roy » (Intakt 243). C'est également un plaisir de rencontrer, pour la première fois sur Intakt, le grand saxophoniste ténor Chico Freeman pour un autre duo avec un contrebassiste, Heiri Känzig, musicien suisse né à New York – il joue dans le trio de Harry Sokal – dans une expression plus "coulante", moins free si l'on veut. On savoure ce double plaisir, en retrouvant le beau et solide son du ténor lyrique et de grande tradition, en particulier dans les ballades où il excelle : « The Arrival » (Intakt 251).
Poursuivons par une série de trios avec, tout d'abord, celui d'Aruan Ortiz, musicien d'origine cubaine résidant à Brooklyn. Ce pianiste de 42 ans a déjà une carrière riche et variée, à Cuba, en Espagne et aux États-Unis, tant dans la tradition afro-haïtienne que dans les formes ouvertes des musiques contemporaines. On remarquera notamment le travail harmonique et rythmique, avec une dynamique et une pulsation propres et des rythmes complexes avec lesquels le batteur Gerald Cleaver fait toujours merveille. Le bassiste Eric Revis étant également excellent, cela donne un disque particulièrement réussi et réjouissant, un vrai et rare bonheur : « Hidden Voices » (Intakt 258)


(OUI, on aime !).

Le niveau reste haut avec le trio Open Loose du contrebassiste Mark Helias, avec Tony Malaby (sax) et Tom Rainey (drums), un trio très ouvert qui existe depuis 1996, et demeure constamment en recherche. Une belle musique, bien écrite et impeccablement jouée : « The Signal Maker » (Intakt 245).
Dans un esprit assez voisin, Tom Rainey prend les commandes en s'entourant de la saxophoniste Ingrid Laubrock et de la guitariste Mary Halvorson, deux musiciennes dont nous avons souvent vanté la qualité et l'originalité. Au jeu très maîtrisé, parfois un peu "plaintif" et au discours sinueux de la première, s'ajoute celui, extrêmement intéressant, en particulier dans la manière de jouer avec des accords inusuels de la seconde. Les improvisations collectives qui, dans un cadre très ouvert, progressent en intensité pour déboucher sur un post free recherché, sont le résultat d'un travail de groupe qui évolue depuis plusieurs années. Une musique forte qui s'écoute : « Hotel Grief » (Intakt 256). Les mêmes, plus Kris Davis (piano), John Hébert (basse) et, à deux reprises, Oscar Noriega (clarinette) forment le Ingrid Laubrock Anti-House dont nous avons déjà parlé. Une vraie famille musicale qui se concentre sur les compositions, très modernes et ouvertes aux passages libres, de la saxophoniste : « Roulette of The Cradle » (Intakt 252).
Et une troisième pour Mary Halvorson, en duo "intimiste" avec le contrebassiste Stephan Crump. Les compositions de l'un ou de l'autre, très contemporaines, se remarquent par leurs qualités mélodiques. Grâce à son utilisation très fine et mesurée de l'amplification, la guitare, sous les doigts de Mary Halvorson, est parmi ce qui se fait de mieux sur l'instrument à l'heure actuelle (avec Joe Morris) : « Secret Keeper » (Intakt 249)


(OUI, on aime !).
Enfin, nous sommes toujours heureux de retrouver ce beau duo de vingt ans, Marilyn Crispell (piano) et Gerry Hemingway (batterie, percussion, vibraphone), qui ne s'attache qu'à l'essentiel : une musique totale, remarquable et passionnante : «  Table of Changes » (Intakt 246). …
Jean Buzelin , Culturjazz, France, 31 janvier 2016  
In spite of a bulging discography, Hotel Grief constitutes only the fourth entry under drummer Tom Rainey's leadership. It follows Pool School (Clean Feed, 2010) and Camino Cielo Echo (Intakt, 2012) by the same all star line up, comprising Mary Halvorson on guitar and Ingrid Laubrock on saxophones. After two studio dates, this time out they recorded live on home turf at the Cornelia Street Café in Greenwich Village. Being so familiar with one another's styles means that even though collectively birthed the five selections possess a compelling internal logic, while their skills as improvisers mean they retain the freshness and unpredictability.
And they still remain on at least nodding terms to the jazz tradition through the maintenance of pulse, largely expected instrumental roles and narrative arc. In part that's down to Rainey who brings structure and meter to extemporized settings as much as he brings looseness and vitality to more formal occasions. He's a master of combining timbre and rhythm even in these liberated environments, a trait particularly apparent in the unaccompanied introduction to "Briefly Lompoc." The will it, won't it high wire act inherent in all improvised music is most evident in "Proud Achievements In Botany" which veers between repeated minimalist passages and lurching momentum with explosive saxophone bursts.
In its relaxed pace and finely balanced discourse, "Last Overture" might almost be composed. Laubrock's insistent but not overbearing tenor saxophone dominates. Since relocating across the Atlantic she has become one of the leading saxophonists of her generation. Her abstract expression incorporates overblown falsettos, not necessarily as a signifier of passion, but rather as just another flavor of tonal variety among many. Even when the tempo increases the feel is maintained. Towards the finish Halvorson's fuzzed distortion prompts Rainey into an earthy backbeat which starts Laubrock squalling, in a fine opener which sets out the band's stall in convincing fashion.
As one of the most sought after guitarists on the scene, Halvorson melds a distinctive range of approaches into a readily identifiable voice. She moves from ominous rippling to off the wall invention via reiterated underpinning figures. On the title track her initial ballad style guitar is offset by nervy drum cadences. Over the course of 16 minutes they pass through several moods, as the interplay morphs from the pensive to the intense before subsiding to a delicate filigree guitar/saxophone exchange. That's not the end though. A crescendo of burning fretboard, machine gun chatter and skirling soprano completes an excellent outing.
JOHN SHARPE, All About Jazz, January 24, 2016

Guido Festinese, Il Manifesto, Jan 2016
Tom Rainey didn't record as a leader until Pool School (Clean Feed, 2010). He was 53 years old; he'd been on the New York scene since 1979. Hotel Grief is now his fourth disc in five years, the third with this trio. Had he just been waiting all along for saxophonist Ingrid Laubrock and guitarist Mary Halvorson? Perhaps. But this little masterwork, recorded live at the Cornelia Street Café in December 2013, is another reminder why this is among the finest under-the-radar ensembles working in creative-music today.
If nothing else, the Tom Rainey Trio is redrawing the possibilities for a drum-saxophone-guitar arrangement – offering a way ahead after Paul Motian's once-and-for-all trio with Joe Lovano and Bill Frisell. Not that you would mistake one for the other. Rainey and Motian have distinctly different approaches. And the groups' basic organizing principles aren't alike; Rainey's trio isn't starting off with tunes. Yet when it comes to color and movement, and a fundamental sense of intimacy, there's a real kinship between them. Four years after Motian's death, Rainey has made this turf his own.
Hotel Grief is a 61-minute set of free improvisation, but it is a cleverly structured, wonderfully coherent series of musical gestures. Deep down, these players love form; it is on-the-spot design of the very highest order. The pieces - and it feels germane to call them that – often go through shifts and shades: electric fuzz and snakes-and-ladders lines, unsubtle sonic jumps and minutely measured microtones, layering and listening and terrifically hummable grooves. It is a magnificent, and endlessly rewarding, date.
Greg Buium, pointofdeparture, 2016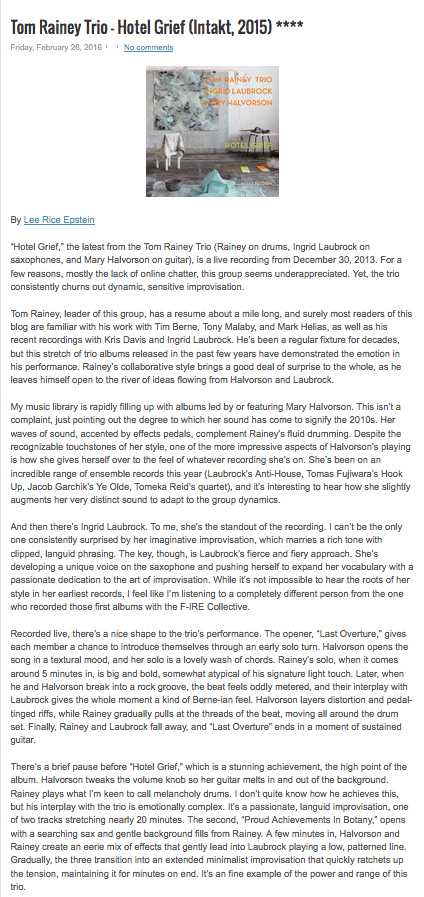 Lee Rice Epstein, Freejazzblog, Febr 28, 2016
Se c'è Tom Rainey dietro i tamburi, state certi che la musica palpita, veleggia, s'impenna. Che sia un piano-trio jazz (Kenny Werner, Fred Hersch, Kris Davis) o un gruppo a composizione stratificata e complessa (Tim Berne), oppure un gioco di libera improvvisazione (i Lark, Tony Malaby), il drumming di Rainey è garanzia di sorpresa, tensione drammatica, finezza espressiva. Quando si impegna a fare il leader, coordina (più che dirigere) questo ottimo trio con Ingrid Laubrock e Mary Halvorson che, dopo i già notevoli Pool School e Camino Cielo Echo, raggiunge la vetta con questo Hotel Grief.
L'affascinante vaghezza onirica dei primi album si sostanzia qui con una musica più densa e corposa.
L'incipit fa pensare al trio aureo Paul Motian/Bill Frisell/Joe Lovano. Uno spazio orizzontale senza limiti a disposizione, per dar forma a sussurri e articolazioni subito serrate e coinvolgenti. Rainey si affida alla fantasia delle compagne, congiungendo ritmicamente le loro invenzioni a due voci. La cadenza abrasiva di Halvorson in "Last Overture" è eloquente a indirizzare gli impulsi in grado di trasformare di colpo i colori pastello in trame invece calde e possenti; Laubrock sfodera il suo fraseggio più tecnico e fisico. I tre strumenti sono in felice empatia, ciascuno con la sua specificità raggiunge la medesima lunghezza d'onda, c'è una coerenza linguistica che non molla per l'intera durata dell'album, inciso dal vivo al Cornelia Street Cafè di New York. È il miracolo talora realizzato dell'improvvisazione senza rete, là dove i musicisti coinvolti comunicano in telepatia e rilanciano senza sosta conversazioni interessanti.
Il brano più vario è quello che titola l'album, in cui Rainey è anche suggeritore primario e autore di interventi sottili. Anche in "Briefly Lompoc" c'è spazio per un breve solo di percussioni, prima delle astrazioni collettive. Ma, ribadiamo, la forza di Rainey non sta nella muscolarità percussiva, ma nel saper in ogni istante valorizzare la musica, riverberando ciò che sassofoni e chitarra costruiscono e fungendo da àncora in questo mare sonoro molto mosso. "Proud Achievements in Botany" è la sequenza più estesa e precede quella invece più breve, "Mr. K.C.," dedicata al batterista Keith Copeland (scomparso un anno fa). Cinque minuti finali quasi liturgici, con Laubrock al soprano, che chiudono un set davvero mirabile.
Stefan Merighi, All About Jazz Italia, April 4, 2016

Ken Vos, Jazzism, Netherland, April 2016
This masterful, angular music finds these three sympathetic artists at the top of their game. Collectively composed, this music is a rather more indulgent affair than much music created for woodwinds, guitar and drums – what a brave combination. Between composition and improvisation, not only does it require carefully handling if its seductive charms and myriad intricacies are to be fully appreciated, the extended improvisatory finale can be tricky to hold together. I've been able to wax lyrical about classy fretwork of Mary Halvorson who bends and twists notes almost at will, and the unflappable soaring of Laubrock's saxophones, but only recently have I experienced the mind expanding percussion colourings of Tom Rainey. Is this trio recording possibly one of the finest yet? I am inclined to think so. After a sultry and intoxicatingly poised opening ('Last Overture') the central section of the performance fairly crackles with wit and ear-prickling detail (how good it is, for instance, to have those harmonic overtones register so subtly in 'Briefly Lampoc'.
As for the ambitious 'Mr. K.C (for Keith Copeland', I don't think I've ever hears it essayed with a greater combination of stylish teamwork, sinewy thrust and inevitability. (Both composed sections and cadenzas, by the way, are riveting). I found myself virtually craving more of the ambient glow that the trio mustered throughout. This is music that is beyond reproach and were I to make up a list of fine recordings, Hotel Grief would virtually soar to the top of the list.
Raul da Gama, jazzdagama, Canada, May 2, 2016
Comfortable in settings from big band to solo, guitarist Mary Halvorson joins with soprano and tenor saxophonist Ingrid Laubrock to roughen the edges of the five instant compositions on this CD. Cultivated and self-effacing, leader/drummer Tom Rainey is as far removed from a braggadocious percussion show off like Buddy Rich as Donald Trump is from Martin Luther King. Discretion doesn't mean withdrawal however, and in context the drummer's sophisticatedly positioned strokes contribute more to the architectures of the tracks than would any clamorous rhythm display.
With the guitarist's strategies ranging from distorted reverb to sly, slurred fingering, and the reed tessitura soaring from clenched squeaks to harsh rasping whispers, the drummer's role is analogous to a UN peacekeeper in the Balkans: maintaining consistency without favoring either side and keeping their extended techniques from occupying the other's territory.
"Proud Achievements in Botany", the CD's almost-19 minute centrepiece, is a microcosm of how Hotel Grief's tracks evolve. Halvorson's widening or winnowing licks take on spacey qualities at the same time as Laubrock's intense single reed bites settle into linear melodies. With the saxophonist's now modulated tones circumscribed by string chording, drum rattles manipulate any stray lines so that the three eventually move as if regimental guards in formation. Breaking the concordance with what could be a slo-mo version of "Wipe Out", Rainey tough drum beats join with Halvorson's lopping reverb and Laubrock's slurps and snarls to create a finale that may rattle like an old jalopy, but still conveys the grace and speed of well-plotted locomotion.
Although titled Hotel Grief, this musical dwelling offers very little despondency except for fleeting moods in context. Instead by imagining each track as a separate room, the CD offers a set of quietly resplendent chambers furnished with innovative touches by a trio of sonic designers.
Ken Waxman, The Whole Note, June 2016
Martin Schuster, Concerto, Dezember 2015 / Januar 2016, Österreich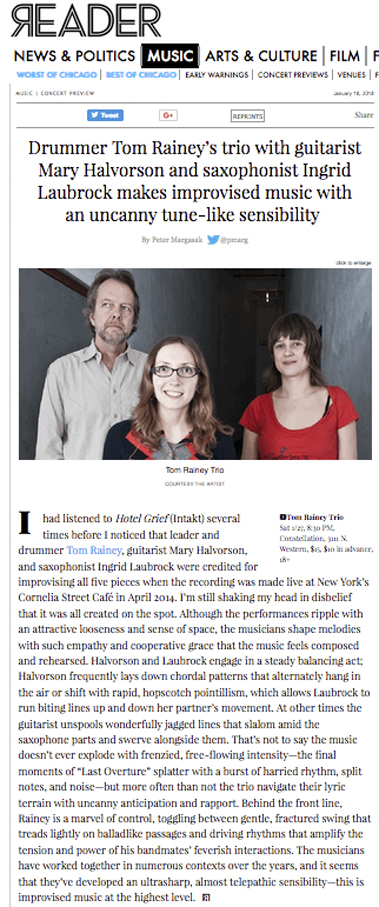 Peter Margasak, Chicago Reader, January 18, 2018