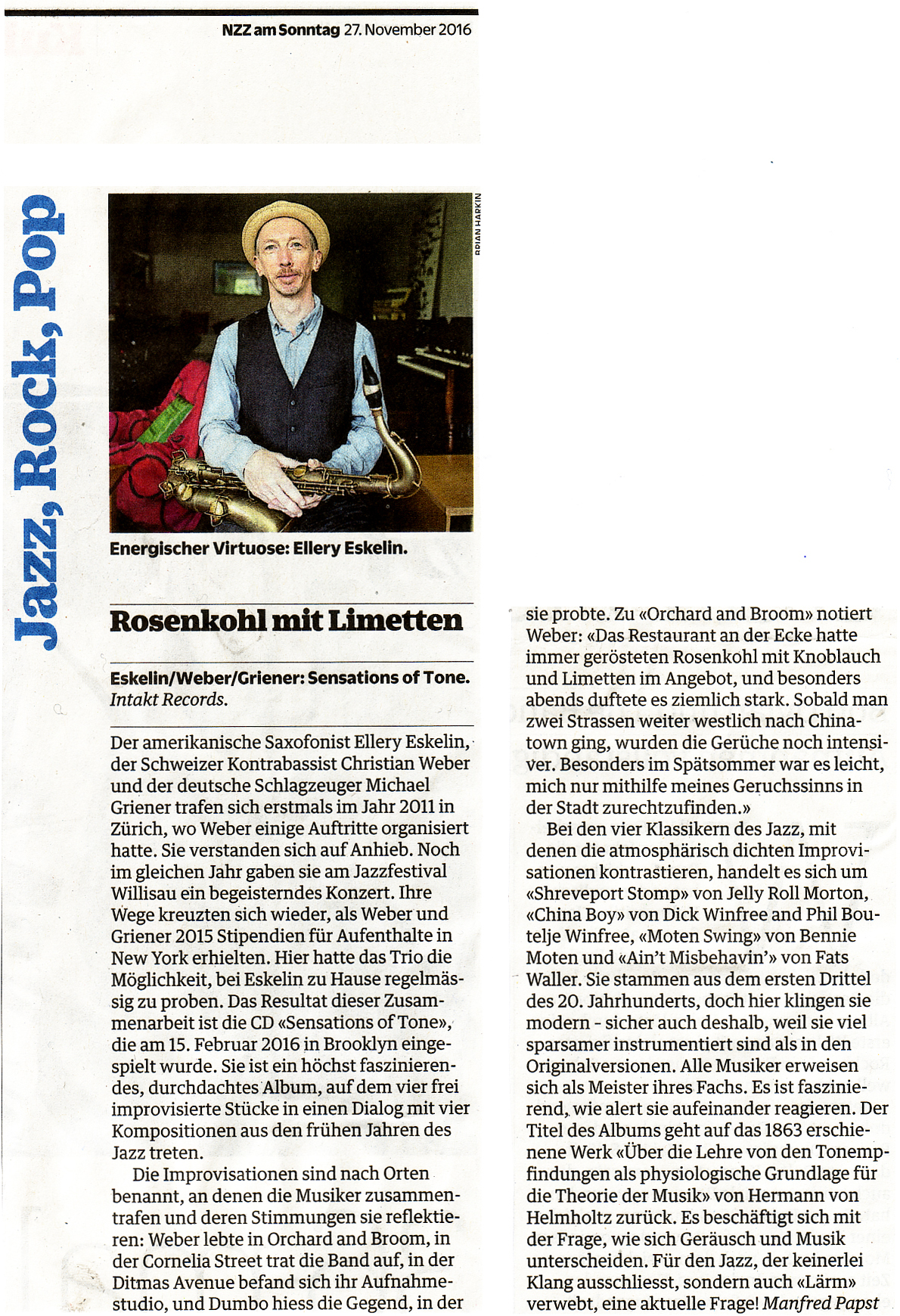 Manfred Papst, NZZ am Sonntag, 27. Nov. 2017
Den Tenorsaxophonisten ELLERY ESKELIN, den Kontrabassisten CHRISTIAN WEBER und den Drummer MICHAEL GRIENER verbindet eine in Zürich geknüpfte Kollegialität ("Jazz Festival Willisau 25. August 2011"), die 2015 bei einem Künstlerstipendium des Schweizer Kontrabassisten und des Drummers, der in Berlin und Dresden seine Schnitzel verdient, in New York intensiviert wurde. Dort entstand im Februar 2016 auch Sensations of Tone (Intakt CD 276), als Miteinander freier Stücke, in denen die ganz persönlichen Sinneskitzel an bestimmten New Yorker Ecken mitschwinglen, mit frühen Jazzklassikern, für die Weber und Eskelin eine Schwäche haben, bei Griener ist es zudem Lehrstoff. Eskelin turnt ja auch in seinen Trios mit dem Hammondorganisten Gary Versace auf Oldies wie 'Just One Of Those Things', 'My Melancholy Baby' und 'Blue and Sentimental' rum. Hier spielen sie 'China Boy' von Phil Boutelje, 1922 entstanden und durch Paul Whiteman und Bix Beiderbecke zum Ohrwurm gemacht, den 'Shreveport Stomp', den Jelly Roll Morton 1928 mit den Red Hot Peppers einspielte, aus dem Jahr 1929 'Ain't Misbehavin'' von Fats Waller und 'Moten Swing', das Buddy Motens 1932 für sein Kansas City Orchestra geschreiben hat. 'Retro' bis zum Abwinken? Die drei legen mit der Überschrift, in der Helmholtzens "Lehre von den Tonempfindungen" steckt, eine etwas andere Spur. Nämlich in praktischer und simpler Demonstration die Feststellung, dass Dissonanzen nicht mehr die 'natürliche' Aversion implizieren, wie das im 19. Jhdt. unterstellt wurde und dass gleiche Töne ganz unterschiedliche Empfindungen auslösen können, ebenso wie umgekehrt. Je spontaner und unprätenziöser die bei Weber ganz handwerkliche, bei Griener ganz durchhörige Spielweise, und je unverstellter die Empfindsamkeit, desto kleiner wird der Zeitabstand zwischen etwa 1935 und 2015. So mischen sich, als Paradox aus Erfahrungslosigkeit und Erfahrungsüberschuss, die Gerüche entlang der Orchard und der Broom Street in Manhattan oder die Stille der verschneiten Ditmas Avenue mit dem Feeling der Oldies, die ja zuerst auch nur jung und frisch waren, in sich Empfindungen bündelten und zu entsprechenden Tonempfindungen einluden. 
Rigo Dittmann, Bad Alchemy, 2017, BA 93

Steff Rohrbach, Jazznmore, 1-2, 2017

Peter Rüedi, Die Weltwoche, 47_2017
As a singular agent of freely-expressive saxophone, tenorist Ellery Eskelin has embraced the idiom's signature instrumental format of bass and drums backing with surprising irregularity. Much of his recent work revolves around his organ trio and various ad hoc assemblages. The trio he made his most indelible mark with beside accordionist Andrea Parkins and drummer Jim Black didn't follow precedent much at all. On the aptly-titled Sensations of Tone Eskelin brings estimable associations with bassist Christian Weber and drummer Michael Griener to recording fruition. Both men have impeccable references on Intakt backing free-wheeling reed players, Weber with Oliver Lake and Grenier grounding Rudi Mahall.
The trio alternates more discursive collective improvisations with a curiously-picked selection of Pre-WII standards. On the latter, comparisons to the Chicago super-group Air become arguably apt. Jelly Roll Morton's "Shreveport Stomp" ambles along on a snare-driven oompah bounce that would make the dearly-departed Steve McCall beam with pleasure as Ekselin honks and saunters expressively through the theme. "China Boy" bounces too thanks to Weber's richly striding pizzicato and sizzling sticks-to-cymbals commentary by Griener. Eskelin finds easy purchase again and is especially effective during a string of porous, propulsive breaks where the disc's titular sentiment is brought into bold application and exposure.
Stitched from a different spool of musical gingham and named for places pertinent to the trio, the purely improvised pieces aren't that far afield from their compositionally-centered neighbors in terms of execution and design. "Orchard and Broom" burns several opening minutes in a rising intersection of drums and bass before Eskelin even arrives in a spiraling, ascendant flutter of overtones. "Cornelia Street" builds steam as a loose textural meditation with Grenier's gongs, fingers-scuttling-on-stretched-skin-patterning and other peripheral percussion joining Weber's high-speed bowing in a sharp-relief contrast to Eskelin's blowsy, rounded ruminations. Weber's spidery, high bridge manipulations at the onset of "Ditmas Avenue" coalesce with Grenier's malleted and brushed surfaces as yet another delayed launching pad for Eskelin's tenor to take drowsy, languorous wing.
"Moten Swing" and "Ain't Misbehavin'" bring two more slices of early 20th-century jazz Americana rejiggered for 21st century-ready extemporization. Griener's brush work on the former is a minor wonder, locking and releasing in a delicate grip with Weber's respiratory bass thrum as yet another plush rhythm for Eskelin's striated tenor to purr and undulate across. The latter is every bit as effective at signaling the surety that Benny Moten and Fats Waller would no doubt register their respective hat tips of approval from the great beyond. Sandwiched between, "Dumbo" takes shape from rudiments, Eskelin once again leaving the initial hands to his colleagues before calling with his own set of tried-and-true aces.
Derek Taylor, Dusted Magazine, January 5, 2017
Featuring Ellery eskelin on tenor sax, Christian Weber
on bass and Michael Greiner on drums. Downtown tenor saxist, Ellery
Eskelin, has long thrived in the trio situation with more than a dozen
discs of several trios that he has worked in throughout his long career.
His longtime trio with Andrea Parkins and Jim Black remains a favorite of
many of his fans, as well as his more recent trio with Gary Versace and
Gerald Cleaver, another favorite of his many fans. What is interesting
about this trio is that they range from early jazz covers like "Shreveport
Stomp" and "Ain't Misbehavin'" (Fats Waller) to some free & focused pieces.
Those in the know probably recognize the names Christian Weber from various
discs on Intakt & Leo with Oliver Lake, Nate Wooley and Michael Wintsch.
Swiss drummer Michael Griener also gets around working with Ulrich Gumpert,
Carl Ludwig Hubsch and Ernst Petrowsky.
Whether playing freely or coving an early standard, this trio is tight
and ever-inspired. They sounds as if they have been playing together for a
long while as the organically sail and wail together, taking their time to
weave several strands into a formidable trio. "China Boy" goes all the way
back to the twenties and was made popular by Benny Goodman and Paul
Whiteman. I dig the way the trio explore that jubilant quality, with one
foot in the distant past and one foot in the freer terrain of the sixties
and beyond. When you have a mere trio, playing songs from the pre-bebop
days, they are able to capture the spirit or joy of the song even with
skeletal ingredients. Mr. Griener plays some exquisite brushes on "Moten
Swing" (rel 1932). Even when the trio glides into the freer range, Mr.
Eskelin plays with a most, sublime, warm and inviting tone backed by some
equally tasty bowed bass and simmering cymbals. The balance between the
ancient songs and freer excursions is just right. A refreshing change of
pace from the more over-the -top free jazz blasts that usually grace our
newsletters many reviews. -
Bruce Lee Gallanter, Downtown Music Gallery, NYC, February 2017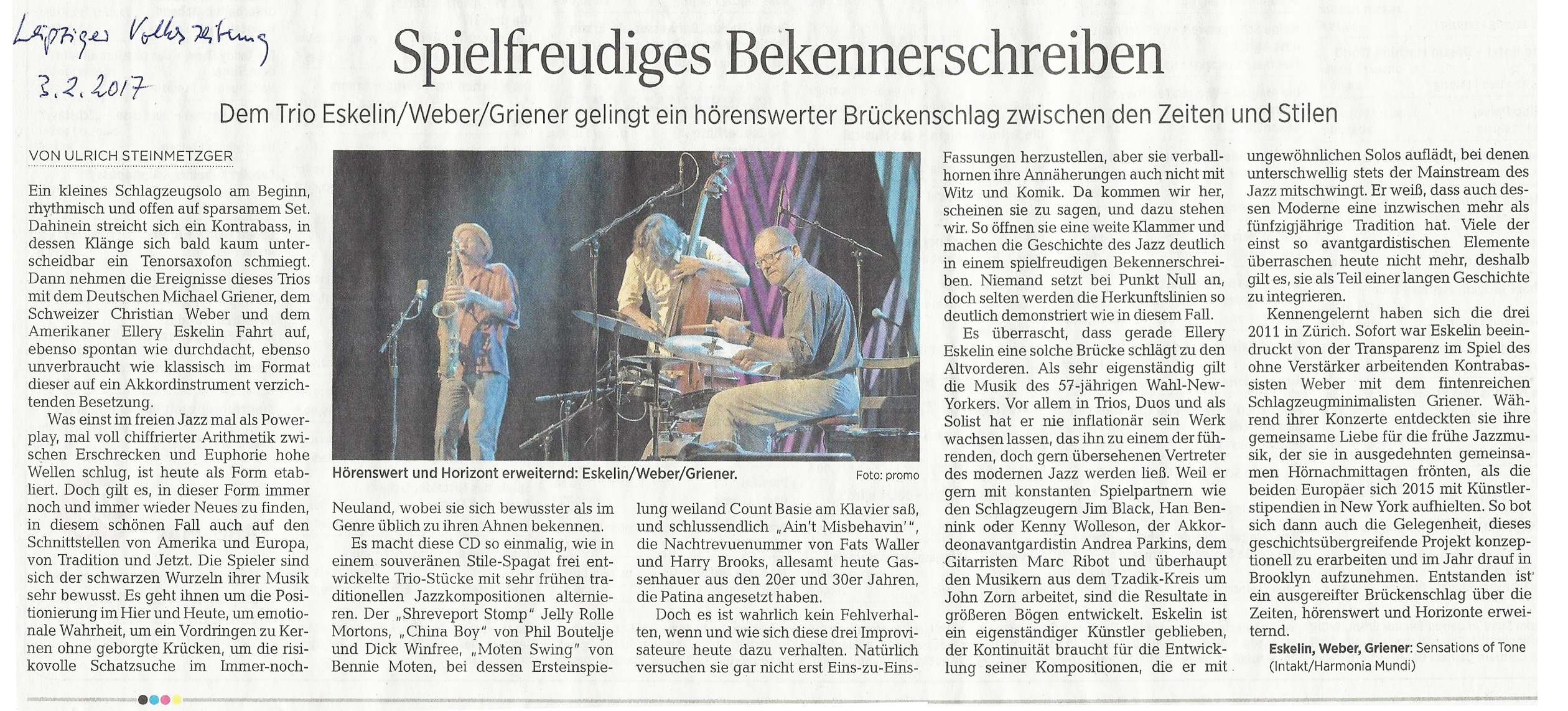 Ulrich Steinmetzger, Leipziger Volkszeitung. 3.2.2017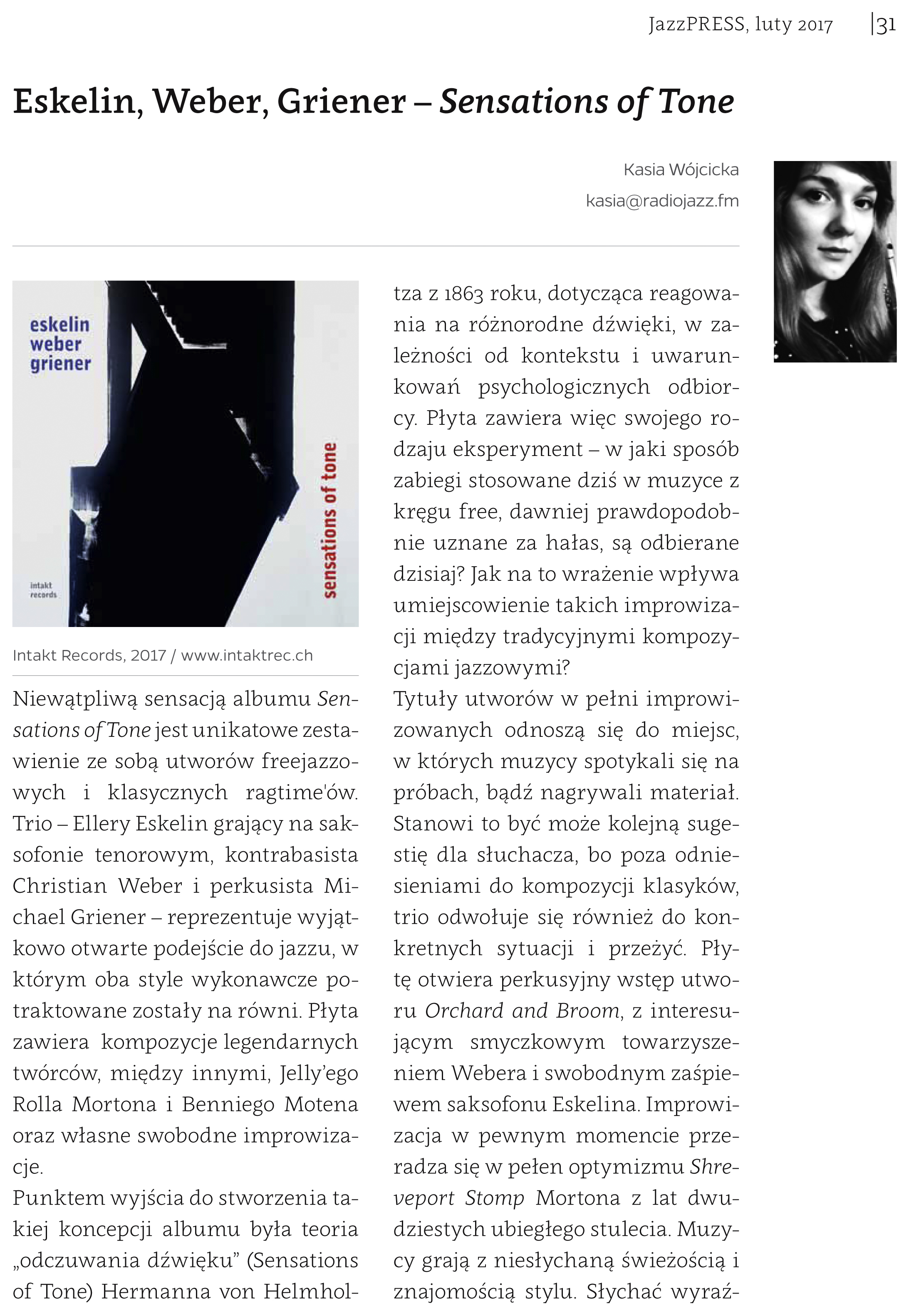 .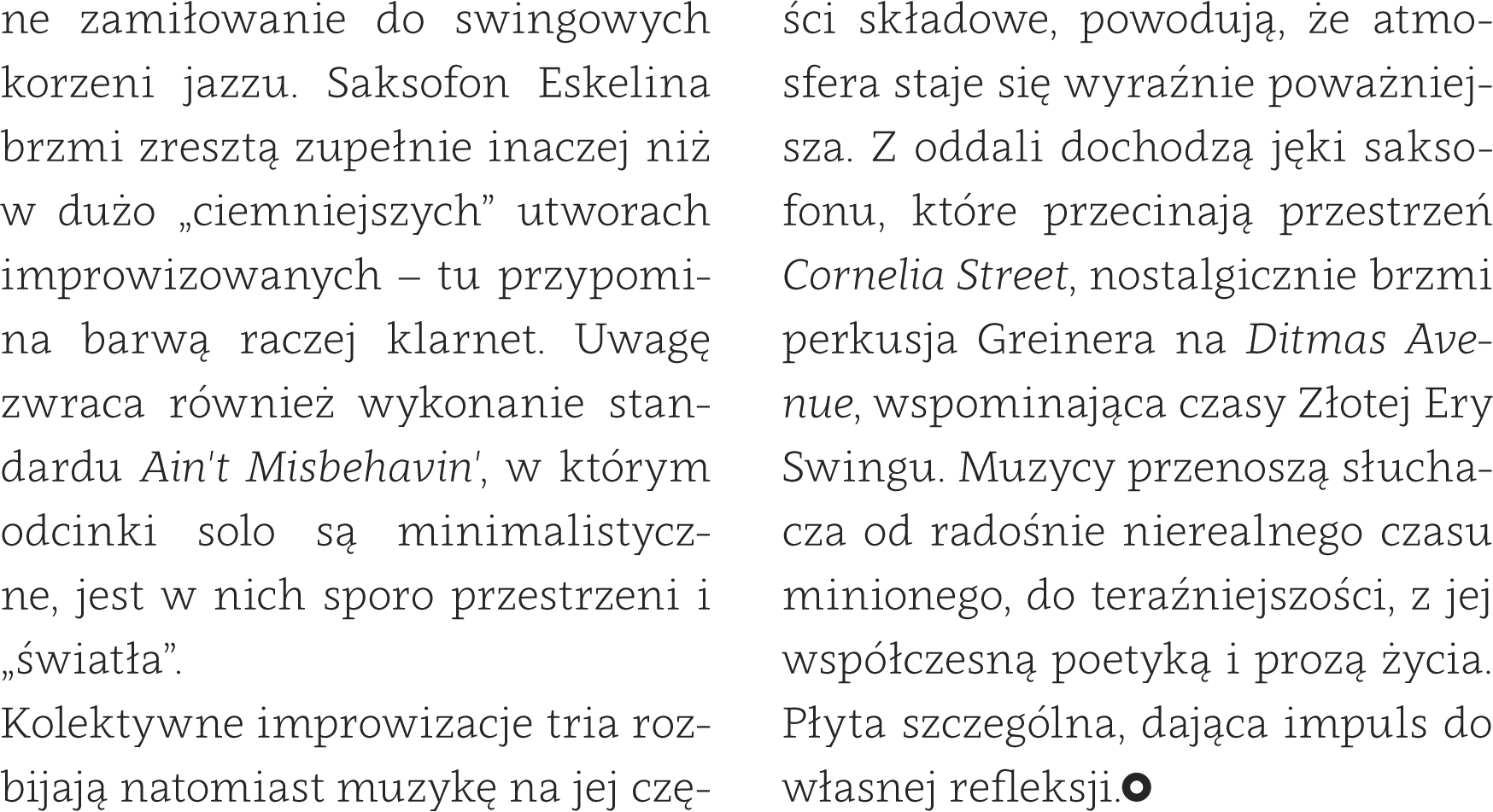 Kasia Wojcicka, Jazzpress, Poland, luty 2017
Den Tenorsaxophonisten ELLERY ESKELIN, den Kontrabassisten CHRISTIAN WEBER und den Drummer MICHAEL GRIENER verbindet eine in Zürich geknüpfte Kollegialität ("Jazz Festival Willisau 25. August 2011"), die 2015 bei einem Künstlerstipendium des Schweizer Kontrabassisten und des Drummers, der in Berlin und Dresden seine Schnitzel verdient, in New York intensiviert wurde. Dort entstand im Februar 2016 auch Sensations of Tone (Intakt CD 276), als Miteinander freier Stücke, in denen die ganz persönlichen Sinneskitzel an bestimmten New Yorker Ecken mitschwingen, mit frühen Jazzklassikern, für die Weber und Eskelin eine Schwäche haben, bei Griener ist es zudem Lehrstoff. Eskelin turnt ja auch in seinen Trios mit dem Hammondorganisten Gary Versace auf Oldies wie 'Just One Of Those Things', 'My Melancholy Baby' und 'Blue and Sentimental' rum. Hier spielen sie 'China Boy' von Phil Boutelje, 1922 entstanden und durch Paul Whiteman und Bix Beiderbecke zum Ohrwurm gemacht, den 'Shreveport Stomp', den Jelly Roll Morton 1928 mit den Red Hot Peppers einspielte, aus dem Jahr 1929 'Ain't Misbehavin'' von Fats Waller und 'Moten Swing', das Buddy Motens 1932 für sein Kansas City Orchestra geschreiben hat. 'Retro' bis zum Abwinken? Die drei legen mit der Überschrift, in der Helmholtzens "Lehre von den Tonempfindungen" steckt, eine etwas andere Spur. Nämlich in praktischer und simpler Demonstration die Fest­stellung, dass Dissonanzen nicht mehr die 'natürliche' Aversion implizieren, wie das im 19. Jhdt. unterstellt wurde und dass gleiche Töne ganz unterschiedliche Empfindungen auslösen können, ebenso wie umgekehrt. Je spontaner und unprätenziöser die bei Weber ganz handwerkliche, bei Griener ganz durchhörige Spielweise, und je unverstellter die Empfindsamkeit, desto kleiner wird der Zeitabstand zwischen etwa 1935 und 2015. So mischen sich, als Paradox aus Erfahrungslosigkeit und Erfahrungsüberschuss, die Gerüche entlang der Orchard und der Broom Street in Manhattan oder die Stille der verschneiten Ditmas Avenue mit dem Feeling der Oldies, die ja zuerst auch nur jung und frisch waren, in sich Empfindungen bündelten und zu entsprechenden Tonempfindungen einluden.
Rigobert Dittmann, Bad Alchemy 93, 2017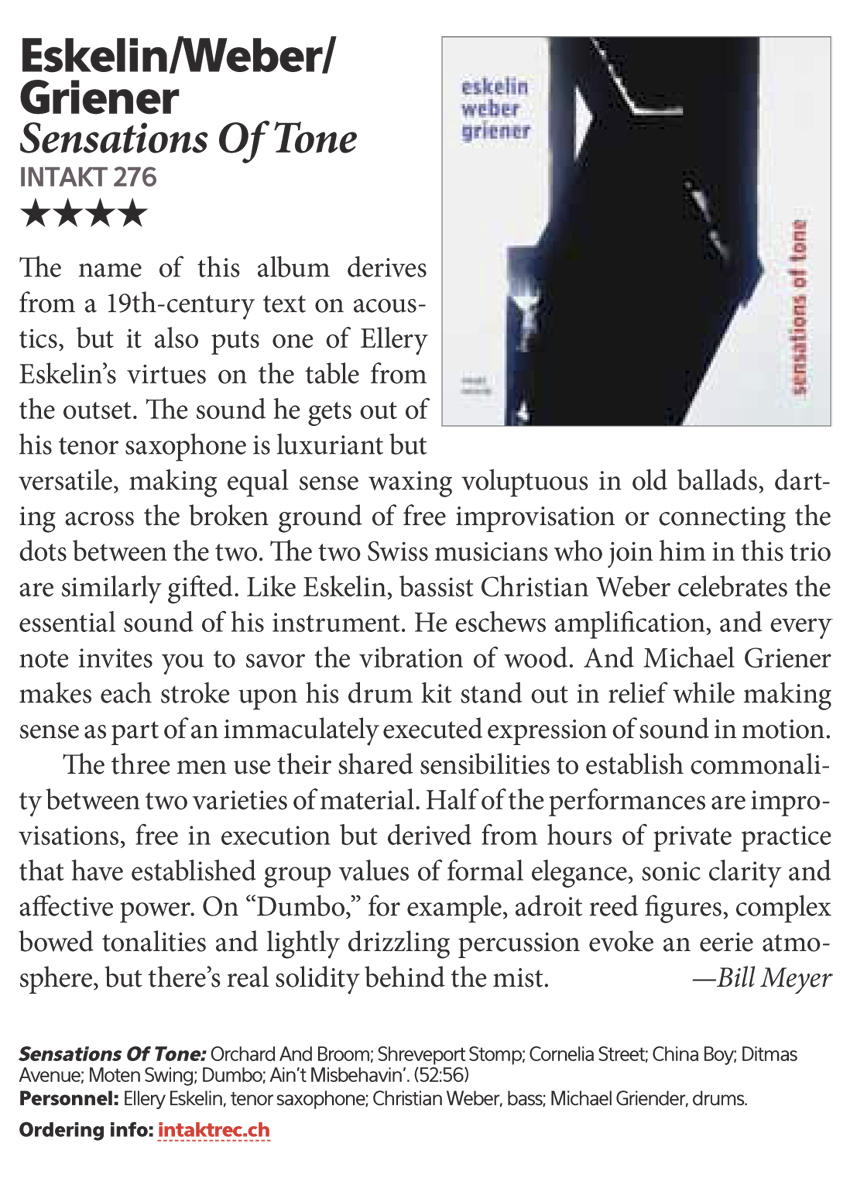 Bill Meyer, Downbeat, April 2017
Einen sehr schönen Silberling hat der US-amerikanische Tenorsaxofonist Ellery Eskelin seiner schier endlosen Reihe an guten Platten hinzugefügt.
Im Trio mit dem Schweizer Bassisten Christian Weber und dem deutschen Drummer Michael Griener hat er bei Intakt eine ebenso spannende wie
im besten Sinne unterhaltsame Aufnahme gemacht. Freie Trioimprovisationen werden mit sehr reflektierten Einspielungen von traditionellen
Klassikern abgewechselt. Jelly Roll Morton kommt da ebenso zu Wort wie Benny Moten oder Fats Waller. Das passt durchaus zu den frei
ausschwingenden Kollektiven. Da wird der Jazz der 20er und 30er Jahre ins Hier und Heute transferiert, man versteht die Zusammenhänge,
stellt das Gemeinsame vor das Trennende. Dass Freigeister auch auf Teufel komm raus straight forward swingen können, was für eine Frage,
hört man hinreißend auf Track #4, China Boy. Die Sounds haben Intimität, weisen in die Zukunft, ohne die Vergangenheit zu leugnen. Dass das
noch dazu grandios musiziert ist, versteht sich von selbst, bräuchte eigentlich keine extra Erwähnung. Aber es kommen Wärme, Geschichten
erzählen und die Freude am gemeinsamen Tun hinzu. (haun)
Christoph Haunschmid, Freistil 71, 2017, Österreich
The shared history of Eskelin, Swiss bassist Christian Weber and German drummer Michael Griener, a working unit since 2011, allows the three to improvise with the timing of a well-honed Marx Brothers routine on Sensations of Tone. This comfort level is obvious as early as opener "Orchard and Broom", where Griener's aggressive rim shots and rolls and Weber's rappelling basslines complement Eskelin's slurping melodicism. The other instant compositions follow comparable strategies. The saxophonist expresses his laid-back romanticism via breathy slurs while his sidekicks' sonic toughness prevents the slurps from turning sloppy. Breathy reed smears are put in proper proportion by Weber's lingering spiccato string clicks on "Dumbo" while detuning and irregular vibrations from bassist and saxophonist stretch "Ditmas Avenue" with timbral ingenuity. Griener's clock-like ticking and sudden pops strip the sentimentality from the saxophonist's tone on "Cornelia Street".
Bing Crosby sang "China Boy" with Paul Whiteman's quasi-Dixieland band, but this trio's approach would probably have baffled him. Eskelin is sleek with notes held longer than expected and double- tongue variations, staccato phrasing, freak notes and supple basslines modernizing the tune. Songs by Bennie Moten, Jelly Roll Morton and Fats Waller also move intuitively but are more sophisticated, Griener saluting "Baby" Sommer as much as Baby Dodds while Weber's command of low-pitched melody is the Jetsons to Dixieland bull fiddlers' Flintstones. Eskelin produces a notably relaxed solo on "Moten Swing", as contemporary as it is elementary. This ability to adapt and innovate simultaneously is his mark on these discs.
Ken Waxman, New York City Jazz Record, March 2017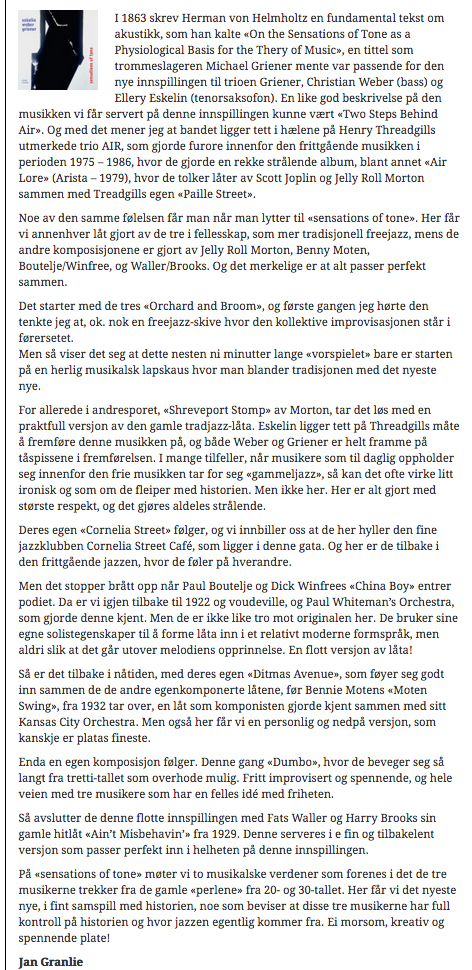 Jan Granlie, Salt peanuts, 11. Januar 2017
Maciej Karłowski, Jazzarium, 2017
Stuart Broomer, The Whole Note, 27 February 2017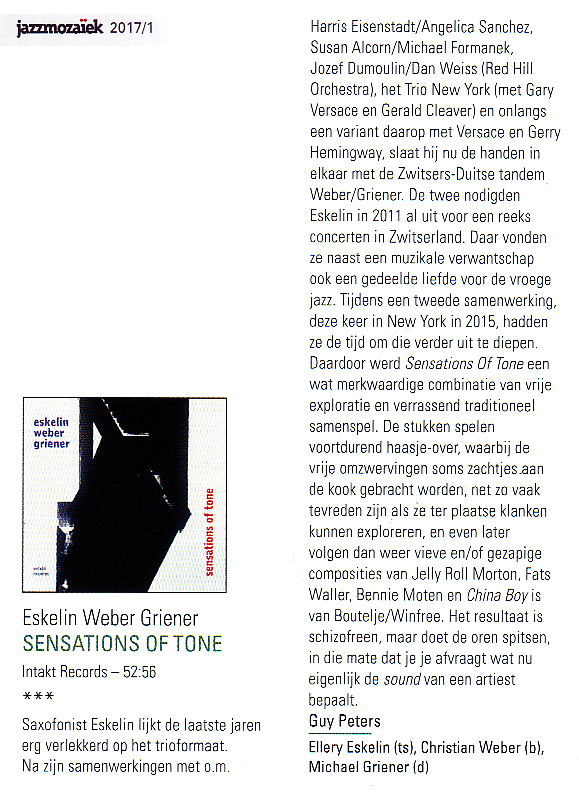 Guy Peters, Jazzmozaiek, Belgium, March 2017

Wolf Kampmann, Jazzthetik, Deutschland, 3-4, 2017

Reiner Kobe, Jazzpodium März 2017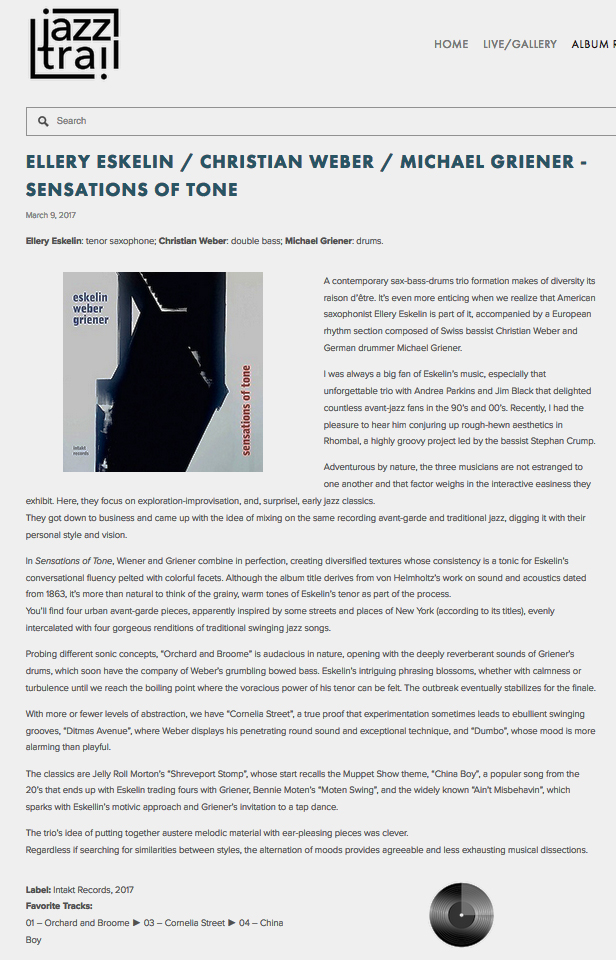 Filipe Freitas, Jazztrail, March 9, 2017
Deux saxophone-trios
Trio 3: A.Cyrille-R.Workman-O.Lake
Visiting Texture (Intakt records)
Eskelin-Weber-Griener
Sensations of tune (Intakt)
 
Sur le label Intakt, voici deux trios différents articulés autour d'un saxophone, deux approches de cette formule sans instrument harmonique.
D'abord, Trio 3 autour du saxophone alto d'Oliver Lake, un grand nom de la loft generation et du free. Co-fondateur du World Saxophone Quartet, avec David Murray, Julius Hemphill et Hamiet Bluiett (dernier album: Political Blues), Lake est aussi au coeur de Trio 3, en compagnie du batteur Andrew Cyrille et du contrebassiste Reggie Workman.
Le premier, né en 1939, a côtoyé Cecil Taylor, Jimmy Lyons, David Murray ou Carla Bley mais aussi l'Allemand Peter Brotzmann et a joué avec le groupe belge Bambi Pang Pang de Viktor Perdieus. Le second, compagnon de route de Coltrane, a aussi joué avec Pharoah Sanders, John Tchicai ou Wayne Shorter.
En-dehors des albums à trois, Trio 3 a aussi souvent invité des pianistes à rejoindre la formation: Geri Allen (At this time), Jason Moran (Refraction) ou Vijay Iyer (Wiring).
Le répertoire de Visiting Texture est constitué de 3 compositions d'Oliver Lake, 2 d'Andrew Cyrille, une de Reggie Workman, une compo/impro collective (Composite) ainsi que A Girl named rainbow d'Ornette Coleman (la pièce la plus mélodique de l'album): l'occasion de "visiter" différentes "textures", de retrouver la sonorité tranchante de Lake, sa faculté à canaliser toute l'énergie du free dans des compositions très structurées, mais aussi la virtuosité de Workman, alliant sens mélodique et rythmique (écoutez notamment la longue intro, mélange de pizzicati et de jeu à l'archet, sur Epic man) ainsi que la pulsation énergique que Cyrille imprime au trio, en privilégiant notamment la grande cymbale (écoutez le solo de 7 for Max, en hommage à Roach). Les papys du free font de la résistance.

L'autre trio rassemble des musiciens d'une autre génération. Au saxophone ténor, Ellery Eskelin. Révélé par son trio en compagnie d'Andrea Parkins (acc) et Jim Black (dm), il a aussi formé le Trio New York, avec Gary Versace à l'orgue Hammond, a fait partie de Joey Baron's Baron Down et côtoyé Dave Liebman comme Han Bennink. Avec Jozef Dumoulin, il a formé le Red Hill Orchestra.
A la contrebasse, Christian Weber qui a joué avec Hans Koch (cl), Michel Wintsch (p), Paul Dunmall (ts) ou... Oliver Lake. A la batterie, Michael Griener qui a côtoyé la crème des musiciens de l'ex-Allemagne de l'Est: Ernst-Luwig Petrowsky (as), Uschi Brüning (voc) ou Ulrich Gumpert (p) mais aussi Rudy Mahall (cl).
Ce trio a été constitué en 2011, à Zurich, à l'invitation de Weber, s'est produit au festival de Willisau puis à New York: Sensations of tone a été enregistré à Brooklyn.
Alors que les concerts suisses étaient totalement improvisés, ce nouvel album confronte des compos-impros collectives à des reprises décalées de thèmes du passé: Shreveport Stomp de Jelly RollMorton, China Boy popularisé par Armstrong, Bechet ou... Parker, Moten Swing de Bennie Moten et repris par Count Basie ou Ain't Misbehavin', succès de Fats Waller repris par Billie Holiday comme Django ou Miles.
L'occasion de voyager au travers de l'histoire du jazz mais aussi, comme l'indique le titre de l'album, inspiré d'un texte de Hermann von Hemholtz étudiant la perception du son, une façon d'explorer les limites de la dissonance, d'intégrer le bruit dans le paysage sonore. On retrouve la sonorité déchirée d'Eskelin, la primauté de l'acoustique chez Weber (pas d'amplification de la contrebasse), la flexibilité de Griener à la batterie.
Deux façons d'envisager cette formule du saxophone-trio.
C. Loxhay, Jazzhalo, Belgium, March 2017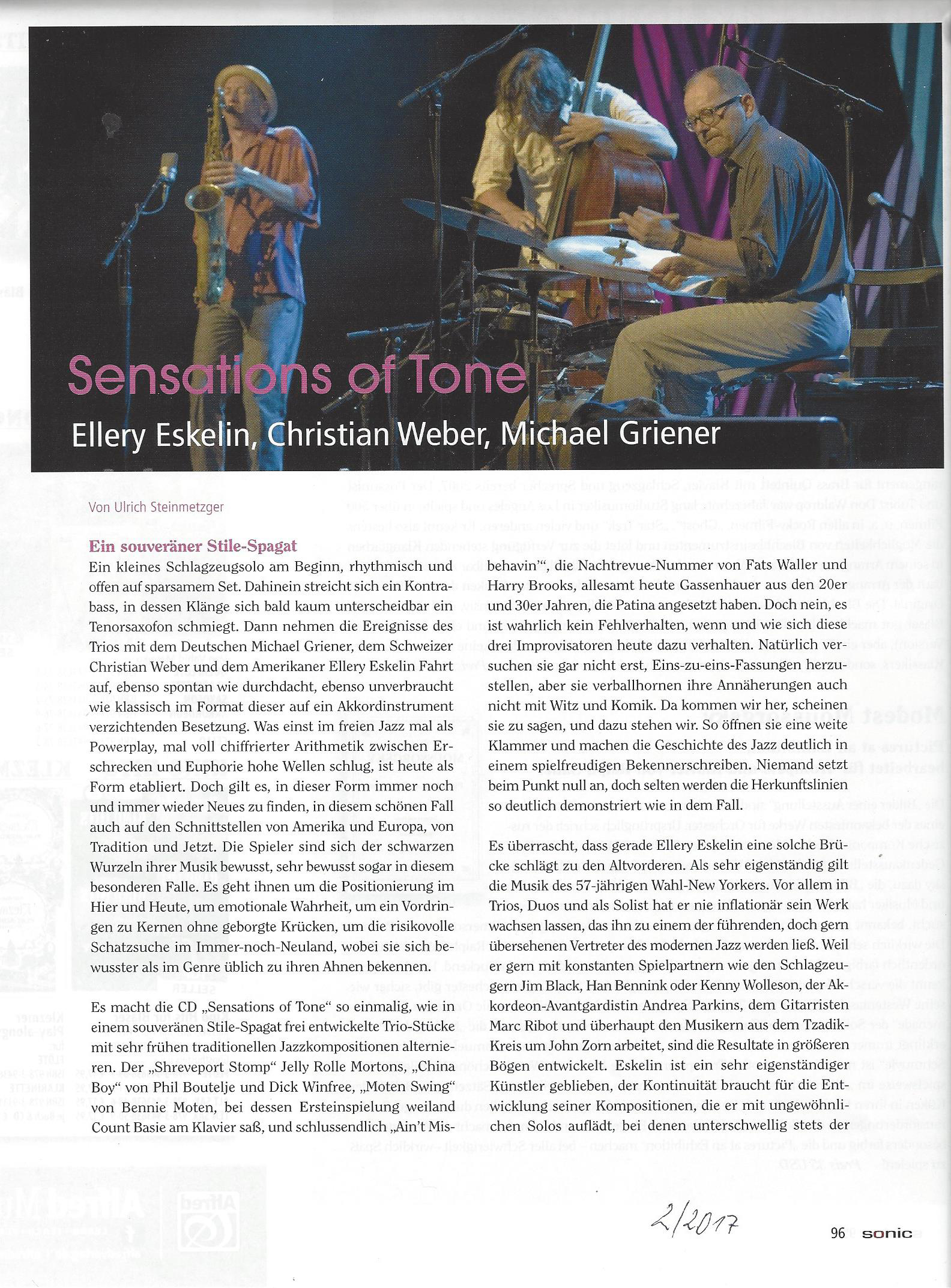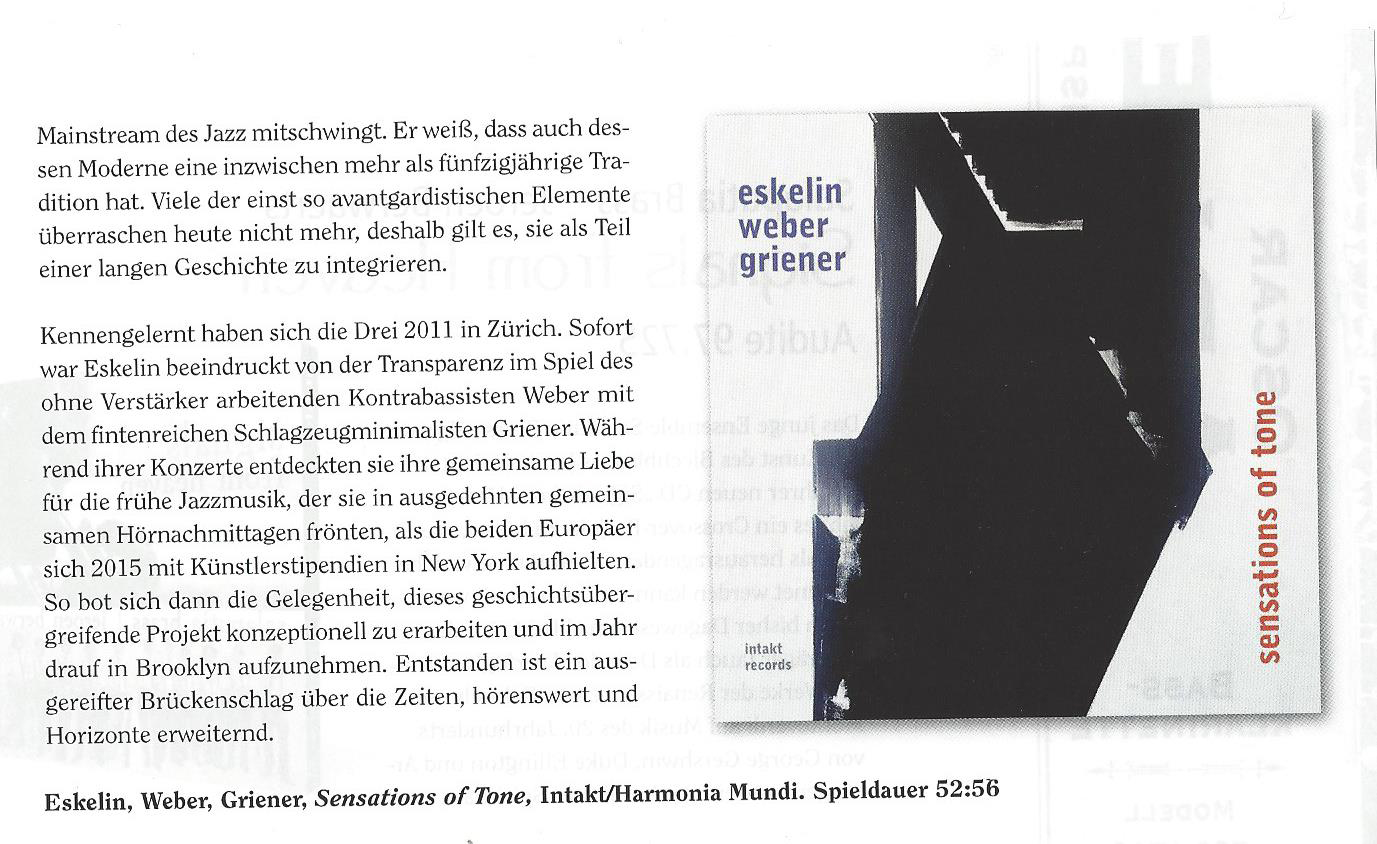 Ulrich Steinmetzger, Sonic 2/2017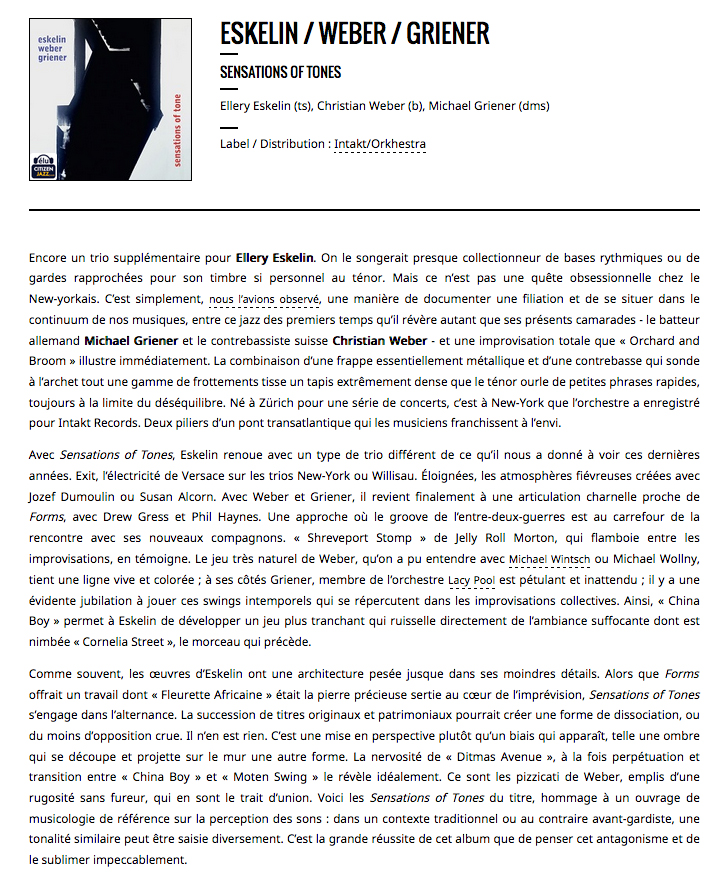 Franpi Barriaux, Citizenjazz, 2 avril 2017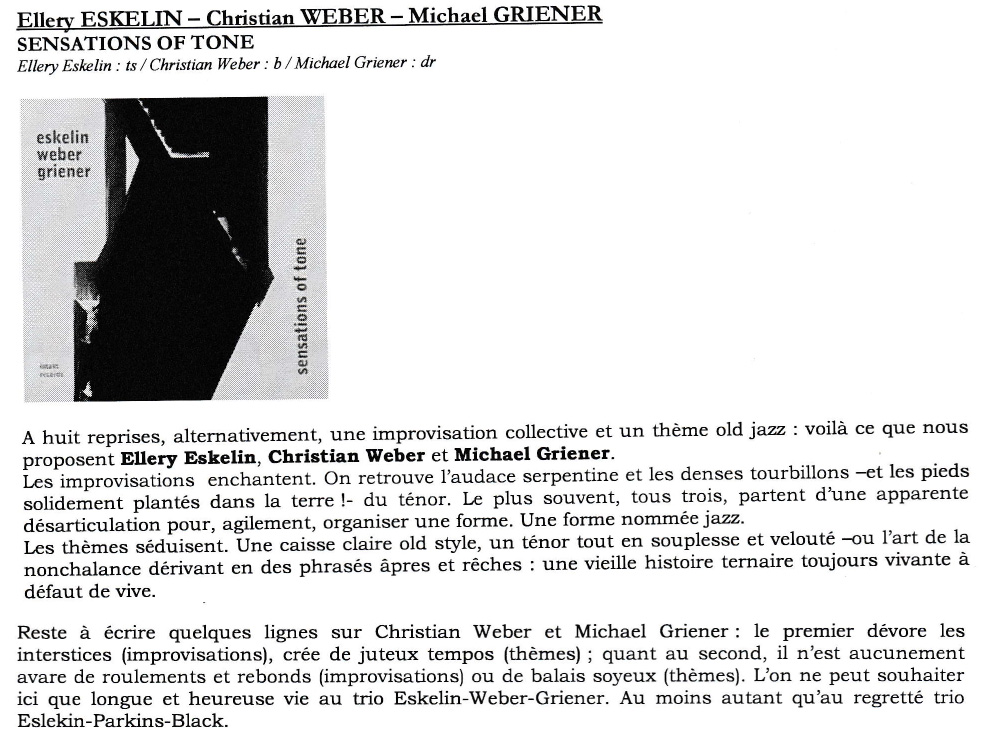 Luc Bouquet, Improjazz Nr. 234, France, 2017
At any given time in the past decades, saxophonist Ellery Eskelin, bassist Christian Weber and drummer Michael Griener have been members of genre-defining trios across Europe and the US giving evidence that the music of Jazz has never, ever died. And right from the first track of the CD Sensations of Tone you encounter a very original approach, with slurring appoggiaturas and clipped staccato, quite unlike any – even neo-classical – recording driven by New Orleans swing. The relentlessly driving "Shreveport Stomp", "Moten Swing" and "Ain't Misbehavin'" are played with sensitive touch and much tonal imagination, each a high point with slowly accelerating repeated notes and dramatic runs (especially in the Waller). All of the music is performed with considerable freedom and flexibility – and not at all the sort of merciless onslaught we so often hear when swing music is played.
Raul da Gama (from "The Intakt Adventure Continues"), jazzdagama.com, May 1, 2017

Philip Clark, Jazzwise, May 2017, Great Britain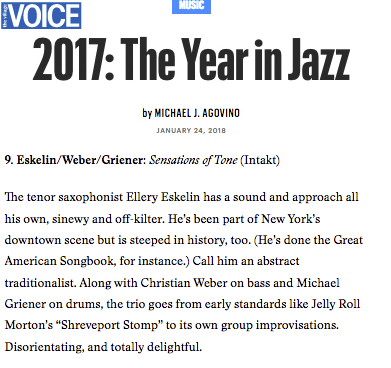 Michael J. Agovino, The Village Voice, 2017: The Year in Jazz, January 24, 2018