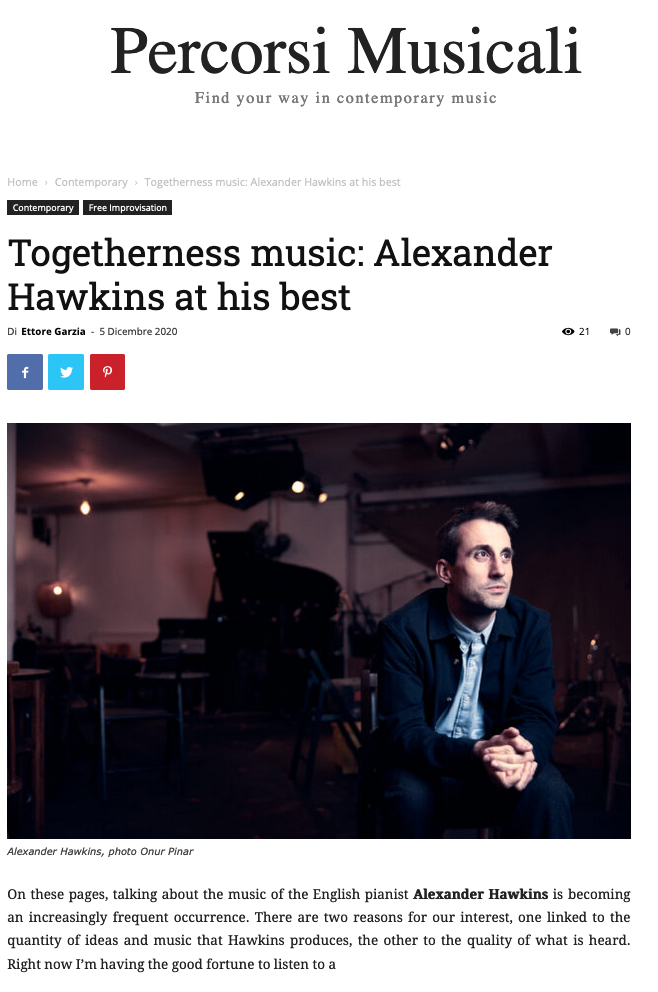 On these pages, talking about the music of the English pianist Alexander Hawkins is becoming an
increasingly frequent occurrence. There are two reasons for our interest, one linked to the quantity of ideas
and music that Hawkins produces, the other to the quality of what is heard. Right now I'm having the good
fortune to listen to a preview of his latest CD, which will be officially released next January for Intakt Records.
Togetherness Music is an important compo-improv work, in six movements, involving Evan Parker on
soprano sax, and a group of musicians very close to Hawkins for purposes and methods of processing the
music (1) and the strings part of the Riot Ensemble (2), an English collective increasingly internationally
recognized in contemporary music thanks to performances by important composers of our times (Haas,
Czernowin, Saunders, Lim, Streich, etc.).
For Hawkins it is unusual to consider such a large number of elements: until now only for two ensembles he
had exceeded 5 elements, specifically in the Alexander Hawkins Ensemble project and in the recordings of
Unit [e], with 13 elements, moments of aggregation which seem to have other directives compared to what
is heard in Togetherness Music. In the 3 works of the Alexander Hawkins Ensemble (namely No Now Is So
from 2009, All There Ever Out from 2011 and Step Wide, Step Deep from 2014), as well as much of the music
of Unit [e], Hawkins has showed a distinctive mix of composition and improvisation, where the first was a
mediation of melodies and complex harmonic passages while the latter abandoned itself to a luxurious
explosiveness. They were meetings in which Hawkins showed he was able to reinvent, with great creativity,
the many emancipations experienced by jazz.
In Togetherness Music the atmosphere is a little different from the music of his ensembles because
Alexander unfolds the work of a real composer: he doubles the timbres of many instruments and he creates
a great instrumental "expansion". Parker must not only take the direction of dialogicity (an event that
completely permeated Leaps in Leicester, the only recording of the Hawkins-Parker duo in 2016) but also
that of sound research, thanks to that typical "continuous flow" of the saxophonist combined with circular
breathing, a resource that Parker still uses today to obtain new nuances of sound, impossible for many
saxophonists; to ensembles, then, Hawkins attributes a special value, like an orchestra that has to sustain a
climax, but chronicized in the unconventional means of contemporary music: between glissandi, irregular
air gaps in the winds or lack of tonality , the work of the musicians turns towards a common goal, that is to
make attractive the compromise between compositional and improvisational elements and bring a double
satisfaction, one for musicians and another for a demanding audience.
Parker plays Indistinguishable From Magic with his infinite arpeggio, loaded in the third minute by a
devious line of electronics and of minimal instrumentation that brings me back to glimpses of the
saxophonist's electro-acoustic experiences, with a final part where the instruments seem to project
themselves like contrails of stars before ending in unison; in Sea No Shore the protagonists are the
percussionist/drummer Mark Sanders and the trumpeter Percy Purglove, with improvisations framed in a
spectrum of actions designed for their progressive unfolding, where you can perceive a soft melody, without definition of gravity; the effectiveness of the strings of the Riot Ensemble directed by Aaron Holloway-
Nahum is felt in Ensemble Equals Together, microtonality that comes and goes on the arco strings and which is accompanied by the wild return of Parker, Hawkins on the piano and the rest of the
improvisational ensemble, to create a jungle sound of enormous proportions; Alexander opens the
movement Leaving the Classroom of a Beloved Teacher with a series of chords and scale notes (a vibration
engineered on Tatum, Monk and Taylor) leaving the double bass and strings with the task of proposing a
rhythmic phrase of jazz, walking bass (Mingus comes to mind) and complex sound; in Ecstatic Baobabs a
more austere tone is reached, but with a splendid and unusual movement on the melodic systems, which
are subjected to continuous variations: one perceives all the great musical preparation of Hawkins, capable
of relating improvisation with bunches of the history of classical music (from Webern to Nono, from Harvey
to Ferneyhough, all of them have practiced the art of variation); Optimism of the will gives space to Matthew
Wright (who invents a rhythmic frame similar to a beat-box), to the penetrating grafts of Hawkins, of
percussion with trumpet, of the piano against ensembles and the final assault between Hawkins and Parker.
Despite all the difficulties that contemporary composition and free improvisation encounter on their path
today, fortunately there are always musicians willing to continue to expand horizons. Hawkins, also with
ensembles and orchestras, is doing a great job, something that in the last twenty years is the equivalent of
Wuppertal or the first, famous improvisers' orchestras in England: Togetherness Music is a masterpiece that
can stand next to the best works of Mitchell, Braxton or Parker himself, when they have dealt with creating
interpositions between composition and improvisation.
Ettore Garzia, Percorsi Musicali, 5 Dicembre 2020

In der komprovisatorischen, conductor-gelenkten 6-Sätzigkeit seiner Togetherness Music [for 16 Musicians] (Intakt CD 361) verknotet ALEXANDER HAWKINS Braxtons Ghost Trance Music und Colemans "Skies of America" mit der Orchestralität seines eigenen "Unit[e]". Dafür vereint er auch wieder Hannah Marshall (c), Neil Charles (b), Matthew Wright (el), James Arben (fl, bcl) und Percy Pursglove (tp) sowie Rachel Musson (fl, ts), Bendict Taylor (viola) und Mark Sanders (d) in ihrem improvisatorischen Knowhow mit The Riot Ensemble als zeitgenössischem Streichquintett und Evan Parker als zweiter solistischen Spitze neben ihm selbst am Piano. Parkers hypersprudelndes Sopranosax schlägt sofort einen von Magie ununterscheidbaren Ton an, der eine dröhnend raumgreifende, zunehmend spektrale Unisonowelle anstößt, die ausdünnt zu einem Stringfaden. Hin zu 'Sea No Shore' als perkussivem Hagelschlag, den die Trompete sensationsreporterisch ausmalt, bis das Rohr verstopft und eine elegische Schadensmeldung die Kehrseite zeigt. Danach führen die Strings ein fluktuierendes, lyrisch versonnenes, aber zunehmend erregtes Alltogether, in dem Piano und Soprano umeinander flackern bis zum kollektiven Crescendo. Walking Bass und markantes Piano erteilen die vierte Lektion in einem von Pizzicato akzentuierten Flow, in dem auch die Bläser mitkeckern, mittrillern, in wieder auch flimmernder und tur­bulenter Verdichtung. Bis zu einem Diminuendo, aus dem flötend und schimmernd 'Ecstatic Baobabs' entspringt, als zart gewellte Impression, mit glissandierenden Strings, Pizzicatogetröpfel, aufgefächertem Streicherschmelz von sonoren Bass- und Cellostrichen bis zu irrlichterndem Flageolett und einer Glissandohimmelfahrt. 'Optimism of the Will' mischt zuletzt Basspizzicato mit perkussiven und Elektro-Pixeln, die Trompete stößt mitreißend dazu, das Piano gemessen. Doch Trommelsprint schürt die Kulmination zu nochmal Trara aus allen Rohren und feierlichem, vom Soprano aufgeschäumtem, pianobespritztem Alltogether, das anhält für Hawkins und Parker allein und als Triumph ganz anderer Art.
Rigobert Dittmann, Dezember 2020, Bad Alchemy, BA 109

Nazim Comunale, giornale della musica, Italia, 8 Gennaio 2021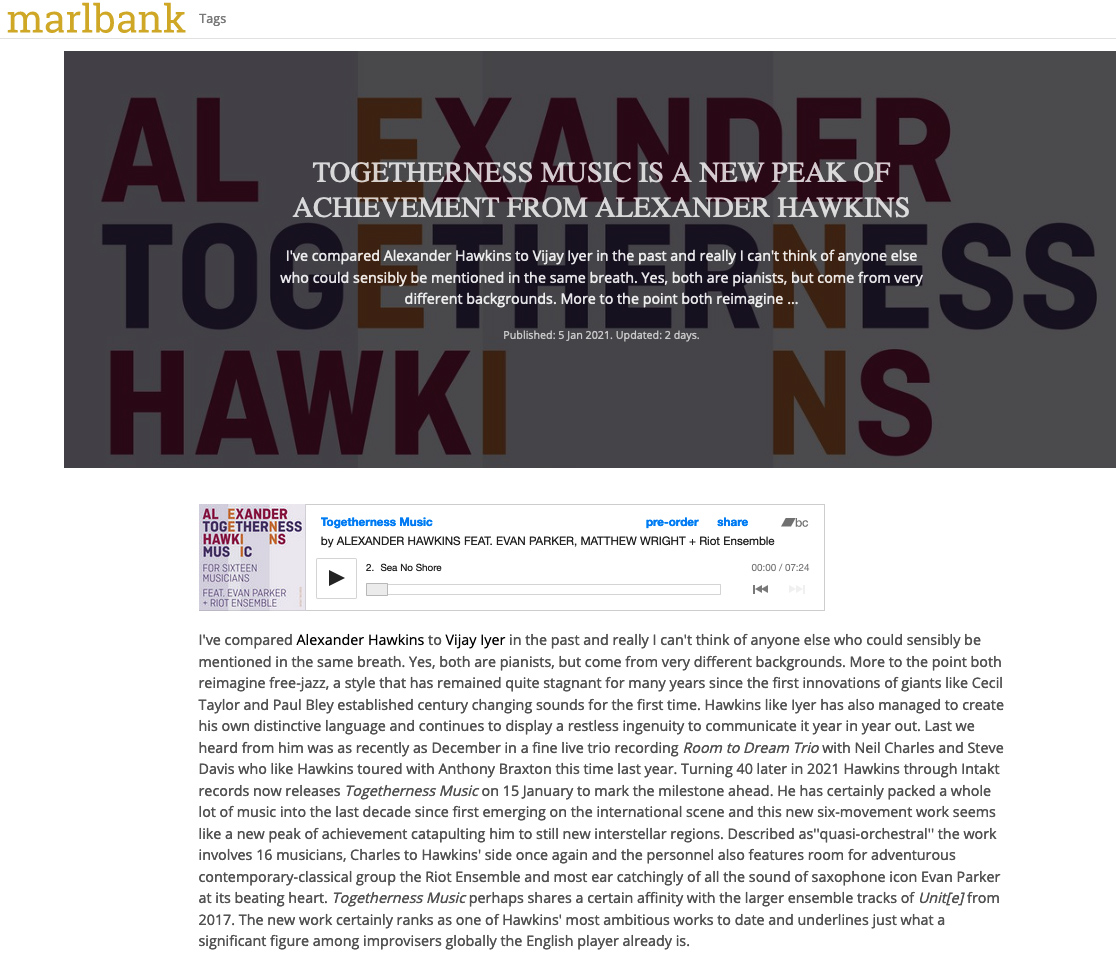 Stephen Graham, Marlbank, GB, January 2021