PHIL MINTON - VERYAN WESTON
Ways Out East - Ways Out West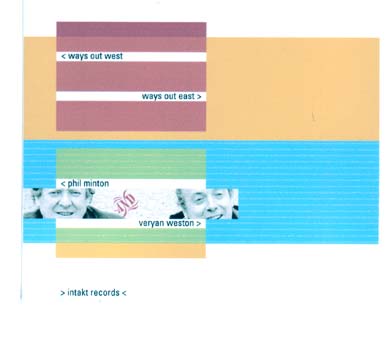 Phil Minton: Voice
Veryan Weston: Piano, Organ, Voice

Cover Art: Fabrizio Gilardino
Engineer: Jeroen Visser Liner Notes: Veryan Weston. Foto: Francesca Pfeffer
Executive Production: Patrik Landolt, Fredi Bosshard

Intakt CD 097 / 2005
MAILORDER-PRICE:
Schweiz: 30 SFr. plus 3 SFr. Porto
Deutschland/Österreich: 18 Euro plus 2.50 Euro Porto/Versand
International: VISA / MASTER: 30 SFr. plus 4 SFr. Postage
Order adress:
Intakt Records, Postfach 468, 8024 Zürich
intakt@intaktrec.ch
Fax: 0041-1-383 82 33
Phil Minton und Veryan Westen, zwei langjährige Freunde, schrieben 1993 für einen sechsköpfigen Chor ein Gesangsprojekt zum Thema Anarchismus. Im Mittelpunkt standen das Leben und Wirken des russischen Anarchisten Nestor Makhno. Mehrjährige Auseinandersetzung mit dem inhaltlichen und musikalischen Stoff führte jedoch zur reduzierten Form, zum Gesangs- Piano-Duo. Die Duo-CD Phil Minton-Veryan Weston mit den zwei Teilen "Ways Out East - Ways Out West" ist sowohl eine
Hommage an den vergessenen Anarchisten Nestor Makhno als auch eine Liebeserklärung an die freiheitlich-libertären Ideale des Anarchismus. Freie Improvisationen fliessen ein in wundersame Songs, Heiterkeit und Witz gehen über in Melancholie.

Phil Minton and Veryan Weston, friends for many years, wrote a vocal project for a six-member choir on the topic of anarchism back in 1993. In the middle of the project stood the life and work of the Russian anarchist Nestor Makhno. After many years of dealing with the content and music, however, the composers were led to create a reduced form, to a duo of voice and piano. The duo CD Phil Minton – Veryan Weston, with the two parts, "Ways Out East – Ways Out West," is not only a homage to the forgotten anarchist Makhno, but also a declaration of love for the liberating-libertarian ideals of anarchism. Free improvisation flows into wonderful songs, exhilaration and wit cross over into melancholy.