DAVE GISLER TRIO
RABBITS ON THE RUN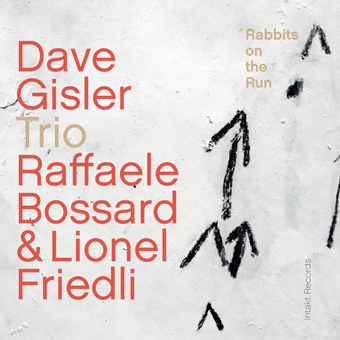 Dave Gisler: Guitar
Raffaele Bossard: Bass
Lionel Friedli: Drums


Soundsamples of this CD / diese CD probehören
(Player opens in new window / Player öffnet sich in neuem Fenster)
1. Spiegelfeld 7:12
2.Dive 5:43
3. Mr. No Name 5:48
4. Sinister Minister 5:04
5. Zooming In 2:12
6. Rabbits on the Run 4:11
7. Spirit Laundry 4:17
8. Two Flowers 4:46
9. Playground 6:17

Total time 45:34

All compositions by Dave Gisler (SUISA).
Recorded in June 2017 at Studio Black Box, Noyant-la-Gravoyère, France by David Odlum.
Mixed November 2017 by David Odlum. Mastered December 2017 by David Odlum and Peter Deimel.
Cover art: Simone Haug. Graphic design: Jonas Schoder. Photo: Michelle Ettlin. Liner notes: Florian Keller.
Produced by Dave Gisler and Intakt Records, Patrik Landolt. Published by Intakt Records.
Intakt CD 304 / 2018
Over the past few years Dave Gisler has earned himself an impressive reputation in the free-thinking force field of contemporary jazz as a maverick sound architect on the electric guitar. With Lionel Friedli, the impulsive style-busting force of nature on the drums, and the agile bassist Raffaele Bossard, with his earthy tone, Gisler brought two of the most sought after musicians on the Swiss jazz scene. Since 2016 these three fans of choice yet rough-edged musicianship have been navigating their ship through open musical seas with punky energy, the driving power of indie rock, the free aesthetic of the 1960s and the cadences of modern jazz.
The debut album, Rabbits on the Run, is a stock-take of the moment, a shimmering array of this genre-busting trio's potential. Without falling into superficial musical eclecticism, the trio celebrate stylistic diversity, orientating themselves on factors independent of style, such as intensity, contrast or energy. Rabbits on the Run; in flight the rabbit leaps sideways. And it is surprising changes of direction and atmospheric turning points which characterise our trip through the all-encompassing sonic cosmos of this promising trio.

Photo: Michelle Ettlin
Dave Gisler hat sich in den vergangenen Jahren im Kraftfeld des zeitgenössischen Jazz einen hervorragenden Ruf als Klangarchitekt an der E-Gitarre erspielt. Mit Lionel Friedli, der impulsiven und stilsprengenden Urgewalt an den Schlagwerken und dem Bassisten Raffaele Bossard mit seinem kernigen Ton hat sich Gisler zwei begehrte Musiker der Schweizer Jazzszene mit ins Boot geholt.
Seit 2016 navigieren die drei Freunde des edel-ungeschliffenen Musizierens ihren von punkiger Energie, der treibenden Wucht des Indie-Rock, der Free-Ästhetik der 60ziger Jahre und den Kadenzen des modernen Jazz angetriebenen Klangkörper in offene musikalische Gefilde.
Das Debütalbum «Rabbits on the Run» ist eine momentane Bestandesaufnahme, eine schillernde Auslegeordnung von Mög­lich­keiten dieses genresprengenden Jazztrios. Ohne in einen oberflächlichen musikalischen Eklektizismus zu verfallen, zelebriert das Trio die stilistische Vielfalt und orientiert sich dabei an stil-unabhängigen Faktoren wie Dichte, Gegensätze oder Energie. «Rabbits on the Run» – Auf der Flucht flitzt der Hase hakenschlagend. Überraschende Richtungswechsel und atmosphärische Drehmomente bestimmen den Trip durch den allumfassenden Klangkosmos dieses verheissungsvollen Trios.
MAILORDER-PRICE:
Schweiz: 30 SFr. plus 3 SFr. Porto
Deutschland/Österreich: 18 Euro plus 3 Euro Porto/Versand
International: VISA / MASTER: 30 SFr. plus 4.50 SFr. Postage
Intakt Records, Postfach 468, 8024 Zürich, Fax: 0041-44-383 82 33
intakt@intaktrec.ch
Raffaele Bossard bei Intakt Records
Dave Gisler bei Intakt Records
Lionel Friedli bei Intakt Records