CHRISTOPH IRNIGER TRIO
WITH LOREN STILLMAN. GUEST: NILS WOGRAM
OPEN CITY
Christoph Irniger: Tenor Saxophone
Raffaele Bossard: Bass
Ziv Ravitz: Drums
Loren Stillman: Alto Saxophone
Nils Wogram: Trombone

1. My World (Ch. Irniger) 6:16
2. Open City (Ch. Irniger) 5:01
3. Calling (Ch. Irniger) 4:40
4. Ballad (Ch. Irniger) 4:19
5. 40 Years of an Old Wise Lady (R. Bossard) 5:59
6. Hot and Humid (Ch. Irniger) 2:52
7. The New Dope (Ch. Irniger) 4:08
8. Time (Ch. Irniger) 4:33
9. Mass Media Minion (R. Bossard) 4:37
10. Three Little Birds (Ch. Irniger) 4:34

Recorded January 19 & 20, 2020, at Hardstudios in Winterthur by Michael Brändli.
Recording coproduced by Radio SRF2 Kultur. Mixed by Ziv Ravitz. Mastered in April 2020
at Hardstudios in Winterthur by Michael Brändli. Cover art: Jazzberry Blue. Graphic
design: Jonas Schoder. Liner notes: Manfred Papst. Photo: Ziv Ravitz. Published by
Intakt Records. Produced by Christoph Irniger and Intakt Records.
Intakt CD 349 / 2020
Preview tracks and order on Bandcamp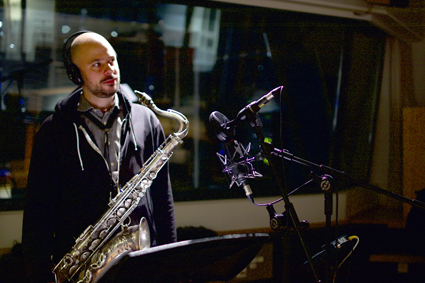 Photos: Anja Illmaier, Intakt


DE:
Nach den gefeierten Alben «Gowanus Canal» (2012) und «Octopus» (2015) legt Christoph Irniger mit seinem Trio mit dem Bassisten Raffaele Bossard und dem Schlagzeuger Ziv Ravitz die Scheibe «Open City» vor: erweitert um den amerikanischen Alto Saxofonisten Loren Stillman und den Gast Nils Wogram an der Posaune.
Vertraut mit der Jazztradition und den avancierten Gestaltungsmitteln der Moderne legt das erweiterte Trio ein aktuelles musikalisches Statement vor. Mit Spielwitz und melodischer Erfindungskraft verbindet das sich an Songstrukturen orientierende Ensemble Arrangement und Improvisation zu einem stimmigen und verführerischen Ganzen. «Sie sind nicht nur eminente Techniker, sondern verstehen sich auch traumwandlerisch sicher aufs Interplay. Mit Loren Stillman und Nils Wogram schafft Christoph Irnigers Trio eine Musik, die Verstand und Leidenschaft vereint, zeitlos und auf der Höhe der Zeit», schreibt Manfred Papst in den Liner Notes.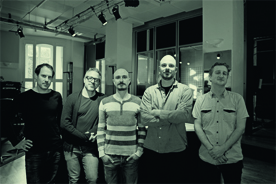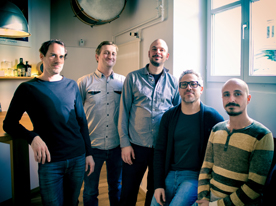 Photos by Ziv Ravitz
EN:
After the acclaimed albums Gowanus Canal (2012) and Octopus (2015), Christoph Irniger and his trio with bassist Raffaele Bossard and drummer Ziv Ravitz present Open City: extended by the American alto saxophonist Loren Stillman and guest Nils Wogram on trombone. Familiar with the jazz tradition, the extended trio makes an up-to-date musical statement. With playful wit and melodic inventiveness, the ensemble, which is oriented towards song structures, combines arrangement and improvisation to form a harmonious and seductive musical statement. "They are not only eminent technicians, they are also adept at interplay, like sleepwalkers. With Loren Stillman and Nils Wogram Christoph Irniger's trio creates music which unites intelligence and passion, timeless yet up to date," writes Manfred Papst in the liner notes.
MAILORDER-PRICE:
Schweiz: 30 SFr.
Deutschland/Österreich: 18 Euro plus 3.00 Euro Porto/Versand
International: VISA / MASTER: 30 SFr. plus 4 SFr. Postage
Order adress: Intakt Records, Postfach 468, 8024 Zürich, Fax: 0041-1-383 82 33 intakt@intaktrec.ch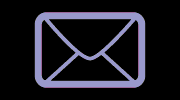 Please click here to order
Christoph Irniger on Intakt Records

Ziv Ravitz on Intakt Records

Raffaele Bossard on Intakt Records

Nils Wogram on Intakt Records