Three years after their celebrated debut album Rabbit on the Run the Dave Gisler trio presents a live album with guest Jaimie Branch on trumpet.

Over the past few years Dave Gisler has earned himself an impressive reputation in the free-thinking force field of contemporary jazz as a maverick sound architect on the electric guitar. On the one hand the the Dave Gisler Trio loves the punch of a rock sensibility, but it cheerfully slips into quieter and calmer zones, where individual sounds and otherworldly textures remix the essences afresh.

Anyone who has already seen Jaimie Branch live will know her unique way of tuning into the energy, the way she stands, takes up the instrument, and plays – natural and sovereign, incisive and melan­­choly, light and weighty. It's clear from the start that this musician's energy fires up the Dave Gisler trio. And in turn the trio's inspiration has an effect on the trumpeter which feeds back into the group. "The music on Zurich Concert strikes a chord, in a time shaken by emotions and extremes," writes Pirmin Bossart in the liner notes. "It's attitude unflinching, under the surface the pulse is tender and sensual."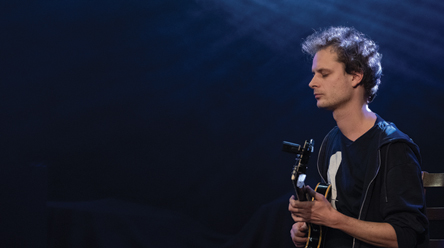 .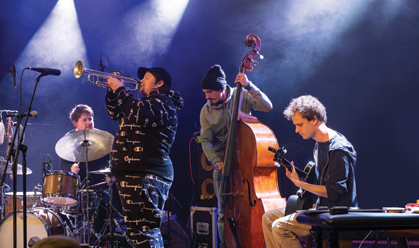 Photo: Palma Fiacco. Jazzfestival unerhört! 2019.

Drei Jahre nach dem gefeierten Debut-Album «Rabbit on the Run» legt das Dave Gisler Trio ein Live Album vor: Als Gast an der Trompete spielt Jaimie Branch.

Dave Gisler hat sich in den vergangenen Jahren im Kraftfeld des zeitgenössischen Jazz einen hervorragenden Ruf als Klangarchitekt an der E-Gitarre erspielt. Mit Lionel Friedli, der impulsiven Urgewalt an den Schlagwerken und dem Bassisten Raffaele Bossard mit seinem kernigen Ton sind zwei begehrte Musiker der Schweizer Jazzszene mit im Trio. Die Band liebt einerseits den Punch des Rockfeelings, aber oszilliert auch gerne in ruhigen und subtilen Zonen, wo Einzelklänge und sphärische Texturen die Essenzen neu mischen.

Wer die Trompeterin Jaimie Branch schon auf der Bühne erlebt hat, weiss um ihre Art, wie sie sich auf die Energie einstimmt, wie sie hinsteht, das Instrument ansetzt, spielt: mit einer Selbstverständlichkeit und Unbedingtheit, einer Schärfe und Wehmut, einer Leichtigkeit und Heavyness. Es wird sofort klar, dass die Energie dieser Musikerin das Dave Gisler Trio befeuert. Und auch das inspirierte Trio wirkt wieder auf die Musikerin und mit ihr ins Kollektiv zurück.
«Die Musik dieses Live-Mitschnitts trifft den Nerv einer Zeit, die von Emotionen und Kontrasten geschüttelt wird», schreibt Pirmin Possart in den Liner Notes. «Unzimperlich der Gestus, zart und sinnlich das Vibrieren unter der Oberfläche.»