Tim Berne's Snakeoil, this group that has grown into a conspired unit over many years, presents with The Deceptive 4 an extraordinary live double album. "This double-disc live document, The Deceptive 4, traces the evolution of both Berne's writing for Snakeoil and the way the band interprets his compositions onstage ­– from the group's nascent beginnings to not long before the recording of its most recent studio release, and first for Intakt, The Fantastic Mrs. 10 (Intakt CD 340).

Disc 1 presents a Snakeoil concert recorded in 2017 within the studio-like acoustics of Firehouse 12 in New Haven, Connecticut. Disc 2 combines music from the foursome's second and third shows ever, before Berne had even settled on a firm name for the band. The first three tracks on the second disc were recorded in 2010 at the intimate I Beam space in Brooklyn, New York, with the fourth track – an homage to Berne's key mentor, saxophonist-composer Julius Hemphill – taped in 2009 at the theater Roulette, also in Brooklyn.
The quartet music captured on The Deceptive 4 flows from sinuous lyricism to expressionistic fierceness and back again like sonic quick­silver, the players utterly attuned to each other and the questing, even head-spinning dynamism of the material' writes Bradley Bambarger in the liner notes.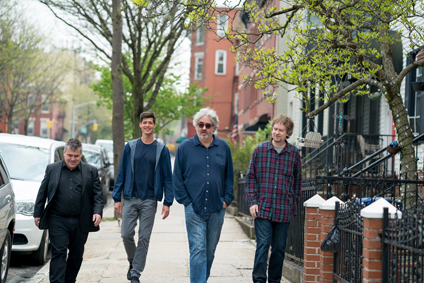 .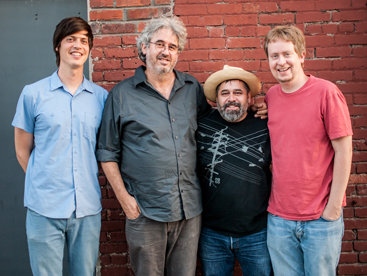 Photos: Lynne Harty and Peter Gannushkin / downtownmusic.net.
Mit «The Deceptive 4» legt Tim Berne's Snakeoil, diese über viele Jahre hinweg zu einer verschworenen Einheit zusammengewachsene Band, ein Live-Doppel-Album vor, das die Genese dieser ausserordentlichen Band nachvollziehen lässt. Diese Doppel-CD ist ein Dokument, das einerseits die Entwicklung von Tim Berne's Kompositionen für Snakeoil wie auch die Art und Weise aufzeigt, wie die Band seine Kompositionen auf der Bühne interpretiert – und zwar von den Anfängen der Band bis kurz vor der Aufnahme ihres jüngsten Studio-Albums «The Fantastic Mrs. 10» (Intakt CD 340).

Disc 1 präsentiert ein Snakeoil-Konzert, das 2017 in der studioähnlichen Akustik des Firehouse 12 in New Haven, Connecticut, aufgenommen wurde. Disc 2 kombiniert Musik aus der zweiten und dritten Show des Quartetts, noch bevor sich Berne auf einen festen Namen für die Band geeinigt hatte. Die ersten drei Tracks der zweiten CD wurden 2010 im intimen I Beam in Brooklyn, New York, aufgenommen, während das vierte Stück – eine Hommage an Julius Hemphill, den Saxophonisten, Komponisten und Mentor von Tim Berne, 2009 im Roulette, ebenfalls in Brooklyn, aufgenommen wurde.

«Die auf "The Deceptive 4" eingefangene Quartett-Musik, fliesst von gewundener Lyrik zu expressionistischer Heftigkeit und wieder zurück – wie klangliches Quecksilber», schreibt Bradley Bambarger in den Liner Notes.