Broken Shadows vereint mit Tim Berne, Chris Speed, Reid Anderson und Dave King vier Koryphäen der amerikanischen Jazz-Szene. Broken Shadows haben sehr starke Zweierbeziehungen. Die Saxofonisten Tim Berne und Chris Speed arbeiten seit 1992 zusammen; Bassist Reid Anderson und Schlagzeuger Dave King – zwei Drittel der legendären Band The Bad Plus – spielen schon seit über 35 Jahren zusammen.
Benannt nach einer Ornette Coleman Komposition, ehrt dieses All-Star-Projekt das Erbe der Musik ihrer Idole und Mentoren Ornette Coleman, Dewey Redman, Charlie Haden und Julius Hemphill. «Die meisten der Titel haben Melodien; ansteckend und mitsingbar. Songs, die man am liebsten in die Tasche stecken und mit nach Hause nehmen würde. In einer Zeit, in der Songs als Vehikel für Improvisationen behandelt werden, ist bei dieser Band das Vehikel der Song», schreibt Branford Marsalis in den Linernotes und feiert die in «Broken Shadows» innewohnende emotionale Kraft und Wirkung: «Harmonische Werte allein erzeugen keine Emotionen; die Fähigkeit, die Farbe im eigenen Klang zu verändern, schon. Das ist etwas, das Broken Shadows verstehen, sei es explizit oder implizit. Die zwölf Tracks reichen von Wehklagen über unbekümmertes Schwadronieren bis hin zu purer Freude, und allen Farben dazwischen.»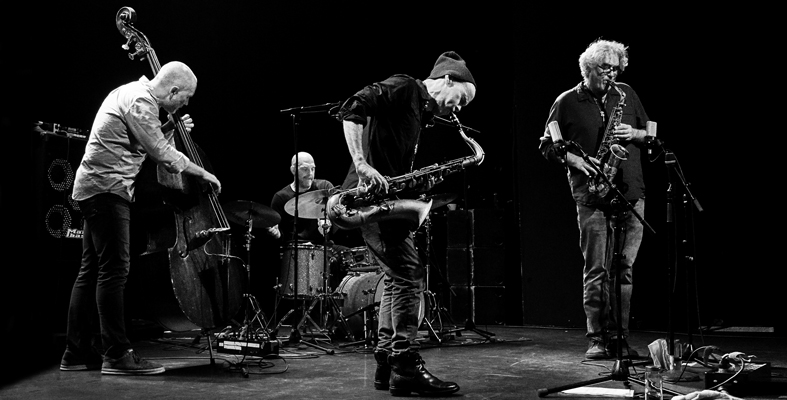 Broken Shadows brings together four luminaries of the American jazz scene: Tim Berne, Chris Speed, Reid Anderson and Dave King. Broken Shadows has very strong connections, in twos. Saxophonists Tim Berne and Chris Speed have been playing together since 1992; Bassist Reid Anderson and drummer Dave King – two thirds of the legendary band The Bad Plus – have been playing together for over 35 years.
Named after an Ornette Coleman composition, this all-star project honors the legacy of the music of their idols and mentors Ornette Coleman, Dewey Redman, Charlie Haden and Julius Hemphill. "Most all of the songs have melodies; infectious and singable. Songs you would want to put in your pocket and take them home. In a time of songs treated as vehicles for improvisation, with this band, the vehicle is the song", writes Branford Marsalis in the liner notes, celebrating the emotional power and impact of Broken Shadows: "Harmonic data does not create emotion; the ability to change color in ones sound does. This is something that Broken Shadows understand, be it explicit or implicit. The twelve tracks range from lamentation, or insouciant swagger, to utter joy, and all the colors in between."