FRED FRITH TRIO
WITH LOTTE ANKER AND SUSANA SANTOS SILVA

ROAD
(2 CDs)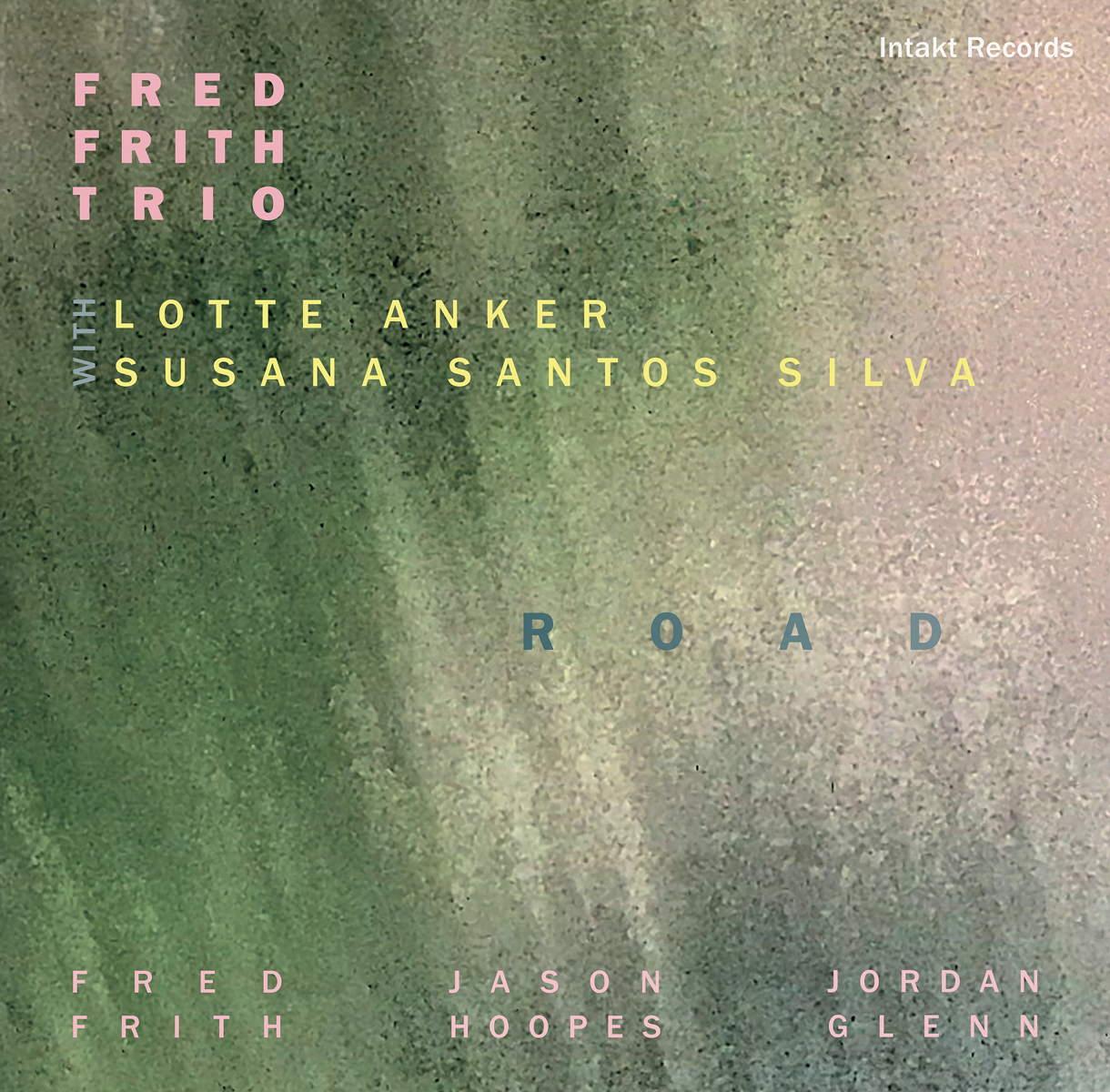 Fred Frith: Electric Guitar, Voice
Jason Hoopes: Electric Bass, Double Bass
Jordan Glenn: Drums, Percussion

GUESTS:
Susana Santos Silva: Trumpet
Lotte Anker: Saxophones
CD 1
Lost Weekend 49:06

Lost Weekend 1 11:38
Lost Weekend 2 03:18
Lost Weekend 3 05:02
Lost Weekend 4 12:12
Lost Weekend 5 04:05
Lost Weekend 6 07:55
Lost Weekend 7 04:50
CD 2
1. Color of Heat 18:50
2. The Trees Speak 13:46
3. Sinking In 07:41
4. Color of Heart 14:54

All music by Fred Frith Trio (CD 1); Fred Frith Trio, Susana Santos Silva, Lotte Anker (CD 2).
Mixed and compiled at Guerrilla Recordings, Oakland, CA, on May 12, 2021
Mastered at Headless Buddha, Oakland, CA, on July 23, 2021.
Creative engineer: Myles Boisen. Cover art and photo: Heike Liss. Graphic design: Fiona Ryan
Produced by Fred Frith and Intakt Records, Patrik Landolt, Anja Illmaier, Florian Keller Published by Intakt Records

Intakt CD 372 / 2021

Listen to sound examples on our Bandcamp Site



(de)
Fred Frith, der Improvisator, Komponist und Multi-Instrumentalist, der lachende Aussenseiter zwischen Rock und Jazz, Improvisation und Komposition legt mit seinem langjährigen Trio aus der Bay-Area eine atemberaubende Live Doppel CD vor:

CD1 dokumentiert ein inspirierendes Trio-Konzert dieser aussergewöhnlich kreativen Musiker in der Stadthalle Köln im Rahmen des Week-End Fest 2019.

Auf CD2 ist das Trio mit den Gästen Lotte Anker und Susana Santos Silva zu hören. Beide Musikerinnen verbindet eine lange Geschichte mit dem Trio. Lotte Anker hat in San Francisco und New York mit dem Trio gespielt und Susana Santos Silva war bei Auftritten in Brasilien im Jahr 2018 dabei, während beide auf Tourneen 2019 an der US-Ostküste und Europa eingeladen wurden. Lotte Anke und Susana Santos Silva befeuern das Trio und auch das inspirierte Trio wirkt wieder auf die Musikerinnen, sodass ein einzigartiger Kollektiv-Sound entsteht und mit einer mitreissenden Live-Energie begeistert.
(eng)
Fred Frith is a multi-instrumentalist and a shrewd outsider who walks the line between rock and jazz, improvisation and composition, and hereby presents a breathtaking live double CD with his long-time Bay Area trio.

CD1 documents an inspiring trio concert by these extraordinarily creative musicians at Stadthalle Köln as part of Week-End Fest 2019.

CD2 features the trio with guests Lotte Anker and Susana Santos Silva. Both musicians have a long history with the trio – Lotte Anker has played with the trio in San Francisco and New York, and Susana Santos Silva joined them for performances in Brazil in 2018, while both have joined the trio to tour the U.S. East Coast and Europe in 2019. Lotte Anker and Susana Santos Silva fire up the trio. And in turn the trio's inspiration has an effect on Lotte and Susana which feeds back into the group. This creates a unique collective sound that delivers an infectious live energy.

On Intakt Records:

Fred Frith
MAILORDER-PRICE: Doppel-CD
Schweiz: 50 SFr.
Deutschland/Österreich: 30 Euro plus 3 Euro Porto/Versand
Order address: Intakt Records, Postfach 468, 8024 Zürich, Fax: 0041-44-383 82 33
intakt@intaktrec.ch
© 2021 Intakt Records | P.O. Box, 8024 Zürich, Switzerland | intakt@intaktrec.ch | +41 (0) 44 383 82 33