Lucas Niggli ZOOM and BIG ZOOM
Intakt CD 082 and Intakt CD 083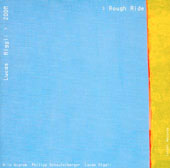 Lucas Niggli ZOOM
Rough Ride

Nils Wogram, Trombone
Philipp Schaufelberger, Guitar
Lucas Niggli, Drums

Recorded live at Jazzfestival Saal felden
2002 by Martin Leitner and Jazzfestival Schaffhausen 2002 by Martin Pearson.
Liner Notes: Martin Maida
Photos: Francesca Pfeffer
Cover Art: Eliane Binggeli & Pino Esposito
Executiv Production: Patrik Landolt
Intakt CD 082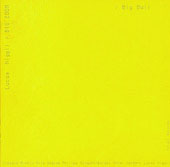 Lucas Niggli BIG ZOOM
Big Ball

Claudio Puntin, Clarinets
Nils Wogram, Trombone
Philipp Schaufelberger, Guitar
Peter Herbert,
Lucas Niggli, Drums


Recorded live at Jazzfestival Willisau
and Jazzclub MOODs 2002 by
Martin Pearson.
Liner Notes: Peter Weber
Photos: Francesca Pfeffer
Cover Art: Eliane Binggeli &
Pino Esposito
Executiv Production: Patrik Landolt
Intakt CD 083
The drummer and band leader Lucas Niggli, with his trio ZOOM and quintet Big ZOOM,
provided the big surprises at many festivals last year: the band's concerts in Moers, Saalfelden, Willisau, Münster, Schauffhausen count among these festivals' highlights. "Unbelievable how the genre-idioms from blues, rock and jazz styles are paired up among each other in the controlled gesture of new music," said the journalist Marcus Maida after the performance at the Moers Festival. "Everything swings and runs into each other in great suspense and results in a meaningful, organic whole that gives enough cause for enthusiasm.
And the writer Peter Weber writes about BIG ZOOM, "Niggli makes rhythms out of sequences of notes,
sets them up on his drums, uses his playing to conduct behind the horns, bass, and guitar, and steers with finesse, with pressure and fury. The music thus created peels out of itself, runs through itself, constantly transforms itself, grows out of itself, gains height, suspends bridges across the entire twentieth century.
Both new CDs capture concert excerpts of this forward-looking band. On Rough Ride (Intakt CD 082),
ZOOM can be heard in its original trio with the trombonist Nils Wogram and Philipp Schaufelberger,
recorded in Saalfelden and Schaffhausen. On Big Ball (Intakt CD 083), the clarinetist Claudio Puntin
and the bassist Peter Herbert join up with the core group, recorded at the jazz festival in Willisau
and jazz club Moods. Both CDs, Rough Ride and Big Ball document the great moments ofcurrent jazz
music and show the state of today's artistic atmosphere, the musical chemistry of the present.
Der Schlagzeuger und Bandleader Lucas Niggli sorgte mit dem Trio ZOOM und zum Quintett Big ZOOM
für die grosse Überraschung an den Festivals der letzten Saison: In Moers, Saalfelden, Willisau, Münster, Schaffhausen zählten die Konzerte der Bands zu den Festivalhöhepunkten. «Unglaublich, wie sich Genre-Idiome aus Blues, Rock und Jazzstilen im kontrollierten Gestus der Neuen Musik untereinander paaren,»
hält der Journalist Marcus Maida nach dem Moers Festival fest. «Alles schwingt und läuft in Hochspannung ineinader und ergibt doch EIN sinnvolles organische Ganzes, das zur Begeisterung übergenug Anlass gibt.»
Und der Schriftsteller Peter Weber schreibt über BIG ZOOM: «Niggli rhythmisiert die Tonfolgen, lagert sie seinem Schlagwerk vor, spielt dirigierend hinter den Bläsern, dem Bass und der Gitarre, steuert mit Finesse, mit Druck und Wut. Es entsteht Musik, die sich aus sich selber schält, durch sich hindurch läuft, sich laufend transformiert, aus sich heraus wächst, Höhe gewinnt, Brücken übers ganze zwanzigste Jahrhundert spannt.»
Die beiden neuen CDs halten Konzertausschnitte dieser zukunftsweisenden Band fest: Auf «Rough Ride»
(Intakt CD 082) ist ZOOM im Orignialtrio mit dem Posaunisten Nils Wogram und Philipp Schaufelberger zu hören (Aufgenommen in Saalfelden und Schaffhausen). Auf «Big Ball» (Intakt CD 083) stossen der Klarinettist
Claudio Puntin und der Bassist Peter Herbert zur Kerngruppe (Aufgenommen am Jazzfestival Willisau und Jazzclub Moods). Die beiden CDs «Rough Ride» und «Big Balls» dokumentieren grosse Momente aktueller Jazzmusik und zeigen die künstlerische Stimmungslage von heute, quasi die musikalische Gegenwartschemie.
Luca