FRED FRITH - CARLA KIHLSTEDT - STEVIE WISHART
THE COMPASS, LOG AND LEAD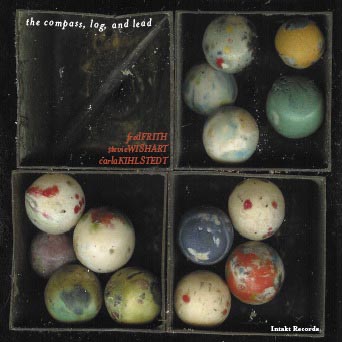 Fred Frith: acoustic guitar, lowry organ, violin
Carla Kihlstedt: violin, nyckelharpa
Stevie Wishart: hurdy-gurdy, electronics, violin
Recorded October 2003 in Oakland, USA
Mastering and final edit: 2005, Oakland, USA
Cover Art: Carla Kihlstedt, Design: Fabrizio Gilardino
Liner Notes: Fred Frith
Photo: Francesca Pfeffer
Intakt CD 103 / 2006
MAILORDER-PRICE:
Schweiz: 30 SFr. plus 3 SFr. Porto
Deutschland/Österreich: 18 Euro plus 2.50 Euro Porto/Versand
International: VISA / MASTER: 30 SFr. plus 4 SFr. Postage
Order adress: Intakt Records, Postfach 468, 8024 Zürich, Fax: 0041-1-383 82 33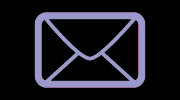 Please click here to order
The CD The Compass, Log and Lead is a feast of string instruments: Fred Frith paints wonderful colors on his acoustic guitar, Carla Kihlstedt (USA) plays violin and the nyckelharpa, a Swedish folk instrument, and Steve Wishart (Australia) has turned the hurdy-gurdy into a modern instrument. For one of Fred Frith's strengths has always been to tie together unbelievably beautiful folk harmonies with free improvisation, something already heard in his band Skeleton Crew or in the soundtrack to the film Step Across the Border. This is also a strength of this trio.
Die CD «The Compass, Log and Lead» ist ein Fest
der Saiteninstrumente: Fred Frith malt wunderbare Klangfarben auf seiner akustischen Gitarre, Carla Kihlstedt (USA) spielt Violine und Nyckelharpa, ein schwedisches Folkinstrument, und Stevie Wishart (Australien) hat die Drehleier zu einem modernen Instrument weiterentwickelt. Gerade die Verknüpfung von unglaublich schönen Folkharmonien und freier Improvisation waren immer eine Stärke von Fred Frith, schon in seiner Band Skeleton Crew oder im Soundtrack zum Film «Step Across the Border». Sie sind auch eine Stärke dieses Trios.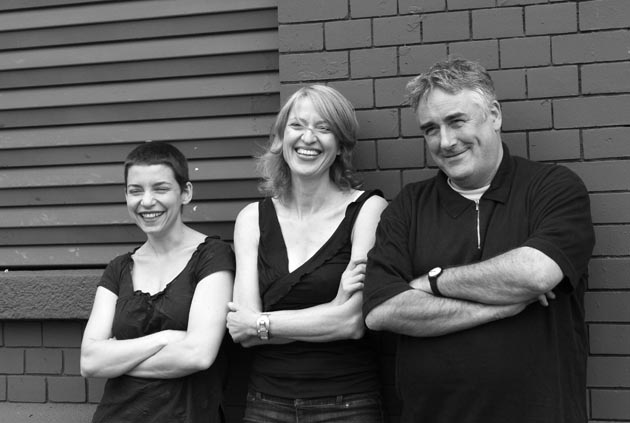 Carla Kihlstedt, Stevie Wishard, Fred Frith. Foto: Francesca Pfeffer, Rote Fabrik Zürich 2005
The music on this record is improvised.
What we bring to each performance is who we are and all that we have learned so far.
None of us is involved exclusively with improvisation.
We each have experience playing composed music our own and other peoples' –
and we're involved in a wide range of other musical activities.
We write songs, use electronics, work in recording
studios, collaborate with artists from other disciplines, compose scores,
and much else besides. For us, improvising is the sum
of our personal musical histories intertwined, a place
where we can meet on equal terms and discover things we never knew,
or hear what we thought we knew in a new light.
It's a conversation, an exchange. There are no rules,
other than to listen well and act accordingly.
Fred Frith, 2005, Liner Notes