Hans Hassler is the true Swiss king of accordion. Born 1945 in Graubünden the musician has kept us in suspense for over 30 years with his zigzag through different scenes: Swiss folk music, jazz, film music, free improvisation or classical interpretation.

Elusive in his stylistics yet unmistakably committed to his own way, Hans Hassler inspires us with his terrifically playful musical sense, with profound humour and startling border crossings. His outside appearance, his waggishness, his virtuosity and his outrageous spectrum from Ländler to jazz make any performance of his a great experience.

«SEHR SCHNEE - SEHR WALD, SEHR» is the first solo album by Hans Hassler, a studio recording that sounds fantastic – it was recorded at Willy Strehler's studio Klangdach. Hans Hassler, the libertine with beard and heart delivers for the first time insight into his musical cosmos.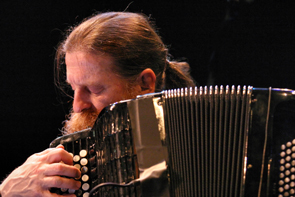 ...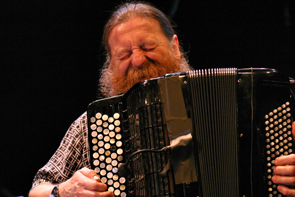 ...

Hans Hassler. Photos: Francesca Pfeffer

Hans Hassler ist der wahre Schweizer König auf dem Akkordeon. Der 1945 in Graubünden geborene Musiker überrascht seit über 30 Jahren mit seinem Gang durch die verschiedensten Szenen: Schweizer Volksmusik, Jazz, Filmmusik, freie Improvisation oder klassische Interpretationen.

Stilistisch nicht fassbar und doch kantig seinem Weg verpflichtet, begeistert Hans Hassler mit grandios verspielter Musikalität, abgründigem Humor und überraschenden Grenzgängen. Seine Erscheinung, sein Schalk, seine Virtuosität und sein unerhörtes Spektrum von Ländler bis Jazz machen seine Performances zum Erlebnis.

Mit «SEHR SCHNEE - SEHR WALD, SEHR» präsentiert Hans Hassler seine erste Solo-Aufnahme: eine phantastisch klingende Studioplatte, aufgenommen im Studio Klangdach von Willy Strehler. Hans Hassler, der Freigeist mit Herz und Bart, gibt erstmals Einblick in seinen musikalischen Kosmos.
HASSER, DER VULKAN, HASSLER, DAS GESAMTKUNSTWERK.
Peter Rüedi, Die Zeit, 3. Juli 2008