Xu Fengxia - Lucas Niggli
Black Lotos
Xu Fengxia Guzheng, Sanxian, Voice
Lucas Niggli Drums, Percussion
Intakt CD 164
Recorded at Loft Cologne, December 9, 2007 and mixed at Ton-Art Studio, February 27, 2008 by Christian Heck.
Mastered February 10, 2009 at Studio Klangdach by Willy Strehler.
Cover art: Gerda Steiner & Jörg Lenzlinger,
Cover design: Jonas Schoder, Liner notes: Steff Rohrbach. Photo: Alberto Placido.
(eng/dt)
Dieses Duo ist weit mehr als ein Duo: Nicht nur, dass Lucas Nigglis Klangkörper aus mehreren Teilen besteht, die alle für sich schon eigenständige Instrumente sind: Xu Fengxia wechselt zwischen ihren beiden Saitenistrumenten Guzheng und Sanxian und setzt parallel dazu auch ihre unglaubliche Stimme ein. So reicht die Spannweite der Musik von solistischen Momenten über das intime Zwiegespräch fast bis zu orchestraler Fülle, vom kurzen Monolog im Zwischenraum bis zum vielbeinigen ekstatischen Ritt über eine unendlich weite Steppe. Chinesische Oper, mongolischer Kehlkopf- und Obertongesang, Heavy Metal, traditionelle chinesische Volksmusik, Noise, zeitgenössische westliche Musik, afrikanische Rhythmen und Jazz: Ethnologie, Musikgeschichte, Ge- schichten, die Spannung des Augenblicks, alles vereint im Instant Composing von Niggli und Xu.


Black Lotos is far more than a duo. Not only consists Lucas Niggli's acoustic layout of many parts, each of which could stand alone as an instrument: Xu Fengxia keeps switching between her two string instruments Guzheng and Sanxian and in parallel she uses her unbelievable voice. Thus the range of this music goes from soloist moments to the intimate dialogue up to almost orchestral abundance, from a short monologue in an interspace to a centipede ecstatic ride over an endlessly vast steppe. Chinese opera, Mongolian throat and overtone singing, Heavy Metal, traditional Chinese folk music, noise, contemporary Western music, African rhythms and jazz: ethnology, music history, tales, the moment of suspense, all combined in the Instant Composing of Niggli and Xu.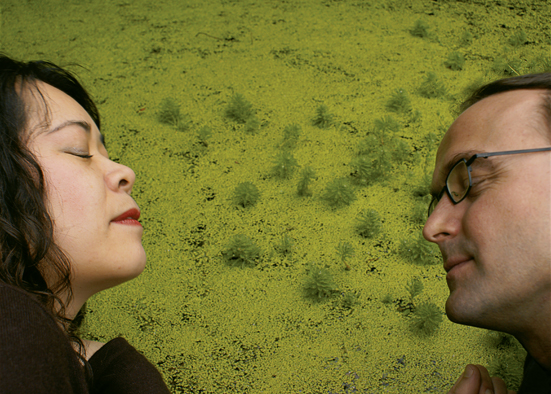 Xu Fengxia, Lucas Niggli, 2009. Photo:Alberto Placido.



PREIS DER DEUTSCHEN SCHALLPLATTENKRITIK, Sommer 2009

All Intakt CDs of Lucas Niggli