Zwei Frauen und zwei Männer bilden das Quartett mit dem Namen Objets Trouvés: alles ausgeprägte IndividualistInnen, die zu den profiliertesten Musikern und Musikerinnen der Schweizer Szene gehören: Gabriela Friedli, von der alle Kompositionen stammen, ist eine Pianospielerin der Extraklasse, deren Spiel raffinierte Wendungen kennt und sich von zarten, träumerischen Elegien zu mächtigem Donnergrollen steigern kann. Saxofonistin Co Streiff spielt mit Ausdruckskraft, Wärme und Feuer. In ihren melodienstarken Soli geht eine Note mit fast logischer Konsequenz aus der anderen hervor. Schlagzeuger Dieter Ulrich bewegt sich elegant und wendig durch die unterschiedlichsten Klangräume. Und Jan Schlegel sorgt nicht nur mit eloquentem Spiel auf der sechssaitigen Bassgitarre für ein sicheres Fundament, sondern bringt durch die Elektronik eine ganz andere Klangwelt ins sonst rein akustische Geschehen ein.
Seit 1999 gibt es die Formation, die über die Jahre ihr Konzept mehr und mehr verfeinert hat. Nun liegt die mit Fresh Juice die dritte Platte vor.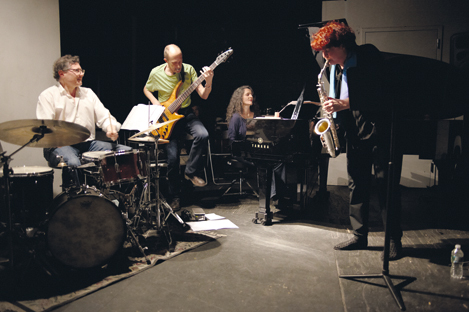 Dieter Ulrich, Jan Schlegel, Gabriela Friedli, Co Streiff. The Stone, NYC, March 2012. Photo: Manuel Wagner
Two women and two men form this quartet – all distinctive individualists, ranking among the most distinguished musicians on the Swiss scene. Gabriela Friedli is the top-class pianist who penned all these compositions. Her playing shows a mastery of ingenious twists and turns, journeying from delicate, dreamy elegies to powerful rolling thunder. Saxophonist Co Streiff plays with panache, warmth and spirit. In her strongly melodic solos one note evolves from another with an almost logical consistency. Percussionist Dieter Ulrich moves with elegance and agility through a kaleidoscope of sound spaces. Jan Schlegel provides a solid foundation with his eloquence on the six string bass guitar, but he also imports into the otherwise purely acoustic proceedings an entirely different world of electronic sounds. Whether he's attaching clips or springs to strings, or foot-stamping on his collection of distortion boxes, Schlegel's electronics repeatedly paint different colours on the music, making it sizzle with electric energy.
Founded in 1999, the group has been refining its concept continuously over the years. Fresh Juice is the third CD of Objets Trouvés.