(eg)
Italian Circus Story is the second album by the quintet Pilgrim, led by Zürich tenor-saxophonist Christoph Irniger, to be released on Intakt Records. Equipped with a healthy dose of self-confidence and a lot of adventurousness, the five-piece band has set out on a musical road trip. The tracks on Italian Circus Story are infused with a leisurely, Mediterranean flair. The compositions leave lots of room for spontaneity and improvisation, in which the line-up, with its diverse subdivisions really comes into its own. Some pieces are precisely composed, others just sketchily outlined. "For Christoph Irniger finished musical notes are no more than a heading, the subject of an unwritten story or a door leading to another free musical space," writes jazz critic Franz X Zipperer. No matter which musician takes up a subject, each tells the story differently. And so it is as if we hear the tracks on the CD in their pure form, as snapshots, unmediated like a concert. Their music is a wonderful example of how sometimes the whole world is more than the sum of its parts.
Formed in 2009, the band has changed its line-up over the years, and become one of the most exciting ensembles in young European Jazz. The five musicians come from different parts of Switzerland. They also play in various other groups, throughout the world, and already in their short careers they have had the opportunity to play with and be taught by jazz greats such as Dave Douglas, Nasheet Waits, Dave Liebman and Joey Baron.
"Christoph Irniger is in top form on the current album. People who know about jazz say he one of them most promising musicians in contemporary Swiss jazz at the moment." (Rolf Thomas)
(dt)
Das Quintett Pilgrim, um den Züricher Tenor-Saxophonisten Christoph Irniger, stellt mit "Italian Circus Story" sein zweites Album vor. Ausgerüstet mit einer gesunden Portion Selbstbewusstsein und jeder Menge Abenteuergeist, begibt sich die Fünferbande auf eine musikalische Reise. Die Songs des Albums "Italien Circus Story" sind von einem lässigen, mediterranen Flair durchweht. Die Kompositionen lassen viel Platz für Spontanität und Improvisation, wobei der Klangkörper mit seinen vielseitigen Untergruppierungen voll zum Tragen kommt. Mal sind die Stücke durchkomponiert, mal nur skizzenhaft angerissen. "Fertige Noten sind für Christoph Irniger nichts anderes als eine Überschrift, ein Thema einer möglichen Geschichte oder eine Tür, die in einen weiteren musikalischen Freiraum führt." schreibt der Jazz-Kritiker Franz X. Zipperer. Egal, welcher Musiker ein Thema aufgreift, er wird die Geschichte jeweils anders erzählen. So sind die Stücke auf der CD quasi in ihrer Reinform zu hören, als Momentaufnahme, mit der Unmittelbarkeit eines Konzertes. Ihre Musik ist ein wunderbares Beispiel dafür, dass manchmal das Gesamte weit mehr ist als die Summe seiner Einzelteile.
Die Band, welche seit 2009 besteht, hat sich über die Jahre neu gruppiert und zu einer der aufregendsten Ensembles des jungen europäischen Jazz entwickelt. Die fünf Musiker stammen aus unterschiedlichen Teilen der Schweiz. Sie treten in verschiedenen Gruppen auf der ganzen Welt auf und haben in ihren noch jungen Karrieren Gelegenheit gehabt, mit Jazz-Grössen wie Dave Douglas, Nasheet Waits, Dave Liebman oder Joey Baron zu lernen und zusammenzuspielen.
"Christoph Irniger läuft auf dem aktuellen Album zu ganz großer Form auf. Leute, die über Jazz Bescheid wissen, werden bestätigen, dass er zu den größten Versprechen gehört, die der zeitgenössische Schweizer Jazz im Moment gibt." (Rolf Thomas)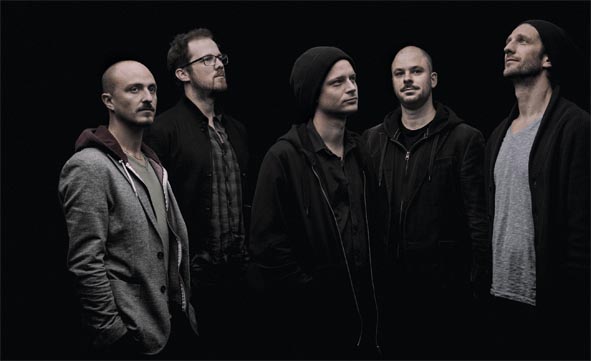 (fr)
Réuni autour du saxophoniste ténor zurichois Christoph Irniger, le quintette « Pilgrim » présente en automne 2014 son deuxième album - « Italian Circus Story » - sur Intakt Records. Les cinq complices nous emmènent dans un itinéraire musical qui dénote un sens consommé de l'aventure et une assurance de tous les instants. Les pièces de l'album « Italian Circus Story » sont traversées par un flair méditerranéen. Les compositions mettent en valeur la spontanéité et le travail d'improvisation des solistes qui construisent un objet phonique abouti jusque dans ses diverses séquences. Certaines d'entre elles sont entièrement écrites, alors que d'autres procèdent d'esquisses. Le critique de jazz Franz X. Zipperer considère que « pour Christoph Irniger, les notes ne figurent que comme en-tête, comme thème d'une histoire à raconter ou comme une porte ouvrant sur un nouvel espace musical à investir. » Quel que soit le musicien qui s'empare d'un thème, il le raconte toujours de façon différente. C'est pourquoi les pièces de ce CD s'écoutent dans la forme originale d'un instantané dont l'immédiateté est égale à celle du concert. La musique de « Pilgrim » est un remarquable exemple du principe qui veut que le tout représente bien plus que la somme de ses différentes parties.
Créé en 2009, le groupe a connu des changements de personnel avant de s'établir comme un des jeunes ensembles qui compte dans le jazz en Europe. Les cinq musiciens sont issus de différentes régions suisses et participent à plusieurs autres groupes présents sur les scènes internationales. Nonobstant leur jeune carrière, ils ont déjà joué et appris avec de grands noms du jazz tels que Dave Douglas, Nasheet Waits, Dave Liebman ou Joey Baron.
"Christoph Irniger se révèle en pleine forme sur son dernier album en date. Celles et ceux qui connaissent l'actualité du jazz confirmeront qu'il appartient aux grandes promesses de la scène suisse du jazz contemporain. » (Rolf Thomas)