Anti-House is perhaps Laubrock's most New York-centric band, comprised of herself on tenor and soprano saxophones, guitarist Mary Halvorson, pianist Kris Davis, bassist John Hébert, and drummer Tom Rainey. Bert Noglik writes in the liner notes of this third release «Roulette of the Cradle»: «Abstraction and reification, accentuation and accumulation, laid-back and pushing. The music of this quintet thrives on strong contrasts and the tension they create. The dynamic spectrum is almost taken to its limits, a lot of things are happening simultaneously.

Ingrid Laubrock calls the shots, always with an ear to the particular expressive potential and sounds of the individual musicians. Through her growing experience as a player this happens with increasing aplomb, which also accounts for the forward leap when compared to the previous recordings with the band – Anti-House (2010) and Anti-House: Strong Place (2012).

There is as much a desire for form as for opening up the playing process towards the unpredictable, the unexpected. It is especially the high quality of the musicians contributing to the unmistakable group sound of Anti-House and, at the same time, the powerful individual styles that don't just meld together but potentiate each other, as well.».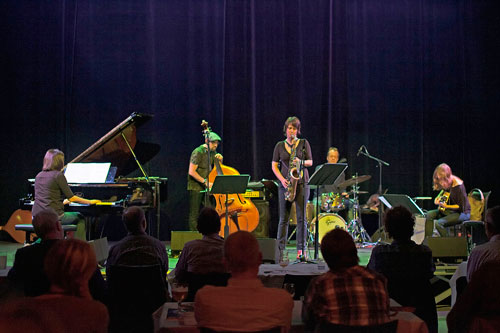 Photo: Cees van de Ven

Roulette of the Cradle» ist die dritte Platte von Ingrid Laubrocks New Yorker Band Anti-House. Eine reife Studio-Einspielung.

Der Journalist Bert Noglik schreibt in den Liner Notes: «Abstraktion und Vergegenständlichung, Punktuelles und Kumulatives, Gelassenes und Drängendes. Die Musik dieses Quintetts lebt von starken Gegensätzen und den Spannungen, die zwischen diesen aufgebaut werden. Das dynamische Spektrum wird weit ausgereizt, und vieles passiert gleichzeitig – Rhythmen, Instrumentalstimmen, die einander ergänzen, voneinander fliehen und sich wieder finden. Ingrid Laubrock gibt die Richtung vor, hat dabei allerdings stets das individuelle Ausdrucks- und Klangpotential der Beteiligten im Ohr.

Durch reichlich Spielerfahrung gelingt das immer souveräner, was den Vorsprung zu den vorangegangenen Alben mit der Band – «Anti-House» (2010) und «Anti-House: Strong Place» (2012) – erklärt.
Der Wille zur Form ist ebenso erkennbar wie die Öffnung des Spielprozesses für das Unkalkulierbare, das Überraschende. Vor allem aber ist es diese Klasse von Spielern, die bei Anti-House einen unverkennbaren Gruppensound konstituieren, wobei sich die starken «Individualstile» in der Interaktion nicht einfach summieren, sondern zu potenzieren vermögen.»