Fred Frith is a world renowned improvisor, composer and multi-instrumentalist who has positioned himself on the contemporary music scene between rock and jazz, improvisation and compostition. Experimental saxophonist and bass clarinetist Hans Koch has a similarly superb reputation. In the past few years Hans has dedicated himself to the quieter side of improvisation.
Both musicians have extended the possibilities of their instruments and stepped into new territories. The pair have known each other since the Nineties. As a guest, Frith took part in the "hardcore chamber music" of trio Koch-Schütz-Studer.
On the new album "You Are Here" they create intriguing sound worlds and fascinating tone structures purely by improvising. It is the music of two mature masters who have worked all their life to develop their own musical language. The duo allows them to make full use of their artistic capability to the great
pleasure of the listener.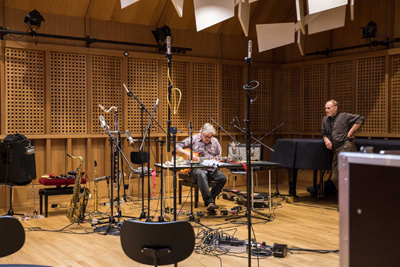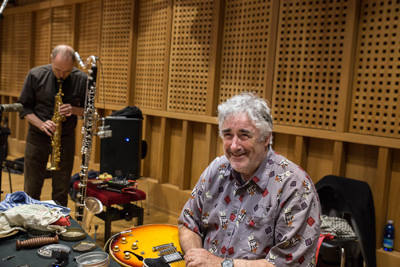 Photos: Daniel Dettwiler

Fred Frith, der Improvisator, Komponist und Multiinstrumentalist, der lachende Aussenseiter zwischen Rock und Jazz, Improvisation und Komposition und Hans Koch, der Saxophonist und Bass-klarinettist, der Experimentator von Hardcore-Chambermusic, der in den letzten Jahren den feinen Tönen und der Innenansicht der Improvisation verschrieben hat.
Frith und Koch kennen sich seit den 90er Jahren. Frith war Gast bei Koch-Schütz-Studer. Frith wie Koch haben ihre Instrumente befreit und neue Klangwelten entdeckt und so ihre Musik ins Weite geführt. Auf "You Are Here" entwickeln die beiden Klangkünstler wundesame Soundwelten und höchst spannungsvolle improvisatorische Geflechte. Es ist die Musik zweier erfahrener, reifer Musiker, die ihr Leben lang an ihrem eigenen Sound ge-schliffen haben.
Im Duo kommt ihre Weltläufigkeit und ihre künstlerischen Erfahrungen zur vollen Geltung – zum grossen Genuss der Hörer und Hörerinnen.