ANGELIKA NIESCIER – CHRISTOPHER TORDINI – TYSHAWN SOREY
THE BERLIN CONCERT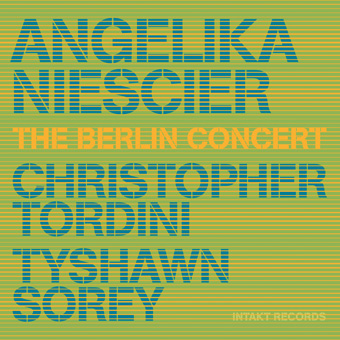 Angelika Niescier: Saxophone
Christopher Tordini: Bass
Tyshawn Sorey: Drums



Soundsamples of this CD / diese CD probehören
(Player opens in new window / Player öffnet sich in neuem Fenster)

1. Kundry 12:35
2. Like Sheep, Looking Up 10:43
3. 5.8 9:03
4. The Surge 7:43

All compositions by Angelika Niescier.
Recorded live at Berliner Festspiele/ Jazzfest Berlin, November 3, 2017, by Rundfunk Berlin-Brandenburg, rbb.
Mixed and mastered by rbb. Radio producer: Ulf Drechsel. Sound supervisor: Wolfgang Hoff.
Recording engineer: Tjark Völker. Digital cut and mastering: Benjamin Ihnow.
Cover art and graphic design: Jonas Schoder. Photo: Camille Blake/Berliner Festspiele. Liner notes: Christian Broecking.
Produced by rbb and Intakt Records, Patrik Landolt. Published by Intakt Records.
Intakt CD 305 / 2018
This magnificent concert took place at the Berlin Jazzfest 2017, where Angelika Niescier was awarded the Albert Mangelsdorff Prize (German Jazz Prize). This concert by the Angelika Niescier NYC Trio with Chris Tordini on bass and Tyshawn Sorey on drums – who was Jazzfest Berlin's 2017 Artist in Residence, and gave several performances in Berlin – proved to be a remarkable stroke of luck for the festival, since Niescier had already worked regularly with both for ten years.
Christian Broecking writes in the liner notes: "This Berlin Concert of the Angelika Niescier Trio makes it clear in a unique way how something organically complete can emerge from all this unceasing curiosity, questioning and research, from pulse, attentiveness and from an acute sense of judgment and knowledge of what is going to work. When Tordini heard the recording of this very special concert, he noticed both the collective attention and the freedom, a combination which only rarely succeeds in such intense conditions. And Tyshawn Sorey agrees: 'None of us either hung around for the others or hurried ahead of them.'"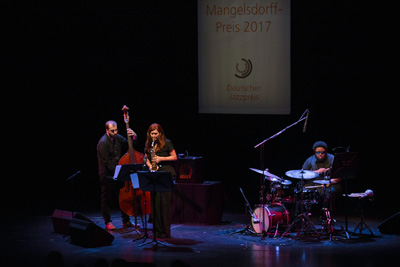 Photo: Camille Blake/Berliner Festspiele

Dieses grandiose Konzert fand im Rahmen des Berliner Jazzfests 2017 statt, wo Angelika Niescier, keine Unbekannte auf dem Festival, der Albert-Mangelsdorff-Preis (Deutscher Jazzpreis) verliehen wurde. Das Konzert war einer der grossen Höhepunkte des Jazzfests: "Im Zusammenspiel mit Sorey und dem Bassisten Christopher Tordini erzeugt Niescier eine kraftvolle Improvisa­tions­landschaft", schrieb die Berliner "Tageszeitung" (taz).
Seit zehn Jahren arbeitet die Kölner Saxophonistin Angelika Niescier regelmässig mit dem Bassisten Christopher Tordini und dem Schlagzeuger Tyshawn Sorey regelmässig zusammen – zwei der gefragtesten Jazzmusiker der aktuellen New Yorker Jazzszene.
"Dieses 'Berlin Concert' des Angelika Niescier Trios macht deutlich, wie permanente Neugierde, Fragen und Forschen, Puls und Achtsamkeit, gemeinsamer Wille zum Experiment und das Wissen um Wirksamkeit zu einem organischen Ganzen führen können", schreibt Christian Broecking in den Linernotes. "Als Tordini die Aufnahme von diesem besonderen Konzert hörte, habe er eine kollektive Aufmerksamkeit und Freiheit gespürt, die in solch einer Intensität nur äusserst selten gelinge. Und Tyshawn Sorey fügt zustimmend hinzu: 'Keiner wartete auf den anderen oder keiner der drei Künstler/innen eilte dem jeweils anderen voraus.'"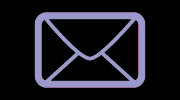 Please click here to order
MAILORDER-PRICE:
Schweiz: 30 SFr. plus 3 SFr. Porto
Deutschland/Österreich: 18 Euro plus 3 Euro Porto/Versand
International: VISA / MASTER: 30 SFr. plus 4 SFr. Postage
Order adress: Intakt Records, Postfach 468, 8024 Zürich, Fax: 0041-1-383 82 33
intakt@intaktrec.ch
Angelika Niescier on Intakt Records
Christopher Tordini on Intakt Records
Tyshawn Sorey on Intakt Records