Lucas Niggli / Sylvie Courvoisier
New CD "Lavin"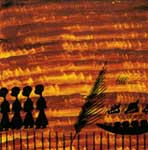 There are definite similarities in the musical background and progression of the two
young artists Sylvie Courvoisie and Lucas Niggli. Both are born in 1968. Both attended
the Conservatory as well as jazz school. Both finally left these institutions behind, choosing
a more personalised apprenticeship with a teacher, who over the years was also to become
a musical partner. Today Lucas Niggli performs in various bands with
percussionist Pierre Favre, and Sylvie Courvoisier continues to work in close cooperation
with Geneva pianist Jacques Demierre. These days, Courvoiser released a duo CD with
the New York violin player Mark Feldman. Finally, though both are at ease with improvisation
and composition, and claim to be influenced by jazz and contemporary music in equal
measure, they refuse to define themselves strictly within either canon, resolutely
opting for «a space apart». Since 1994 they performed together regularly.
In 1997and 1998 they played a serie of concerts of improvised music which featured
saxophonist Urs Leimgruber and British guitarist Fred Frith.:
Es war nicht zufällig, dass Sylvie Courvoisier und Lucas Niggli sich im März 99 ins Studio
begaben, um Improvisationen auf Band aufzunehmen. Das Duo hatte gerade zwei
Tourneewochen hinter sich. Es gab viele spannende Momente, etwa in Lavin, einem kleinen
Dorf im Engadin, wo das Publikum trozt der Lawinengefahr spontan ein Fest veranstaltete.
Der Werdegang von Courvoisier und Niggli weist viele Gemeinsamkeiten auf. Beide haben
gleichzeitig das Konservatorium und die Jazz-Schule besucht und beide haben sich ihrem
persönlichen Lehrmeister und späteren Parnter zugewandt. So tritt Niggli regelmässig
mit dem Schlagzeuger Pierre Favre in verschiedenen Formationen auf während Sylvie
Courvoisier weiterhin eine einge Zusammenarbeit mit dem Genfer Pianisten
Jacques Demierre pflegt. Zur Zeit lebt die Pianistin in New York. Seit 1994 haben Niggli
und Courvoisier immer wieder als Duo gespielt. 1997 erweiterten sie das Duo zum Quartett
mit Fred Frith an der Gitarre und Urs Leimgruber am Saxophon. Ihre erste Duo-CD zeigt
zwei MusikerInnen der jüngeren Generation (beide sind 1968 geboren), die eine
hochentwickelte, eigenständige Musik spielen.
More informations about
Lucas Niggli and Sylvie Courvoisier
Lucas Niggli and Pierre Favre Singing Drums
Luca