Annie Murnighan, The New York City Jazz Record, Feb 2019
Combobulated (Intakt 316; Switzerland) Featuring Tom Rainey on drums, Mary Halvorson on guitar and Ingrid Laubrock on tenor & soprano sax. This is the fourth disc from the Tom Rainey Trio, one of the finest of all of the current Downtown units. The fact that all three members are leaders & composers on their own, each working with several of their own bands as well as loads of collaborations. What makes them incredible it that their music is completely improvised, yet they have developed a group sound, which is unique and recognizable. There are always surprises in store at every set. I caught them a few months back at the end of December, 2018 at Cornelia Street Cafe, which closed soon thereafter, after 40+ years of being a West Village staple?!? At that last set, the took thing completely outside of what one might expect. 
   This disc was recorded live at Firehouse 12 in September of 2017. The sound is extraordinary with some post production wizardry by David Town. Although their individual sound/voices are often recognizable, it is the ever-evolving blend of their sounds with the way things develop. The first piece is the longest and also the title piece. Off they go with Mary piling up those bent licks, repeating certain ones while the tenor sax and drums create heated spinning flow. Ms. Halvorson is the most surprising one here, coming up with unexpected licks, lines, repeating patterns, altering the direction is a number of strange ways. There are a number of intense eruptions which bring things to some wonderful climaxes. It feels like or perhaps sounds like medicine for our troubled times. The creativity and inventiveness has a way of inspiring hope, true democracy in action! Even when things calm down, there is an exquisite sense of mystery which emanates. There way too much amazing music here to adequately describe so I will leave it up to you to reward yourself with this immense treasure. Unbelievably cool!
Bruce Lee Gallanter, DMG Newsletter for Friday, February 8 2019   
Manfred Papst, NZZ am Sonntag, 17. Februar 2019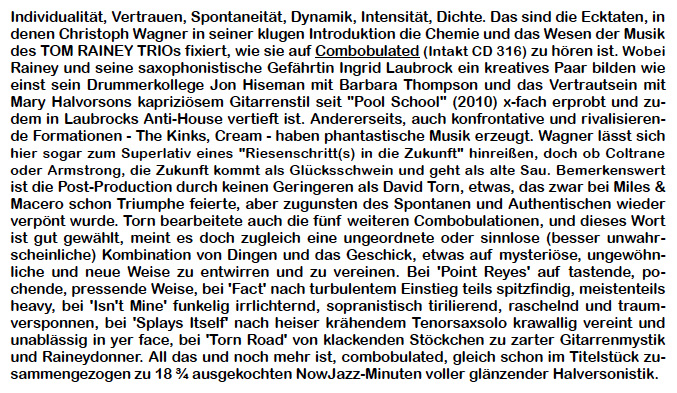 Rigobert Dittmann, Bad Alchemy, Feb 2019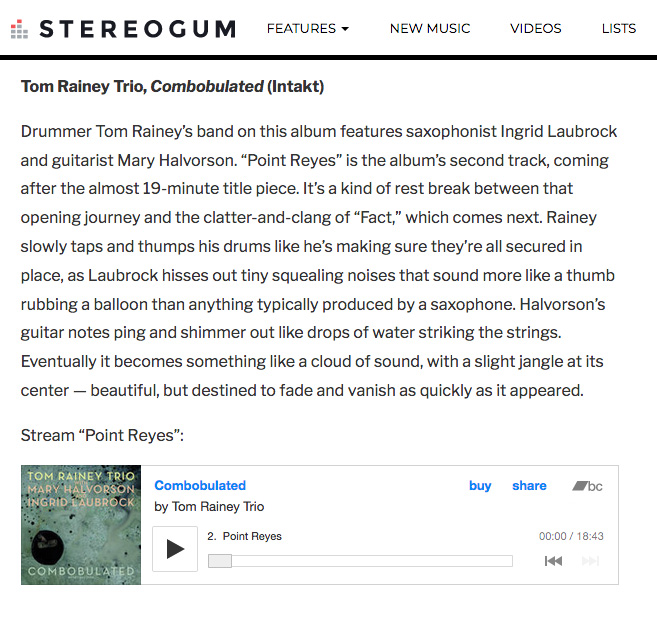 Phil Freeman, Stereogum, Feb 22 2019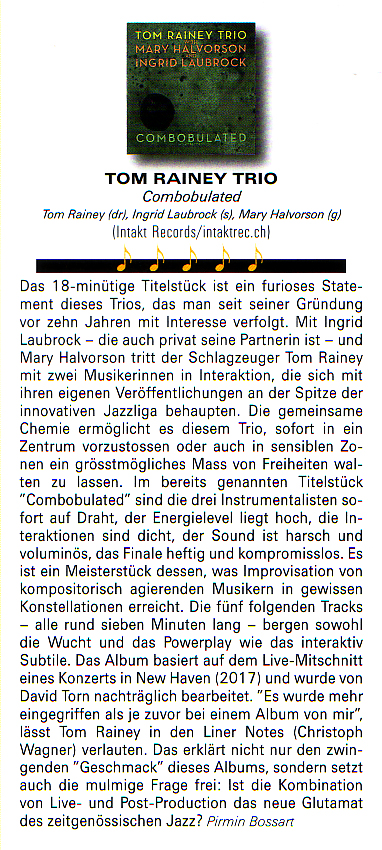 Pirmin Bossart, Jazz'N'More, Mar/Apr 2019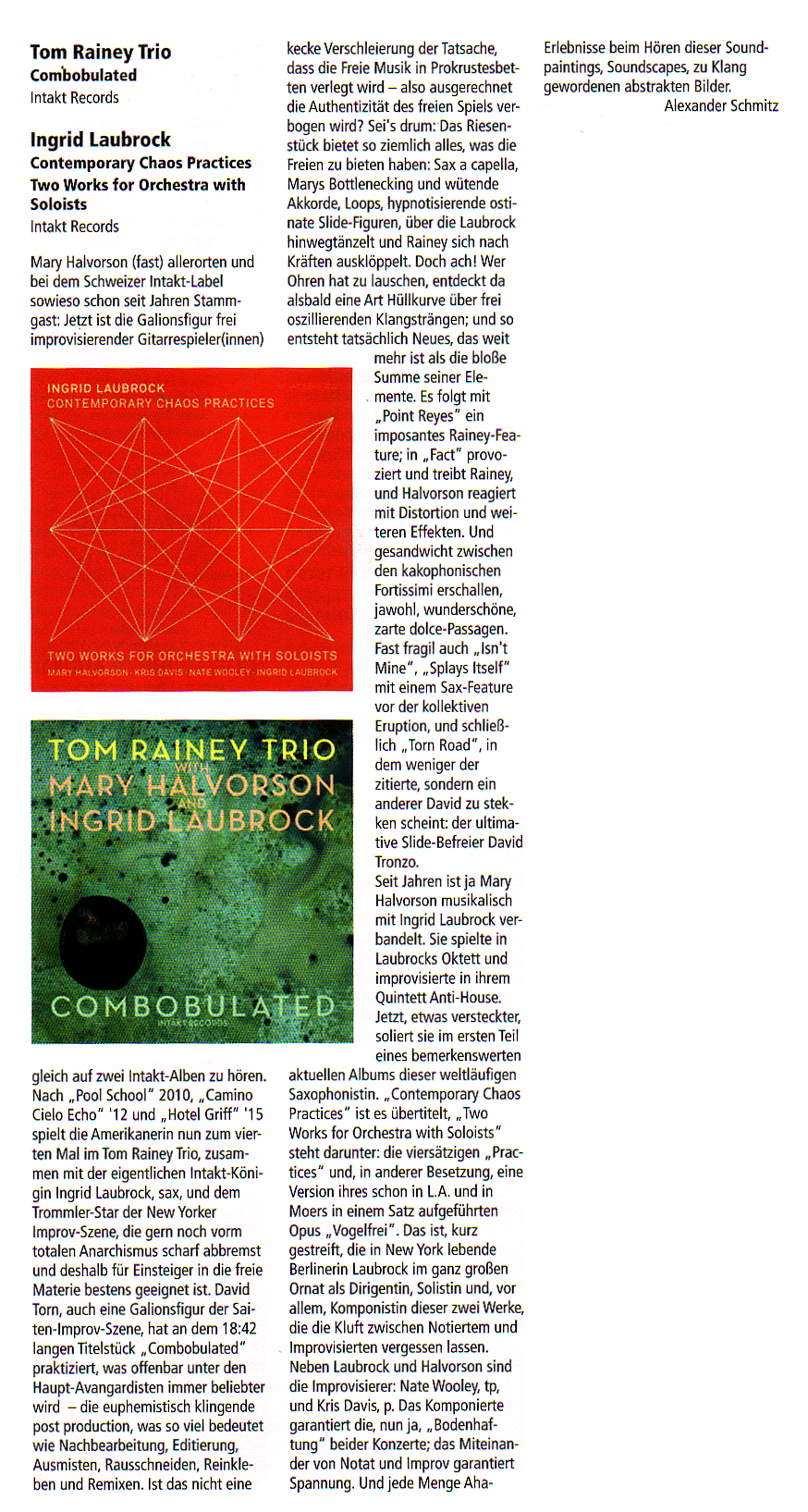 Alexander Schmitz, Jazz Podium, March 2019
Stefan Pieper, Jazzthetik, Mar/Apr 2019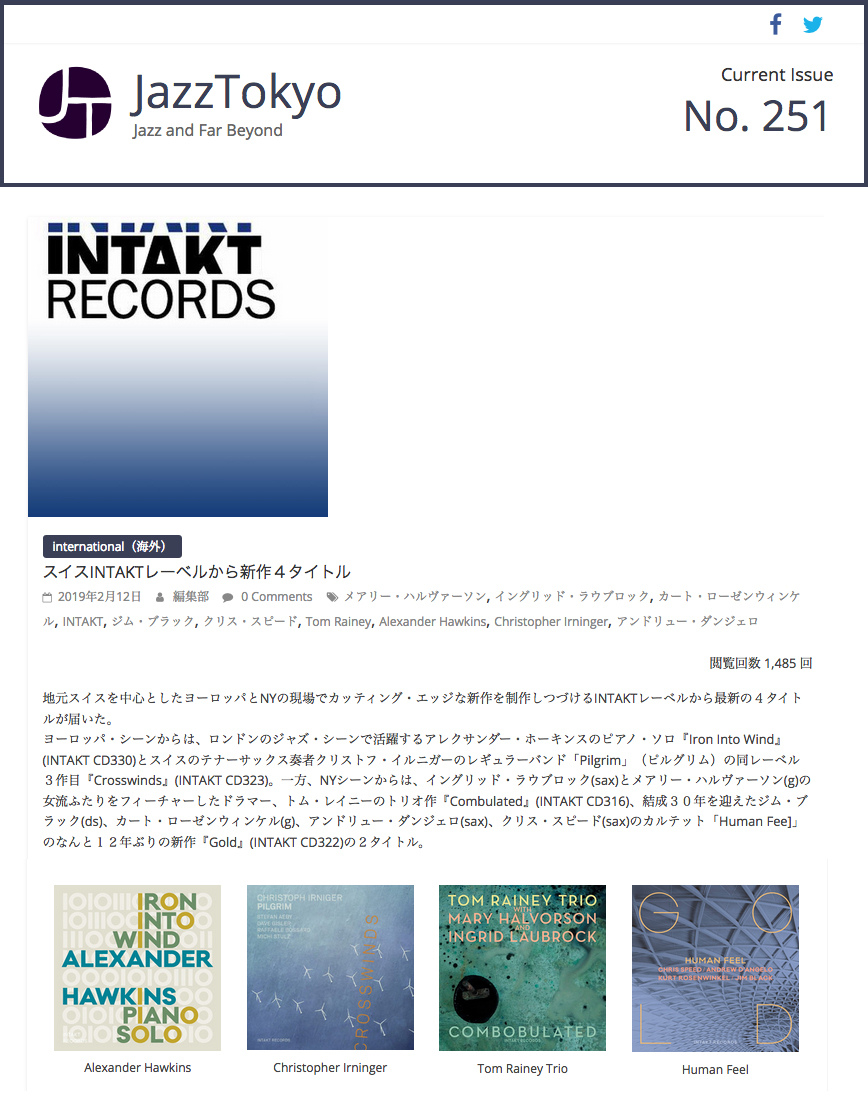 Kimio Oikawa, jazztokyo.org, Mar 2019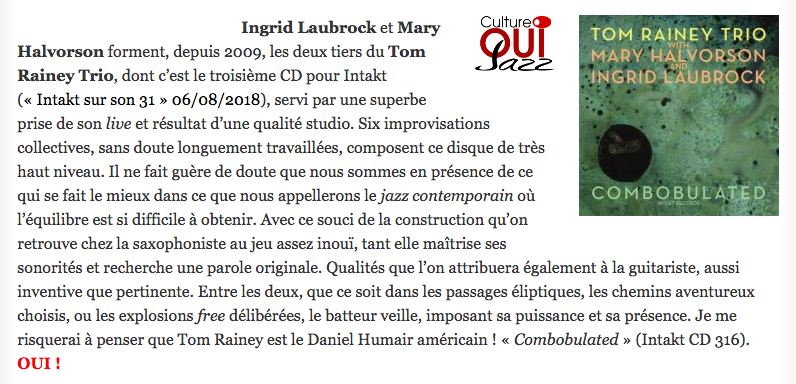 Jean Buzelin, culturejazz.fr, Mar 17 2019

Pirmin Bossart, kulturtipp No.7, Mar 2019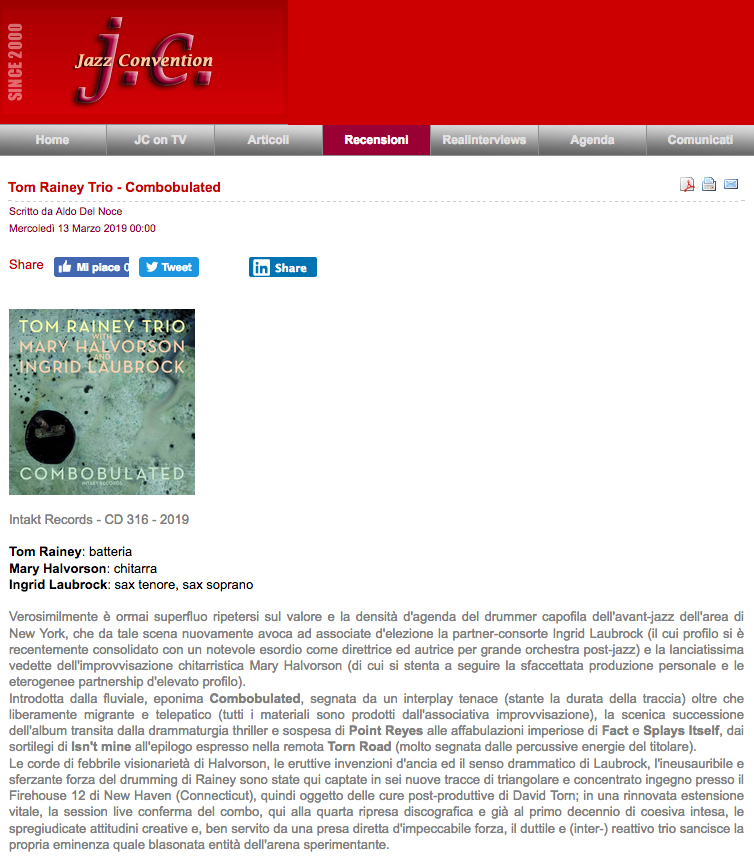 Aldo del Noce, Jazz Convention, Mar 13 2019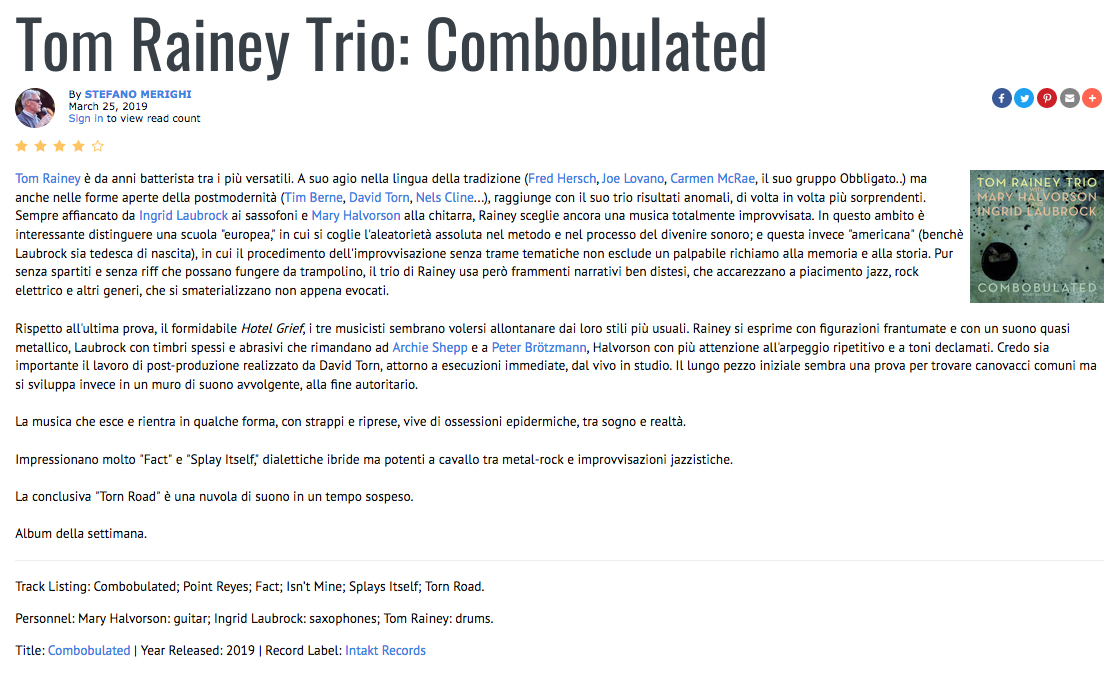 Stefano Merighi, All About Jazz, Mar 25 2019

David Cristol, Les Chocs d'Avril, Jazz Magazine, April 2019

Bill Meyer, Downbeat Magazine, May 2019

Hannes Schweiger, Concerto Magazine, April/May 2019

Selwyn Harris, Jazzwise Magazine, May 2019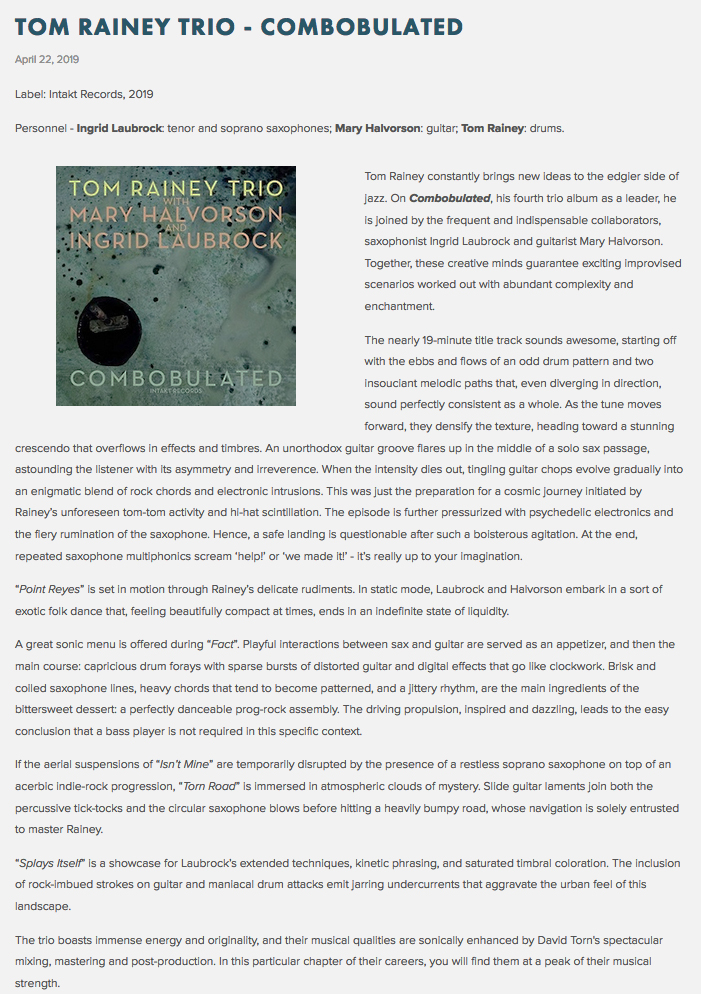 Filipe Freitas, Jazztrail, USA, April 2019

Ken Waxman, Jazzword Blog, May 2 2019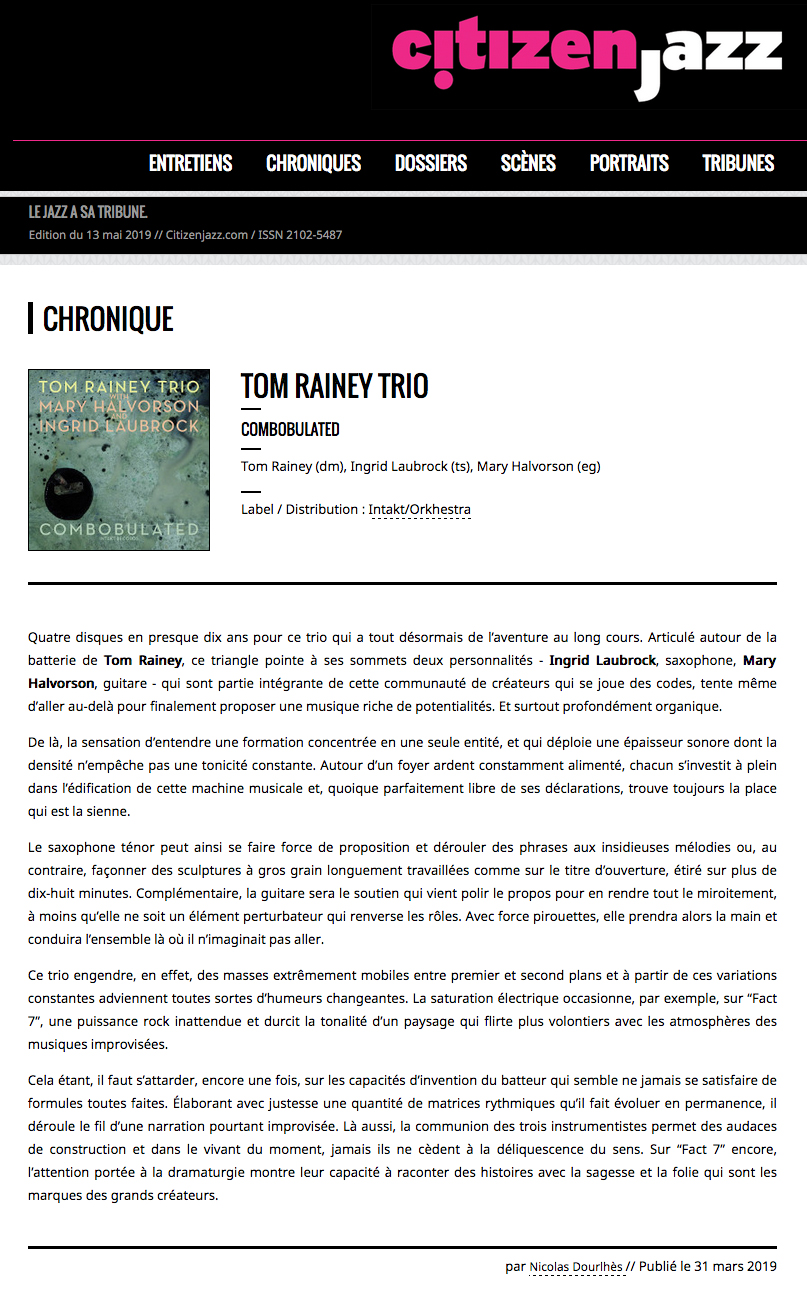 Nicolas Dourlhès, Citzen Jazz, March 31 2019