SAADET TÜRKÖZ
Marmara Sea
Duos with Elliott Sharp, Burhan Öçal, Joëlle Léandre, Martin Schütz


Saadet Türköz: Voice
Elliott Sharp: Guitar
Burhan Öçal: Ud, Saz
Joëlle Léandre: Bass
Martin Schütz: Cello, Electronic


Cover Videostills by Pipilotti Rist
Design: Thomas Rhyner
Liner Notes: Raphael Zehnder

Intakt CD 061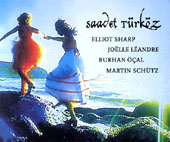 The beauty of the voice and the transparency of the structures
characterize the music of Saadet Türköz. That the Kazakh-Turkish singer who lives in Zurich
is releasing a record with the smallest possible instrumentation is no accident:
the duo, as a transparent form that favors the minute
comprehensibility of its individual elements, suits her.
Saadet Türköz's duos are a filigrane transfer of sounds
as they come to being in their innermost form, in their intuition, as Saadet says.
The duos with Elliott Sharp, Burhan Öçal, Joëlle Léandre and Martin Schütz
offer space for the full tonal development of the voice of Saadet Türköz.


Die klangliche Schönheit der Stimme und die Transparenz der Strukturen
sind Merkmale der Musik von Saadet Türköz.
Die sparsamen Duos der kasachisch-türkischen Sängerin mit Wohnsitz in Zürich
sind eine filigrane Umsetzung von Klängen, die in ihrem Inneren entstehen, in ihrer Intuition,
wie Saadet Türköz sagt. Die Duos mit den aussergewöhnlichen MitmusikerInnen
Elliott Sharp, Burhan Öçal, Joëlle Léandre und Martin Schütz
bieten Raum für die volle klangliche Entfaltung
der Stimme von Saadet Türköz.
Reviews: Saadet Türköz. Marmara Seaa