Aug 2, 2022

In A Strong Place
John Sharpe writes about Ingrid Laubrock's incredible
career in this month's New York City Jazz Record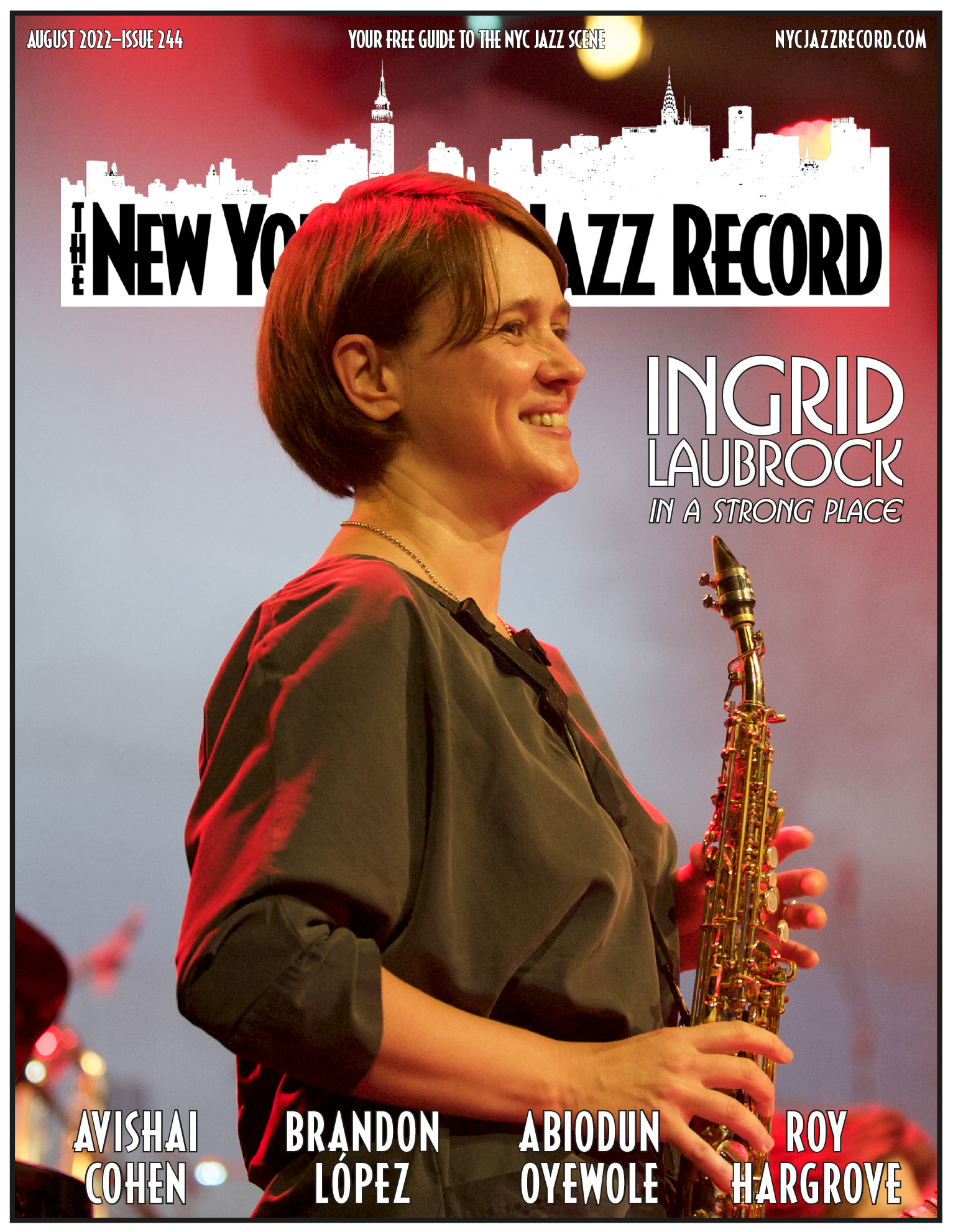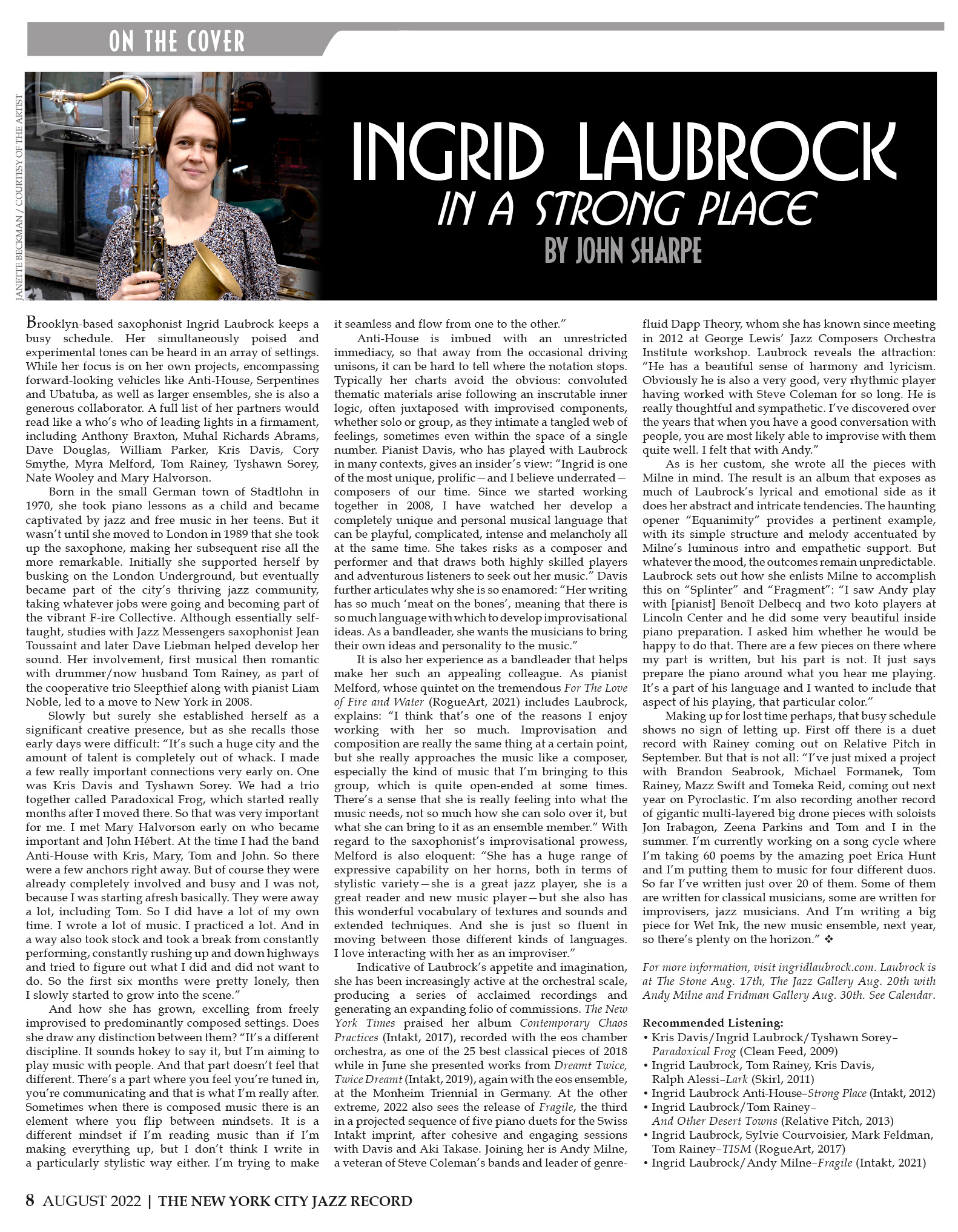 July 30, 2022

Portrait of James Brandon Lewis in this month's Downbeat Magazine
by Bill Meyer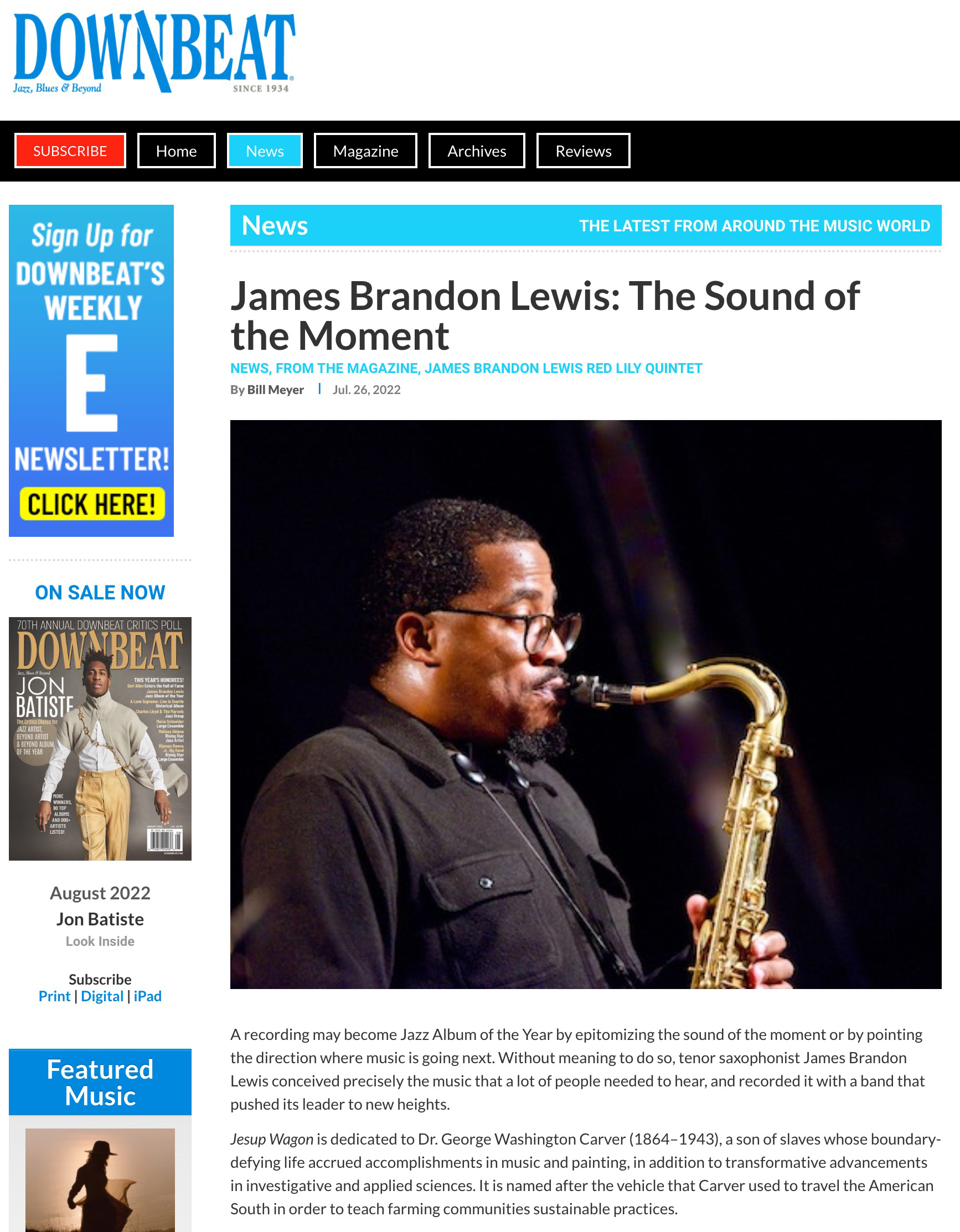 July 13, 2022

Portrait of Mary Halvorson in this month's Jazzwise Magazine
Andy Robson interviews "one of the finest jazz guitarists of her generation"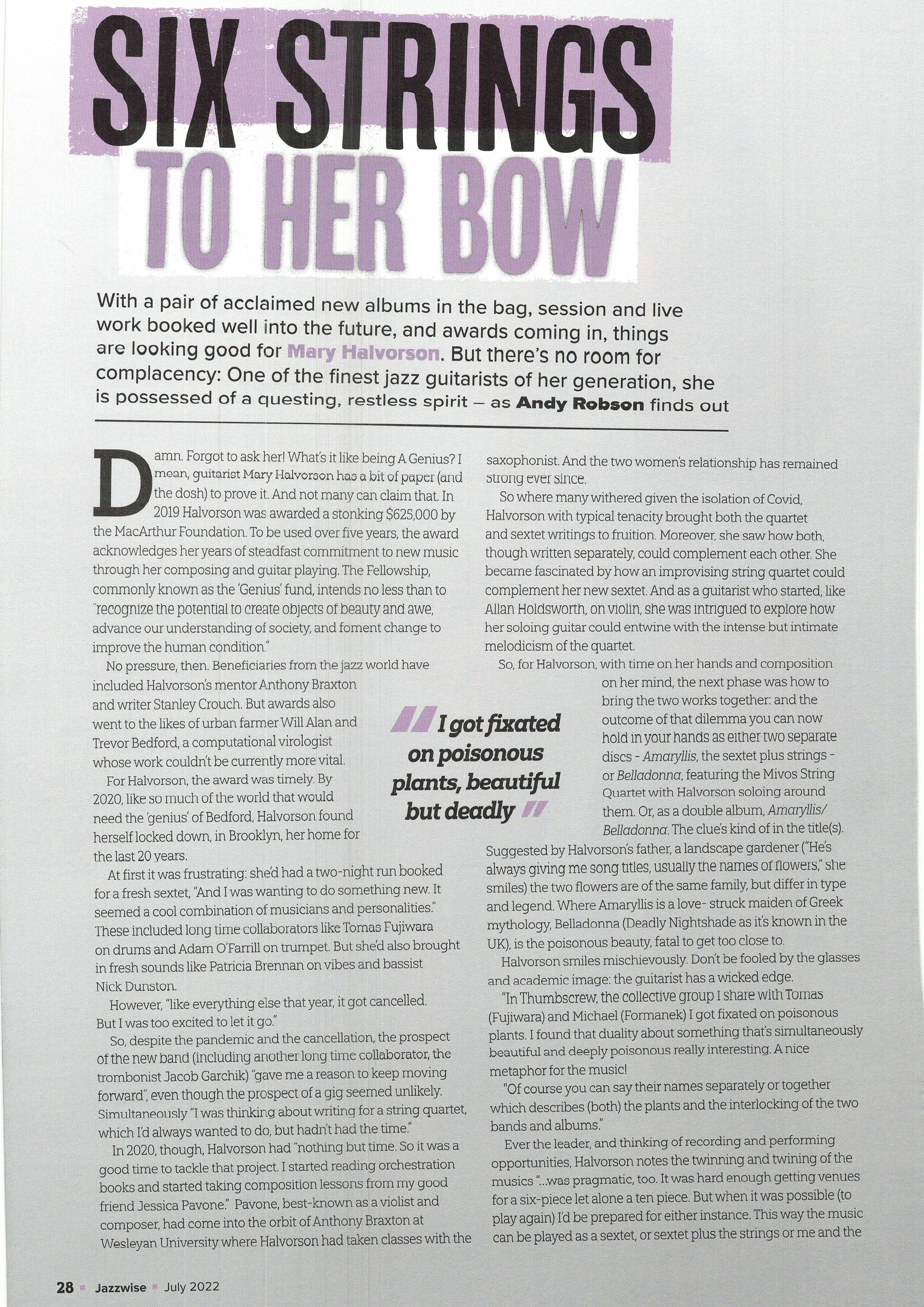 ***
May 3, 2022

Deutscher Jazzpreis 2022
Congratulations to the following Intakt Artists for receiving the Deutscher Jazzpreis 2022!
CHARLOTTE GREVE in der Kategorie KÜNSTLER:IN DES JAHRES

PUNKT.VRT.PLASTIK (KAJA DRAKSLER, CHRISTIAN LILLINGER, PETTER ELDH) in der Kategorie BAND DES JAHRES

SYLVIE COURVOISIER in der Kategorie PIANO/KEYBOARDS INTERNATIONAL

ALY KEÏTA in der Kategorie BESONDERE INSTRUMENTE

ERNST-LUDWIG PETROWSKY in der Kategorie LEBENSWERK
April 18, 2022

James Brandon Lewis is the inaugural recipient of The Balvenie Fellowship
James Brandon Lewis has been named the inaugural recipient of The Balvenie Fellowship in University of the Arts' PhD in Creativity program. The scholarship opportunity is supported by The Balvenie and informed by drummer, DJ, Academy Award-winning director, New York Times bestselling author and founding member of The Roots, Ahmir "Questlove" Thompson.
"University of the Arts seeks students who have achieved proficiency in an intellectual pursuit in any field and, in many cases, this pursuit has not been able to fit easily into existing PhD programs. The work James has already done, alongside the complexity of his studies, is inspiring, and we're thrilled to have The Balvenie and Questlove by our side as he excels in this program," said Dr. Jonathan Fineberg, program director for the PhD in Creativity.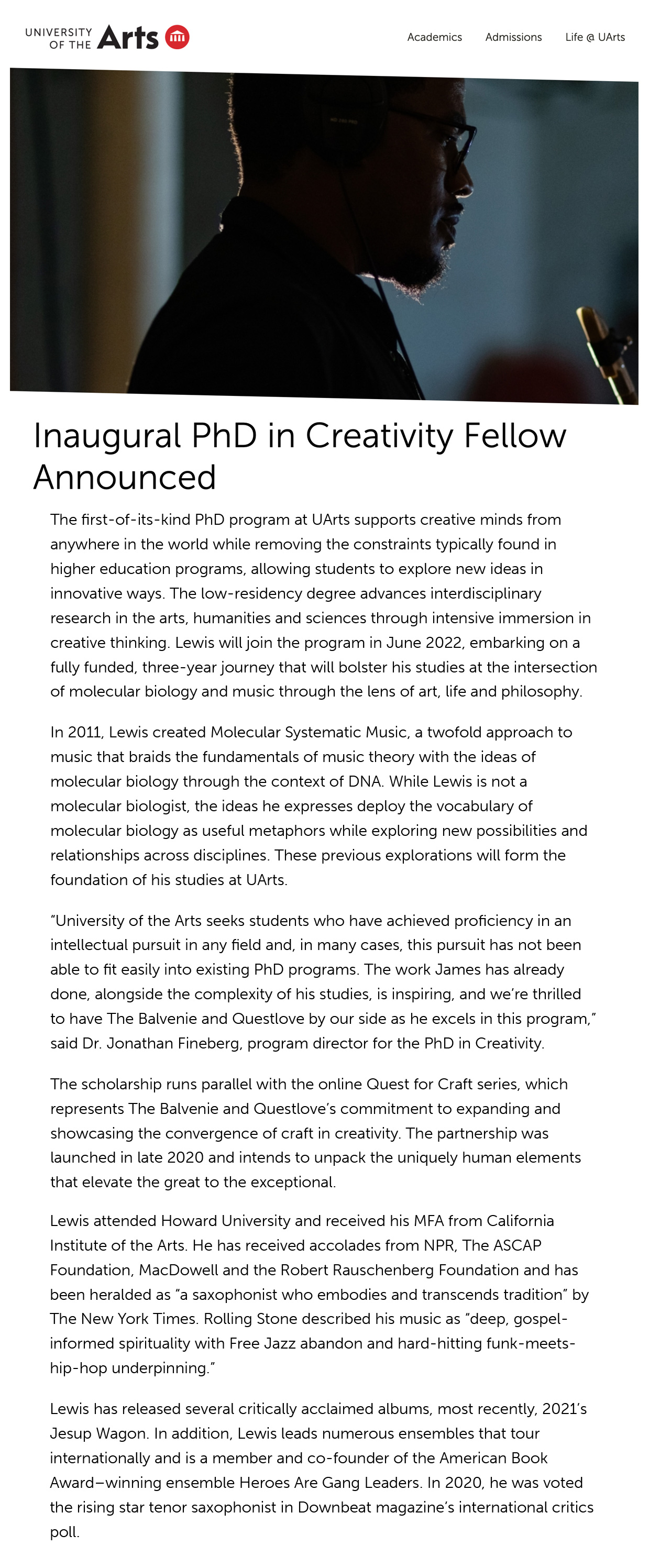 March 23, 2022

James Brandon Lewis and Sonny Rollins
James Brandon Lewis in a freewheeling discussion with the legendary Sonny Rollins talking about his life and his journey in jazz
(watch on youtube)



March 3, 2022

Rootless Cosmopolitan
Troy Collins interviews Ohad Talmor in pointofdeparture.org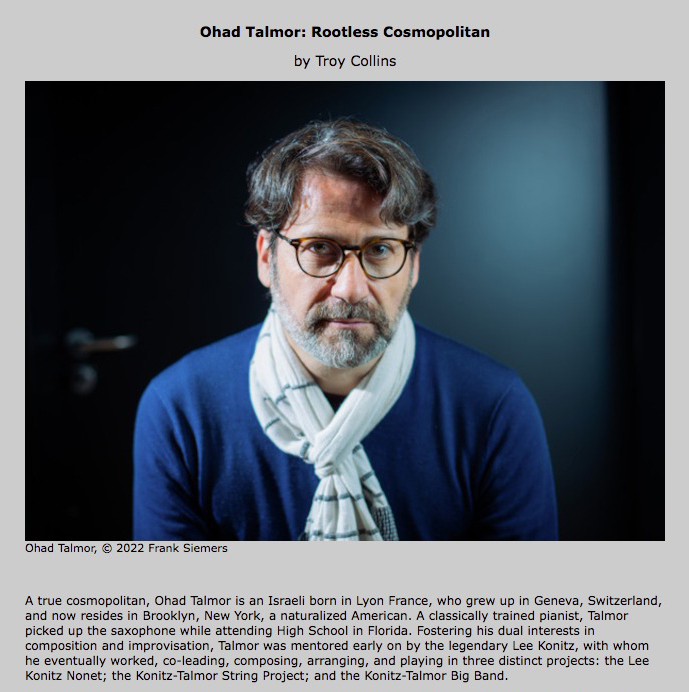 March 1, 2022

Portrait of Intakt Records in Jazz'N'More Magazine
Switzerland's Premier Jazz Magazine highlights the work of Intakt.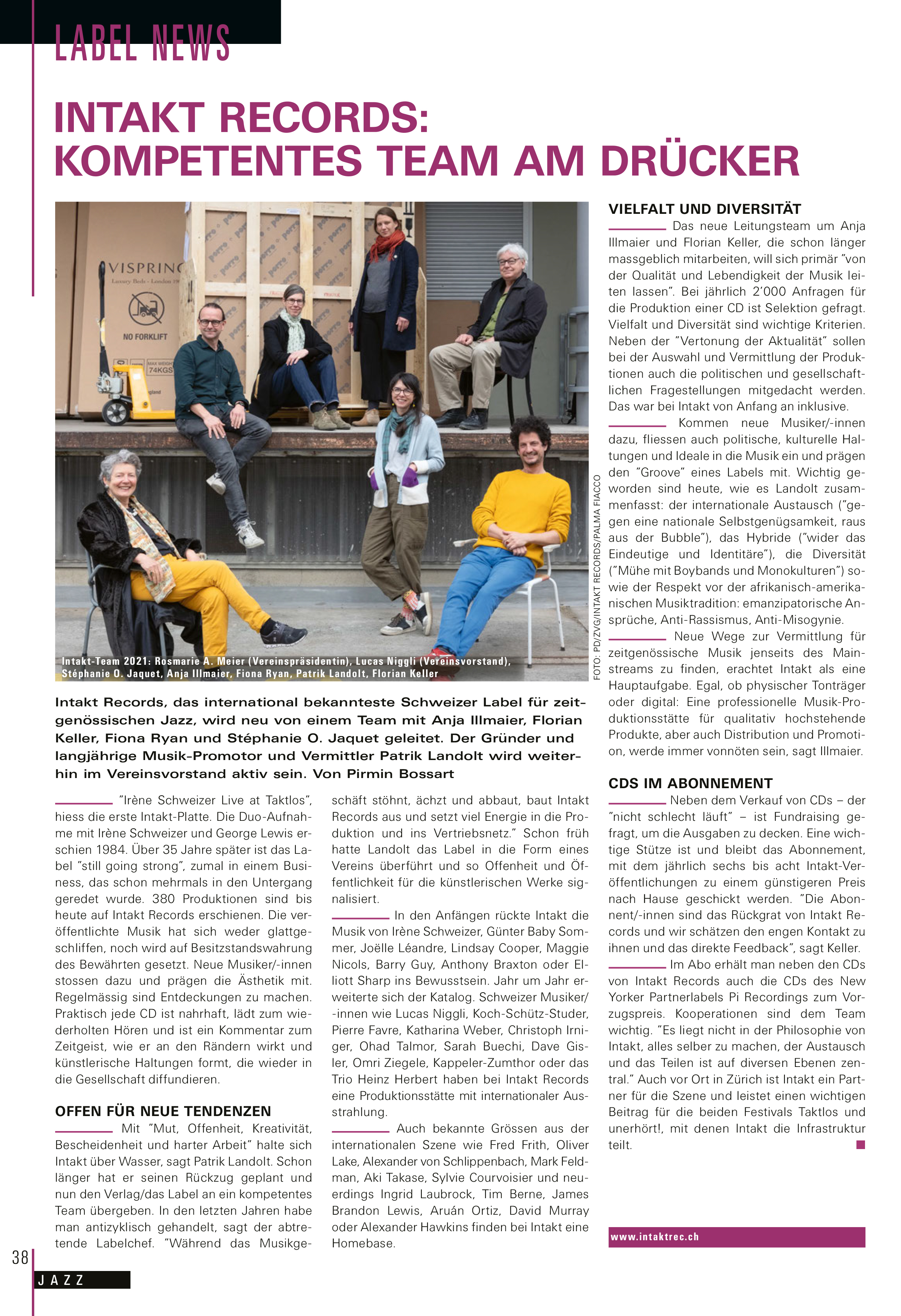 February 25, 2022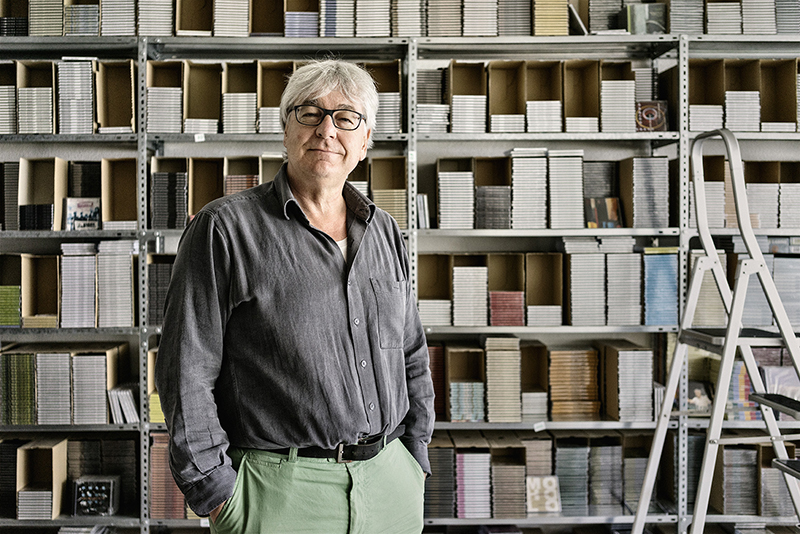 Photo: Manuel Wagner

DE
Im Januar 2022 zog sich der Intakt Records Gründer Patrik Landolt vom Tagesgeschäft zurück.
Nach fast 40 Jahren, in denen er die Geschichte des Jazz dokumentiert hat, übergibt Landolt
Intakt Records an ein innovatives und motiviertes Team.
Siehe zugehörige Presse hier.
EN
In January 2022, Intakt Records founder Patrik Landolt retired from the daily business.
After nearly 40 years documenting jazz history, Landolt is handing over Intakt Records to
an innovative and motivated team.
See associated press here.


* * *



January 25, 2022
Günter Baby Sommer in studio
feat. Antonio, Simon & Robert Lucaciu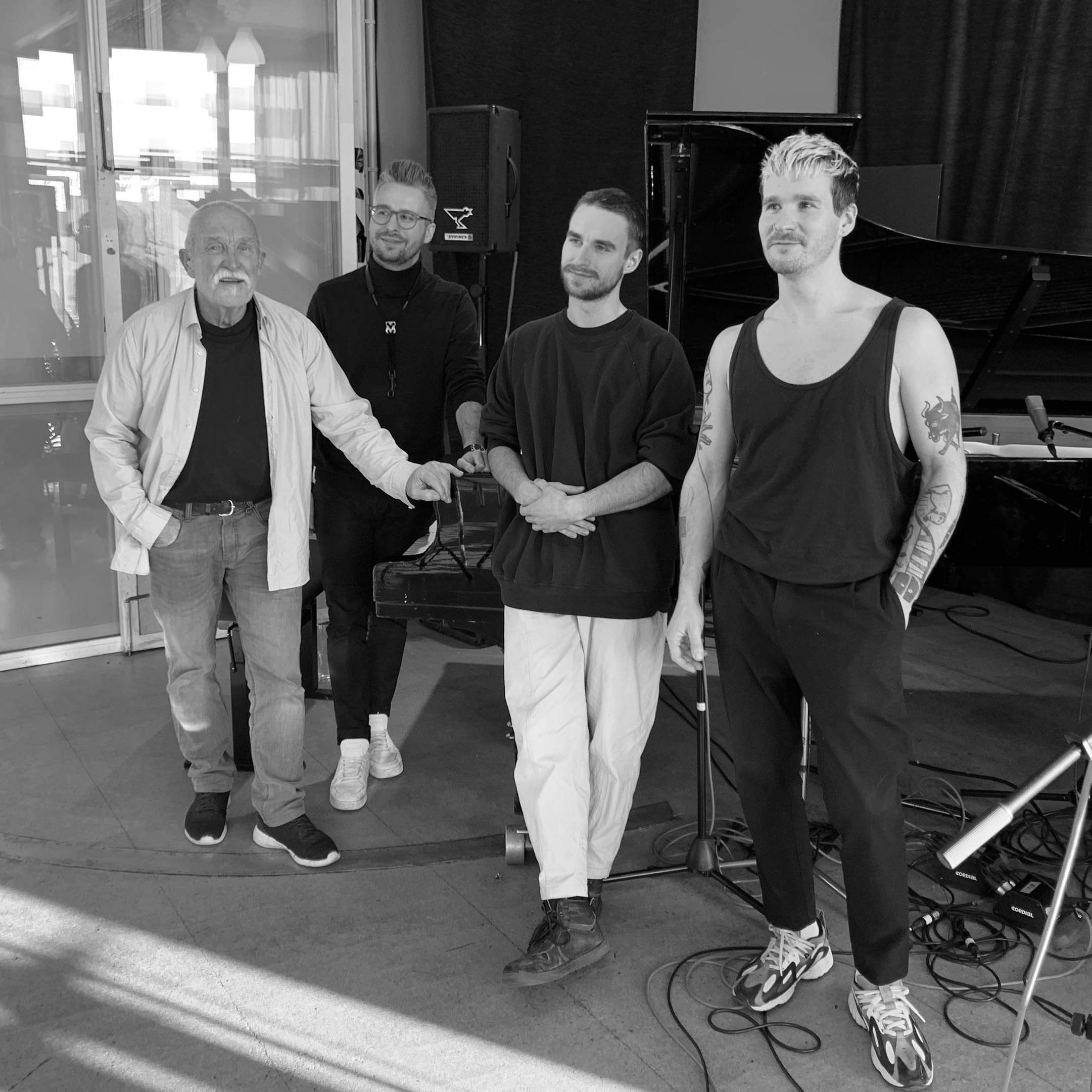 We recently went to Cologne for the recording of a new project with master drummer Günter Baby
Sommer and Antonio, Simon and Robert Lucaciu. Something to look forward to this Fall.
Watch this space!
* * * * *
January 04, 2022
The New York City Jazz Record makes Intakt Records Label of the Year once again!
Featured in Albums of the Year, Live Albums, Large Ensembles and
Musicians of the Year for 2021
Albums of the Year include Punkt.Vrt.Plastik's Somit, Alexander Hawkins' Togetherness Music (Also in best Large Ensemble Releases)
and Irène Schweizer – Hamid Drake Celebration (also in best Live Albums)
Honorable Mentions for New Releases also going to James Brandon Lewis Quartet's Code of Being, Tom Rainey Obbligato's Untucked In Hannover,Michael Formanek's Imperfect Measuresand Mark Feldman's Sounding Point.
* * * * *