November 16, 2021
James Brandon Lewis makes the Cover Story in Italy's Musica Jazz Magazine (with Intakt Artists Tomeika Reid and David Murray also featured)
* * * * *
November 11, 2021
Jazzfestival unerhört! Celebrates 20 Years Uninterrupted!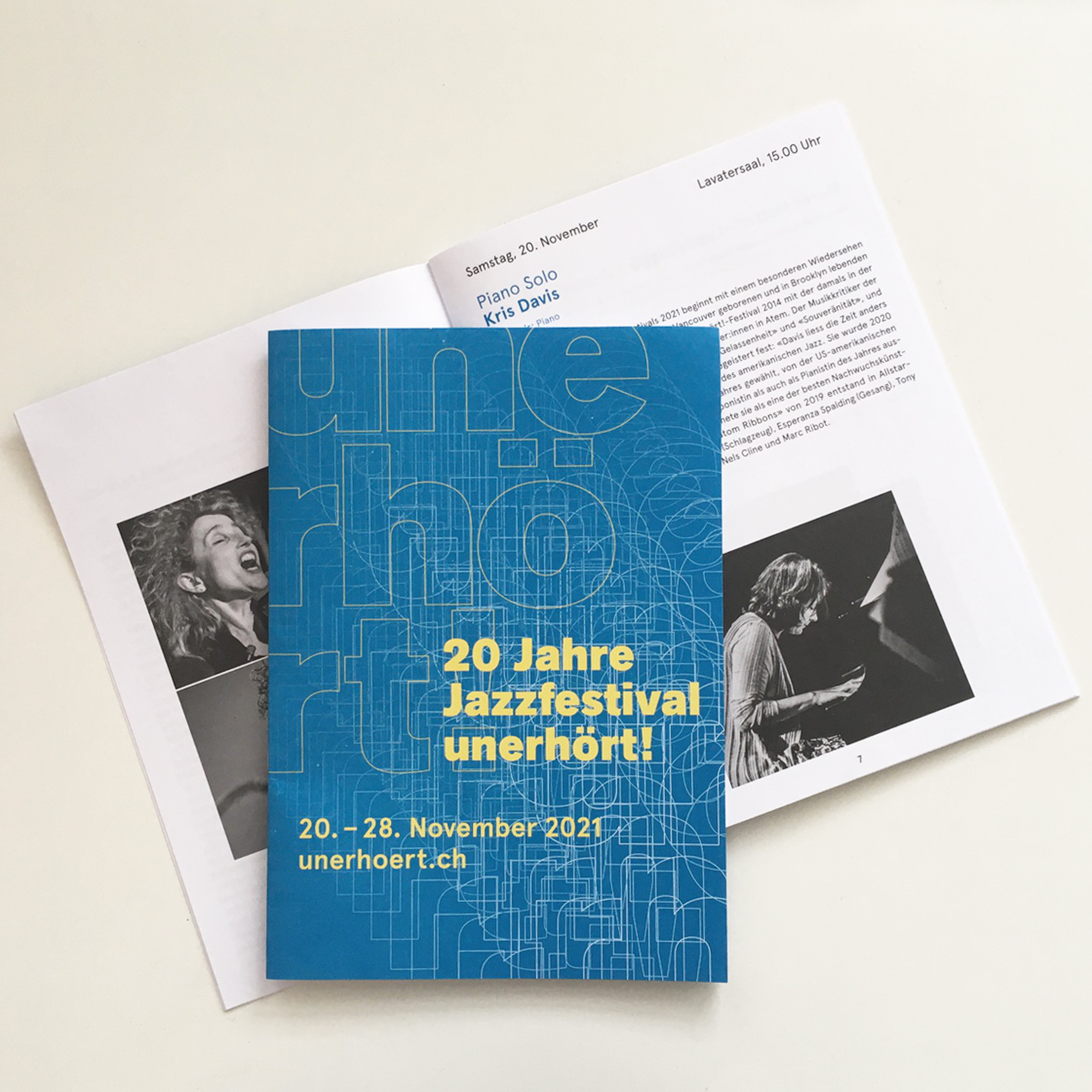 DE
Von Samstag, 20. November, bis Sonntag, 28. November 2021, will das unerhört!-Festival mit einem reichhaltigen und vielfältigen Programm begeistern, unterhalten, erfreuen, anregen, überraschen und vielleicht manchmal auch irritieren.
EN
From Saturday, 20 November, to Sunday, 28 November 2021, the unerhört! festival aims to inspire, entertain, delight, stimulate, surprise and perhaps sometimes even irritate with a rich and diverse programme.

Info and tickets: www.unerhoert.ch
* * * * *
October 22, 2021
Kris Davis wins Doris Duke Foundation Prize!

Photo: Caroline Mardok
EN
"Art is the antidote to crisis," Sam Gill, president and CEO of the Doris Duke Charitable Foundation said while announcing the 2021 Doris Duke Artists which includes our very own Kris Davis. Well done Kris on a much deserved acknowledgement of your decades of dedication to improvisation and creativity.
See article on wbgo.org
DE
"Kunst ist das Gegenmittel zur Krise", sagte Sam Gill, Präsident und CEO der Doris Duke Charitable Foundation, bei der Bekanntgabe der Doris Duke Artists 2021, zu denen auch unser Kris Davis gehört. Herzlichen Glückwunsch, Kris, für die verdiente Anerkennung deines jahrzehntelangen Engagements für Improvisation und Kreativität.
Siehe Artikel auf wbgo.org

* * * * *
August 24, 2021
Intakt Records Label Profile in CultureJazz, FR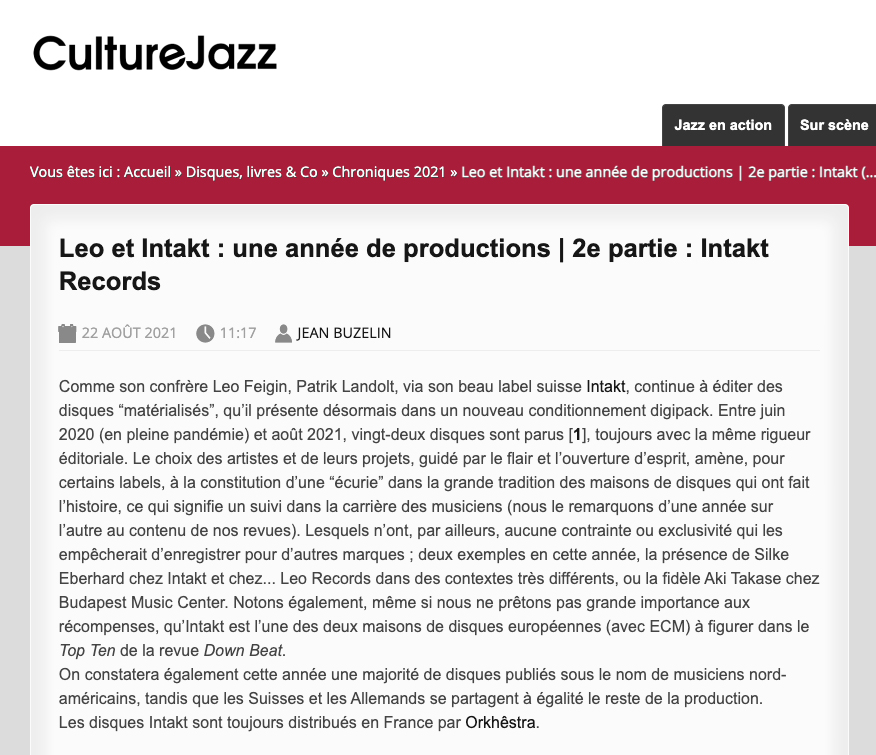 DE
Jean Buzelin hat für den französischen Blog CultureJazz einen ausführlichen Bericht über die Produktion von Intakt während der Pandemie geschrieben. Lesen Sie den vollständigen Artikel hier.
EN
Jean Buzelin has written an extensive review of Intakt's production during the pandemic for the French blog CultureJazz. Read the full article here.
* * * * *
August 10, 2021
What is Molecular Systematic Music?
James Brandon Lewis Explains on Arrowsmith Press...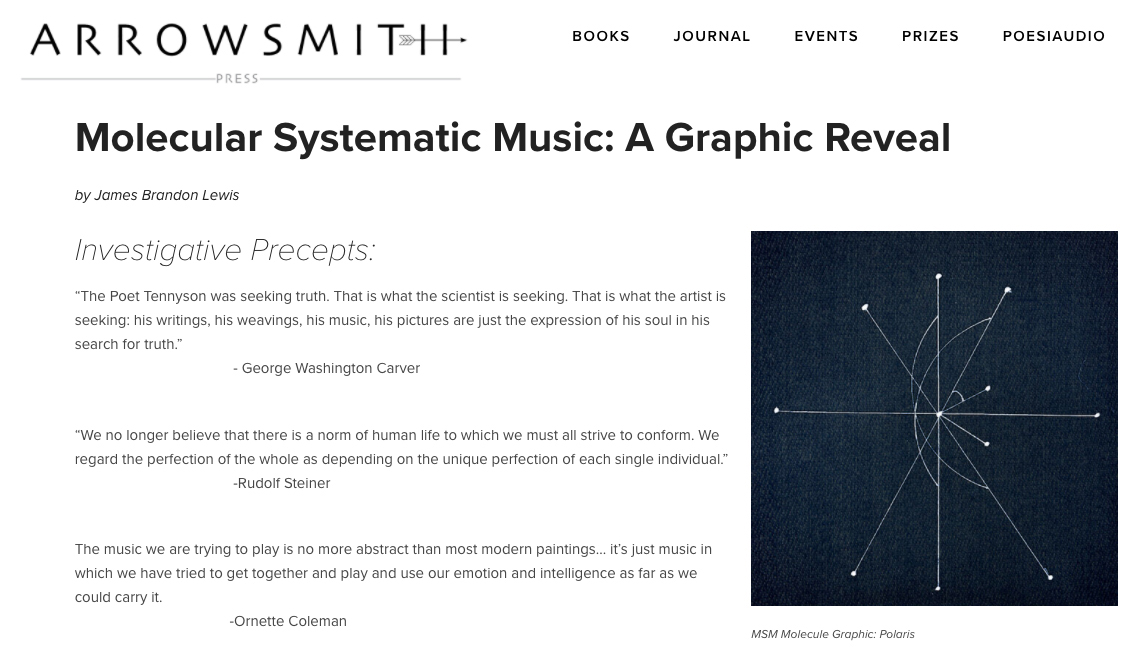 DE
Im Online-Magazine des amerikanischen Literatur-Verlags Arrowsmith schreibt James Brandon Lewis Kolumnen, in denen er über Musik und Kunst reflektiert, sich mit seiner eigenen Musik auseinandersetzt und über "Molecular Systematic Music" nachdenkt. Er schreibt: "Molecular Systematic Music beschreibt einen doppelten Zugang zur Musik, indem es die Grundlagen der Musiktheorie mit den Ideen der Molekularbiologie verknüpft." Und: "Ein Künstler kann seine musikalischen Erfahrungen durch die Linse der DNA untersuchen, um seinen eigenen künstlerischen (genetischen) Code des Seins zu entdecken." Bis heute sind drei Kolumnen erschienen. Lesen Sie die Texte von James Brandon Lewis im Online-Magazine Arrowsmith.
Nach der CD Molecular (Intakt CD 350), die von der Presse hoch gefeiert wurde (CD-reviews), folgt im Oktober die zweite CD des James Brandon Lewis Quartet mit Aruán Ortiz, Brad Jones, Chad Taylor mit dem aussagekräftigen Titel "Code of Being". Die CD wurde im Mai im Anschluss an das legendäre Konzert des James Branden Lewis Quartets an der Special Edition des Zürcher Unerhört-Festivals in den Hardstudios in Winterthur aufgenommen und erscheint Mitte Oktober 2021.
EN
In the online magazine of the American literary publisher Arrowsmith, James Brandon Lewis writes columns in which he reflects on music and art, engages with his own music and reflects on "Molecular Systematic Music". He writes: "Molecular Systematic Music describes a twofold approach to music, braiding together the fundamentals of music theory with the ideas of molecular biology in the context of DNA." And, "Using the Polaris graphic an artist can reshape or reimagine an approach to the standard definition of DNA. They can birth, build, and shape their own molecule resulting in an artistic (genetic) code based on the 4 basics of music (major, minor, augmented, and diminished)."
To date, three columns have been published. Read James Brandon Lewis's writing in the online magazine Arrowsmith.
After the CD Molecular (Intakt CD 350), which was highly acclaimed by the press (CD-reviews), the second CD from the James Brandon Lewis Quartet with Aruán Ortiz, Brad Jones and Chad Taylor follows in October with the title "Code of Being". The CD was recorded at Hardstudios in Winterthur in May this year following a legendary concert with the quartet at the special edition of the Zurich Unerhört Festival. It will be released in mid October 2021.
* * * * *

August 10, 2021
Intakt Records and Intakt musicians rank high on Downbeat Critics Poll!
EN
In the Downbeat International Critics Poll, Intakt Records is the only European label besides ECM to rank in the top ten, which is dominated by American labels such as Blue Note, or Pi Recordings. A large number of Intakt artists are listed as outstanding artists.
EN
Downbeat International Critics Poll INTAKT RECORDS, JAMES BRANDON LEWIS, INGRID LAUBROCK, a.a.
Good news: In den Downbeat International Critics Poll rangiert Intakt Records neben ECM als einziges europäisches Label unter den von amerikanischen Labels wie Blue Note, oder Pi Recordings dominierten Top Ten. Eine Vielzahl von Intakt-KünstlerInnen sind als herausragende KünstlerInnen aufgeführt.
* * * * *
June 6, 2021
Irène Schweizer celebrates her 80th Birthday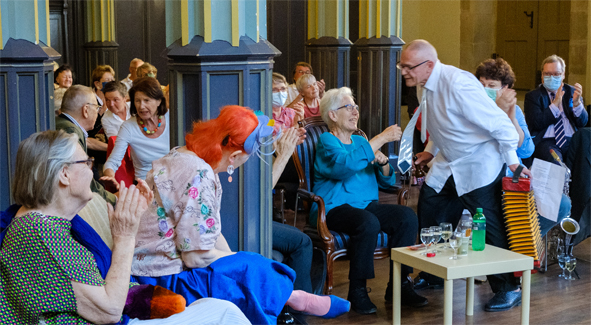 Foto: Palma Fiacco
IRENE SCHWEIZER FEIER ZUM 80. GEBURTSTAG
Freundinnen und Freunde, MusikerInnen, Politikerinnen, Journalisten feiern den 80. Geburtstag von Irène Schweizer.
PRESSETEXT IRÈNE SCHWEIZER.
* * * * *
May 12, 2021
George E. Lewis speaks the truth to Jazz Festival curators on Outernational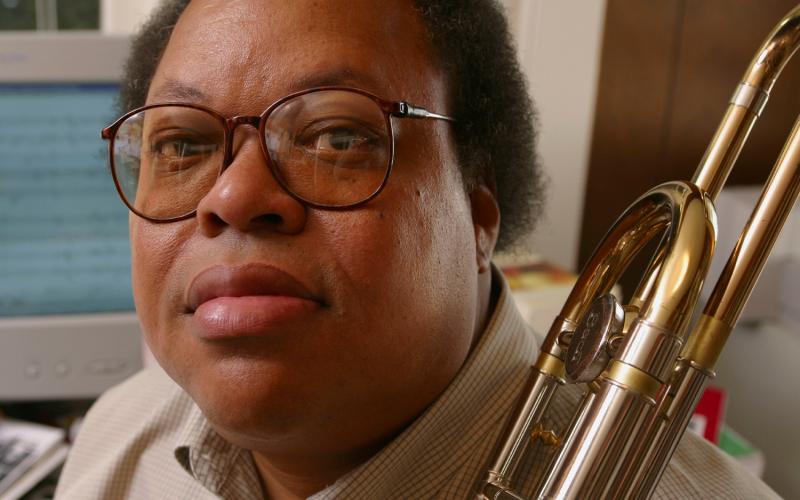 George E. Lewis. Photo: Musikprotokoll ORF
DE
George E. Lewis Acht Schwierige Schritte Zur Dekolonisation Der Neuen Musik
"Acht schwierige Schritte zur Dekolonisation der Neuen Musik" heisst der Titel des Essays des Komponisten und Musikwissenschaftlers George E. Lewis. «Wir wissen, wie Kolonialismus klingt. Was wir jedoch (noch) nicht wissen, ist wie eine dekolonisierte Musiklandschaft aussehen und sich anhören kann", schreibt George Lewis.
Seine Anleitung in acht Schritten ist eine höchst aktuelle und notwenige Anregung für alle FestivalkuratorInnen, Musiklabels, Medien – nicht nur für die Welt der Neuen Musik zu empfehlen, sondern auch für die AkteurInnen des europäischen Jazz. Der Beitrag ist in englisch, französisch und deutsch erschienen bei "Outernational" .
Von George E. Lewis sind vier Alben bei Intakt Records präsent: sein Projekt Sequel (Intakt CD 111), mit dem Globe Unity Orchestra (Intakt 133) sowie mit "Storming of the Winter Palace" (Intakt CD 003) und Irène Schweizer Live at Taktlos (Intakt CD 001).
EN
"New Music Deconolisation in Eight Difficult Steps" is the title of the essay by composer and musicologist George E. Lewis. "we already know what colonialism sounds like." writes George Lewis. His eight-step guide is a highly topical and necessary suggestion for all festival curators, music labels and media - recommended not only for the world of new music, but also for the players in European jazz. The article is published in English, French and German by "Outernational".
There are four albums by George E. Lewis on Intakt Records: his project Sequel (Intakt CD 111), with the Globe Unity Orchestra (Intakt 133) as well as "Storming of the Winter Palace" (Intakt CD 003) and Irène Schweizer Live at Taktlos (Intakt CD 001).
* * * * *

February 20, 2021
Alexander Von Schlippenbach is awarded the
Preis der Deutschen Schallplattenkritik!
Slow Pieces For Aki
Intakt CD 346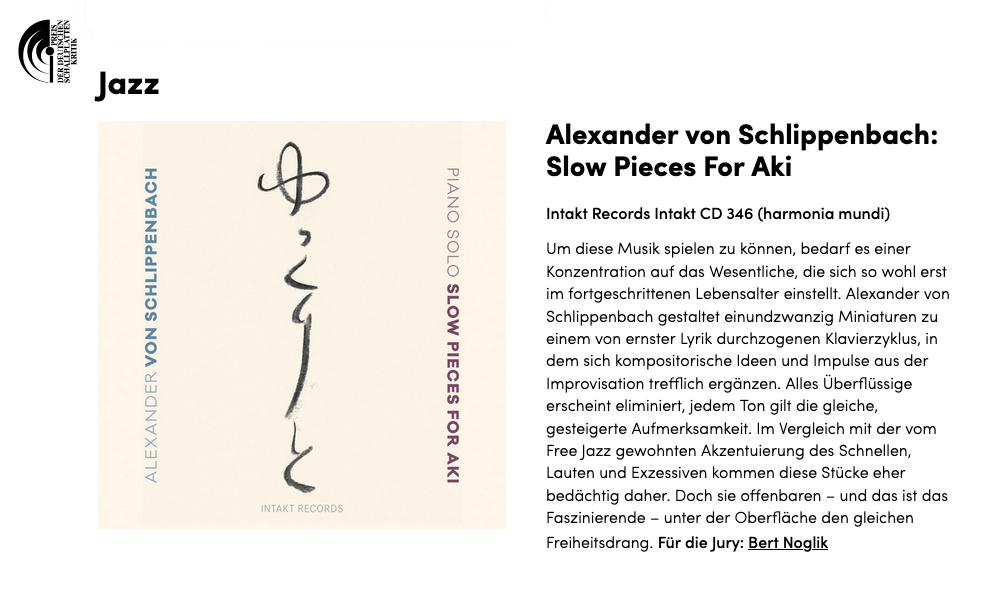 DE
Das Piano-Solo-Album von Alexander von Schlippenbach ist mit dem Preis der deutschen Schallplattenkritik ausgezeichnet worden. Mit einem Platz auf der Bestenliste werden vierteljährlich die besten und interessantesten Neuveröffentlichungen der vorangegangenen drei Monate ausgezeichnet. Bewertungskriterien sind künstlerische Qualität, Repertoirewert, Präsentation und Klangqualität. Der Preis der deutschen Schallplattenkritik ist einer der integren Preise, hinter dem nicht Interessen der Industrie oder des Handels stehen, sondern die Wahl einer Jury unabhängiger Jazzkritiker/innen.
EN
The piano solo album by Alexander von Schlippenbach has been awarded the Preis der deutschen Schallplattenkritik. Every quarter, the best and most interesting new releases of the previous three months are awarded a place on the Best List. Evaluation criteria are artistic quality, repertoire value, presentation and sound quality. The German Record Critics' Award is one of the prizes with integrity, behind which stand not the interests of industry or commerce, but the choice of a jury of independent jazz critics.
Bert Noglk, Preis der deutschen Schallplattenkritik, Februar 2021
* * * * *


March 24, 2020
Intakt Records Label Profile on Bandcamp
"The Intakt Label is providing a supportive home for the Avant-Garde", writes Noah Berlatsky in his portrait about Intakt Records, which is published on Bandcamp.
He features 10 Intakt-CDs.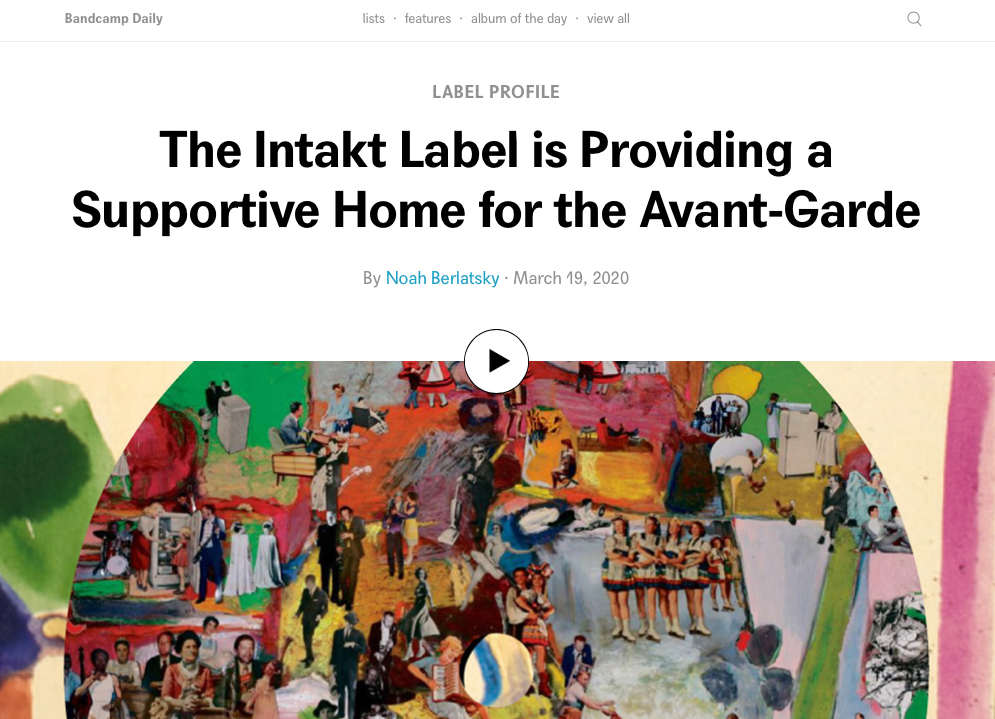 Read full article by Noah Berlatsky on Bandcamp

To the text by Noah Berlatsky: Intakt documentation
BANDCAMP'S SUPPORT
Bandcamp is waiving their revenue share to help artists and labels impacted by the Covid-19 pandemic to continue supporting artists during the pandemic.

Please visit our Bandcamp store and help support independent labels like Intakt Records.
Thank you!
* * * * *