September 21, 2023
GÜNTER BABY SOMMER PROFILED IN Jazz'N'More MAGAZINE

read full article here
***
September 08, 2023
CONRAD BAUER WILL RECEIVE THE ALBERT MANGELSDORFF PRIZE
The prize will be awarded at Jazzfest Berlin 2023
read about the 2023 prize here
see Conny Bauer on Intakt Records
***
August 30, 2023
INTAKT MUSICIANS STONGLY REPRESENTED IN 71st DOWNBEAT CRITICS POLL
The results are in for the prestigious Downbeat Critics Poll.


Intakt Records makes the list of Record Labels of the Year. Mary Halvorson and James Brandon Lewis listed as Artists on the Year; Jazz Albums of the Year includes James Brandon Lewis Quartet's MSM (Intakt CD 389). Other Intakt artists represented include Ingrid Laubrock, David Virelles, Tim Berne, Aurora Nealand, Chris Speed, Michael Formanek, Anna Webber, Matt Mitchell, Andrew Cyrille, Tomeka Reid, Peter Evans, Silke Eberhard, Alex Hawkins and Angelika Niescier.
Congrats to all!!!
read full article here
August 20, 2023
GÜNTER BABY SOMMER PROFILED IN SAX MAGAZINE
An extensive artist portrait ahead of Sommer's birthday extravaganza in Dresden in September
read full article here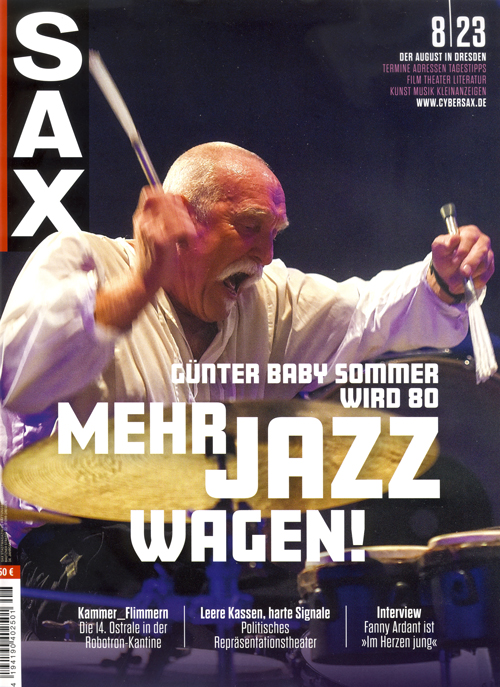 ***
August 08, 2023
CARTA LANDS 4 1/2 STARS IN DOWNBEAT MAGAZINE!
High praise continues to roll in for David Virelles Trio

"Virelles brings his own brand of poise and artful economy to the more common, but ever-malleable context of the classic piano trio format" writes Josef Woodard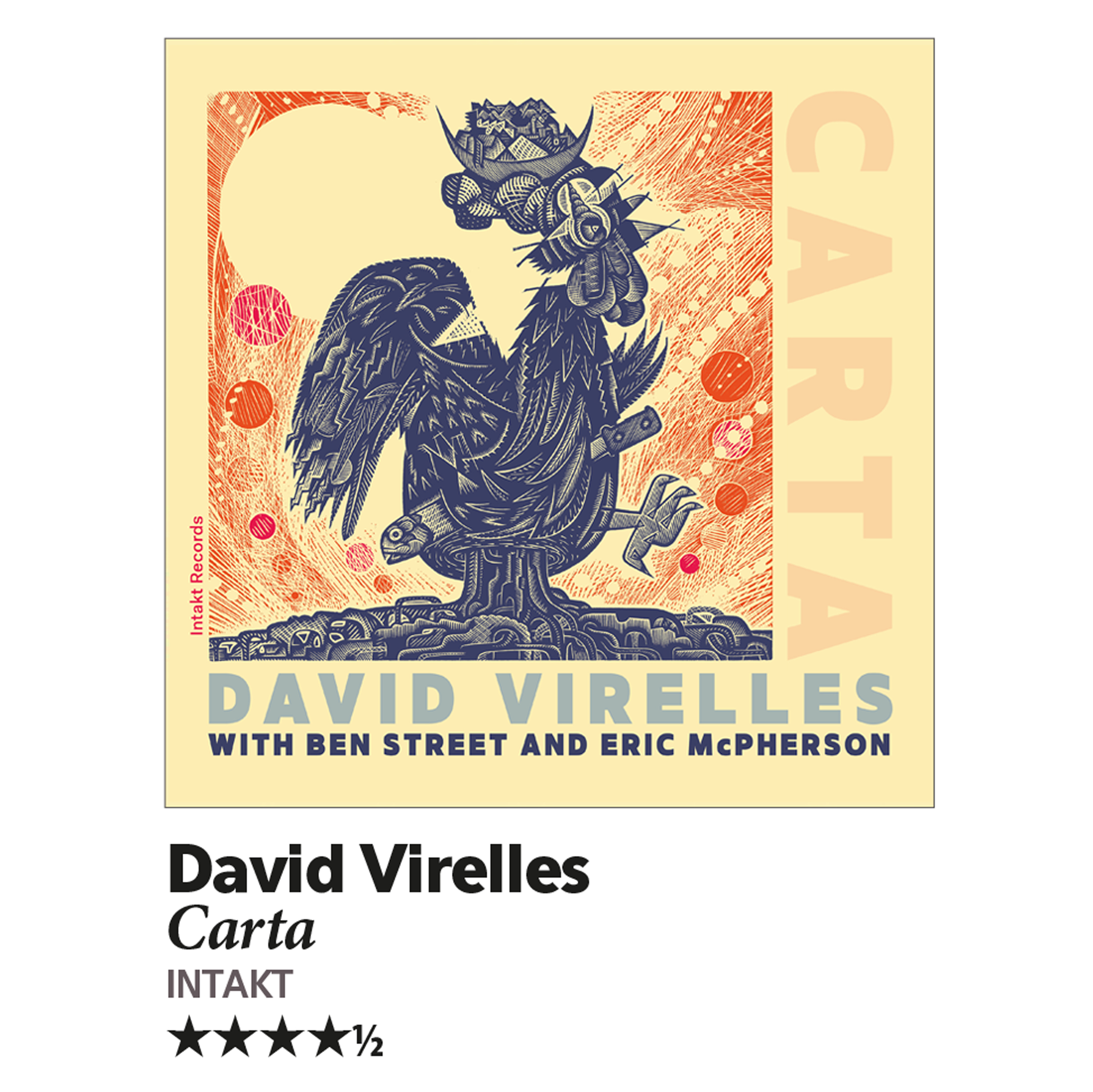 read the article here>

***
June 20, 2023
LIFETIME REBEL!
Joelle Leandre is the cover story in The New York City Jazz Record
"We have to change the world, and art can change the world" Léandre tells John Sharpe in the June issue.


read the article here>

June 20, 2023
MODERNIST FROM CUBA
Aruàn Ortiz is the Artist Feature in The New York City Jazz Record
"An Ortiz solo can be a slender path like a river, or a triumphant" writes Geaorge Grella in the June issue.


read the article here>
June 08, 2023
GERMAN JAZZ PRIZE 2023
Several Intakt musicians have recently been honoured with the prestigious German Jazz Prize.

Elias Stemeseder in the category "Piano/ Keyboard", Günter Baby Sommer in the category "Drums / Percussion" and the James Brandon Lewis Quartet are "Band of the Year International". Congratulations!
***
June 06, 2023
NEW PRINTED CATALOG
Beautifully designed by Jonas Schoder, this new Intakt Catalog showcases our ongoing work in the Swiss Jazz Scene since 1984.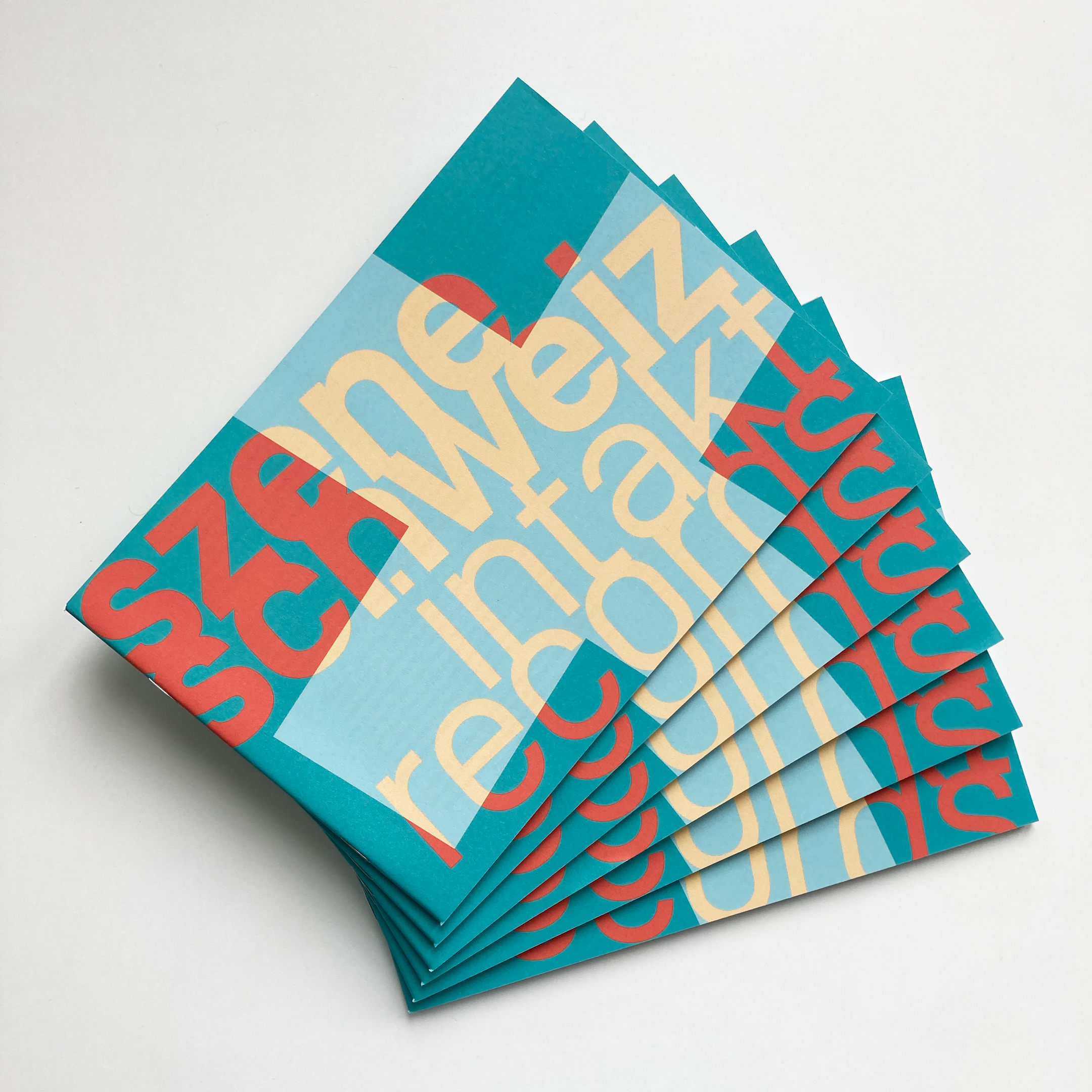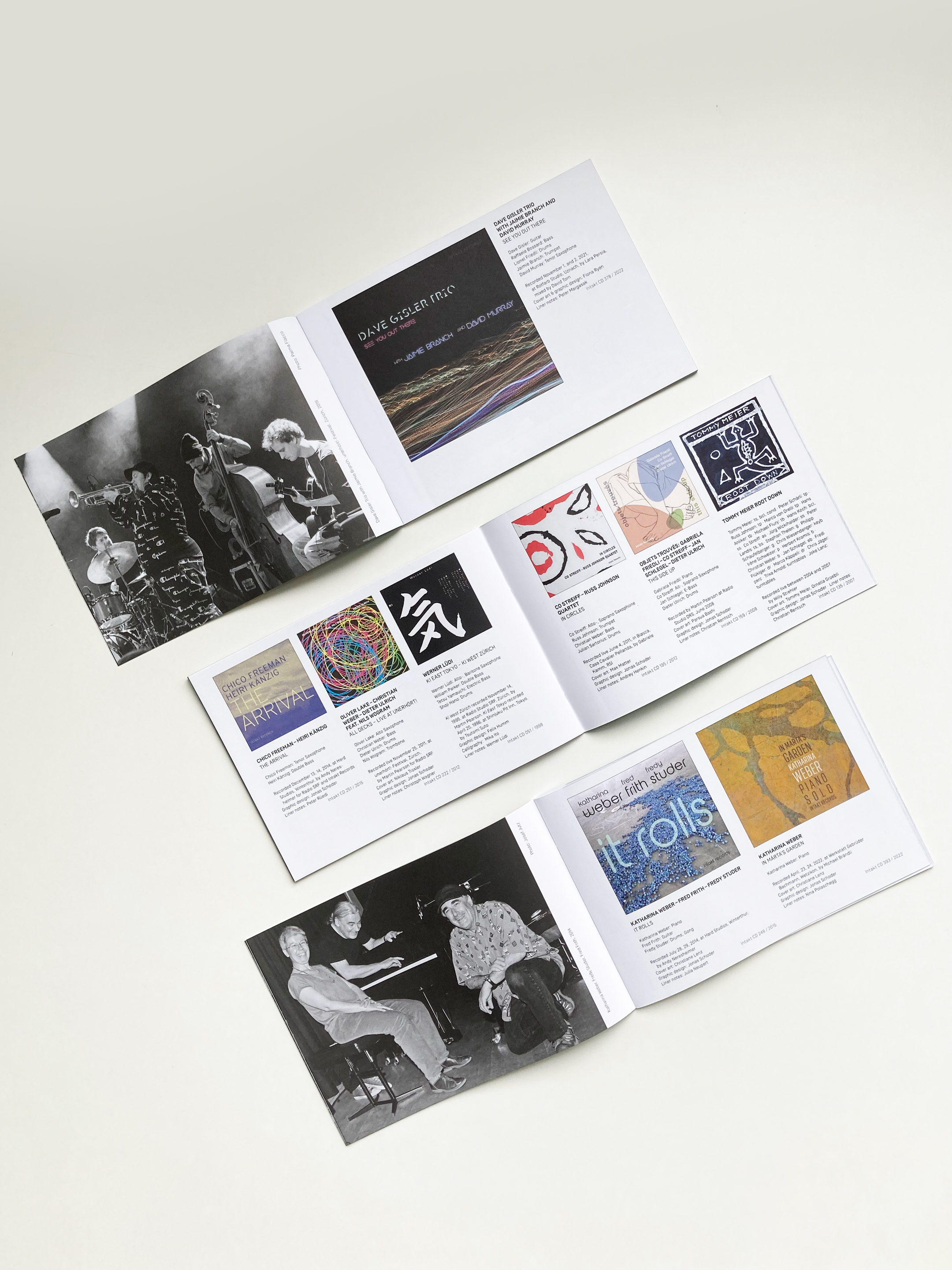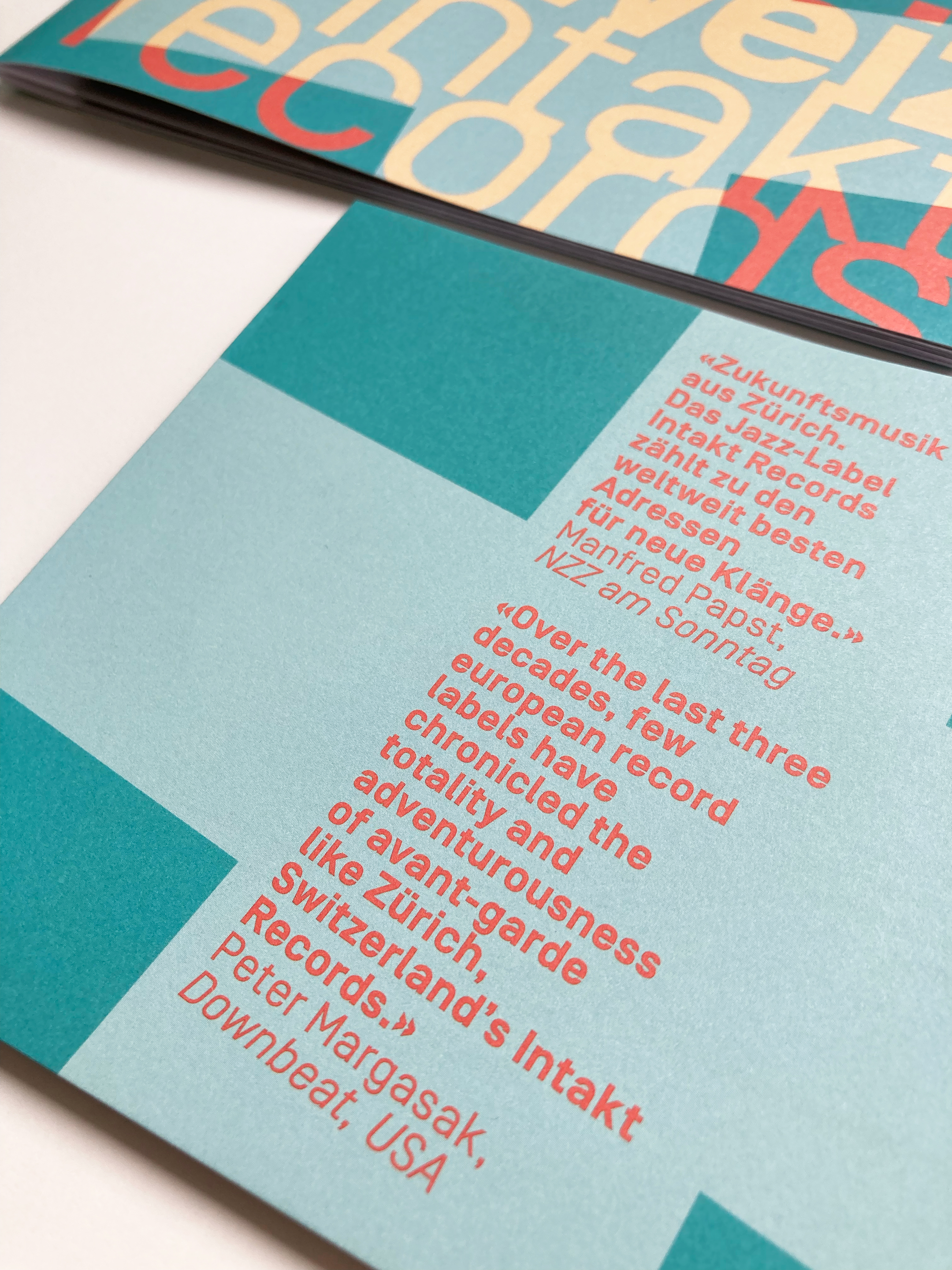 ***
May 26, 2023
ANGELIKA NIESCIER NE SE PREND PAS AU SÉRIEUX
Gérard Boisnel of Citizen Jazz interviews Angelika Niescier extensively in this months issue.

May 11, 2023
INTAKT'S SAADET TÜRKÖZ IS AWARDED A SWISS JAZZ PRIZE
Swiss Music Awards 2023: a diverse tenth edition includes singer Saadet Türköz in it's list of winners.
Congratulations Saadet!!!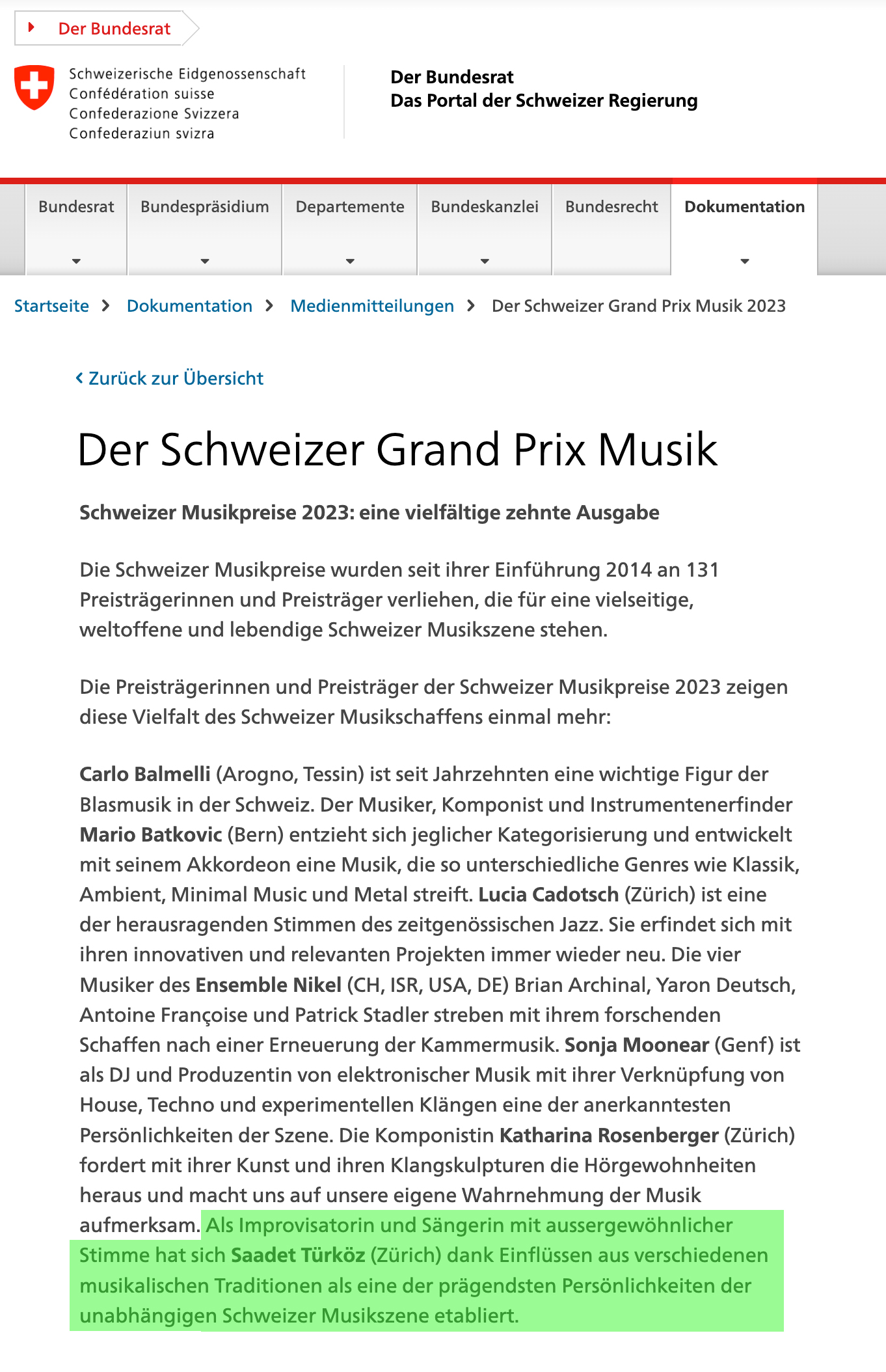 May 10, 2023
GERMANY'S TAGESPIEGEL PROFILES MARIE KRÜTTLI
A great write-up in the culture supplement following her Berlin concert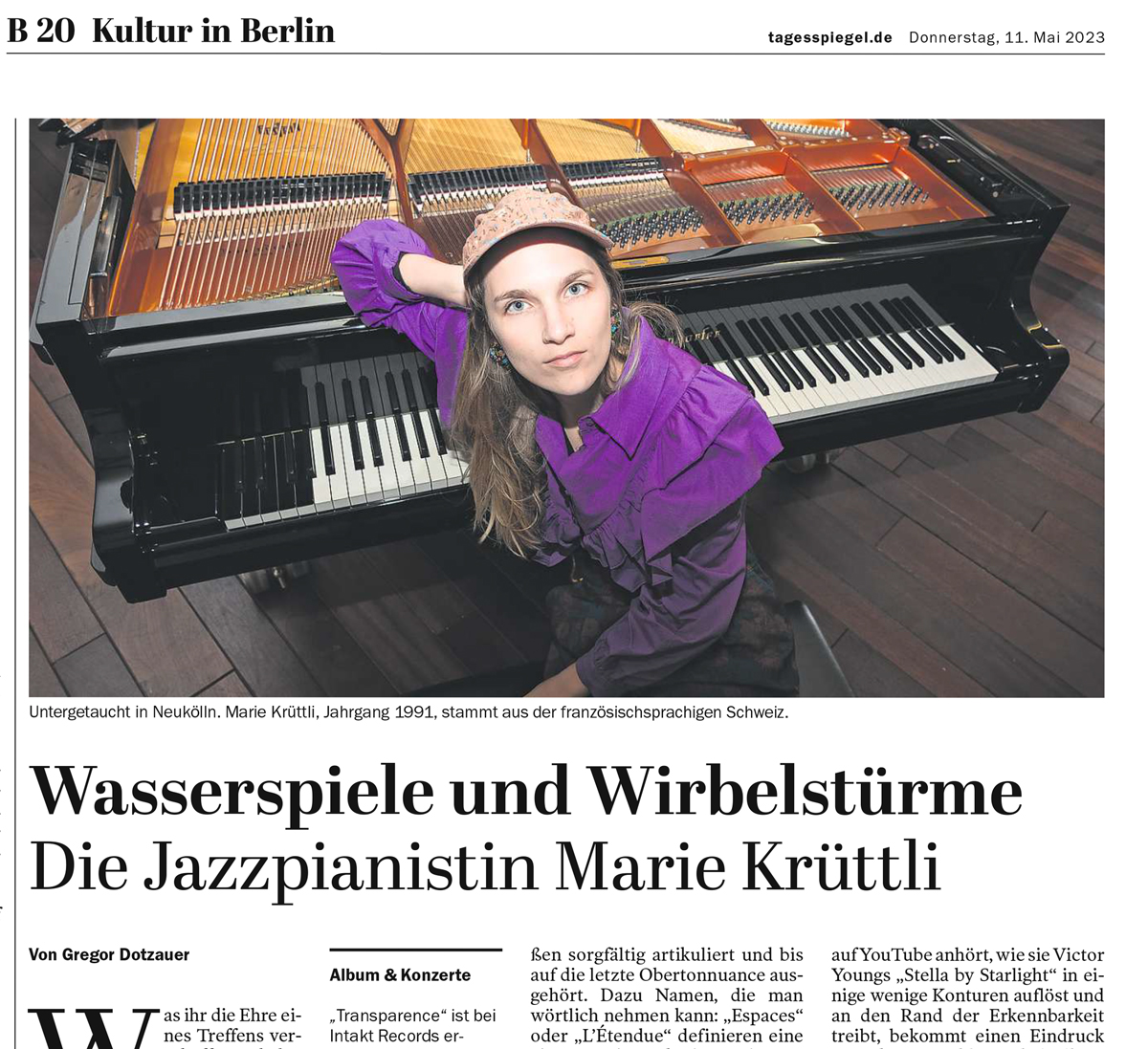 April 28, 2023
GERMAN JAZZ PRIZE AWARDED TO INTAKT ARTISTS
Congratulations to the following Intakt Artists for receiving the GERMAN JAZZ PRIZE 2023!
In the category BAND OF THE YEAR INTERNATIONAL goes to: JAMES BRANDON LEWIS QUARTET feat. Aruán Ortiz, Brad Jones, Chad Taylor
In the category PIANO / KEYBOARDS goes to: ELIAS STEMESEDER
In the category DRUMS / PERCUSSION goes to: GÜNTER BABY SOMMER
CONGRATULATIONS TO ALL FOR YOUR WELL-DESERVED PRIZE!!!
more info on the Deutscher Jazz Prize website
April 27, 2023
MARIE KRÜTTLI PLATTENTAUFE TRANSPARENCE
Ringing in the Spring on May 4 in Zürich: A Double Solo Concert with Marie Krüttli and Dave Gisler
Reserve now at www.kulturhaus-helferei.ch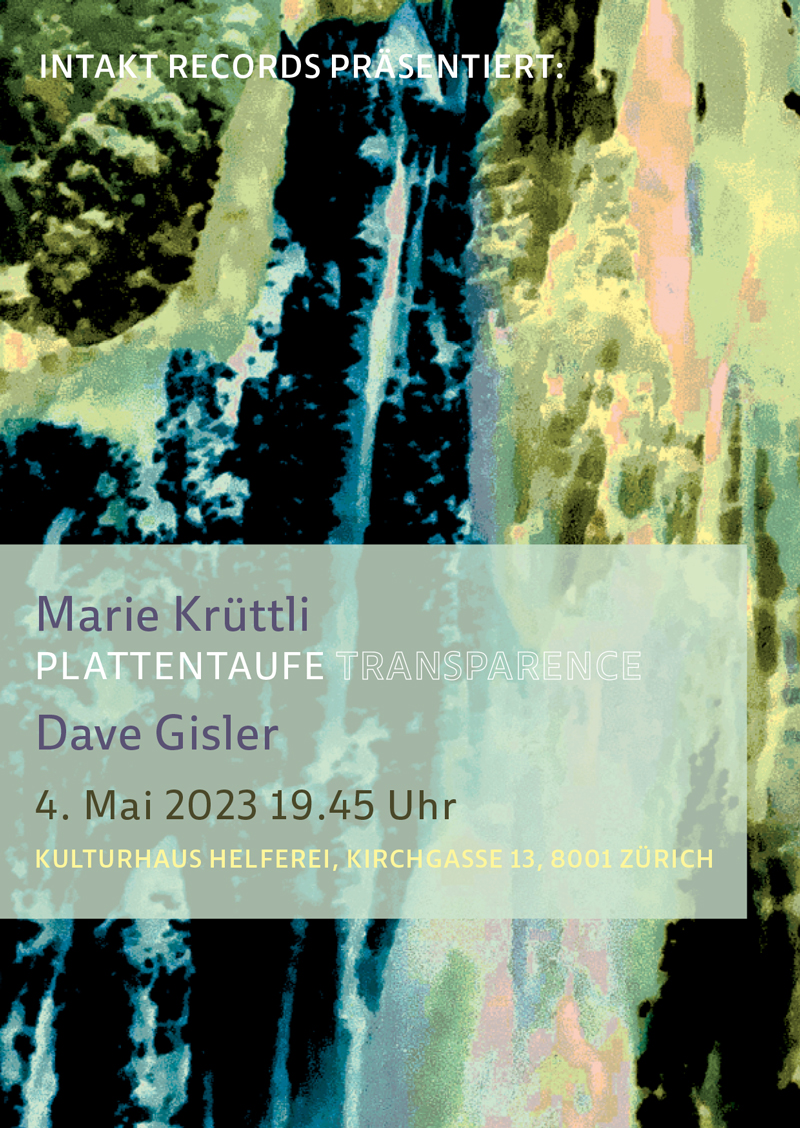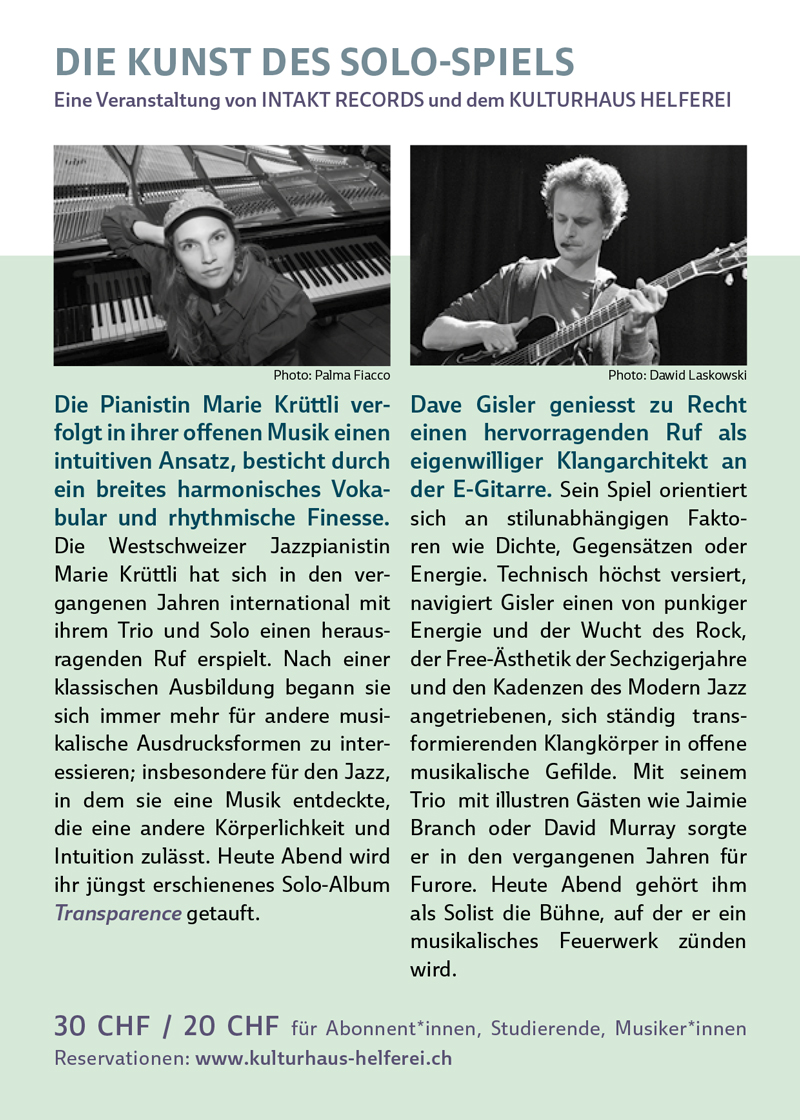 April 18, 2023
AM KERN DRAN: AT THE CORE
Michael Bossong profiles Charlotte Greve in this month's Jazz Podium Magazine.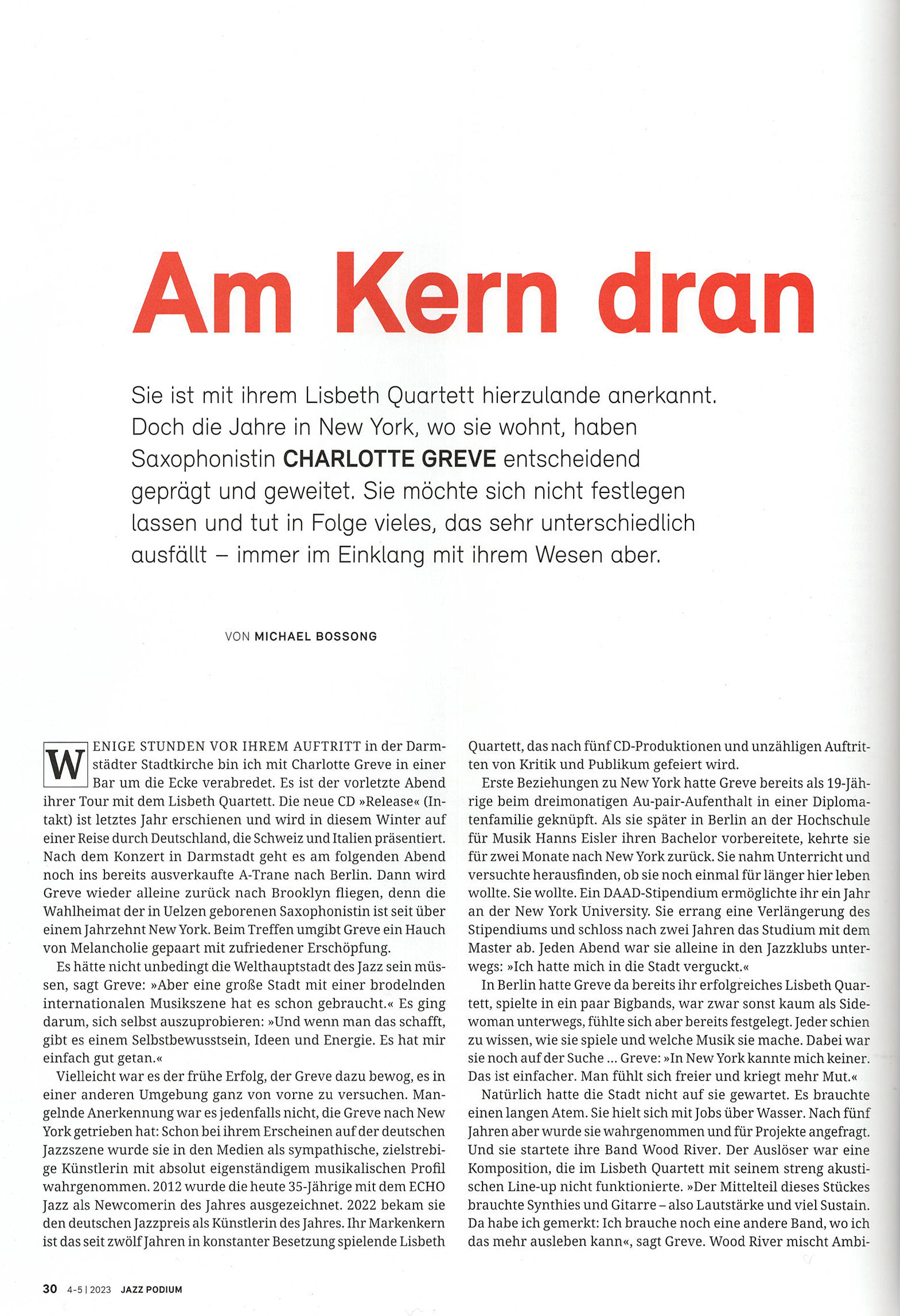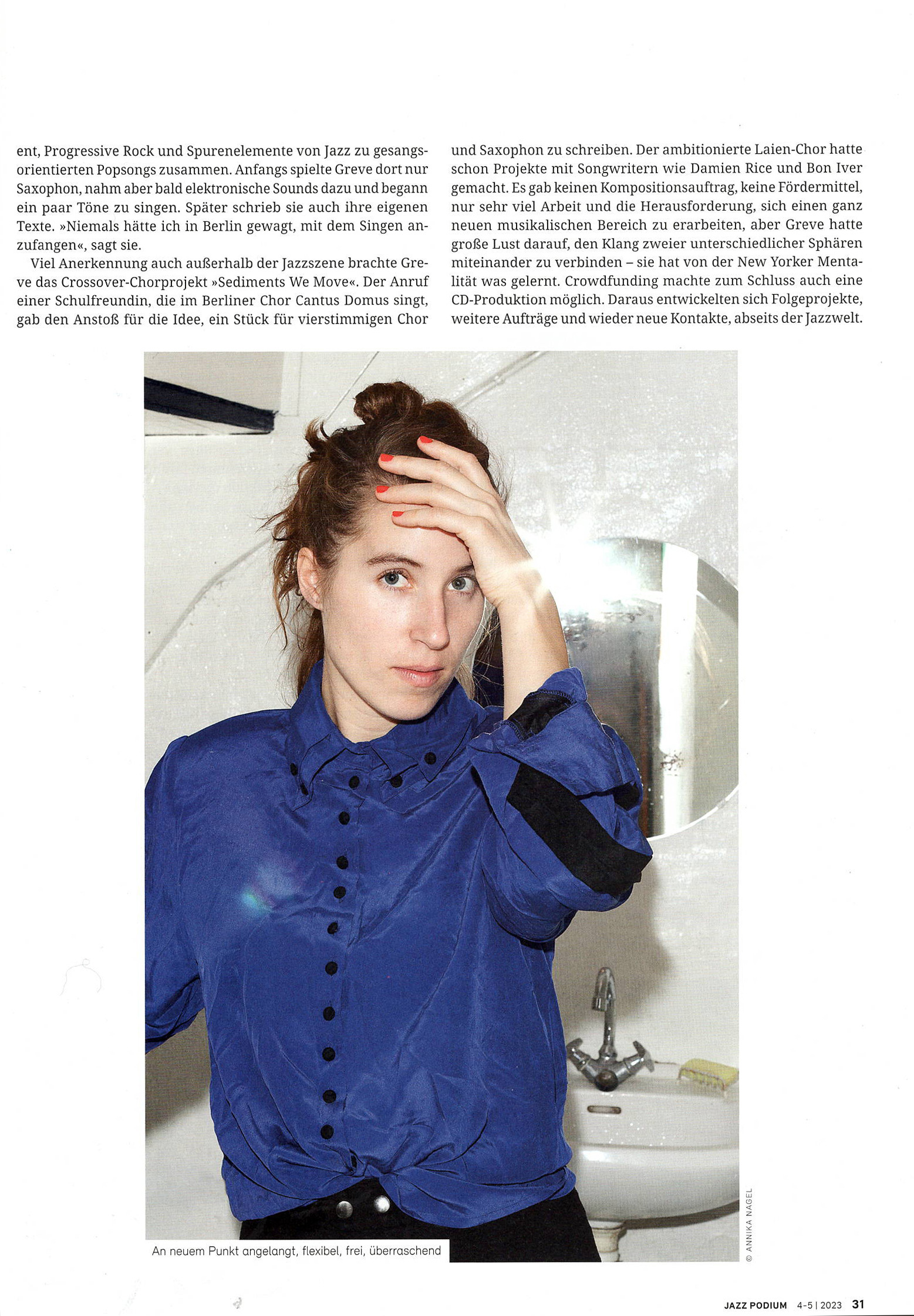 ***
January 10, 2023
INTAKT RECORDS among the"BEST OF 2022" in
THE NEW YORK CITY JAZZ RECORD
Including Best Album of the Year (Kaja Draksler – Susana Santos Silva: Grow), Musician of the Year (Ingrid Laubrock), Live Album of hte Year (PUNKT.VRT.PLASTIK: ZURICH CONCERT)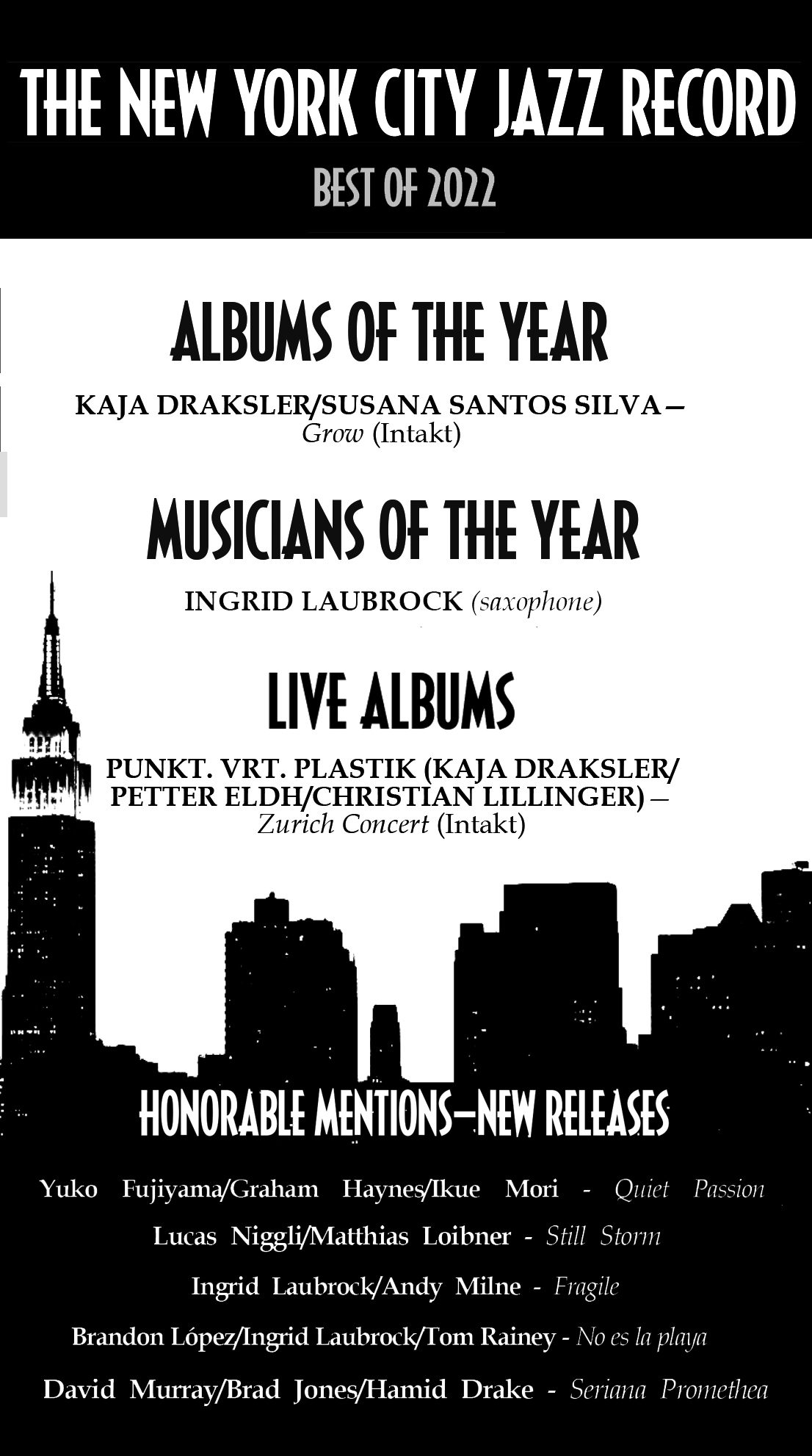 ***
January 05, 2023
ALEXANDER HAWKINS INTERVIEW ON citizenjazz.com
"je suis constamment surpris et ravi par la musique"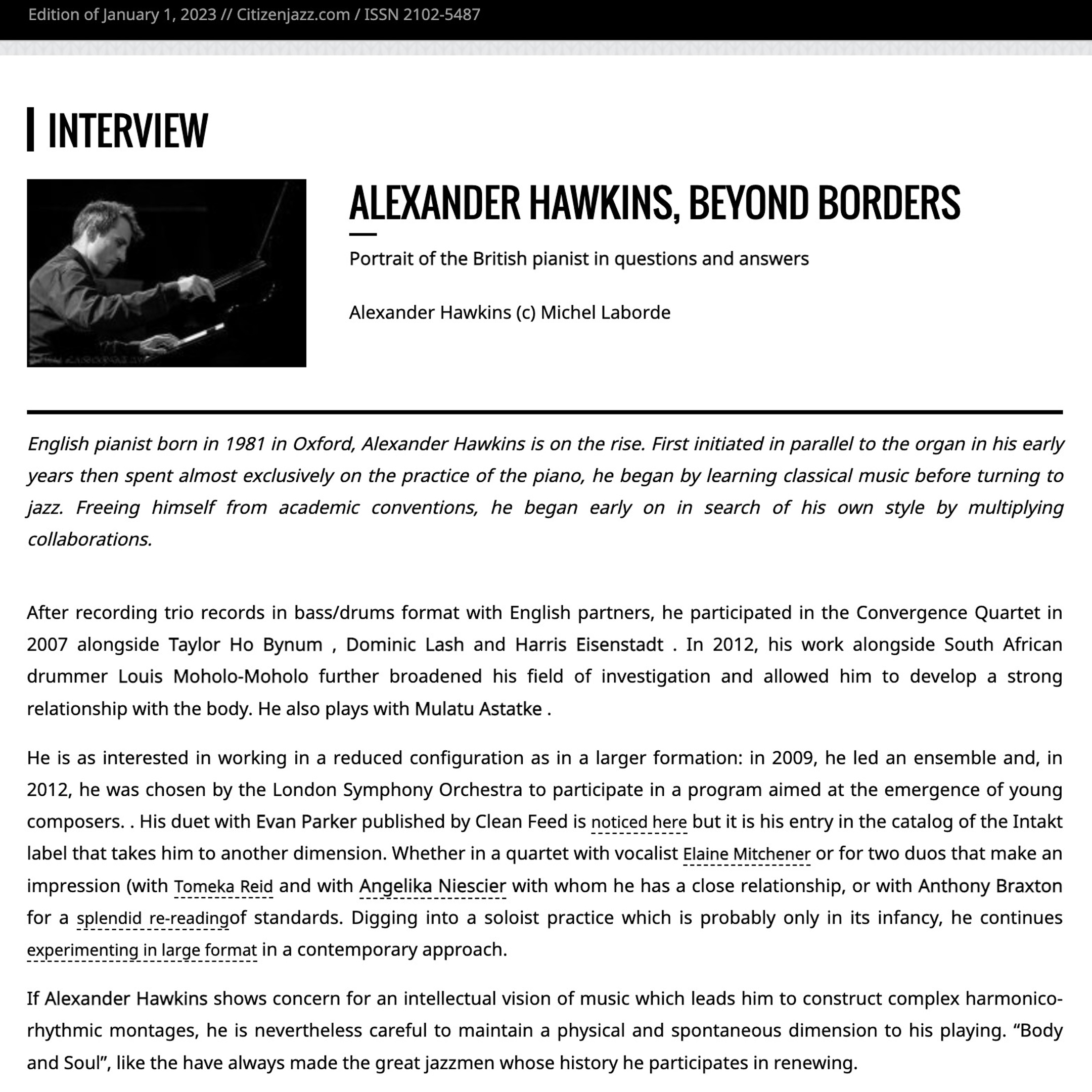 ***
January 03, 2023
CHRISTOPH IRNIGER PILGRIM PORTRAIT IN JAZZ N'MORE MAGAZINE
by Rudolf Amstuts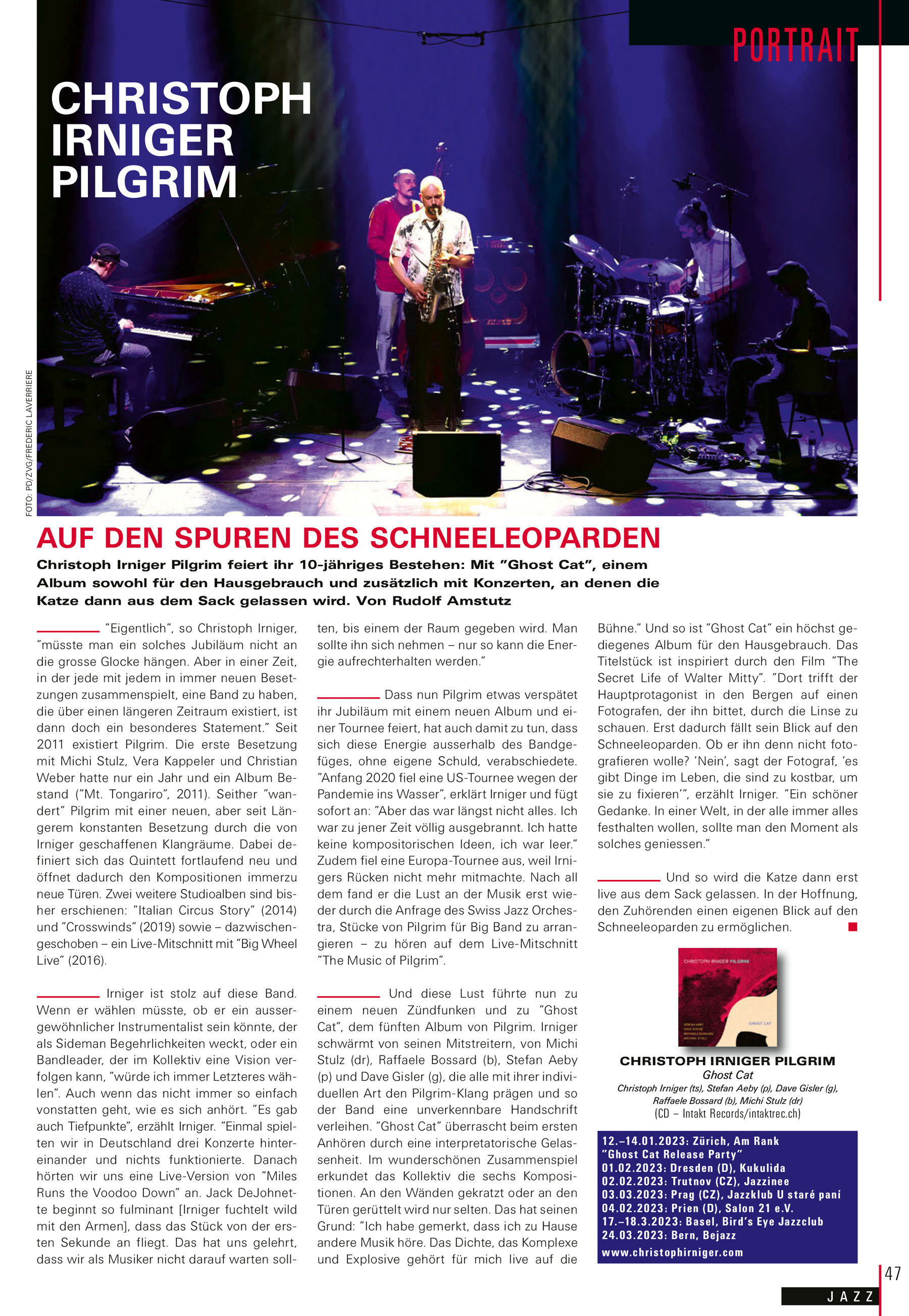 ***
UPCOMING RELEASES 2023
SEPTEMBER 2023

INGRID LAUBROCK
MONOCHROMES

Ingrid Laubrock: Tenor and Soprano Saxophones
Jon Irabagon: Sopranino Saxophone
Zeena Parkins: Electric Harp
Tom Rainey: Drums

Intakt CD 411 / 2023

ANGELIKA NIESCIER – TOMEKA REID – SAVANNAH HARRIS
BEYOND DRAGONS

Angelika Niescier: Alto Saxophone
Tomeka Reid: Cello
Savannah Harris: Drums

Intakt CD 412 / 2023
OCTOBER 2023

OHAD TALMOR
WITH CHRIS TORDINI AND ERIC McPHERSON
BACK TO THE LAND

Ohad Talmor: Tenor Saxophone, Bass Clarinet, Synth, Arrangements
Chris Tordini: Acoustic and Electric Bass
Eric McPherson: Drums
Joel Ross: Vibraphone
David Virelles: Piano
Leo Genovese: Piano, Synth
Shane Endsley: Trumpet
Russ Johnson: Trumpet
Adam O'Farrill: Trumpet
Grégoire Maret: Harmonica

Intakt CD 408 / 2023

SYLVIE COURVOISIER
CHIMAERA

Sylvie Courvoisier: Piano
Wadada Leo Smith: Trumpet
Nate Wooley: Trumpet
Christian Fennesz: Guitar, electronics
Drew Gress: Bass
Kenny Wollesen: Drums, vibraphone

Intakt CD 410 / 2023