SCHLIPPENBACH TRIO
GOLD IS WHERE YOU FIND IT

.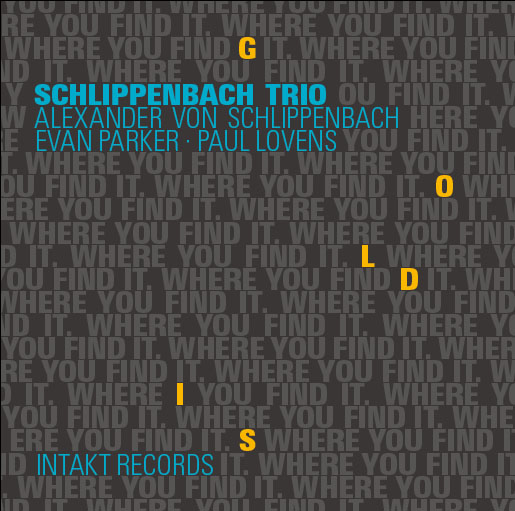 ALEXANDER VON SCHLIPPENBACH PIANO
EVAN PARKER TENOR SAXOPHONE
PAUL LOVENS DRUMS

Recorded at SWR Studio 1 in Baden-Baden, June 11 + 12, 2007 by Alfred Habelitz.
Mixed and mastered by Alfred Habelitz, Alexander von Schlippenbach and Paul Lovens.
Cover art and design: Jonas Schoder
Photo: Caroline Forbes, Liner Notes: Ben Young.
Produced by SWR2 Redaktion Neue Musik/Jazz and Intakt Records.
Executiv production: Patrik Landolt
Intakt CD 143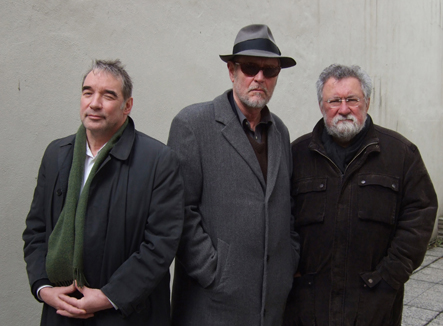 GOLD IS WHER YOU FIND IT: Paul Lovens, Alexander von Schlippenbach, Evan Parker, 2007
Photo: Caroline Forbes

35 years after the first album of the Schlippenbach trio and after numerous releases of live recordings, Schlippenbach-Parker-Lovens now present a studio recording of particular quality and atmosphere. GOLD IS WHERE YOU FIND IT shows that after years of co-operation and intensive common musical experience the Schlippenbach trio has reached its climax. The American jazz critic Ben Young states in the liner notes:
"The real story is in the nuances of line construction, how Schlippenbach, Parker, and Lovens weave the figures that they play. This really is the most advanced discipline of musical improvisation: Simultaneously chiselling one's own line according to a personal sense of direction, while encompassing within that line the activities of the other players, and knitting it into the collective fabric." Ben Young calls these three masters of improvisation "three wise men".
35 Jahre nach der ersten Schlippenbach Trio-Platte und nach zahlreichen Live-Veröffentlichungen präsentieren Schlippenbach-Parker-Lovens eine Studio-Aufnahme besonderer Qualität und Athmosphäre. GOLD IS WHERE YOU FIND IT zeigt das Schlippenbach Trio nach langjähriger Zusammenarbeit und intensiver Spielerfahrung auf der Höhe des Könnens. Der amerikanische Jazzkritiker Ben Young schreibt in den Linernotes: «Die wahre Kunst liegt in den Nuancen des Aufbaus, darin, wie Schlippenbach, Parker und Lovens das, was sie spielen, zusammenweben. Dies ist die hohe Kunst der musikalischen Improvisation: sein eigenes Spiel entlang des ganz persönlichen Gefühls zu ziselieren, gleichzeitig in dieses Spiel das, was die anderen Spieler tun, mit einzubeziehen und es in das grosse Ganze hineinzuweben." Ben Young nennt die drei Meister der Improvisationskunst «drei weise Männer».
MAILORDER-PRICE:
Schweiz: 30 SFr. plus 3 SFr. Porto
Deutschland/Österreich: 18 Euro plus 3 Euro Porto/Versand
International: VISA / MASTER: 30 SFr. plus 5 SFr. Postage
Order adress:Intakt Records, Postfach 468, 8024 Zürich, intakt@intaktrec.ch Fax: 0041-44-383 82 33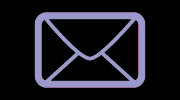 Please click here to order
Alexander von Schlippenbach:all Intakt CDs
Ben Young: THREE WISE MEN. Schlippenbach Trio. Liner Notes. Intakt CD 143 (engl + dt)
George E. Lewis. GLOBE UNITY AND THE LITTLE RED HEN. Liner Notes Intakt CD 133 (engl + dt)

Bert Noglik.TWELVE TONE TALES. Liner Notes (dt/eng)
Bill Shoemaker. TWELVE TONE TALES. Liner Notes (dt/eng)
Alexander von Schlippenbach about MONK'S CASINO (dt/eng)

John Corbett about MONK'S CASINO (dt/eng)

Bert Noglik über MONK'S CASINO (dt)