40 JAHRE SCHLIPPENBACH-TRIO – DAS SCHLIPPEBACH-TRIO SPIELT.
90 JAHRE BAUHAUS – DAS BAUHAUS STEHT.
HERZLICHEN GLÜCKWUNSCH! DAS SCHLIPPENBACH-TRIO SPIELT IM BAUHAUS.

Nun betreten Alexander von Schlippenbach, Evan Parker und Paul Lovens die
originalgetreu rekonstruierte Bühne, um uns jene kubistische,
demokratische Gestaltung als Musik darzubieten: Kollektive Improvisation.
Ohne Anfang. Ohne Ende.
Hören Sie wie die asymmetrischen Gestalten am rechten Ort konstruktivistisch
und kubistisch, multipel-fraktal Grenzen überschreiten, auflösen, um uns, mit
der klassischen Besetzung dieser freien Improvisation, mit reicher «Illusionslosigkeit»
(Ute van der Sanden) sinnlich zu beschenken.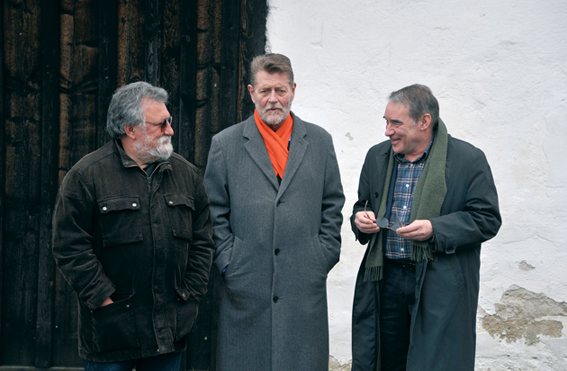 :Evan Parker, Alexander von Schlippenbach, Paul Lovens, 2009
Photo: Caroline Forbes
40 YEARS OF SCHLIPPENBACH-TRIO – THE SCHLIPPENBACH TRIO IS STILL PLAYING.
90 YEARS OF BAUHAUS – BAUHAUS IS STILL STANDING.
CONGRATULATIONS! THE SCHLIPPENBACH TRIO IS PLAYING AT BAUHAUS.

Now Alexander von Schlippenbach, Evan Parker and Paul Lovens get on the stage
which has been restored true to the original, in order to present us with this cubistic,
democratic design in the form of music: collective improvisation. No beginning. No end.
Listen to how these asymmetric beings, with the classic free improvisation line-up who,
in the right place, transcend borders, dissolve them in a constructivist and cubistic,
multiple-fractal manner, in order to present us so sensuously with such
a "lack of illusions" (Ute van der Sanden).